24 May
Nearly all of these are English-edition daily newspapers. These sites have interesting editorials and essays, and many have links to other good news sources. We try to limit this list to those sites which are regularly updated, reliable, with a high percentage of "up" time.


World Politics
United States
Several regional leaders have urged the administration to revive the Arab Peace Initiative, unveiled in 2002 and under which Arab states would recognize Israel in return for a Palestinian state in line with pre-1967 borders
Donald Trump said he would 'do whatever is necessary' to reach a peace agreement in the Middle East between Israel and Palestine, adding that he believes 'there's a very, very good chance' of bringing Israel and the Palestinians together. Trump met with the Palestinian leader, Mahmoud Abbas, in the Oval Office on Wednesday
If Donald Trump is going to pursue "the ultimate deal" between Israelis and Palestinians after his brief visits to Saudi Arabia, Israel and the occupied West Bank, the effort looks likely to be based on a 15-year-old peace plan that was barely noticed at the time, has been gathering dust ever since, but remains a rare green shoot in the arid landscape of Middle Eastern diplomacy.
That plan was the Arab Peace Initiative (API), unveiled by the then Saudi Crown Prince Abdullah at a summit in Beirut in March 2002. Its launch was soon overshadowed by a far bigger, bloodier drama: a Palestinian suicide bombing that killed 29 elderly Israelis celebrating the Passover holiday. The worst attack of the second intifada triggered Israel's direct reoccupation of the West Bank, which it had partly turned over to the PLO after the1993 Oslo accords.
But talk of the API has increased recently. The idea is simple: Arab states will recognise Israel in return for a Palestinian state, its capital in East Jerusalem, in line with the pre-1967 war borders. So far, only Egypt and Jordan have signed peace treaties with Israel, without any linkage to the Palestinian question.
And interest now appears to be reviving – at least in Washington.
Diplomats report that the Trump administration has been urged to revisit the plan by Egypt, Jordan and Palestinian president Mahmoud Abbas, who sounded unusually upbeat after visiting the White House last month. Abbas and the US president met again in Bethlehem on Tuesday, but Trump made no mention either of Israel's occupation or an independent Palestinian state.
Along with the Saudis, the states that are keenest on the API are its neighbours the United Arab Emirates and Bahrain. The entire Arab League reaffirmed support for the initiative in 2007 and repeated that at the last summit in Amman in late March. Syria and Iraq are of course preoccupied with their own grave crises.
Now the Saudis and their allies are reportedly offering incentives – dangling the prospect of access for Israeli companies, direct communications and over-flight rights in exchange for freezing West Bank settlements and easing the blockade on the Gaza Strip, controlled by Hamas. The ideas were outlined in a paper shared among Gulf countries, according to the Wall Street Journal.
These ideas build on significant below-the-radar trade and cooperation between Israel and those states, including discreet intelligence and security links. Diplomats describe a winning combination of Israel's technical capabilities with Arab human intelligence assets.
Hebrew markings have been seen on Israeli-manufactured ordnance used in the Saudi-led campaign against Houthi rebels in Yemen. The UAE is known to have bought military equipment from Israel.
Israel's announcement of greater freedoms for Palestinians to build in the part of the West Bank dominated by settlements was intended as a confidence-building measure. But that was overshadowed by tensions over hunger-striking Palestinian prisoners.
Palestinians suspect that what looks like the dilution of the original API is designed to turn it into another "roadmap" for the incremental progress they have come to distrust since Oslo. Abbas's unpopularity and the debilitating split between his Fatah movement and Hamas are further barriers to progress.
Palestinians were suspicious of Arab states pursuing their own interests even before Israel's creation in 1948, and the raison d'etre of the PLO from the mid-1960s was to boost Palestinian independence – not rely on others.
Binyamin Netanyahu likes to boast that Israel gets on well with the Sunni Arab gulf states, which also oppose Iran – the standard bearer of the Shia world – and its Lebanese ally Hezbollah, which are both helping shore up Bashar al-Assad in Syria. Saudi Arabia and Israel both opposed the 2015 nuclear agreement with Iran. Trump's adoption of the same anti-Iranian narrative on his visit to Riyadh delighted the Israelis.
Related:
Oliver Holmes South-east Asia correspondent
As many as 150 children die every day in Myanmar before they reach their fifth birthday, the UN children's agency said on Tuesday, in a report calling for the government to end blocks on humanitarian access to conflict areas.
Despite reform and reconciliation efforts undertaken by the one-year-old government headed by Aung San Suu Kyi, children affected by widespread fighting and poverty are not reaping the benefits, Unicef added.
"This alert is an opportunity to make more visible the situation of children who are not benefiting fully from the ongoing reforms in the country," said Bertrand Bainvel, Unicef's representative to Myanmar.
There are disparities across the country, especially for families stuck in war zones and unable to reach health centres, said Bainvel, adding that untreated diseases among newborns, such as pneumonia, are among the big killers.
The child mortality rate is estimated at about 50 per 1,000 live births in Myanmar, Bainvel said. In the UK, the rate is four per 1,000.
The report calls for improved humanitarian access to the estimated 2.2 million children affected by violence, and an end to child rights violations, including the use of children as soldiers.
Myanmar has been lauded worldwide for political reforms spearheaded by a military-aligned government in 2010, which eventually led to the huge election victory of Aung San Suu Kyi in November 2015, ending decades of oppressive army rule.
In spite of this progress, life for many children in Myanmar remains a struggle, Unicef said. Nearly 30% of children under five suffer from moderate or severe malnutrition and more than half of all children live below the poverty line.
The report acknowledged that an "unprecedented period of change and opportunity" was under way in the country. But, it said, "the optimism of 2015 and early 2016 has been tempered by slower than expected progress on economic and policy reforms. Even more worrisome is the escalation of several key conflicts in the country's more remote border areas."
Although barred from the presidency by a military-drafted constitution, Aung San Suu Kyi is the de facto head of state, working as state counsellor and running several ministries.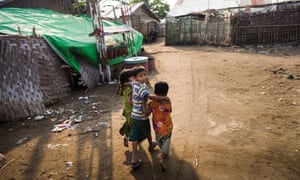 The former prisoner of conscience promised to first focus on national reconciliation, yet the country – one of south-east Asia's poorest – remains entangled in brutal conflicts along its borders, with the army blocking aid deliveries.
Remote Kachin, Shan and Kayin states continue to experience recurrent clashes between the Myanmar military and ethnic minorities. Civilians find themselves at risk from poverty, statelessness and trafficking, while having only limited access to essential health and education services, Unicef said.
In western Rakhine state, 120,000 internally displaced people live in camps as a result of inter-communal conflict that erupted in 2012. Violence against Rohingya Muslims, for whom the government does not provide full citizenship rights, has surged since October following attacks on border guard posts.
Unicef's representative said aid access to Rakhine had improved slightly but remained very problematic.
"But when it comes to Kachin and northern Shan, access has been denied to us for almost a year, in spite of our requests … it is denied by the government," Bainvel added.
Governments around the world are increasingly being challenged in court to do more to combat the threat of climate change, with litigation ranging from a group's attempt to stop an airport runway in Austria to a Pakistani farmer suing his government over its failure to adapt to rising temperatures, a new study has found.
The lion's share of the litigation is in the US, but the number of countries with such cases has tripled since 2014.
UN Environment and Columbia law school, which undertook the research, found a "proliferation" of cases instigated by citizens and environmental groups demanding action on areas such as sea-level rise, coal-fired power plants and oil drilling.
"It's patently clear we need more concrete action on climate change, including addressing the root causes and helping communities adapt to the consequences," said Erik Solheim, head of UN Environment. "The science can stand up in a court of law, and governments need to make sure their responses to the problem do too."
The US has been the staging ground for 654 climate-related cases, almost three times that of the rest of the world combined. Some of these cases have proved pivotal, such as a 2007 case where various states and cities demanded the Environmental Protection Agency regulate carbon dioxide and other greenhouse gas emissions.
The supreme court ruled against George W Bush's administration, leading to the EPA determining that greenhouse gases are a public health threat and opening the way for Barack Obama's executive action on climate change.
Other cases are continuing, such as the 21 children who are represented in a lawsuit against the federal government, claiming that its failure to sufficiently cut emissions violates their constitutional right to life, liberty and property. The Sierra Club, an environmental group, said the case would "upend climate law as we know it" should it be successful.
Australia, with 80 cases, and the UK, with 49 cases, are the next largest national sources of climate litigation, although the report notes that legal action is starting to emanate from all corners of the world. The issue of "climate refugees", where people have had to flee their country due to flood or drought, is gaining traction, following a case where a man from Kiribati sought refuge in New Zealand.
In the Netherlands, an environmental group called the Urgenda Foundation joined with several hundred Dutch citizens to sue the government over its decision to lower its greenhouse gas reduction target. The court concluded the case had merit based on the Dutch constitution, the European Convention on Human Rights and the "no harm" principle of international law.
In a separate case, several groups managed to overturn the approval of a third runway at Vienna's main airport, while in yet another case, a court in Pakistan ruled in favor of Ashgar Leghari, a farmer, over his government's "delay and lethargy" in implementing its climate change adaption policies.
Not all cases have been as successful. A Peruvian man sued a German energy company over the climate impacts suffered in his homeland, with the case ultimately dismissed.
"We haven't seen any major wins filed in actions against fossil fuel companies but there have been successes in lawsuits against governments," said Michael Burger, executive director of the Sabin Center for Climate Change Law at Columbia. "A lot of this legal action is in the US because America is a litigious society but also because there is such a partisan divide over the fundamental reality of climate change, which doesn't really exist elsewhere in the world."
Burger said legal action will prove significant in pushing the countries closer to their agreed target of avoiding global warming of 2C or more compared to the era shortly before the advent of heavy industry. The world is currently on course to breach this limit, causing ever more dangerous climate change, even with the emissions reduction pledges agreed in the Paris climate deal.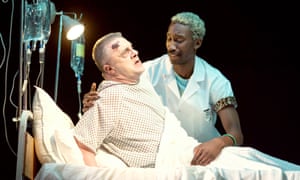 Nathan Lane (Roy Cohn) and Nathan Stewart-Jarrett (Belize) in Angels In America. Photograph: Helen Maybanks
I

t is no surprise that Angels in America's London revival has struck a chord. Set during the depths of the Aids epidemic, Tony Kushner's play recalls a darker time for LGBT people – gay men in particular – that reminds us of the progress we've made since the 1980s while remonstrating with us for feeling any complacency about the status of LGBT rights in the west today. Contrary to popular belief, the history of public attitudes toward LGBT people is not a heartwarming tale of progress.
Time and again, public toleration of sexual and gender nonconformity has rapidly curdled into reactionary bigotry and violence. History is neither cyclical nor predetermined but there are detectable patterns in the way societies treat marginalised citizens. During times of economic and political stress, boundaries of permissible behaviour for women and sexual minorities are suddenly curtailed, seemingly in defiance of conventional wisdom and preceding periods of expanding tolerance.
Angels in America depicts one such shift. After two decades of determined activism and growing acceptance, gay people in the United States faced twin onslaughts during the late 1970s and 1980s, as the rise of the religious right and the arrival of the Aids epidemic all but erased the political rights and social normalisation that had been gained.
But earlier examples of the same pattern provide more useful, and more ominous, lessons. The story of Sumner Welles offers a particularly instructive case study. All but forgotten today, Welles was America's premier diplomat before and during the second world war. He was the chief architect of America's postwar plans prior to 1943, protected and promoted by the patronage of his close friend President Franklin D Roosevelt. However, Welles's career was cut short when his political enemies conspired to spread accounts that he had solicited sex from other men.
Up to that point, gay men in the US, especially those who were wealthy or well connected like Welles, inhabited a narrow but stable niche of toleration. Gay men were permitted to rise in social status so long as their sexuality was kept secret. But by the mid-1940s attitudes toward sexual nonconformity had sharpened. The combined tumult of the Great Depression and the existential threat of the second world war induced Americans to place a premium on tradition and stability.
The consequences for those who did not conform were severe. What had once been tolerable deviations from the norm became grounds for suspicion; previously welcomed and celebrated figures such as Welles were calumniated as "security risks", no longer tolerable in positions of power. Within only a few years, this reactionary homophobia metastasised into a massive programme to eliminate gay men and lesbians from government service. Dubbed the "Lavender Scare" by historians, this purge ruined the lives of thousands of innocent, loyal American citizens and began a regime of institutionalised discrimination against gay people that lasted for decades.
Eras that champion tradition and political conformity are dangerous times for those who are different. State-sponsored suppression of vulnerable communities never happens in isolation. When it cracks down on one "enemy of the people" everyone else becomes a target too. After a generation of seeing their rights expand, many LGBT people today do not realise just how different they are in the eyes of the world around them. They are still a distinct minority, and with the ever-increasing power of the state to collect and observe personal data, an easily targeted one.
As the US launched its crackdown on Muslims entering the country in February, gay men crossing the border from Canada found US customs agents demanding access to Scruff, a dating app, with one man refused entry because of it.