25 May
Nearly all of these are English-edition daily newspapers. These sites have interesting editorials and essays, and many have links to other good news sources. We try to limit this list to those sites which are regularly updated, reliable, with a high percentage of "up" time.


World Politics
United States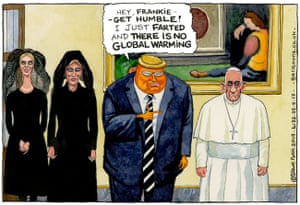 Audio of Greg Gianforte attacking Ben Jacobs corroborated by Fox News journalists in the room, who described candidate 'slamming him to the ground'
Republican Greg Gianforte 'body slams' Guardian reporter in Montana – audio
The Republican candidate for Montana's congressional seat can be heard in an audio recording slamming reporter Ben Jacobs to the floor, breaking his glasses and shouting, 'Get the hell out of here.' The attack occurred on the eve of a special election to fill a congressional seat vacated by a member of the Trump administration
The Republican candidate for Montana's congressional seat has been charged with misdemeanor assault after he is alleged to have slammed a Guardian reporter to the floor on the eve of the state's special election, breaking his glasses and shouting, "Get the hell out of here."
Ben Jacobs, a Guardian political reporter, was asking Greg Gianforte, a tech millionaire endorsed by Donald Trump, about the Republican healthcare plan when the candidate allegedly "body-slammed" the reporter.
"He took me to the ground," Jacobs said by phone from the back of an ambulance. "I think he wailed on me once or twice … He got on me and I think he hit me … This is the strangest thing that has ever happened to me in reporting on politics."
Fox News reporter Alicia Acuna, field producer Faith Mangan and photographer Keith Railey witnessed the incident at Gianforte's campaign headquarters in Montana, according to an account published by foxnews.com. After Jacobs asked Gianforte his question, Acuna wrote: "Gianforte grabbed Jacobs by the neck with both hands and slammed him into the ground behind him.
"Faith, Keith and I watched in disbelief as Gianforte then began punching the man, as he moved on top the reporter and began yelling something to the effect of 'I'm sick and tired of this!' … To be clear, at no point did any of us who witnessed this assault see Jacobs show any form of physical aggression toward Gianforte, who left the area after giving statements to local sheriff's deputies."
Jacobs subsequently reported the incident to the police. The Gallatin county sheriff's office said on Wednesday night it had completed its investigation and that Gianforte had been issued with a charge of misdemeanour assault.
"Following multiple interviews and an investigation by the Gallatin county sheriff's office it was determined there was probable cause to issue a citation to Greg Gianforte for misdemeanor assault," sheriff Brian Gootkin said in a statement. "The nature of the injuries did not meet the statutory elements of felony assault. Greg Gianforte received a citation on Wednesday night and is scheduled to appear in Gallatin county justice court between now and June 7, 2017."
A statement by campaign spokesman Shane Scanlon blamed Jacobs for the altercation, saying that he "entered the office without permission, aggressively shoved a recorder in Greg's face, and began asking badgering questions".
"Jacobs was asked to leave," the statement reads. "After asking Jacobs to lower the recorder, Jacobs declined. Greg then attempted to grab the phone that was pushed in his face. Jacobs grabbed Greg's wrist, and spun away from Greg, pushing them both to the ground.
"It's unfortunate that this aggressive behavior from a liberal journalist created this scene at our campaign volunteer BBQ."
Scanlon's account is contradicted by audio of the abortive interview recorded by Jacobs, as well as the Fox News account. The audio does not capture Jacobs being asked to leave or lower his recorder, but does contain an apparent reference to the Guardian's previous attempts to report on Gianforte. "I'm sick and tired of you guys," Gianforte said. "The last guy who came here did the same thing. Get the hell out of here. Get the hell out of here. The last guy did the same thing. Are you with the Guardian?"
"Yes! You just broke my glasses," Jacobs replied.
"The last guy did the same damn thing," Gianforte said.
"You just body slammed me and broke my glasses," Jacobs said.
"Get the hell out of here," Gianforte yelled.
At a press conference on Wednesday evening, sheriff Brian Gootkin said that there had been four witnesses to the altercation, in addition to Gianforte and Jacobs. Gianforte briefly spoke with sheriff's deputies following the altercation but has not been interviewed. Gootkin said that he was not aware of any video of the incident. He also requested that reporters and members of the public stop calling Gallatin's 911 dispatch.
According to campaign finance filings, Gootkin donated $250 to Gianforte's campaign in March. Gootkin's later statement acknowledged the contribution but said it had "nothing to do with our investigation which is now complete".
Guardian US editor Lee Glendinning said in a statement: "The Guardian is deeply appalled by how our reporter, Ben Jacobs, was treated in the course of doing his job as a journalist while reporting on the Montana special election."
Related:
Great Britain
Theresa May will confront Donald Trump over the stream of leaks of crucial intelligence about the Manchester bomb attack when she meets the US president at a Nato summit in Brussels on Thursday.
British officials were infuriated on Wednesday when the New York Times published forensic photographs of sophisticated bomb parts that UK authorities fear could complicate the expanding investigation into the lethal blast in which six further arrests have been made in the UK and two more in Libya.
It was the latest of a series of leaks to US journalists that appeared to come from inside the US intelligence community, passing on data that had been shared between the two countries as part of a long-standing security cooperation.
They are in no doubt about our huge strength of feeling on this issue. It is unacceptable
A senior Whitehall source said: "These images from inside the American system are clearly distressing to victims, their families and other members of the public. Protests have been lodged at every relevant level between the British authorities and our US counterparts. They are in no doubt about our huge strength of feeling on this issue. It is unacceptable."
Police chiefs also criticised the leaking of information from the investigation. A national counter-terrorism policing spokesperson said: "We greatly value the important relationships we have with our trusted intelligence, law enforcement and security partners around the world.
"When that trust is breached it undermines these relationships, and undermines our investigations and the confidence of victims, witnesses and their families. This damage is even greater when it involves unauthorised disclosure of potential evidence in the middle of a major counter-terrorism investigation."
Manchester's mayor, Andy Burnham, added yet more criticism:
Complained to acting US Ambassador about leaks out of US & was assured they would stop. They haven't. Arrogant, wrong & disrespectful to GM.

https://

twitter.com/paul__johnson/

status/867488252550426624 

…
The government does not believe the president is directly responsible for the potentially compromising leaks; but May will raise her concerns with him at the Nato summit where she will push for the military alliance to join the coalition against Islamic State.
The images published by the US newspaper revealed that the device that killed 22 people used by Salman Abedi had been made with "forethought and care", raising questions for investigators about how it had been constructed and by whom.
Abedi had carried a metal box containing "well packed" explosives, metal nuts and screws in a box probably inside a Karrimor rucksack, the leaked details showed. The device was powerful enough for shrapnel to penetrate metal doors and to scar brick walls. Abedi detonated the bomb with his left hand.
It showed the force of the explosion was such that his torso was ripped from the rest of his body and propelled across the foyer and that most of those killed were in a circle around the bomber.
Related
Altercation took place outside birthday party venue on Saturday evening

San Antonio mayor Ivy Taylor says video is 'hard to watch and listen to'
Tom Dart in Houston and agencies
Warning: video contains distressing images. San Antonio police chief William McManus said the episode was under review 'to ensure compliance with department policies'.
A police officer in Texas can be seen in a newly emerged video apparently punching a 14-year-old girl several times in the face during an altercation at a birthday party.
The blurry footage was taken by a bystander in a parking lot outside a party venue on Saturday evening. It shows several officers among a small crowd. Someone cries: "Don't talk to her like that … oh my God!"
One officer appears to throw several punches at a girl in a purple dress, who lurches backwards. She is then dragged away by two officers while a woman, reportedly her mother, screams in the background and is restrained. More screams and wails are audible.
The girl was arrested on suspicion of assaulting a public servant, taken to a juvenile detention centre and released on Monday. Her attorney, Artessia House, did not immediately respond to a request for comment from the Guardian on Wednesday. House told the San Antonio Express-News that the girl had not assaulted the officer and was an excellent student with no history of violence.
The San Antonio police department has not released the name of the officer. According to the department, it was responding to a call about men fighting at a quinceañera – a celebration traditionally held by Hispanic and Latino people to mark a girl's 15th birthday.
"The video made public showing a scuffle between police officers and a girl is hard to watch and to listen to," Ivy Taylor, the San Antonio mayor, said in a statement. "SAPD is now reviewing body cam video to determine exactly what happened."
The department could not immediately be reached for comment on Wednesday afternoon; William McManus, the chief, said in a statement that the episode was under review "to ensure compliance with department policies".
SATX4, an activist group in the city linked with the Black Lives Matter movement, called for the officer to be fired and charges to be filed against him. "Unfortunately, this is another example of police targeting black community members," a statement by the group read.
Video surfaced in April last year of a San Antonio independent school district police officer lifting up a 12-year-old girl, body-slamming her to the ground then handcuffing her as she lay motionless, seemingly stunned. The officer lost his job.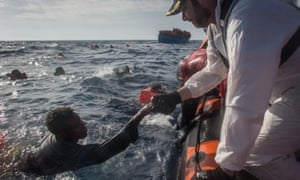 Crew members from the Moas Phoenix vessel help survivors into a rescue boat. Photograph: Chris McGrath/Getty Images
More than 30 people have drowned after about 200 people fell from an overcrowded migrant boat off the coast of Libya, the latest tragedy in the Mediterranean Sea.
The vessel was carrying between 500 and 700 people when the accident happened 20 nautical miles off the Libyan coast. It was not clear whether those in the water were knocked off balance by a wave or because there was a rush to one side of the boat as a rescue vessel approached.
The crew of the Phoenix aid boat, chartered by the Maltese NGO Moas, began a rescue operation and were distributing lifejackets. The number of deaths remains unclear.
The Italian coastguard, which was coordinating rescues, dispatched other vessels to the area to look for survivors.
"It's not a scene from a horror movie, it's a real-life tragedy that is taking place today at the gates of Europe," Chris Catrambone, who works with Moas, told AFP. Catrambone, who gave updates on the rescue operation on his Twitter feed, said 31 bodies had been recovered.
The incident was one of 15 rescue operations over the past 24 hours, which have saved up to 1,700 people. There is usually a spike in the spring and summer months in people attempting the perilous crossing to Europe, because of warm weather and calm seas. In the year up to 17 May, 45,754 people departing from the Libyan coast had been rescued at sea and taken to Italy, and more than 8,500 of them had arrived in the last two weeks. The figures represent a big increase on the same period last year.
The EU is training the Libyan coastguard to step up its efforts to turn back boats if they are inside Libyan waters, but aid groups have accused Libyan authorities of subjecting migrants to violence and other abuses if they are returned.
On Tuesday, the German NGO Jugend Rettet, which has been working in rescue operations in the central Mediterranean, claimed that the crew of a speedboat labelled "Libyan coastguard" fired shots at migrant boats during a rescue operation on Tuesday.
In a statement on Facebook, Jugend Rettet said its staff witnessed multiple gunshots being fired from the speedboat. "[They] were seemingly aimed at the people on the boats … Furthermore several boats were pushed back into Libyan waters … This is a violation of the non-refoulement principle – thereby of human rights," the statement said.
The captain of the NGO's vessel added: "About 100 people panicked and jumped from the boats … We cannot say whether and how many dead there were in the shooting. We had to be careful not to get a bullet ourselves. We are speechless against this crude violence."
The EU and Italy agreed in February to fund migrant centres managed by UN agencies, but progress has been slow due to the security crisis. On Monday, the UN refugee agency also called on the Libyan government in Tripoli to close its refugee detention centres, describing conditions as inhumane and shocking.
The European Food Safety Authority dismissed a study linking a Monsanto weedkiller to cancer after counsel from a US Environmental Protection Agency officer allegedly linked to the company.
Jess Rowlands, the former head of the EPA's cancer assessment review committee (CARC), who figures in more than 20 lawsuits and had previously told Monsanto he would try to block a US government inquiry into the issue, according to court documents.
The core ingredient of Monsanto's RoundUp brand is a chemical called glyphosate, for which the European commission last week proposed a new 10-year license.
Doubts about its regulatory passage have been stirred by unsealed documents in an ongoing US lawsuit against Monsanto by sufferers of non-hodgkins lymphoma, who claim they contracted the illness from exposure to RoundUp.
"If I can kill this, I should get a medal," Rowlands allegedly told a Monsanto official, Dan Jenkins, in an email about a US government inquiry into glyphosate in April 2015.
In a separate internal email of that time, Jenkins, a regulatory affairs manager, said that Rowlands was about to retire and "could be useful as we move forward with [the] ongoing glyphosate defense".
Documents seen by the Guardian show that Rowlands took part in a teleconference with Efsa as an observer in September 2015.
Six weeks later, Efsa adopted an argument Rowlands had used to reject a key 2001 study which found a causal link between exposure to glyphosate and increased tumour incidence in mice.
Rowlands' intervention was revealed in a letter sent by the head of Efsa's pesticides unit, Jose Tarazona, to Peter Clausing, an industry toxicologist turned green campaigner.
In the missive, Tarazona said that "the observer from the US-EPA [Rowlands] informed participants during the teleconference about potential flaws in the Kumar (2001) study related to viral infections."
Efsa's subsequent report said that the Kumar study "was reconsidered during the second experts' teleconference as not acceptable due to viral infections".
Greenpeace said that news of an Efsa-Rowlands connection made a public inquiry vital. "Any meddling by Monsanto in regulatory safety assessments would be wholly unacceptable," said spokeswoman Franziska Achterberg. "We urgently need a thorough investigation into the Efsa assessment before glyphosate can be considered for re-approval in Europe."
Socialist MEPs last week said that they too would call for an inquiry unless outstanding questions about the relicensing were cleared up.
A reply to Tarazona's letter from Clausing, seen by the Guardian, also says: "In the light of Jess Rowland's role in the assessment of carcinogenicity of glyphosate in the US as reflected by the internal Monsanto documents, I have serious concerns that he might have influenced the decision by providing wrong information which has not been scrutinised by Efsa and its experts."
A Monsanto spokesman said: "Plucking a single email out of context doesn't change the fact that the US EPA and regulators around the world, as well as a branch of the World Health Organization (WHO) that analysed pesticide residues, have concluded that glyphosate is unlikely to pose a carcinogenic risk to humans."
The WHO's pesticides panel ruled last May that glyphosate was probably not carcinogenic to humans through diet, a year after the WHO's cancer arm came to the opposite conclusion.