27 May
Nearly all of these are English-edition daily newspapers. These sites have interesting editorials and essays, and many have links to other good news sources. We try to limit this list to those sites which are regularly updated, reliable, with a high percentage of "up" time.


World Politics
Great Britain
United States
Philippines President Rodrigo Duterte has sought to reassure soldiers who might be accused of committing abuses under martial law and jokingly said that if any of them were to rape three women, he would personally claim responsibility for it.
Duterte is notorious for comments often deemed offensive and made the remark as a joke, reiterating that only he would be liable for any backlash over military rule on southern Mindanao island. He has, however, said he would not tolerate abuses.
"If you go down, I go down. But for this martial law and the consequences of martial law and the ramifications of martial law, I and I alone would be responsible, just do your job I will take care of the rest," Duterte said on Friday, according to a president's office transcript.
"I'll imprison you myself," he said, referring to any soldiers who commit violations, then he joked: "If you had raped three, I will admit it, that's on me."
Duterte made the remark in a speech to soldiers on Mindanao island, where he imposed martial law on Tuesday to try to crush Islamic State-linked rebels, who have been battling the military after laying siege to a southern city.
It was not the first time Duterte has made a joke about rape. He caused outrage in the lead-up to his presidential election win last year when he recalled a 1989 prison riot in which an Australian missionary was killed, and inmates had lined up to rape her.
In what was intended as a joke, Duterte said the victim was "beautiful" and as mayor of Davao city where the riot took place, he should have been first in line. He later apologised and said he did not intend to disrespect women or rape victims.
Duterte's speeches are often loaded with profanity, threats and jokes about taboo subjects, which offend some, but are taken lightly by many Filipinos.
The president's spokesman did not immediately respond to a request for comment on Duterte's latest remarks about rape.
Duterte's pledge of support for troops comes as human rights groups and some lawmakers criticise his decision to declare martial law as excessive, and say it could lead to abuses by security forces.
He also joked that he would join soldiers in the fight against extremists if he could, but he had arthritis.
The case of Devon Arthurs, a former neo-Nazi who allegedly killed his friends for disrespecting Islam, sheds light on the roots of extremism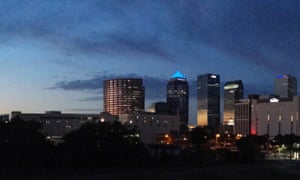 Devon Arthurs told Tampa officers he had killed his friends because they disrespected his religion, police and court documents say. Photograph: David Nauss / EyeEm/Getty Images
W

hen 18-year-old Devon Arthurs burst into a Florida smoke shop with a pistol and took customers and an employee hostage, he told them that he was upset about America bombing Muslim countries.
After Tampa police officers talked him into releasing his hostages and got him in handcuffs, Arthurs made references to "Allah Mohammed" and told the officers: "This wouldn't have had to happen if your country didn't bomb my country."
He said he had already killed several people.
Arthurs directed police to an apartment, where two men he described as his friends were found dead, both of them shot multiple times in the head and upper body. A third friend, Brandon Russell, was standing outside the apartment in army camouflage, weeping, according to court documents.
The path to radicalisation Arthurs described to the police after his arrest last Friday was an unexpected one. Originally, he said, he and his three friends had all been neo-Nazis.
But at some stage, Arthurs had converted to Islam. According to police and court documents, he told officers that he killed his friends for disrespecting his new religion.
His behavior had a dual motivation, Arthurs explained, according to an affidavit from Tampa police: to raise awareness about anti-Muslim sentiment and "to take some of the neo-Nazis with him".
Terrorists motivated by far-right extremism and by Islamist extremism share similar tactics, a similar brutality, and a similar desire to remake the global democratic order.
But they are usually considered enemies at opposite ends of the political spectrum. Far right terror attacks in Europe have been motivated by opposition to Muslim immigration.allegiance raises a key question for analysts looking at the process of radicalisation: to what extent the factors that attract people to extremism are specific to a particular ideology at all.
At least two neo-Nazi sites denounced the murders, mourned the victims, and described Arthurs as a former commenter who had eventually been banned for his comments about Islam and terrorism. Both sites described the murders as "a Muslim terror plot" against a neo-Nazi group.
However, officials at the FBI and at the UK's domestic intelligence agency, MI5, say little distinguishes the "pathways to violence" taken by extremists following different ideologies. One UK official said "the mechanics of radicalisation" were broadly similar in all cases.
"Our studies on both jihadis and rightwingers, and also school shooters and such like, found very little difference in terms of … pathways. It's like when your immune system is down. You can guess you'll get sick, but what sickness you contract depends on what you are exposed to," said Paul Gill, an expert in extremism at the University College London.
Though it is almost impossible to create a typical terrorist profile, some research shows that "seekers" who are looking for a particular form of "brotherhood" or cause that can give their lives meaning are particularly prone to radicalisation.
There is also evidence that a sudden destabilising event – or even a minor incident that has a powerful emotional impact – can make an individual vulnerable.
But ideology can be secondary to a "propensity for violence".
"This guy [Arthur] has only changed the T-shirt [of] what his violence is about," Gill said.
Arthurs also accused Russell, his surviving friend and a member of the army national guard, of visiting online neo-Nazi chat rooms, where he discussed killing people and bombing infrastructure, according to an FBI complaint.
Russell confirmed to police that he had neo-Nazi beliefs and said he was part of a group called AtomWaffen, according to the FBI complaint against him. But he said the explosive materials in his apartment been used for a university engineering club, according to the complaint.
AtomWaffen, according to a thread on the online fascist forum Iron March, claimed about 40 members across the country, and had gained publicity in the past year for posting racist and neo-Nazi recruitment posters on university campuses – a tactic common in recent months among several American extremist youth groups, including Identity Evropa and Vanguard America.
On Tuesday, Iron March posted a statement mourning Arthurs' alleged victims, Jeremy Himmelman, 22, and Andrew Oneschuk, 18, and offering support for Russell, who they said was being unfairly targeted by law enforcement and the media.
They described the attack as a "Muslim terror plot" and said Arthurs' three friends were "completely innocent of any accusation that the group conducted or advocated, or planned for terrorist acts".
Alyssa Himmelman, the sister of Jeremy, told the Associated Press her brother had been staying with a neo-Nazi because he needed a cheap place to live, not because he shared those beliefs.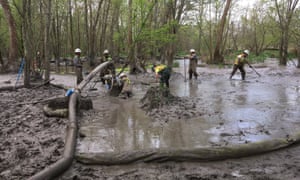 A Rover pipeline spill of more than 2m gallons of drilling mud in a wetland in Ohio. Photograph: Courtesy of Ohio EPA
The oil company behind the Dakota Access pipeline is facing intense scrutiny from regulators and activists over a series of recent leaks across the country, including a major spill now believed to be significantly bigger than initially reported.
Documents obtained by the Guardian suggest that a spill from the Rover pipeline that Ohio regulators originally described as 2m gallons might now be more than twice as large. The revelation was included in a legal challenge activists filed on Wednesday to block the natural gas pipeline run by Energy Transfer Partners (ETP), the corporation that operates the controversial Dakota Access pipeline and is now facing numerous government fines and violations.
The complaint against the Rover pipeline – which has been cited for more than a dozen environmental incidents, including a spill into a wetland that Ohio regulators described as a "tragedy" – comes on the heels of reports that Dakota Access had three recent leaks before it was even fully operational.
The growing number of problems with the two pipelines raises serious questions about the safety record of ETP and the effectiveness of the regulatory processes designed to protect the environment, according to activists fighting the projects.
"Put together how the company has conducted itself, the environmental damage and the rejection of the authority of the state, we fear the impact to our water resources," said Clifford Rowley, a Michigan resident who is part of a group challenging the Rover pipeline.
ETP made international headlines last year when indigenous activists from across the globe fought against the Dakota Access pipeline, which the Standing Rock Sioux tribe said threatened its sacred sites and water supply in North Dakota. Shortly after his inauguration, Donald Trump, who, records show, has close financial ties to ETP, ordered the expedited completion of the pipeline. While preparing for the formal launch over the last two months, small leaks were reported in South Dakota and North Dakota, according to government records.
The $4.2bn Rover pipeline – proposed to transport 3.25bn cubic feet per day of natural gas in Ohio, West Virginia, Michigan and Canada – received federal approvals for construction in February.
In April, there was a reported release of roughly 2m gallons of "drilling fluids" within a 500,000 sq ft wetland area, according to violation records from the Ohio Environmental Protection Agency (EPA). Another report cited the release of 50,000 gallons into a different wetland. There have been a total of 18 incidents across 11 counties, according to the complaint.
The state EPA director Craig Butler recently described the problem to the Washington Post as a "pattern" of spills, saying the company's response was "dismissive" and "exceptionally disappointing".
The rebuke from Butler is significant given that he is an appointee of Republican governor John Kasich, a former presidential candidate who supports increased drilling and a rollback of Obama-era restrictions.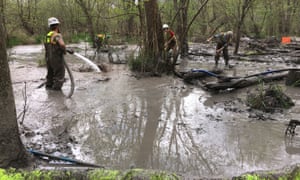 Emails from an ETP official to Ohio regulators, obtained from a public records request, show that the 2m gallon figure was likely a low initial estimate. The company official summarized the total "gallons lost" at roughly 5m.
State EPA spokesman James Lee told the Guardian that the latest figures suggest the spill was "more than 2m. It is a tragedy in that the affected wetland will likely not recover to its previous condition for decades. Had Rover more closely monitored their drilling equipment, and been better prepared for an immediate emergency response, this incident would likely not have occurred on the scale that we're dealing with now."
Herons in flight, an inquisitive marmot and a blue whale are among this week's pick of images from the natural world