28 May
Nearly all of these are English-edition daily newspapers. These sites have interesting editorials and essays, and many have links to other good news sources. We try to limit this list to those sites which are regularly updated, reliable, with a high percentage of "up" time.


World Politics
United States
Two men were fatally stabbed in Portland, Oregon on Friday after they came to the aid of two women who were being harassed because they appeared to be Muslim, police said.
On Saturday, Portland police named the suspect as Jeremy Joseph Christian and said he was being held without bail at the Multnomah County jail.
The 35-year-old, a known white supremacist according to a report by the Portland Mercury , was booked on two counts of aggravated murder, one count of attempted murder, two counts of intimidation in the second degree, and one count of felon in possession of a restricted weapon. He could face additional charges after the case is presented to a grand jury. He is due to be arraigned on Monday.
In a statement, Portland police said the attacker shouted ethnic and religious slurs at the women on a commuter train at the Hollywood transit station. Witnesses told police that the two young women were possibly Muslim. One wore a hijab.
Three men who intervened were stabbed, two fatally, and Christian was arrested shortly after he got off the train. The women left the scene before police could interview them.
Portland police did not identify the suspect or the victims. The third victim was treated for non-life threatening injuries.
In a blogpost, the Mercury said Christian yelled racial slurs and repeatedly gave a Nazi salute at a rightwing march in April. Police confiscated a baseball bat he carried to the event, according to the post, which included video of the incident.
Portland mayor Ted Wheeler, who was flying to London when the crime occurred, said in a statement there is "too much hatred in our world".
"Now is the time, we must come together as a community and love one another," Wheeler said. "We must reject hatred and violence. We must seek justice."
The attack on Friday afternoon happened hours before the start of Ramadan, Islam's holy month, when most of the world's 1.6 billion Muslims observe a religious fast.
In a statement responding to the attack, the Council on American-Islamic Relations (Cair) said anti-Muslim incidents in the US had increased by more than 50% from 2015 to 2016, which it blamed in part on Donald Trump's focus on militant Islamist groups and anti-immigrant rhetoric.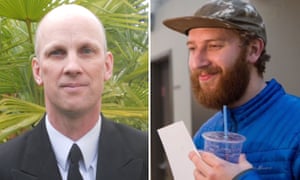 Ricky John Best and Taliesin Myrddin Namkai Meche, the two victims of the Portland double murder. Composite: Twitter/Vajra Alaya-Maitreya
The families, friends and colleagues of two men murdered while trying to stop a racist attack on two young Muslim girls on a train in Portland have paid tribute to them as heroes.
Taliesin Myrddin Namkai-Meche, 23, and Rick Best, 53, were fatally stabbed after intervening when suspected white supremacist began yelling "hate speech", police said
A third man, Micah David-Cole Fletcher, 21, was treated for injuries that police said were not expected to be life-threatening. Jeremy Joseph Christian, 35, was being held in the Multnomah county jail on suspicion of aggravated murder, attempted murder, intimidation and being a felon in possession of a weapon. He was arrested a short time after the attack on Friday.
Asha Deliverance, the mother of Namkai-Meche, confirmed his death in a post on Facebook, in which she wrote that her "dear baby boy passed on yesterday while protecting two young Muslim girls from a racist man on the train".
"Shining bright star I love you forever."
In a separate statement his family said he "lived a joyous and full life".
"In his final act of bravery he held true to what he believed is the way forward. He will live in our hearts forever as the just, brave, loving, hilarious and beautiful soul he was. We ask that in honor of his memory, we use this tragedy as an opportunity for reflection and change. We choose love. Safe journey Taliesin. We love you."
Reed College in Portland, where Namkai-Meche studied an economics degree, also posted a tribute to him on its Facebook page. In the post, Professor Kambiz Ghanea-Bassiri said he was an extraordinary person.
"I still remember where he sat in conference and the types of probing, intelligent questions I could anticipate him asking. He was thoughtful, humble, smart, inquisitive, and compassionate. He was a wonderful human being. As good as they come. And now he is a hero to me."
Rick Best, a father of four and army veteran, was remembered by colleagues who said "it's just like Rick to step in and help somebody out". Speaking to the Orgeonian, his supervisor at the Bureau of Development Services, Kareen Perkins, said "he was always the first person you would go to for help".
City commissioner Chloe Eudaly, who until recently oversaw the bureau, released a statement, paying tribute to his bravery.
"He stood up for two young women and others he didn't even know — all because he wanted to help," she said.
Portland mayor Ted Wheeler said both men "died heroes as a result of a horrific act of racist violence".
Ted Wheeler says the city stands with and supports its immigrant community after the fatal stabbing of two men who tried to intervene during the racial abuse of Muslim girls on a train. Wheeler goes on to say "there is too much hate in the world right now and far too much violence" and blames the current political climate for spreading bigotry
Opinion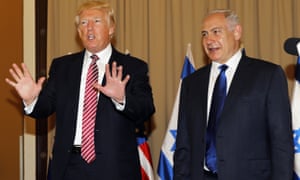 Donald Trump, in Israel with prime minister, Benjamin Netanyahu, where he criticised Iran. Photograph: Menahem Kahana/AP
One of the key questions posed by Donald Trump's presidency is whether you can believe what he says and even whether he believes it himself. This dilemma was evident last week during his visits to the Middle East and Europe. In a speech in Saudi Arabia, Trump dropped the anti-Islam rhetoric that so disfigured his 2016 election campaign. There was no mention of his travel ban on Muslims, a headline policy that remains blocked in the US courts. His trademark phrase – "radical Islamic terrorism" – that gratuitously smears an entire religion with the misdeeds of a violent fringe, was absent. Instead, Trump made nice. Islam was "one of the world's great faiths", he said. He wanted a partnership between the US and the Muslim world built on "tolerance and respect for each other".
Why this sudden change of tune? To say anything else at a heads of state summit on Arab soil would indeed have been crass, even by Trump's lax standards. It would also have required a degree of personal courage of which he has never been suspected. The most convincing explanation is also the most disturbing: that Trump is more thoroughly at ease among monarchs, dictators and unelected autocrats who share his contempt for human rights, free expression and a free press. The democratically chosen leaders of the EU and Nato, whom he met later in the week, are for him less congenial companions. They have a legitimacy he finds threatening. Trump's rude, ignorant public berating of the leaders of France and Germany over Nato budget shortfalls jarred badly after his fawning and toadying in the Gulf.
Trump's Saudi sojourn, which preceded a brief visit to Israel, provided some indications about his approach on international issues, if indeed they can be trusted. It is becoming plain, for example, that we are rapidly returning to the pre-Obama practice of simplistically dividing the world into "good guys" and "bad guys". George W Bush described the latter as "evil-doers". Trump calls them "losers". This playground terminology is applied to countries as well as individuals. Thus North Korea, for example, is once again threatened and reviled as a rogue state. In contrast, the Saudi regime, despite its egregious human rights abuses, institutional oppression of women, tolerance for and funding of anti-western ideologies and rejection of democratic norms, gets Trump's seal of approval, marked by a multibillion dollar arms deal.
Trump called in Riyadh for an unrelenting, international campaign against religious extremism, at the same time fatefully placing the US firmly on the Sunni Muslim side of the Middle East's gaping Sunni-Shia divide.
Ignoring the fact that most of the region's terror victims, for example in Iraq, are Shias, ignoring the reality that both al-Qaida and Islamic State are hardline Sunni groups and ignoring Saudi complicity in the spread of extremist beliefs, Trump chose instead to direct his fire at Shia Iran. All "nations of conscience", he said, should band together to isolate Iran and "pray for the day when the Iranian people have the just and righteous government they deserve".
Does Trump understand what he is saying? Was he aware that days before he spoke, Iran held nationwide, democratic polls and re-elected a reformist president? Does he really believe that Iran, not Isis, is the foremost sponsor of terrorism? Or is he responding blindly to middle America's perennial need for international bogeymen, to his own irrational hatred of Obama's landmark nuclear deal and to overstated Saudi and Israeli fears? Benjamin Netanyahu, Israel's fiercely anti-Iran prime minister, must be in the running for string-puller of the year. Trump is a bit big to be a puppet but he certainly acts like one at times.
Iran is evidently no innocent in the politics of the Middle East. Its support has been crucial in shoring up the criminal Syrian regime. Its ballistic missiles programme, which it says is defensive, is a cause for concern.
But Tehran has largely adhered to the 2015 nuclear agreement. It has a right to expect the west to keep its word on improved relations and trade, rather than increased isolation and tighter US sanctions, as plotted by Trump and the Republicans in Congress……..