31 May
Nearly all of these are English-edition daily newspapers. These sites have interesting editorials and essays, and many have links to other good news sources. We try to limit this list to those sites which are regularly updated, reliable, with a high percentage of "up" time.


World Politics
Great Britain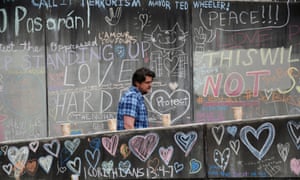 A makeshift memorial for two men who were killed in Portland on a commuter train while trying to stop another man from harassing two young Muslim women. Photograph: Terray Sylvester/Reuters
A

nthony Hammond was screaming racial slurs in the parking lot of a California apartment complex before he pulled out a machete and stabbed an African American man, according to police.
The horrific Saturday night attack – which led to hate crime, assault and mayhem charges against the 34-year-old white suspect – received very little attention in US media during the Memorial Day holiday. Also lost in weekend news was the case of a white man in a pickup truck who police say intentionally ran over and killed a 20-year-old Native American man.
The lack of press for both racially charged attacks could be due to the fact that the nation was still reeling from news of a double murder in Portland, Oregon, in which a man stabbed three people who were reportedly trying to stop a racist attack on two young Muslim girls.
The series of attacks in one weekend, along with a threat from a Republican lawmaker to shoot his colleague amid an immigration battle, offer a stark portrait of the racial violence and hate speech in America that activists say have grown since Donald Trump's election. From Washington state to Texas, the holiday meant to honor fallen soldiers was marred by gruesome assaults during a presidency that critics say has normalized white supremacy and emboldened bigots.
"Trump supporters are now feeling legitimized in their hatred and wanting to act out further," said Ryan Lenz, senior investigative writer with the Southern Poverty Law Center (SPLC), which has tracked a rise in hate groups and incidents during Trump's campaign and since his inauguration. "It speaks to a climate of hate and intolerance across the country. These three are not isolated."
Although the three days in Trump's America offered a particularly grisly image of racial violence, these kinds of attacks and outbursts in public spaces are becoming increasingly common, according to studies.
The SPLC collected more than 1,300 "bias incidents" involving harassment and intimidation from the November election through 7 February. The Center for the Study of Hate and Extremism at California State University found a 6% increase in hate crimes in 2016 in US cities and has noted sizable increases so far in 2017 in some metro areas, according to director Brian Levin.
The macabre weekend began on Friday afternoon when police say 35-year-old Jeremy Christian began yelling racist remarks while riding the train in Portland, a west coast city known as a progressive haven. When three passengers tried to intervene, Christian allegedly stabbed them, killing 53-year-old Ricky John Best and 23-year-old Taliesin Myrddin Namkai Meche. Namkai Meche's last words were reportedly: "Tell everyone on this train I love them."
A top Republican in the city later told the Guardian he was considering using militia groups as security for Republican events. In Portland, rightwing activists have planned upcoming "free-speech" rallies that are aimed at promoting the "alt-right" views that Christian reportedly espoused.
About eight hours after the Portland attack and 150 miles north, Jimmy Kramer, a member of the Quinault Indian Nation, was celebrating his 20th birthday with a group of roughly ten friends by a river in Washington state. The gathering of teens and young adults, many of them Native American, was interrupted after they sang happy birthday to him and were gathered by a campfire, witnesses said.
A white man in his 30s drove his pickup truck toward the group and eventually, police said, intentionally ran over Kramer, who later died from his injuries. A friend, 19-year-old Harvey Anderson, was also hit, but survived.
"The truck just took off toward us. He was trying to hit us all," witness Tom Anderson, Harvey's younger brother, told the Guardian. "There are some cold-hearted souls out there."
Jimmy Kramer, who was run down and killed in Washington state. Photograph: Jinny Marchand
The Quinault Nation said in a statement that the driver was "screaming racial slurs". In an interview Tuesday, Larry Ralston, Quinault tribal treasurer whose daughter raised Kramer, said he had heard from witness accounts that the driver also made "war whoops" meant to mock Native Americans and that he told them: "You guys don't belong here."
David Pimentel, of the Grays Harbor sheriff's office, said police have been unable to confirm reports of racial slurs and are investigating the hit-and-run as a homicide. But he said the physical evidence and witness testimony suggested "without a doubt" that the fatal collision was intentional.
Maranda James, the Quinault member who raised Kramer, said racism against Native Americans is common in the area. At sporting events, youth are routinely taunted as "dirty Indians", she said, noting that she once heard a man mock her identity at a local parade.
The atmosphere outside Gen Manuel Noriega's battered, bullet-scarred comandancia, headquarters of the Panamanian Defence Forces, one early morning in October 1989, bordered on frenetic. Beyond the railings a woman sobbed with grief. Her husband, an officer involved in the previous night's failed coup attempt against Noriega, was missing. It later transpired he and dozens of co-conspirators had been shot out of hand.
The headquarters was guarded by heavily armed, paramilitary thugs from Noriega's feared Dignity Battalions. A crowd of supporters cheered and shouted insults about the US president, George HW Bush. Then, without warning, Noriega, Panama's feared dictator, spy chief and self-styled "maximum leader", appeared on the steps wearing combat fatigues, a red baseball cap and a broad smile.
"Who did this? Who did this?" waiting journalists shouted through the railings, meaning who was responsible for this crude attempt at forcible regime change. "The Americans did this! The piranhas did this. They want to finish Panama!" Noriega shouted back in Spanish. Then, as if fearing the Yanquis might take another shot at him, "Pineapple Face" (as Noriega was known, due to his pock-marked skin) hurried back inside.
Noriega, who died on Monday at the age of 83, was right to be nervous. The October coup attempt marked a turning point in Washington's attitude to a man whose rise to power it had assisted, who became a valued CIA cold war asset and go-between in Central America's dirty wars, but who turned into a monster US spy bosses could no longer control. Noriega had outlived his usefulness. Now he was an embarrassment. So Bush made him America's most wanted.
When Noriega subsequently launched a vicious wave of repression, threatened American personnel guarding the Panama Canal and declared a "state of war" with the US, Bush pounced. Economic sanctions and quiet diplomacy had failed. Control over the strategically and economically vital canal was threatened. And Noriega knew too much. In December 1989, Bush ordered Gen Colin Powell, then chairman of the joint chiefs of staff, to launch Operation Just Cause, sending 26,000 invasion troops into Panama in a rehearsal of the Powell "doctrine of overwhelming force" that was next employed two years later in the first Gulf war.
The invasion was over quickly and relatively bloodlessly, although the number of civilian deaths in the Chorrillo neighbourhood is disputed. A pro-American government was duly installed and Noriega was captured after a bizarre siege at the Vatican embassy in Panama City where he had sought sanctuary. The US army used loudspeakers to blast high-decibel rock music into the compound until Noriega (and the papal nuncio) could stand it no longer. Ignoring demands that he be tried in Panama, Latin America's "last dictator" was spirited away. In effect, the Americans disappeared him.
Human rights and security aside, Bush had plenty of personal reasons for wanting Noriega out of the way. As CIA director and two-term vice-president to Ronald Reagan prior to 1988, Bush was implicated, by association, in often illegal, covert interventions in the civil wars in El Salvador and Nicaragua. During this period, Noriega, who rose to head the Panamanian security forces, became a highly paid informant and CIA "asset".
Noriega helped the US to combat Cuban, and thus Soviet, influence in the region. He acted as an intermediary with US-backed contra rebels fighting Daniel Ortega's leftwing Sandinista government and with the Salvadoran government and rebels. Death squads, random killings and torture characterised these murderous conflicts. Noriega was also closely associated with the Colombian Medellin drug cartel of Pablo Escobar.
Lt Col Oliver North: Noriega claimed the US turned on him after his refusal to help provide arms for North's contra rebels. Photograph: Lana Harris/AP
Funds from drug trafficking were used to buy arms, pay fighters and suborn government officials. Noriega later claimed it was his refusal to help Lt Col Oliver North provide arms for the contra rebels in Nicaragua that triggered the US decision to drop him. North was the White House's infamous covert operations pointman and a central figure in the Iran-contra scandal that shook the Reagan presidency.
Noriega's knowledge of US operations in Central America was detailed and highly compromising. He was said to have met Bush in person on more than one occasion. During the 1988 presidential campaign, Michael Dukakis, the Democrat nominee, attacked Bush for his close relationship with "Panamanian drug lord Noriega". When Bush, as president, launched his signature "war on drugs", Republicans worried about possible embarrassing contradictions.
In 1988, in the wake of Iran-contra, a Senate committee concluded: "The saga of … Noriega represents one of the most serious foreign policy failures for the United States. Throughout the 1970s and the 1980s, Noriega was able to manipulate US policy toward his country, while skilfully accumulating near-absolute power in Panama. It is clear that each US government agency which had a relationship with Noriega turned a blind eye to his corruption and drug dealing." Noriega was allowed to establish "the hemisphere's first narco-kleptocracy".
Glitzy shopping arcades. Fine alfresco dining. A world class aquarium. A recently opened five-star hotel in a grain silo converted by Thomas Heatherwick's studio, offering guests views of the harbour and Table Mountain through bulging "pillowed glass windows". Those in the penthouse suite have paid the equivalent of up to £8,000 a night for the experience, dependent on the season.
This is Cape Town's V&A Waterfront. One of South Africa's most visited attractions, more than 24 million people flock to the centrally located harbour every year. But tourists needn't wander far to be met with a grittier scene. Behind Somerset hospital – a historic public facility in neighbouring Green point which dates back to 1862 – large painted banners emblazoned "Reclaim the City" call for an end of segregation.
"We're into our second month now," says Sheila Madikane proudly. "We don't get rest time, because we are always between meetings, work, the occupation and our homes … if we have them. Even tonight I have to go back to my children because the electricity has run out. It's all part of the struggle."
A domestic worker, Madikane is one of a small group of Cape Town residents who have moved into Helen Bowden nurses' home – a large, disused building which once housed hospital workers. The occupiers are from all over Cape Town, but have one thing in common: lack of access to affordable housing in the city.
According to local NGO Ndifuna Ukwazi, the average family in Cape Town could spend 300,000 rand (around £17,400) on a home, but the average sale price is more than three times this at 1 million rand. It means most working class households rely on renting, often in crime-ridden areas on the city's periphery. And if they do live in well-located areas, their tenure security is put at risk by gentrification and steep rent increases.
The occupation began at the end of March when the Western Cape government announced plans to proceed with the sale of the Tafelberg building in nearby Sea Point, despite widespread opposition. It was deemed controversial in the context of Cape Town's housing and segregation crisis – particularly because the province had declared the site feasible for social housing back in 2012.
The occupiers are refusing to accept the sale, and are demanding commitments from the provincial government to turn similar buildings in the city into social housing. In particular, they are hoping to convince Helen Zille, the premier of Western Cape. A political heavyweight within the Democratic Alliance (the increasingly popular centre-right opposition party), Zille is currently dealing with a charge from her own party following a series of tweets she wrote suggesting colonialism brought benefits to South Africa. Now, she's up against a court case over Tafelberg, and Reclaim the City's demands and "symbolic occupations" at Helen Bowden nurses' home and Woodstock hospital – both publicly owned buildings earmarked for social housing, which remain abandoned.
Kari Lydersen in Chicago
Thousands took to the streets of downtown Chicago on Tuesday night calling McDonald's the "Donald Trump of corporations" and protesting low wages and sexual harassment at the world's largest fast food chain a day before the company's annual shareholder meeting.
The protest, coordinated by pressure groups including Fight for $15, a union-backed lobby group calling for a hike in US minimum wage, plan a second day of protests at McDonald's annual shareholder meeting in Chicago on Wednesday morning.
The marchers, many of them in red ponchos in the driving rain, marched between Trump Tower and the Rock'n'Roll McDonald's, the company's flagship restaurant in its hometown.
"McDonald's just like Donald Trump steals wages from its workers. McDonald's just like Donald Trump avoids paying taxes. McDonald's just like Donald Trump supports low wages. McDonald's just like Donald Trump harasses women," Fight For $15 national campaign organizer Kendall Fells said.
McDonald's did not return calls for comment.
Steve Easterbrook, McDonald's British-born chief executive, will address shareholders on Wednesday about the company's turnaround plans. Under Easterbrook the company has bounced back from a years-long slump but faces stiff competition as it attempts to grow its business.
Marchers from Dunkin' Donuts, Wendy's and other fast food outlets, along with home healthcare workers and employees of Amazon's warehouses and other companies, marched on Tuesday and will protest at the fast food giant's headquarters on Wednesday.
Through a series of strikes and protests the Fight for $15 campaign, which aims to raise the Federal minimum wage from $7.25 to $15, has been successful in lobbying for states including California and New York to increase wages. But Trump has offered mixed messages about his stance on the minimum wage, saying that the federal minimum wage is too low but also saying there should be no federal minimum wage at all.
Terrence Wise, a McDonald's worker from Kansas City, Missouri, who came to Chicago for the march, said striking had paid off for him. "Before I started organizing with Fight for $15 it had been two years since I had a raise," said Wise, who has worked in different fast food and retail stores since age 16. "After the first time I went on strike I got a raise the very next day. Being in the fight and seeing my wage increase slightly has given me hope that we're doing something right."
Workers rallied outside the new McDonald's corporate headquarters being built in Chicago's trendy West Loop, on the site of Oprah Winfrey's former studios. There, Chicago alderman Carlos Ramirez Rosa charged that taxpayers subsidize McDonald's since its workers must rely on food stamps and other public assistance.
"Every time McDonald's fails to provide health care and child care, who do they turn to?" he asked. "You! McDonald's, it's time for you to pay your fair share."
Wise blamed the corporation for perpetuating "intergenerational poverty". Growing up in South Carolina, he said his mother worked for Hardee's restaurants for nearly 30 years.
Read Full Article>>