05 Jun
Nearly all of these are English-edition daily newspapers. These sites have interesting editorials and essays, and many have links to other good news sources. We try to limit this list to those sites which are regularly updated, reliable, with a high percentage of "up" time.


World Politics
United States
In the aftermath of the London terror attack, Donald Trump on Monday returned the offensive over security, attacking Sadiq Khan and renewing his criticism of the US courts for blocking his attempted travel ban against people from six Muslim-majority countries.
"People," the president tweeted, "the lawyers and the courts can call it whatever they want, but I am calling it what we need and what it is, a TRAVEL BAN!"
Trump also added to his widely reviled criticism of Khan, the London mayor, writing: "Pathetic excuse by London mayor Sadiq Khan, who had to think fast on his 'no reason to be alarmed' statement. [Mainsteam media] is working hard to sell it!"
Khan responded on Sunday to Trump's first criticism of his advice to Londoners in the aftermath of the attack, a spokesman saying the mayor had "more important things to do than respond to Donald Trump's ill-informed tweet that deliberately takes out of context his remarks."
Trump's executive order restricting entry to the US from Iran, Yemen, Somalia, Sudan, Libya and Syria – a first version included Iraq – has been blocked by federal courts in Maryland and Hawaii. The White House has appealed to the supreme court.
Rulings against the order have concerned Trump and associates' references to the order as a "ban", and references to Muslims being its target. A ban on entry to the US based on religion – as a ban on the countries concerned would be on a de facto basis – would be unconstitutional on grounds of religious discrimination.
On the campaign trail last year, Trump called for a "total and complete shutdown" of Muslims entering the US.
Among the people who have insisted that Trump's policy does not amount to a "ban" is the president's own press secretary. In January, White House press secretary Sean Spicer told reporters: "It's not a Muslim ban. It's not a travel ban. It's a vetting system to keep America safe."
Trump tweeted about his travel ban on Saturday night, as events in London were unfolding. Seven people died and 48 were injured, 18 critically, when three attackers drove a van into pedestrians on London Bridge and then attacked people with knives in Borough Market. All three attackers were shot dead by police.
"We need to be smart, vigilant and tough," Trump wrote then, in the first of a number of widely criticised tweeted responses to the London attack. "We need the courts to give us back our rights. We need the travel ban as an extra level of safety!"
In response to that, the American Civil Liberties Union (ACLU) pointed to Trump's potential legal misstep when it tweeted: "Glad we both agree the ban is a ban."
On Monday, Trump carried on regardless, writing: "The Justice Dept should have stayed with the original travel ban, not the watered down, politically correct version they submitted to [supreme court].
"The Justice Dept should ask for an expedited hearing of the watered down travel ban before the supreme court – and seek much tougher version!
"In any event we are EXTREME VETTING people coming into the US in order to help keep our country safe. The courts are slow and political!"
Neil Katyal, a supreme court lawyer, tweeted in response: "It's kinda odd to have the defendant in Hawaii v Trump acting as our co-counsel. We don't need the help but will take it!"
When the men in black walked into her restaurant one Friday morning and sat at the round table in the corner, Brittany Porter knew exactly what they were.
Pale, skittish, aggressively tattooed, they wore black T-shirts with a cryptic white logo over their hearts. One had a razor inked along his left jaw and two SS lightning bolts dripping next to his eye like a double set of tears. One wore a handgun on his hip.
Porter went to the table, smiled and asked what they wanted. It was just after 8am. Two of the neo-Nazis ordered chicken nuggets.
On Facebook the night before, Porter read about the group of racists who were coming to eastern Kentucky to hold a rally. They had chosen an economically struggling stretch of coal country with a population that was 98% white and that had voted 80% for Trump. In their propaganda videos, the neo-Nazi leaders had talked about the scourge of drug addiction in Pike County.
At 30, Porter knew Pike County's problems. She herself was a recovered addict, as was her friend Chrissy Wooton, another waitress at the restaurant. Neither of them trusted either political party. Wooton, whose husband is a coal miner, had voted for Trump. Porter had not.
Together, they discussed whether they should start the day by accidentally pouring coffee into the neo-Nazis' laps.
The neo-Nazis were on their way to Whitesburg, Kentucky, where they had secured a private piece of land in the woods to hold a weekend summit with a coalition of other white nationalist groups. At the table, there were several members of the Traditionalist Workers party, including Jason, a sallow musician in a black-metal punk band who left New York City to move to a mostly white community in Indiana; Scott, who had recently been kicked out of an Irish pub in Kentucky for celebrating Hitler's birthday; and Gabe, diffident and a little shy, with long eyelashes and the white power tattoos on his cheek.
Porter and Wooton watched from distance, swooping in now and then to refill the coffee cups. But they were too curious to stay quiet. Porter said people on Facebook "were talking a bunch of crap". They were saying that the group was the Ku Klux Klan.
Wooton asked again more bluntly: "Are you guys KKK?"
The event the men were attending did, in fact, have KKK members on the list of potential guests. But the men at the table laughed and grinned. They were a political party, Matthew Heimbach, the group's 26-year-old leader, explained gently. "Our motto is faith, family and folk," he said. Heimbach was the most famous man at the table: the one who was being sued for shoving and shouting at a young black protester at a Donald Trump campaign rally last March, and who had recently filed legal papers saying that Trump, who had reacted to the protesters by shouting "Get 'em out of here!", should be held responsible for his behavior.
Heimbach was wearing the same black T-shirt, with his party's logo, as the other men, but he had a big cross around his neck and the cheerful bearing of a youth pastor: burly, bearded, bouncy with enthusiasm. One Kentucky local who watched a propaganda video Heimbach made had been perplexed that he looked like a teddy bear.
Their political party had been misrepresented, Heimbach explained to the waitresses. They're not the KKK. They're focused on family and faith and local control, on fighting the international corporations who came into Appalachia and took all the profits from Kentucky's coal. Heimbach did not try to sell the waitresses on his plan for a white ethno-state, his conviction that the Holocaust did not happen, his belief in thousands of years of Jewish conspiracy. He just talked about family struggles and immigrants taking jobs and hurting workers and how white Americans needed more representation.
Wooton, who had voted for Trump, was responding enthusiastically. She was furious at the lack of government response to the opioid addiction crisis and skeptical of establishment politicians. Her husband, a coal miner, had lost his job under Obama and been hired again three days after Trump's inauguration. Wooton came back to the table repeatedly to press Heimbach for more answers, explaining her manager was still calling him a racist. She asked if Heimbach was willing to work with people of other races. He said of course he was. He talked about the importance of black communities making decisions for themselves, about how black policemen might be better at policing black neighborhoods. Wooton agreed and agreed again.
Talking to Wooton, Heimbach acted like a local politician: polite, a little longwinded, but genuinely passionate. He was not Richard Spencer, the clean-cut, rich-boy racist who got punched in the face at Trump's inauguration. He was not a ranting internet troll. He was a small-town kid who put himself through college selling custom wardrobe tidying systems, and now he was using those skills trying to sell fascism to the American people.
Heimbach's Pike County trip was part of his broader preparation for 2018, when the party was planning to field six candidates in local elections for school board, county council and other positions in Indiana, Kentucky, Tennessee, North Dakota and Texas. All the candidates will be under 30, all open white nationalists, though they plan to focus their campaigns on more local issues.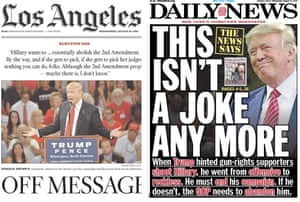 Front pages from Los Angeles and New York, from one day in the 2016 presidential campaign. Photograph: Newseum
J

ournalists in the US face a crisis of legitimacy as constant abuse by Donald Trump undermines the public's trust in an agreed set of facts, the head of a leading media museum has warned.
Jeffrey Herbst, chief executive of the Newseum in Washington, predicted that the president's denigration of the media would encourage authoritarian regimes to target reporters, newspapers and broadcasters around the world.
On Monday, the Newseum will rededicate its Journalists Memorial, adding the names of 14 journalists who died in Afghanistan, Brazil, India, Iraq, Libya, Mexico, Somalia, Syria and Ukraine to represent all those killed in pursuit of the news in 2016. Now, however, concerns over hostility to the press are lapping at America's shores.
"My biggest fear in the United States is delegitimisation of journalists," Herbst said. "This has been occurring over a long period of time: trust in the media has eroded in the United States for 20 years, partially because of complaints about the media, but frankly, trust in every institution in the United States has eroded over the last 20 years except for the military.
"But obviously in the [2016] campaign and since then, due to the attacks by the president, while some people have rallied around journalists, I think it's also caused this crisis of legitimisation to increase.
"So that's my big worry, that we as a society are no longer going to be able to agree on even the facts because we don't trust anyone who's reporting them. If you agree on the same facts but disagree on where they lead you, that's called regular political debate, but if you disagree on the facts themselves, that's much worse. I think part of the political problems we see in the US is we're no longer operating off of a common fact base and if journalists who produce those facts are delegitimated, it's bad."
Since 2008, the Newseum has been situated on Pennsylvania Avenue, a street address shared with the White House and Trump International hotel. Its exhibits include sections of the Berlin Wall, a mangled antenna from the top of the World Trade Center, a TV news helicopter, the taped door that led to the Watergate investigation and a desk phone that belonged to Rupert Murdoch.
It will also soon receive, on loan, a pair of glasses belonging to the Guardian reporter Ben Jacobs that were broken when he was attacked by Greg Gianforte, a Republican candidate who went on to win a special House election in Montana. Critics were quick to draw a link between that incident and Trump's fiery denunciations of the media as enemies of the people.
Asked if he feared physical assaults on reporters, Herbst replied: "I don't know. I think the delegitimisation could lead that way. The number of actual attacks is still very small but of course I'm worried any time there's physical violence."
In April, the Newseum Institute issued a "first amendment report card", in which 15 panelists from across the political spectrum assessed the state of the fundamental freedoms: religion, speech, press, assembly and petition. Press freedom received the lowest grade, a C, with panelists pointing to Trump's campaign threat to "open up" libel laws, the "fake news" phenomenon and the president's general enmity for the press.
Herbst, who is also a board member of the watchdog Freedom House, warned of global implications.
"I'm also worried that people take their cues around the world, to some extent, from the United States. Press freedom has been declining around the world for 10 years, according to Freedom House. To the extent that the United States, which is quite often celebrated for its free press, is having these problems, I think it gives encouragement to authoritarians across the world to intimidate, to delegitimise their journalists."
Each day, at 5am, the front pages of newspapers from the US and other countries are put on display outside the Newseum and on its sixth floor. It might seem like a quaint gesture in an era of dwindling print circulations and digital migration. But in a museum context, elevated to the status of artifacts, the front pages command attention in a way a screen cannot.
The death rate among migrants attempting to cross the Mediterranean to enter Europe has almost doubled over the past year.
Comparing the first five months of this year with the same period last year, UN agency data reveals that the mortality rate grew from 1.2% to 2.3%. The death rate during all of 2015 was 0.37% – a sixth of its current level.
Details of the drownings came as it emerged that far-right activists are planning to send boats to the Mediterranean this summer to disrupt search-and-rescue vessels that are attempting to save the lives of refugees.
The new figures prompted calls for the international community to stop turning a blind eye to the unfolding crisis. Aid agencies said the rising death rate was caused by a shortage of search-and-rescue vessels and the increasingly unsafe boats being provided by smugglers and traffickers in Libya.
Last week a Médecins Sans Frontières (MSF) vessel rescued 1,500 people in 10 hours, more than double the boat's capacity. Vickie Hawkins, executive director of MSF UK, accused world leaders of turning their backs on refugees and choosing to focus on border security instead of adopting a humanitarian approach that would lower the Med's death toll.
"The deterrence policies implemented to keep people away from Europe have little regard for the human consequences. As a result, the Mediterranean has turned into a giant cemetery with over 1,500 missing or dead so far this year and tens of thousands of people detained inside Libya."
Leonard Doyle, chief spokesman for the UN migration agency, the IOM, said it had detected a hardening of attitude towards economic migrants from Africa, who were looking for work as they moved north towards Europe. "These are impoverished, black, sub-saharan Africans and there's definitely less interest in them and less warmth towards them than there was towards the refugees coming in from Syria last year, there's no question about that," said Doyle.
He added: "The rate of deaths has gone sky high. People looking for work are being told to get into a dinghy and they'll get a job. These are very vulnerable people ending up in exploitative situations."
During the first five months of last year the IOM recorded 205,858 migrants reaching Europe via the Mediterranean with 2,512 deaths. So far this year a far smaller amount – 71,029 – of migrants and refugees have crossed the Med to enter Europe yet the number of deaths stands at 1,650.