07 Jun
Nearly all of these are English-edition daily newspapers. These sites have interesting editorials and essays, and many have links to other good news sources. We try to limit this list to those sites which are regularly updated, reliable, with a high percentage of "up" time.


World Politics
France
Emmanuel Macron's new centrist party could be within reach of a clear majority in parliamentary elections, with his candidates this week topping the first-round vote in almost all constituencies for French voters abroad.
First-round voting across France will take place on 11 June with a final round on 18 June, but French voters who live abroad and choose their own members of parliament for "overseas constituencies" voted early due to security restrictions on online voting.
Unusually, the foreign ministry has already released the first-round results for French voters abroad. The French president's candidates were ahead in 10 out of 11 constituencies and now face a second round.
Candidates for the fledgling La République En Marche (Republic on the Move) political movement – which was set up just over a year ago as a vehicle for Macron to win the presidency – had large leads, including in the US and Canada constituency, which was previously held by a rightwing MP.
Macron's candidate, Alexander Holroyd, also took over 50% of the first-round vote in northern Europe, which includes the UK, Ireland, Scandinavia and the Baltic states, where he is facing the Socialist former minister Axelle Lemaire. Turnout was 19.1%, slightly lower than the last parliamentary election, meaning over 80% abstained.
The constituencies that represent French citizens living abroad are not considered typical or representative of the broader French population. But the vote was consistent with projections by all French pollsters showing that the centrist movement is advancing as the traditional right and left parties of government that once dominated parliament see support shrinking.
At least 289 seats are needed for a parliamentary majority, but a series of projections by polling firms have shown Macron's movement could win more than 300 and might be within reach of one of the largest parliamentary majorities in postwar France.
Candidates in support of the pro-business Macron – many of whom are new to parliamentary politics and include a former fighter pilot, a former bullfighter, a leading mathematician, business owners and pensioners – have centred their campaigns on the argument "give the new president a chance".
Macron needs a solid parliamentary majority if he is to put in place his plans to loosen France's extensive labour laws and change the French welfare system on pensions and unemployment benefits. His prime minister, Édouard Philippe, said on Tuesday that the government wanted to modernise labour laws fast. He argued that overhauling France's social model of welfare protections was "essential and urgent".
United States
Former US spy chief attacks the sharing of intelligence with Putin and says firing of James Comey 'inexcusable'
In a speech to the National Press Club of Australia, the former US national intelligence chief says the Watergate scandal, which led to Richard Nixon's resignation in 1974, pales in comparison with the current White House situation
The former US director of national intelligence James Clapper says events in Washington now are more serious than the Watergate scandal of the 1970s, and that it is imperative investigators get to the bottom of the Trump administration's links with the Putin regime.
Clapper used a speech to Australia's National Press Club on Wednesday to launch a critique of the US president, Donald Trump, describing his decision to cultivate Russia and share intelligence with the Putin regime as "very problematic". He described Trump's firing of the FBI chief Jim Comey as "egregious and inexcusable".
The former intelligence director was asked how current events compared to Watergate and he said the behaviour under scrutiny now was more serious. "I think you compare the two, that Watergate pales, really, in my view, compared to what we're confronting now."
Clapper's appearance in Canberra comes before highly anticipated testimony later this week by Comey before the Senate intelligence committee. The committee is examining whether Trump's campaign colluded with Russian officials who interfered in the US presidential election.
Comey is expected to face questions about whether Trump tried to persuade him to stop an investigation into improper contacts between one of his top backroom advisers and Russian officials, and whether the former FBI director was sacked by the president because he refused to comply.
Clapper told the National Press Club in Canberra it was "absolutely crucial for the United States, and for that matter for the world, for this presidency, for the Republicans, for the Democrats and for our nation at large, that we get to the bottom of this".
"Is there a smoking gun with all the smoke? I don't know the answer to that. I think it's vital, though, we find that out."
Clapper insisted that, whatever Trump's intentions, there was no way the US and Russia could be allies, because Russia was "opposed to our democracy and values and see us, particularly the United States, as the cause of all their problems and frustrations".
He said he had a "real hard time reconciling the threat the Russians pose to the United States and, by extension, western democracies in general" with the solicitousness of the Trump administration towards Moscow. "The Russians are not our friends," he said.
Clapper said Trump, then president-elect, had remarked to him "during my one and only, first and last ever, I'm sure, sojourn to Trump Tower" that it would be "a good thing if we could get along with the Russians".
Clapper said he told Trump: "Sure, whenever our interests converge, and they do occasionally, fine, but as far as our being intimate allies, trusting buds, with the Russians? That is just not gonna happen".
Taormina summit did not prove a turning point, and populist movements are growing more vocal as elections approach
Within 24 hours of the leaders of the G7 nations leaving Taormina, Sicily, the designer shops and sleek bars of the hilltop town were once again teeming with tourists. Hardly any trace of the summit remained, just some flags on the town hall, a half-dismantled stage in the Roman amphitheatre, a sign for a French press conference in the main square, and a small art exhibition including Caravaggio's Ecce Homo.
The leaders had been invited to Taormina by their Italian hosts not just because of its beauty or views of Mount Etna but because Sicily is 300 miles from the Libyan coast, on the frontline in Europe's battle over migration. Sicily is the island to which tens of thousands of people from Africa and Asia are heading, their first stop in Europe and an escape from poverty, war, religious conflict or personal rejection.
The Taormina summit did not prove to be the diplomatic turning point in the debate on migration that the Italian government had once hoped. The Trump administration squashed an ambitious plan for a positive statement defending the rights of refugees. Possibly the only practical outcome of the summit was that all refugee boats were banned from landing in Sicily for seven days. Taormina residents sent a discreet letter to the local prefecture after the world leaders had left saying they wanted no migrants housed in the town as it might put off the tourists.
The failure leaves migrants and refugees continuing to struggle to forge a new life for themselves in Sicilian towns such as Ragusa, two hours' drive and a world away from Taormina. Many of those who have survived the hell of the Mediterranean sea crossing face the purgatory of Italian bureaucracy, and 18-month waits to find out whether they are to be granted asylum or instead be deported.
Numa Touray, 17, from the Gambia and now living in Palermo, summed up the choice refugees faced. "I knew the journey would be dangerous but if you have the lion behind you and the sea in front of you, you take the sea. I was 100% certain to die at home, 100% certain to die in Libya, and thought I had a 50/50 chance to survive the sea journey."
In Ragusa, Chiekhou Giulro, a 21-year-old from Senegal, newly arrived via Libya, was sleeping rough after being served with an exclusion order by the Italian government, accused of being a smuggler.
Two years ago he had been a cattle herdsman close to Richard Toll, a town in northern Senegal. Tribal conflicts over grazing rights led him to flee, and he travelled to Sabha, an oasis city in south-west Libya, to one of the notorious connection houses where he said he witnessed innumerable beatings and death threats from the Libyan smugglers.
"They force you to ring home and then start beating you with rubber pipes, so you scream down the phone and then they try to get family to send you more money. If you do not do what they want, they beat you. The Arab people shoot people for nothing, or €50. The Asma boys, the gangs, they chase you in the street. They only care about money. In Libya, if there is a difference, it ends with the gun. They are crazy people."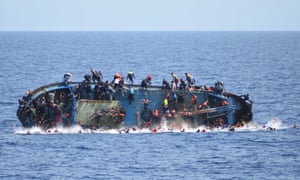 An overcrowded boat about to capsize in the Mediterranean. Photograph: Anadolu/Getty Images
He said he escaped from Sabha and travelled to Tripoli, where he worked for six months in a storehouse to raise enough money to pay for the crossing. He paid 1,350 Libyan dinars (£750), he said, adding that different nationalities had different rates. The smugglers told him the journey would take three to four hours.
He said that soon after being set to sea in a large inflatable dinghy with 130 or so migrants on board, the Libyan smugglers started to jump off the boat on to another smaller boat that had been escorting them. They demanded someone come forward to take over steering of the migrants' boat, and handed over a compass and the keel.
"They hit one man with a rifle butt when he refused to take over the steering. They showed me how to steer and pointed in the direction to go, but we drifted from 11 at night to 8 or 9 before being rescued. I did not know anything about boats."
On arrival in Sicily, the police demanded to know the identity of the boat's helmsman, and Giulro was arrested on suspicion of being part of the smuggling ring.
The rancher came roaring up on a four-wheeler.
"Hey, you," he shouted. "You're trespassing!"
This was deep in the middle of Wyoming. I had GPS and a topographic map.
"I don't think so," I replied.
"I don't give a damn what you think," he bellowed.
"I know exactly where I am," I said. "BLM [Bureau of Land Management] land," and held up my GPS.
He put a hand on his leather holster and stuck out his lower jaw.
"Let me show you where we are on the map," I suggested.
"That map don't mean nothing. Get off my land or you're gonna get yourself shot."
I noticed he had two plastic rifle sheaths, one mounted on each side of his quad. Would he really shoot me? Looking straight into his face, I decided he might.
That was years ago, but since then I've had similar encounters exploring the American west, as have many of my outdoor friends. Rightwing and religious extremists who believe they personally own public land are relatively commonplace out here, beyond the 100th meridian. Case in point: Ammon Bundy.
"We're here to unwind claims the federal government has on this land," said Bundy, a Mormon cattle rancher in southern Nevada, after he and two dozen heavily armed militiamen forcibly took over the Malheur wildlife refuge, a central Oregon bird sanctuary, in January last year.
Their occupation lasted 41 days. Robert LaVoy Finicum, a Mormon rancher from Arizona, was killed and 26 others were subsequently indicted on charges of "conspiring to prevent federal employees from doing their jobs". Although Bundy and six others were acquitted of these charges, he and his father, Cliven, and three brothers are still in jail at the Nevada southern detention center in Pahrump, awaiting trial on other charges stemming from an armed confrontation with the BLM in March of 2014: Cliven Bundy had been illegally running cattle on upward of 100,000 acres of federal land and owed over $1m in unpaid grazing fees, but when the BLM tried to remove the cattle, Bundy, with his 14 children, 52 grandchildren and arsenal of guns, hunkered down at their Bunkerville ranch. Concerned for the safety of citizens, the BLM backed off and pursued legal action through the courts.
Once again, we're hearing vociferous calls to "give the land back" to the states, despite the fact that the land in question never belonged to state or local governments. Backed by the Koch brothers, the American Legislative Exchange Council (Alec) and Americans for Prosperity have cynically joined in, funding Utah state representative Ken Ivory's tenure as president and lobbyist for the American Lands Council, a group pushing Congress to cede control of public land to "willing states".
All this recalls the Sagebrush Rebellion, a movement that goes back to 1897, when President Grover Cleveland, fearful that the great forests of the west were being decimated by private interests, set aside 25m acres for the public. Ranchers and miners, who had only recently participated in the ethnic cleansing of the landscape (relocating its last original inhabitants to reservations), were apoplectic about how "esthetic" easterners were ready to "plaster the west with reserves that would retard and cripple the hardy pioneers".
President Theodore Roosevelt, further concerned about the rapidly disintegrating public commons, created the United States Forest Service in 1905. Recognizing the need to preserve large tracts of land for the benefit of all Americans, Roosevelt eventually established 150 national forests, 51 federal bird reserves, four national game preserves, five national parks and 18 national monuments, protecting 230m acres of public land.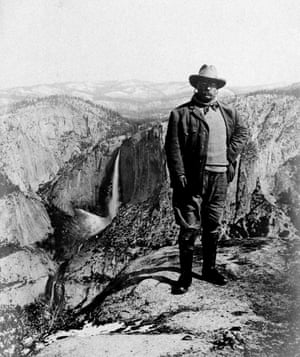 Theodore Roosevelt on Glacier Point in Yosemite National Park in 1903 Photograph: Bob Thomas/Popperfoto/Popperfoto/Getty Images
Cliven Bundy and his sons – who face charges of threatening and assaulting a federal officer, extortion, obstruction, weapons violations and conspiracy, and years in prison if found guilty – represent only the most recent iteration of the Sagebrush Rebellion. The first was in the 1890s. The second flare-up came in the late 70s, following the passage of the Clean Water Act in 1972, the Endangered Species Act in 1973, and most importantly the Federal Land Policy and Management Act (FLPMA) in 1976. The FLPMA ended homesteading, and mandated that the Bureau of Land Management begin to include the concepts of preservation and conservation, not merely extraction, in managing land.
The self-appointed leader of the 70s movement was Cal Black, a uranium miner and Mormon from Utah who threatened to "blow up bridges, ruins and vehicles. We're going to start a revolution" – a revolution that would result in extensive vandalism to ancient Anasazi sites in Utah.
We're now living in the third Sagebrush Rebellion. During the seizure of the Malheur wildlife refuge, Ammon Bundy told the press that his band of outlaws intended to use the refuge as a "base for patriots". They planned on staying several years, "freeing the lands up, getting ranchers back to ranching and miners back to mining and loggers back to logging". Theirs is the same populist, duplicitous rhetoric that Trump used in his presidential campaign. Bundy, citing revelations from God, defended the violent actions of his anti-government, gun-waving cabal by reiterating their most sacred belief: "The federal government does not have the authority to come down into the states and control its land and resources."
Opinion
H

ow long can we keep watching this endless car crash that is Donald Trump's presidency? The world has pressing problems to solve, from climate change to global terrorism, but instead of contributing resources and wisdom from the United States, Trump relentlessly gets in the way of solutions and exacerbates problems, all the while turning our shared tragedies into his own spectacles.
We shouldn't be passive onlookers to Trump's pantomime presidency any longer. It's time we learn how to read Trump more judiciously, if only to learn how to deal with him better.
Take Trump's obtuse reaction to the heinous terrorist attacks on the London Bridge. Only this American president would hear the words of capitulation in London mayor Sadiq Khan's reasonable advice, made during an interview, that Londoners should not be alarmed by an increased and armed police presence on the streets following this terrorist attack.
Misconstruing Khan's statement, Trump attacked Khan in a tweet posted hours after Saturday night's attack. "At least 7 dead and 48 wounded in terror attack and Mayor of London says there is "no reason to be alarmed!" Trump wrote. Once it became clear his attempt to slander the mayor was obviously failing, Trump then doubled down again on Monday morning, tweeting: "Pathetic excuse by London Mayor Sadiq Khan who had to think fast on his 'no reason to be alarmed' statement. MSM [Mainstream media] is working hard to sell it!"
Trump's outsize animosity to Khan may stem from rank bigotry – Khan is Muslim, after all – or be due to Khan's criticism of Trump's then proposed Muslim ban last year. Either way, who really cares anymore? Reasonable people should not. Instead, reasonable people should see through Trump's Twitter theatrics to discover a rather pitiful method of leadership.
By focusing less on Trump's personal reasons for his behavior and more on the political motivations for his actions, we can easily discern something crucial. The mounting evidence since 20 January shows that Trump's notion of leadership revolves around creating a politics of unreasonably low expectations so that any measure of near adult behavior by the man will be seen as remarkable, or even presidential, while his hopes abound that the normal methods of judging legislators will fade from view.
His churlish use of Twitter is a case in point. The public consumes Trump's Twitter timeline as if it offers access straight through the weird hair and directly into Trump's brain. But Trump's tweets are not merely 140-character missives of questionable spelling and intelligence. Whether we like it or not, they are also official pronouncements of the president of the United States. And as such Trump's tweets – in form and content – effectively lower our expectations of what presidential communication should both look like and contain.
There's more. Trump's own statements so often contradict his own stated policy goals that his administration's motto might as well be "Yes, we can't!" Following the London Bridge attack, Trump also posted a series of nakedly opportunistic tweets relaying his desire to implement his proposed travel ban from several Muslim-majority countries, a policy which has been put on hold by the courts because of the blatant religious animus behind the proposal. "People, the lawyers and the courts can call it whatever they want, but I am calling it what we need and what it is, a TRAVEL BAN!" he wrote in one tweet. "The Justice Dept. should ask for an expedited hearing of the watered down Travel Ban before the Supreme Court – & seek much tougher version!" read another.
Lawyers are already feasting on Trump's words as evidence to challenge the administration's legal arguments regarding the travel ban, and Trump's tweets could very likely undermine his own case in front of the courts. Some pundits will see the posts as indications of Trump's shortsighted political impulses, but another possibility exists. Trump deliberately seeks to torpedo his own political proposals so that his failures will appear as evidence of how much he is an outsider to very system which he is now supposed to lead. The world be damned. He's all that counts.
Related: