08 Jun
Nearly all of these are English-edition daily newspapers. These sites have interesting editorials and essays, and many have links to other good news sources. We try to limit this list to those sites which are regularly updated, reliable, with a high percentage of "up" time.


World Politics
United States
*********************
IMPEACH!  IMPEACH! IMPEACH !!!!!!!!!!!
The McGlynn
*********************
The fired FBI chief, James Comey, has publicly revealed how Donald Trump put pressure on him to shut down an investigation into a senior adviser's links to Russia.
Trump asked Comey to drop his investigation into the former national security adviser Gen Michael Flynn, Comey's first written account of his interactions says.
"I hope you can see your way clear to letting this go, to letting Flynn go," the president is alleged to have told Comey in the White House in February. "He is a good guy. I hope you can let this go."
Comey, who was subsequently dismissed by Trump, writes that he understood the president to be asking him to drop the investigation into Flynn, an intervention he found "very concerning".
Comey's statement for the record was released on Wednesday ahead of his eagerly awaited appearance before the Senate intelligence committee on Capitol Hill on Thursday. Over seven pages, he provides intriguing detail about his private conversations with Trump, including a 30 March phone call in which Trump asked what Comey could do to "lift the cloud" of the Russia investigation.
Trump claimed vindication. Marc Kasowitz, a lawyer representing him in the Russia investigation, said in a statement: "The president is pleased that Mr Comey has finally publicly confirmed his private reports that the president was not under investigation in any Russian probe. The president feels completely and totally vindicated. He is eager to continue to move forward with his agenda."
The document appears certain to become the focus of an investigation into whether Trump is guilty of obstruction of justice, an offence for which he could be impeached.
It tells how, over dinner on 27 January, Trump told him repeatedly, "I need loyalty," and, in a phone call on 30 March, he asked what Comey could do to "lift the cloud" of the Russia investigation.
In between, on 14 February, Comey recalls a meeting at the Oval Office with a group of senior officials who were then asked to leave the room. He writes: "When the door by the grandfather clock closed, and we were alone, the President began by saying, 'I want to talk about Mike Flynn.' Flynn had resigned the previous day. The President began by saying Flynn hadn't done anything wrong in speaking with the Russians, but he had to let him go because he had misled the Vice President. He added that he had other concerns about Flynn, which he did not then specify.
"The President then made a long series of comments about the problem with leaks of classified information – a concern I shared and still share."
After a brief interruption, Trump resumed. "The President then returned to the topic of Mike Flynn, saying, 'He is a good guy and has been through a lot.' He repeated that Flynn hadn't done anything wrong on his calls with the Russians, but had misled the Vice President.
"He then said, 'I hope you can see your way clear to letting this go, to letting Flynn go. He is a good guy. I hope you can let this go.' I replied only that 'he is a good guy'. (In fact, I had a positive experience dealing with Mike Flynn when he was a colleague as Director of the Defense Intelligence Agency at the beginning of my term at FBI.) I did not say I would 'let this go'."
Comey adds that he immediately prepared an unclassified memo of the conversation about Flynn and discussed the matter with FBI senior leadership. "I had understood the President to be requesting that we drop any investigation of Flynn in connection with false statements about his conversations with the Russian ambassador in December. I did not understand the President to be talking about the broader investigation into Russia or possible links to his campaign.
"I could be wrong, but I took him to be focusing on what had just happened with Flynn's departure and the controversy around his account of his phone calls. Regardless, it was very concerning, given the FBI's role as an independent investigative agency."
In another critical and vividly described scene, Trump invited Comey to dinner at the White House on 27 January and repeatedly asked the FBI director to pledge his personal loyalty.
"It turned out to be just the two of us, seated at a small oval table in the center of the Green Room. Two Navy stewards waited on us, only entering the room to serve food and drinks," Comey writes.
Trump started off the conversation by asking Comey whether he wanted to stay in his job, which the FBI director said he "found strange" as the president had already told him in earlier conversations he wanted Comey to stay.
In his statement, Comey makes it clear that Trump was seeking to put pressure on him. "My instincts told me that the one-on-one setting, and the pretense that this was our first discussion about my position, meant the dinner was, at least in part, an effort to have me ask for my job and create some sort of patronage relationship," Comey said. "That concerned me greatly, given the FBI's traditionally independent status in the executive branch."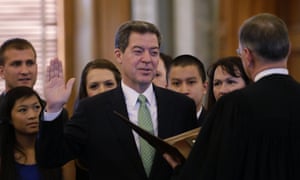 Kansas governor Sam Brownback championed the cuts as a measure to spur growth – but they have left the state with a $1bn hole in its budget. Photograph: Charlie Riedel/AP
Dominic Rushe in New York and the Associated Press
Kansas has rejected the years-long tax-cutting experiment that brought its governor, Sam Brownback, to international attention and provided a model for the Trump administration's troubled tax plans.
In a warning shot to the Trump administration, even Brownback's fellow Republicans voted to override his veto of a bill to reverse many of the tax cuts he championed as a way to spur entrepreneurs and the economy, but which have left the state with a $1bn hole in its budget.
Starting in 2012, Brownback's plan has been to "march to zero" – cutting taxes wherever possible in the belief that the money Kansans saved would flow into the wider economy and drive growth. The governor was advised by Arthur Laffer, the economist who inspired Ronald Reagan's "trickle-down" economic theory. So radical was his plan that critics called Kansas "Brownbackistan".
State Democrats and local critics were delighted that Brownback's plan had finally hit the rocks after earlier attempts to overrule the governor's veto had failed. Senator Tom Holland, of Baldwin City, cheered the end of "Sam's march-to-zero madness".
Judith Deedy, a mother of three from Johnson County who has campaigned against the cuts she blames for an escalating crisis in the state's school system, said she was "delighted" by the news. "It just didn't work. This was a terrible experiment that has left our state unable to do what it is supposed to do," she said.
Brownback's defeat means the state will end a tax cut for limited liability companies (LLCs) and so-called pass-through businesses – which meant independent business owners and farmers would pay no state tax on the bulk, if not all, of their income. That tax plan is similar to the pillar of Trump's tax proposal. After it was brought in, the number of LLCs in Kansas leapt from 190,000 to over 300,000 and tax revenues plummeted, but the rate of jobs growth in Kansas has lagged that of its neighbors.
In an interview with the Guardian last month, Laffer defended his theories and said the problem was Brownback had not gone far enough. "When you put an atomic bomb on a place, it will materially change the place – but a cherry bomb probably won't change the buildings or anything else," he said.
Under the new tax plan, legislators expect to raise $1.2bn in new revenue over two years to close projected budget shortfalls totaling $889m through June 2019, and also provide additional funds for public schools.
The conservative Republican governor still touts the income tax cuts enacted in 2012 and 2013 as pro-growth policies. But voters soured last year on the governor's policies, ousting two dozen of his allies from the legislature and giving more power to Democrats and moderate Republicans who then backed this year's tax increase. The legislature's action leaves his main political legacy in tatters.