12 Jun
Nearly all of these are English-edition daily newspapers. These sites have interesting editorials and essays, and many have links to other good news sources. We try to limit this list to those sites which are regularly updated, reliable, with a high percentage of "up" time.


World Politics
France
Great Britain
A Scottish three year old's take on the election
**********************
First, a little humor. These days it is needed.
The McGlynn
**********************
United States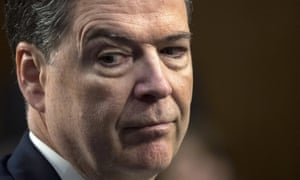 James Comey testified to Congress that he leaked memo in order to get a special counsel appointed to the investigation into Russian interference in the US election. Photograph: J Scott Applewhite/AP
Days after James Comey's blockbuster testimony, both Republicans and Democrats on Sunday called for the White House to release any tapes that may exist of a private conversation between the former FBI director and the president.
Republican senator Susan Collins said she would support a subpoena to the White House to release any alleged tapes as Donald Trump launched new attacks on the fired FBI boss, saying he believed he was behind further leaks to the media.
There were also growing calls for the attorney general, Jeff Sessions, to appear in public when he goes in front of the Senate intelligence committee Tuesday, as it investigates Russian meddling in the presidential election. It is not yet clear if the hearing will be closed or open.
Speaking about suggestions that there may be tapes of Trump and Comey's disputed conversations relating to Russia, Collins said on CNN's State of the Union: "I would be fine with issuing a subpoena. But that most likely would come from the special counsel's office."
She said she hoped the president would release the tapes "voluntarily".
Trump and his aides have dodged questions about whether conversations relevant to the Russia investigation have been recorded. Pressed on the issue Friday, Trump said: "I'll tell you about that maybe sometime in the very near future."
Democrat and Senate judiciary committee ranking member Senator Dianne Feinstein also pressed for release of tapes, as did Democratic senator, Chuck Schumer, who told CBS's Face the Nation: "If there are tapes – [Trump] alluded to the fact there are tapes maybe as a threat or taunting Comey – he should make that public right away."
James Lankford, a Republican senator, also a member of that committee, agreed the panel needed to hear any tapes that exist. "We've obviously pressed the White House," he said.
Lankford said Sessions' testimony Tuesday will help flesh out the truth of Comey's allegations, including Sessions' presence at the White House in February when Trump asked to speak to Comey alone. Comey alleges that Trump then privately asked him to drop an inquiry into former national security adviser Michael Flynn's contacts with Russia.
Schumer called for Sessions to appear in public. He said: "There is very little that is classified. Anything that is classified, they can do in a separate classified briefing.
"There are some questions about Sessions that have to be asked. First, did he interfere with the Russian investigation before he recused himself? Second, what safeguards are there now so that he doesn't interfere? Third, it says he was involved in the firing of Comey, and the president said Comey was fired because of Russia. How does that fit into with recusal?"
Meanwhile on Sunday, Republican senator Lindsey Graham, a frequent critic of the president, called conversations between Comey and Trump "inappropriate", and "frustrating", because the investigation may have otherwise helped exonerate Trump.
"You may be the first president in history to go down because you can't stop inappropriately talking about an investigation that if you just were quiet, would clear you," said Graham.
Earlier Sunday, Trump returned to Twitter to call Comey's decision to leak a memo of a private conversation "cowardly", questioned whether his actions were legal, and said he believed the ex-FBI director's may have leaked other materials.
Comey testified on Thursday that the president asked him to drop an investigation into former national security director Mike Flynn. Flynn resigned earlier this year, after it was revealed he spoke with Russian officials during the Trump transition.
"I believe the James Comey leaks will be far more prevalent than anyone ever thought possible," the president tweeted Sunday morning. "Totally illegal? Very 'cowardly!'"
Trump has remained uncharacteristically quiet on Twitter since Comey's testimony. His recent tweets have generally focused on jobs and White House summits. When he has responded to Comey's testimony, it has been to call him a "leaker" and say his testimony was "full of lies".
Source: AP
Riot police have detained demonstrators during an opposition rally in central Moscow. The protest was one of several held on Monday in cities across Russia spearheaded by Alexei Navalny, who has become the Kremlin's most prominent critic. The politician and anti-corruption campaigner was arrested outside his home en route to the Moscow rally
The Russian opposition politician Alexei Navalny has been detained outside his home after he called on his supporters to take to the streets of Moscow to demonstrate the growing momentum behind his protest movement.
The lawyer turned anti-corruption campaigner, who wants to challenge Vladimir Putin for the presidency next year, is popular among a minority of the population, but his support is growing. A protest in March against alleged corruption by the prime minister, Dmitry Medvedev, drew an estimated 60,000 people to streets in cities across Russia.
Moscow was bracing for a chaotic afternoon on Monday after Navalny switched the location of the protest at the last minute to central Tverskaya Street, already closed off by authorities for military reenactments to mark Russia Day.
At about 1.30pm (11.30am BST) Navalny's wife, Yulia, wrote on his Twitter feed that he had been arrested about a half-hour before the demonstration was to begin. There was no immediate statement from police.
Smaller protests are being held in other Russian cities, with reports of police detentions in a number of Siberian cities.
Most of the rallies are taking place without police permission. Moscow authorities had made a rare concession to the opposition and given Navalny permission to hold the rally on a street close to the city centre. However, late on Sunday, Navalny said every company from which the organisers had tried to rent a stage and sound equipment told them the mayor's office had forbidden anyone from renting equipment to the rally.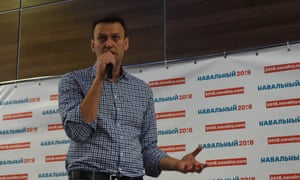 Alexei Navalny is hoping to challenge Vladimir Putin for the presidency next year. Photograph: Vasily Maximov/AFP/Getty Images
Angered, Navalny announced he was moving the rally to Tverskaya, saying "compromise is possible, but not humiliation". Some in the protest movement welcomed the decision as the only logical response to the obstacles placed by authorities, while others decried it as irresponsible, putting protesters at risk.
Police said those who attended the event without placards or slogans would be free to walk along the street, but warned they would detain anyone who appeared to be protesting.
During the previous rally, on 26 March, more than 1,000 people were detained in Moscow alone, including Guardian journalist Alec Luhn. Most were released after a few hours, but some were given 15-day jail sentences, including Navalny. A few people have been given more serious jail terms, with one protesters sentenced to 18 months behind bars, in what appears to be an attempt to use random repressions to deter people from protesting.
A presidential election is due next March, in which Putin is expected to stand and win a new six-year term. Navalny has travelled around the country setting up volunteer headquarters in many Russian cities as part of his own bid for the presidency.
Church bells will toll throughout the Orlando area as residents reflect on the 49 patrons killed during a massacre at the gay nightclub Pulse in the worst mass shooting in recent US history.
Starting in the early hours of Monday, and continuing almost 24 hours later, survivors, victims' families, city officials and central Florida residents will remember the victims with four services.
The first service is closed to the public, and it's being held at the nightclub for survivors, local officials and club employees. It will overlap with the exact time that gunman Omar Mateen began firing shots, a little after 2am on 12 June 2016.
It is followed by another midday service at the nightclub, and an evening gathering in the heart of downtown Orlando. A final, music-filled late-night service is being held at the nightclub.
Mateen pledged allegiance to the Islamic State during the attack and was eventually killed by police during a shootout after a three-hour standoff. His wife, Noor Salman, is facing charges of aiding and abetting and obstruction in federal court, and she has pleaded not guilty to helping her husband.
On Monday, local churches throughout Orlando have arranged for church bells to ring simultaneously, 49 times at noon.
Local officials also have declared the one-year mark as a day of "love and kindness", and they are encouraging residents to volunteer or perform acts of compassion.
An exhibit of artwork collected from memorial sites set up around Orlando after the massacre will be shown at the Orange County History Center, and a giant rainbow, gay pride flag will be unveiled at the Orange County government building.
Not all the survivors planned to attend the events, saying it would be too difficult.
"There's going to be so many things going on that I feel it will be overwhelming for those affected," said Ricardo Negron, who managed to escape the club without physical harm after the shooting started.
Demetrice Naulings said he would likely go to some of the commemorative events, but he wasn't looking forward to it. Naulings also escaped from the club but lost his best friend, who was fatally shot.
T

o Jenece Howe, it seemed like an ordinary yard sale. But as she surveyed the items, arrayed on a patch of land on the Native American reservation, she paused. It appeared to her as if the contents of a home had simply been dumped outside. And the elderly women selling them looked distraught.
Soon Howe, an enrolled member of the Yakama Nation, learned the reason. The woman, and many others, had been evicted from a tribal housing complex. "It was horrible. Horrible. Families had lived there for 20 plus years. That was their home. That was their everything," Howe said.
Several tribal members estimated that anywhere from 350 to 500 members of the Yakama Nation, a sovereign tribe in Washington state with a vast and beautiful reservation, were displaced from 60 tribal-owned residences last spring. Some fell behind on rent, others failed drug tests or had overcrowded homes; as many as 18 people lived in one three-bedroom house, according to reports in a local paper. Many of those evicted had nowhere else to go.
While cities such as Los Angeles, Seattle and New York regularly garner headlines over the number of people living on their streets, the ongoing housing emergency on tribal lands has been harder to discern.
Perhaps this is because homelessness on reservations looks different than elsewhere, and often doesn't mean living outside, according to a study by the federal housing agency. It is more common for people to move in with others, often relatives, crammed into a single home. A few years ago as many as 85,000 tribal members across the country were living with friends or relatives, the report showed, and it is four times as likely that Native Americans will inhabit homes that are overcrowded and in need of repairs. One recent news report noted that a Wyoming tribe with 11,000 members had only 230 homes on its reservation.
"There are plenty examples where you have housing shortages, you have overcrowding. It's not exclusive to the north-west," said Tony Walters, the executive director of the National American Indian Housing Council. He emphasized that communalism was an important cultural value for many Native Americans, though this did not diminish the scale of the problem. "It's almost like people don't think of it, like it's a given in these communities."
One of the underlying factors is a crushing 30% poverty rate, close to double the national rate, according to census data.
"There's a lot of couch surfing," Howe said of the Yakama reservation. "A lot of our families will go stay until they wear out their welcome and then go to another family member. It's not uncommon to have three generations of family in one home."