13 Jun
Nearly all of these are English-edition daily newspapers. These sites have interesting editorials and essays, and many have links to other good news sources. We try to limit this list to those sites which are regularly updated, reliable, with a high percentage of "up" time.


World Politics
United States
Trump trolled by Democrats after staff take turns praising the president – video
A video of US president Donald Trump listening to each member of his cabinet heaping praise on him and saying they are 'blessed to serve your agenda' has been swiftly mocked by the Senate's top Democrat, Chuck Schumer, who posted his own video to Twitter of his staff showering him in compliments about his hair and television appearances
The Super Bowl ads that trolled Donald Trump – video
The famous advertising slot at the 2017 Super Bowl contained criticisms of President Donald Trump. Coca-Cola celebrated diversity with a rendition of America the Beautiful sung in languages found across the US. Budweiser showed a fictionalised journey of founder Adolpus Busch, who arrives from Germany to be greeted with hostility by locals. 84 Lumber's ad shows a fictional Trump wall on the Mexican border. Airbnb's ad declared: 'acceptance starts with all of us'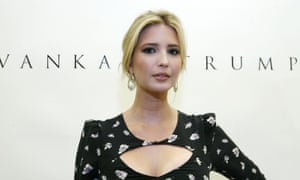 Workers at a factory that makes clothes for Ivanka Trump's fashion label say they get verbally abused Photograph: John Lamparski/Getty Images
Krithika Varagur in Subang, West Java
The reality of working in a factory making clothes for Ivanka Trump's label has been laid bare, with employees speaking of being paid so little they cannot live with their children, anti-union intimidation and women being offered a bonus if they don't take time off while menstruating.
The Guardian has spoken to more more than a dozen workers at the fashion label's factory in Subang, Indonesia, where employees describe being paid one of the lowest minimum wages in Asia and there are claims of impossibly high production targets and sporadically compensated overtime.
The workers' complaints come only a week after labour activists investigating possible abuses at a Chinese factory that makes Ivanka Trump shoes disappeared into police custody.
The activists' group claimed they had uncovered a host of violations at the plant including salaries below China's legal minimum wage, managers verbally abusing workers and "violations of women's rights".
In the Indonesian factory some of the complaints are similar, although the wages paid to employees in Subang are much lower.
Here we look at life inside the factory through interviews with workers, all who have asked for their details to be changed to avoid losing their jobs.
"We don't like Donald Trump's policies"
Alia is nothing if not industrious. She has worked in factories on and off since leaving her provincial high school, through the birth of two children, leading up to her current job making clothes for brands including Ivanka Trump at the PT Buma Apparel Industry factory in Subang, West Java.
Throughout her marriage to her husband, Ahmad, one or both of them has always worked. And yet, says Alia, the couple can never think about clearing their debts. Instead, what she has to show for years of work at PT Buma is two rooms in a dusty boarding house, rented for $30 a month and decorated with dozens of photos of their children because the couple can't dream of having enough money to have them at home. The children live, instead, with their grandmother, hours away by motorcycle, and see their parents just one weekend a month, when they can afford the gasoline.
Her idea of work-life balance, she said, would be if she could see her children more than once a month
Alia makes the legal minimum wage for her job in her province: 2.3 million rupiah, or about $173 a month – but that legal minimum is among the lowest in Indonesia as a whole, and as much as 40% lower than in Chinese factories, another labour source for the Ivanka Trump brand.
PT Buma, a Korean-owned garment company started in Indonesia in 1999, is one of the suppliers of G-III Apparel Group, the wholesale manufacturer for prominent fashion brands including Trump's clothing.
Many Buma workers know who Ivanka Trump is. Alia noticed her labels popping up on the clothes about a year ago.
Ahmad, who also works in the local garment industry and who, like his wife and most of the workers at her PT Buma factory, is an observant Muslim, said: "We don't like Donald Trump's policies."
He had followed news of the so-called Muslim ban on TV this year. "But we're not in a position to make employment decisions based on our principles," he said.
When Alia was told the gist of Ivanka Trump's new book on women in the workplace, she burst out laughing. Her idea of work-life balance, she said, would be if she could see her children more than once a month.
There are currently 2,759 workers at Buma, according to the regional manpower office, of which the total unionised workforce is about 200, split between two unions.
For the majority of non-union Buma workers, their job is a run-of-the-mill hardship to be endured. About three-quarters of them are women, many are mothers and several, like Alia, devote almost all their income to children with whom they can't afford to live.
Sita, 23, is one such worker. She had to drop out of college when her parents got sick, and started working at Buma last year. She told the Guardian that her contract will be terminated soon, after seven months of work.
"That's one of the company's ways to cope with extra expenses," she said. As a contract worker, she will not get any severance. "I can't stand it any more. I work unpaid overtime every day and still earn just 2.3 million [rupiah] a month. I'm planning to move from Subang, where the minimum wage is too low. But I don't know where to go yet. I haven't got any connections."
But for some the chance of a job and a pay packet – albeit a small one – is cause for some satisfaction.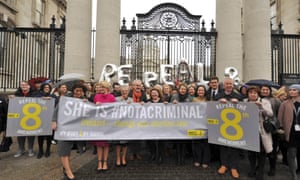 Repeal the 8th Amendment campaigners hold a banner outside government buildings in Dublin. Photograph: Clodagh Kilcoyne/Reuters
The United Nations has again ruled that Ireland's abortion laws have subjected a woman to cruel, inhumane and degrading treatment.
It is the second time in 12 months that the UN's human rights committee has denounced the abortion rules in the Irish Republic, which denies women with fatal foetal abnormalities the right to terminate pregnancies.
The committee has found in favour of Siobhán Whelan, an Irish woman who was denied access to an abortion in 2010 despite being diagnosed with fatal foetal syndrome during her pregnancy, it was announced on Tuesday.
Fatal foetal abnormalities include where the foetus has under-developed vital organs such as the heart and brain, which would mean if the pregnancy went to full term the baby would either be stillborn or die within hours of birth.
Whelan's case mirrors that of Amanda Mellet, who was also forced to travel to Britain to end her pregnancy.
Last year the UN ruled in Mellet's favour, and she made history by becoming the first woman to be compensated by the Irish state over the trauma she suffered.
In the Whelan case, the UN committee held that Ireland must also provide her with reparations for the harm she suffered and reform its laws to ensure other women do not face similar human rights violations.
The committee also instructed Ireland to legalise abortion and provide effective, timely and accessible abortion services.
Three years ago, the New York-based Centre for Reproductive Rights filed a complaint on behalf of Whelan before the committee, arguing that Ireland's restrictive abortion laws violated her basic human rights by subjecting her to cruel, inhumane and degrading treatment, interfering with her right to privacy and discriminating against her on the basis of her gender.
Responding to the latest ruling, Whelan said: "When I received the diagnosis, I was told I would have to continue with the pregnancy since Ireland's abortion laws do not allow you to end the pregnancy even in these circumstances.
"If I wanted to end the pregnancy, I would have to travel to another jurisdiction. This, to me, was very wrong and I knew that the suffering I endured because I had to travel to access healthcare was inhuman.
"I believe that women and couples must be given the best possible care at home at such a difficult time in their lives, including if they decide to terminate the pregnancy, and that there should be equal access to good-quality information and care by hospitals countrywide.
"The human rights committee has found that what happened to me was a human rights violation. It has recognised that Ireland's abortion laws can cause women intense suffering, violating our most basic human rights."
Leah Hoctor, the regional director for Europe at the Centre for Reproductive Rights, said: "Siobhán Whelan bravely sought justice for the harm she and other women have endured as a result of Ireland's abortion laws. The UN human rights committee has now upheld her claims and told Ireland, for the second time, that its abortion laws are cruel and inhumane."
Opinion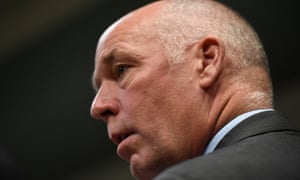 'Thanks to the accident of birth, Gianforte heads to Congress.' Photograph: STRINGER/Reuters
G

reg Gianforte body-slammed a reporter. After pleading guilty to assault on Monday and receiving a sentence of community service and anger management classes, he will soon become the newest member of Congress. For doing much less, tens of thousands of immigrants are deported every year.
Gianforte's assault of Ben Jacobs, a journalist at the Guardian, illustrates a double-standard that runs through immigration law: immigrants are held to a higher standard than citizens. Yet politicians, Republicans and Democrats alike, regularly tout schemes to separate the good from the bad immigrants. Gianforte's experience illustrates that regardless where they were born, people cannot be categorized so neatly.
Under Barack Obama, the Department of Homeland Security claimed to focus its immigration law enforcement resources on people with criminal records. From the very top, administration officials argued that deporting so-called "criminal aliens" would make the country safer while acknowledging the valuable contributions of otherwise law-abiding residents to communities throughout the nation.
In November 2014, Obama claimed that his administration was focused on "felons not families." The on-the-ground reality of immigration policing rarely matched the Obama administration's rhetoric. During Obama's first seven years in office, 56% of immigrants forced out of the country had no criminal history.
In 2014, for example, six out of ten people deported had been convicted of nothing. Of the minority who had been convicted of some crime, assault, the very crime that Gianforte admitted to, topped the list of violent offenses. But only 4% of immigrants deported that year had been convicted of assault. That's one out of 25 people deported in 2014.
This is a snapshot that represents a trend. The vast majority of deportees committed a simple violation of immigration law. Some came here clandestinely. Others came here with permission to stay for a few months or years – then they didn't leave. Those who do have a criminal history are most likely to have nothing worse than an immigration crime offense on their record – usually a conviction for entering the United States without the federal government's permission or doing that after having previously been deported.
After immigration crime offenders, traffic law violators and drug offenders tend to come next. These are the kinds of mundane activities that many of us commit every time we get behind the wheel of a car, but are lucky enough not to get caught. In Colorado, where I live, some of these drug crimes power the state's economy and promote its image as a cutting-edge millennial hotspot.
Donald Trump has unhinged any constraints that the Obama administration imposed on efforts to deport people who have not been convicted of a crime. In a January executive order, Trump ordered the Department of Homeland Security to target people who have been convicted or charged with any crime. Under Trump's directive, if Gianforte was not a United States citizen he would be a top priority for deportation.
Most people deported were never accused of anything as vicious as what Gianforte was caught on audio doing. The Montana residents and Republican party leaders who stood by Gianforte after his election-eve altercation refuse to let this incident cloud their vision of Gianforte.
Ohio Republican Congressman and the head of the National Republican Congressional Committee Steve Stivers exemplified the willingness to see more than this one incident when he explained: "From what I know of Greg Gianforte, this was totally out of character, but we all make mistakes." I don't know Gianforte, so I can't attest to his character. But on this much I am sure Stivers is correct: ,ike all of us, Gianforte is an imperfect person.