14 Jun
Nearly all of these are English-edition daily newspapers. These sites have interesting editorials and essays, and many have links to other good news sources. We try to limit this list to those sites which are regularly updated, reliable, with a high percentage of "up" time.


World Politics
Ireland
United States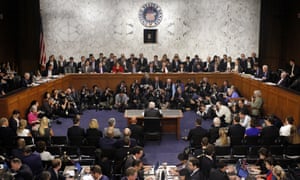 Jeff Sessions, center, testifies on Capitol Hill. Photograph: Jacquelyn Martin/AP
He started with a declaration well suited to old-school newspaper headlines, insisting that the claim he was involved in collusion with Russia was "an appalling and detestable lie".
But Jeff Sessions' testimony on Capitol Hill on Tuesday will be better remembered for a moment geared to 21st-century memes. Peppered with questions by the California Democrat Kamala Harris, Sessions, the former senator from Alabama with a troubled civil rights record, said: "I'm not able to be rushed this fast. It makes me nervous."
Was it because Harris is black, or a woman, or a former prosecutor, or all of the above? The Twittersphere will decide. But the incident illustrated how Sessions' attempt at Trump-like bombast and bravado – "Donald in a Dixie cup", as the New York Times columnist Frank Bruni called him last week – had crumbled under fire.
The attorney general managed to avoid inflicting significant damage on his boss but, having got his soundbite out, failed to answer the most important questions during a teeth-grindingly frustrating afternoon. "Can't comment" or "can't recall" were his default positions. It was a filibuster without charm.
The evasive Sessions said he could not reveal whether he had spoken with Trump about the Russia investigation. He refused to say whether Trump ordered him out of the room so that the president could tell the then FBI director, James Comey, to go easy on Michael Flynn. He declined to say whether there was any discussion of a potential pardon for Flynn.
Although Comey also kept some cards close to his chest before the Senate intelligence committee last week, there was a stark contrast in tone. It would have been unthinkable for Comey to say the questioning made him nervous, or to become agitated and tetchy as Sessions did under cross-examination by the Democratic senator Ron Wyden, of Oregon.
Wyden pressed Sessions on why he had recused himself from the investigation into Russian interference, asking about issues Comey had said he was unable to address. The attorney general snapped angrily: "Why don't you tell me? There are none, Senator Wyden, there are none. I can tell you that for absolute certainty. This is a secret innuendo being leaked out there."
Wyden said the answer "doesn't pass the smell test".
A couple of senators pushed Sessions hard on his basis for refusing to answer. First he claimed that "consistent with longstanding Department of Justice practice, I cannot and will not violate my duty to protect confidential communications with the president". Then he said that though Trump had not invoked executive privilege, he may choose to do so in the future. "It would be premature for me to deny the president a full and intelligent choice about executive privilege," he said. Few seemed satisfied with that.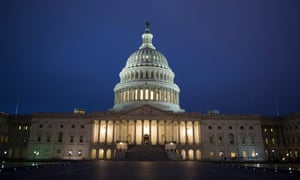 The directive appeared shortly before Jeff Sessions was to testify in the Trump-Russia inquiry. Photograph: Michael Reynolds/EPA
An apparent attempt by a top Republican to hamper the ability of television reporters to ask questions of United States senators fizzled out on Tuesday.
In a directive that was communicated verbally to members of the Capitol Hill press corps on Tuesday morning, reporters were told they would no longer be able to film interviews with US senators without previously granted permission from the Senate rules committee as well as the senator whom reporters seek to interview. However, by Tuesday afternoon, a spokesperson for the Senate rules committee told the Guardian that rules for journalists had returned to the status quo from the past.
Correspondents and senators were taken by surprise by the initial directive. Kasie Hunt of NBC News tweeted: "Reporters at Capitol have been told they are not allowed to film interviews with senators in hallways, contrary to years of precedent."
Manu Raju, CNN's senior congressional reporter, accused the rules committee on Twitter of "trying to SHUT DOWN press access in halls", adding: "No more staking out hearings without permission. Not OK."
The directive came down suddenly on Tuesday morning, hours before a major Senate hearing where the attorney general, Jeff Sessions, was set to testify, and as the Senate moves closer to hashing out its healthcare reform bill in closed door meetings.
Officials from the Senate press gallery were sent to verbally inform television reporters on Capitol Hill of the new restrictions and of the need to seek permission from the Senate rules committee. In a statement, Richard Shelby, an Alabama Republican, insisted this was simply an attempt to enforce existing policy.
"The rules committee has made no changes to the existing rules governing press coverage on the Senate side of the Capitol complex," said Shelby. "The committee has been working with the various galleries to ensure compliance with existing rules in an effort to help provide a safe environment for members of Congress, the press corps, staff, and constituents as they travel from Senate offices to the Capitol. Once again, no additional restrictions have been put in place by the rules committee."
In a recording obtained by the Guardian, Mike Mastrian, the head of the Senate press gallery, tells reporters: "This is what we have to do. In order to get an interview in the hallway, you have to call [phone number] and asked for David Adkins." (Adkins is the chief counsel for the Senate rules committee.)
Sources indicated to the Guardian that the move was apparently a unilateral decision by Shelby, the 83-year-old chairman of the committee, made without any written documentation.
When asked by the Guardian about the rule changes, a spokesman for the Republican senator Ted Cruz, a member of the rules committee, said: "We were not aware of it until we saw on Twitter."
Shelby was first elected as a Democrat in 1986 but switched party allegiance the day after Republicans took control of the Senate in 1994. Shelby is considered a stalwart ally of the Senate majority leader, Mitch McConnell.
The effort to limit press access met with bipartisan outrage. Republican Ben Sasse of Nebraska simply tweeted: "This is a bad idea."
Chuck Schumer, the Senate minority leader, tweeted: "Press access should never be restricted unfairly, particularly not when one party is trying to sneak a major bill through Congress."
The cholera outbreak in Yemen is escalating at an alarming rate, with experts warning that a child is now infected with the disease every 35 seconds, according to Save the Children.
Grant Pritchard, the charity's director in Yemen, warned the country is on "the verge of total collapse" as a combination of near-famine conditions and crippled infrastructure fuel the spread of cholera.
Over the past two weeks, the rate of infection has more than tripled, according to Save the Children. It reports that young people are increasingly the worst affected – under 15s now account for nearly half of all cases, compared with 40% last week.
As of the 13 June, 129,185 suspected cholera/acute watery diarrhoea cases and 942 deaths have been registered in 20 of Yemen's 22 governorates. Unicef estimates that there could be 250,000 cases in six months' time.
Dr Meritxell Relaño, the Unicef Yemen representative, said the epidemic has come on top of a crisis in public services, which has crippled health, water and sanitation systems. "Cholera came at a moment where the system was about to collapse, where poverty was increasing, where malnutrition peaked. You can imagine what diarrhoea can do to a child who is already very weak, whose immune system is at a minimum – children who are six months old and are only 2.5kg," she said.
More than 2 million children under the age of five in Yemen are acutely malnourished. Damage to infrastructure caused by two years of intense conflict means 14.5 million people, including nearly 8 million children, do not have access to clean water and sanitation.
The situation is especially bad for communities living in remote areas, where families cannot afford to travel to a hospital. Relaño said Unicef is sending mobile teams to communities in rural areas, but that many families are unable to access a doctor. "Poverty now is widespread," she said. "Families have used all the money they have in the last two years of the crisis."
Those who are able to travel to a health centre find facilities that are overcrowded and lacking in basic resources. Medical supplies are flowing into the country at a third of the rate that they were entering Yemen before March 2015.
Saleh, 53, is one of many parents who has struggled to take his sick children to hospital. "At first I took my children to a hospital in Abs [Hajjah province], where they were given some pills and liquids," he said. "We weren't allowed inside because the hospital was full of sick people. So, we took a taxi to a hospital in Sana'a, more than 200km away. The most difficult thing has been the transportation. I had to pay $58 [£45] to get a ride from my village to Abs. And then another $78 just to get to Sana'a."
Dr Mariam Aldogani, a health adviser with Save the Children, speaking from Al-Salakhana hospital in the Red Sea port city of Hodeidah, said health workers are completely overwhelmed. "We have had 1,702 cases from mid-May till now. This is only for Al-Salakhana hospital. The need is high but the resources [are] very limited. You cannot imagine the fear in the eyes of the mothers because most of the cases are children. In some cases there are three [children] in a bed," she said.
Only half of health centres in Yemen are fully functional, while health workers, like many others in the public sector, have not been paid for almost nine months. "Many of the doctors and nurses have left the country because they were not receiving a salary or because they want to look for other opportunities, given the escalation of the conflict," added Relaño.
UN war crimes investigators have denounced a "staggering loss of civilian life" caused by the US-backed campaign to reclaim Raqqa, the de facto capital of Islamic State.
The independent commission of inquiry tasked with investigating violations of international law, war crimes and crimes against humanity in Syria said the intensification of airstrikes by the United States-led coalition had led to large numbers of civilians being killed or fleeing the city.
They have already pushed into Raqqa from the east and west, reportedly approaching the old city walls. Citizens have reported intense combat in areas of the city.
"We note in particular that the intensification of airstrikes, which have paved the ground for an SDF advance in Raqqa, has resulted not only in staggering loss of civilian life, but has also led to 160,000 civilians fleeing their homes and becoming internally displaced," Paulo Pinheiro, chairman of the UN commission of inquiry told the human rights council in Geneva.
The civilian cost of the campaign was highlighted last week when footage emerged of coalition planes deploying white phosphorus in the city, which is home to tens of thousands of civilians, prisoners of war and enslaved Yazidi women, and around a few thousand Isis militants.
"The imperative to fight terrorism must not, however, be undertaken at the expense of civilians who unwillingly find themselves living in areas where Isil is present," Pinheiro added, using an alternative acronym for Isis.
Human Rights Watch urged the coalition separately on Wednesday to exercise great caution when using white phosphorus, saying it could cause "horrific and long-lasting harm" in crowded cities like Raqqa, and that such powerful incendiary munitions should never be used in populated areas.
The use of white phosphorus drew strong condemnation last week, and raised concerns that the coalition was not taking adequate precautions to protect civilian lives.
While the success of the campaign would free civilians in Raqqa from the yoke of Isis, many face the prospect of death by coalition airpower or because of their use as human shields by the militants, a common tactic in their defence of their stronghold in Mosul across the border. Some 18% of people in Raqqa province have been displaced in the campaign to retake the city, according to UN figures.
People living in Isis areas are also subject to inconsistent screening procedures to determine if they are sympathisers with the militant group.
I

n 2011, as the Arab spring brewed, I began a campaign to allow women to drive in Saudi Arabia, mobilising them via Twitter and Facebook. I thought that if someone posted a video of a woman driving, it might "normalise" the experience and show Saudi citizens there was nothing dangerous about it. I also wanted to prove that many of us already knew how to drive – that we had licences and even cars. And I wanted to prove that the Saudi authorities would not stop a female driver.
I asked another activist, Wajeha, to accompany me when I made the video. Because my brother was not available, I also decided to ask a friend, Ahmed, if he would come too, since an unaccompanied woman would raise suspicions. Wajeha would be the film crew and Ahmed would be our designated driver until I slid over and took the wheel of my purple Cadillac SUV. I had spent several years saving my money for the car; a car that I would now for the first time be driving on actual Saudi kingdom streets.
Ahmed honked the horn outside Wajeha's house, and she practically ran out the door. Her hair was neatly concealed beneath a black hijab, but she had on a bright pink abaya [a loose, robe-like dress]. Saudi women rarely wear anything but black abayas in public. When I saw Wajeha in pink, I giggled, thinking that she was even more fearless than me. No doubt, she was thinking that if we got arrested, at least she would look stylish.
Ahmed looked in the rear-view mirror and turned the key in the ignition. Outside the compound where I lived, he drove nervously, looking at the speedometer, then over at me and then up at the mirror to see who might be behind us on the road. His anxiety was contagious, but I also felt a growing sense of exhilaration. After several blocks, we passed the local police station, and then, at last, we reached the cafe where Ahmed would stop for a lemon and ginger tea. He pulled into the car park but didn't park until we were well behind the building, out of sight.
Finally, I moved to the driver's seat and Wajeha moved to the front-passenger seat. I took a deep breath, sat down inside the car and put my hands on the steering wheel. Although I was enclosed, at that moment, I felt like one of my father's songbirds, let out of its cage and flying around the room. "Thank you, my friend," I said to Ahmed out of the rolled-down window. "We'll be all right – don't worry." As I fastened my seatbelt, I could feel my hands shake slightly. I placed the key in the ignition, adjusted the rear-view mirror, and pulled my black hijab close round my face to make sure no hair was visible. I reached for my sunglasses from inside my bag, placed them on my uncovered face, and took one last look at myself in the mirror.
As the car glided down the street, I began to compose my thoughts for the video's introduction. I wanted to declare in a clear, loud voice: "This is my right, the right to drive." But instead, I turned the wheel of the car and gazed straight ahead, feeling the iPhone hovering close to my face. After chatting casually for a few minutes in Arabic, I said: "There's something to be proud of in this country. There are people doing voluntary work without pay to help the women of this country. We are ignorant and illiterate when it comes to driving. You'll find a woman with a PhD, and she doesn't know how to drive. We want change in the country." Like other people of my generation, who had been gathering in city squares and on street corners across north Africa and the Middle East, who were raising their voices and their hands and using their mobile phones and cameras to stand up to repression, authoritarianism and tradition, we were at that moment pushing back against one of Saudi Arabia's most enduring cultural taboos.
I looked left and turned towards the supermarket where I shopped for groceries each week – and where previously I could only go with a male driver. I let the steering wheel glide smoothly in my hands as I made the turn, looking out so I could make eye contact with any oncoming drivers. A silver Toyota SUV approached, and I saw the driver lean slightly to his right and speak to a woman seated next to him. They looked at each other and then back at me. I smiled, and Wajeha asked: "Why are you smiling, Manal?" I turned to face the iPhone in her hands, smiled even wider, and said: "Because I am driving."
The car park was crowded with male drivers, standing outside their cars, waiting for their female clients. Their eyes widened and followed us; I could hear several of them whispering to each other in Hindi or Urdu. But no one confronted us. I felt a bit like a child breaking the rules, but I also knew this was far more serious than a childhood prank. "Wajeha, let's get some groceries," I said. "I'd like to get my son a treat." We moved through the aisles, placing items in our shopping basket: a bottle of water, a piece of fruit and a chocolate bar for my son, Aboudi. At the checkout counter, the two of us stood side by side, saying nothing as I pulled out my wallet.