15 Jun
Nearly all of these are English-edition daily newspapers. These sites have interesting editorials and essays, and many have links to other good news sources. We try to limit this list to those sites which are regularly updated, reliable, with a high percentage of "up" time.

TODAY VENEZUELA – The Venezuelan opposition, on Wednesday, June 14, held a new "stand" that left at least 28 injured, including a legislator, in the protests against the government of President Nicolás Maduro.
In turn, Maduro again accused the opposition of being responsible for the violence, which has left 68 dead and thousands injured in more than two months.
In the photos by AFP, security forces fired tear gas and fired pellets at Altamira, an opposition stronghold east of the capital, as demonstrators gathered to walk toward the strategic Francisco Fajardo motorway.
Volunteer paramedics give assistance to child and her mother after they were affected by tear gas after being caught between authorities and anti-government demonstrators in Caracas, Venezuela, Wednesday, June 14, 2017. The woman has tooth past smothered other face to protect her from tear gas. Hundreds of thousands of demonstrators have taken to the streets demanding new elections as the nation battles triple-digit inflation, crippling food and medical shortages and rising crime.(AP Photo/Ariana Cubillos)


World Politics
Australia
Source: Nine News
The Australian prime minister, Malcolm Turnbull, has fun at the expense of the US president, Donald Trump, cracking jokes about the Russia inquiry and 'fake polls'. Leaked video and audio of Turnbull's off-the-record speech – which was also self-deprecating about his own poor opinion poll ratings – shows him impersonating the US president's unique oratorical style
United States
Federal investigation into Trump campaign's ties to Russia has expanded to include whether the president tried to thwart it, the Washington Post reports
Donald Trump goes on the offensive against James Comey on Friday, deriding the former FBI director as a 'leaker' of government information after his damning testimony against the president. Trump's comments came during a news conference with the Romanian president, Klaus Iohannis, at the White House, where he was asked about Comey's testimony
Donald Trump is reportedly being investigated for potential obstruction of justice by the special counsel looking into Russia's interference in the 2016 presidential election. This marks the first time that the ongoing investigation, which has hung over Trump since his inauguration, has potentially implicated the president himself.
The Washington Post reported on Wednesday night that the federal probe into the Trump campaign's ties with Russia during the 2016 campaign, being overseen by Robert Mueller, has now expanded into whether the president attempted to thwart that investigation.
The allegations of obstruction of justice apparently center on Trump's efforts to encourage former FBI director James Comey to drop an investigation of former national security adviser Michael Flynn. Comey testified under oath to Congress last week that Trump told him in a private meeting, "I hope you can see your way clear to letting this go, to letting Flynn go. He is a good guy. I hope you can let this go." Trump has since said Comey said things that "weren't true" while under oath and that he was "100% willing" to testify before Congress.
Flynn, who resigned as national security adviser in February after serving in that position for less than a month, had come under scrutiny for undisclosed conversations with Russian ambassador Sergey Kislyak and then misleading vice-president Mike Pence about the nature of his contacts with the high-ranking Russian official.
Comey was fired in May by Trump and the president cited "this Russia thing" as a reason for the FBI director's sacking in an interview with NBC News. The White House had initially claimed Comey's handling of the investigation into Hillary Clinton's use of a private email server was the reason for his firing before Trump contradicted his staff's statements on the topic.
In addition to his alleged attempts to influence Comey, Trump reportedly intervened with Dan Coats, the director of national intelligence, in an attempt to ask him to persuade Comey to back off the FBI investigation of Flynn, a close Trump ally. In addition, Trump allegedly asked both Coats and Adm Mike Rogers, the head of the National Security Agency, to issue statements denying evidence that his campaign colluded with Russia in the 2016 campaign. Both men reportedly declined to do so.
Both the Post and the New York Times are reporting that Mueller is seeking to interview Coats, Rogers and Richard Ledgett, the former deputy director of the National Security Agency, in an attempt to gain more information about potential efforts by Trump to obstruct justice.
The reported expansion of the investigation comes only days after speculation mounted that the president might fire Mueller, stoked by a television appearance by Trump confidante Chris Ruddy where he said "terminating" the special counsel was under consideration. Rod Rosenstein, the deputy attorney general who would be responsible for making such a decision, told senators on Tuesday that there was "no secret plan" to sack Mueller. However, White House deputy press secretary Sarah Huckabee Sanders told reporters late Tuesday, "While the president has the right to [fire Mueller], he has no intention to do so."
A federal judge has handed a lifeline to efforts to block the Dakota Access pipeline, ruling Wednesday that the US Army Corps of Engineers did not adequately consider the possible impacts of an oil spill where the pipeline passes under the Missouri River.
US district judge James Boasberg said in a 91-page decision that the corps failed to take into account how a spill might affect "fishing rights, hunting rights, or environmental justice, or the degree to which the pipeline's effects are likely to be highly controversial".
The judge said the army must redo its environmental analysis in certain sections and he would consider later whether the pipeline must halt operations in the meantime. A status conference is scheduled for next week.
Dave Archambault II, chairman of the Standing Rock Sioux tribe, which has led opposition to the pipeline, called it "a significant victory".
The pipeline developer Energy Transfer Partners (ETP) announced earlier this month that it started shipping oil to customers. ETP maintains that the 1,200-mile pipeline is safe, but the Standing Rock Cheyenne River, Yankton and Oglala Sioux tribes in the Dakotas fear environmental harm.
ETP spokeswoman Vicki Granado did not immediately return email and phone messages seeking comment on Boasberg's ruling. A spokeswoman for the US Department of Justice, Nicole Navas Oxman, said the department was reviewing the ruling.
The decision marks "an important turning point", said Jan Hasselman, attorney for the nonprofit Earthjustice, which is representing the tribes in the lawsuit.
"Until now, the rights of the Standing Rock Sioux tribe have been disregarded by builders of the Dakota Access pipeline and the Trump administration … prompting a well-deserved global outcry," Hasselman said.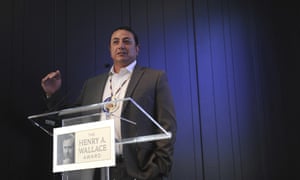 The project led to months of demonstrations near the Standing Rock reservation and hundreds of protesters were arrested. The protests died off with the clearing of the main encampment in February and the completion of the pipeline.
Boasberg rejected two earlier complaints by the tribes. One was that the construction threatened sites of cultural and historical significance and the other was that the presence of oil in the pipeline under Lake Oahe would desecrate sacred waters and make it impossible for the tribes to freely exercise their religious beliefs.
"Now that the court has rejected these two lines of attack, Standing Rock and Cheyenne River here take their third shot, this time zeroing in DAPL's environmental impact," Boasberg wrote. He added later, "This volley meets with some degree of success."
Iraqis are being swept up in immigration raids across the US and targeted for deportation by the Trump administration, in a crackdown attorneys and advocates described as a "death sentence" for members of Iraq's Christian minority.
US Immigration and Customs Enforcement (Ice) arrested more than 200 Iraqi nationals over the weekend who have been the subject of deportation orders following criminal convictions or pending criminal charges.
One hundred and fourteen people were detained in Detroit alone, most of whom are members of Iraq's Chaldean minority – which, like other Christian groups, has been targeted for persecution by Islamic State and other jihadist groups.
Najah Konja, 55, who was arrested in Detroit on Sunday morning, immigrated to the US with his family in 1977. No other relatives remain in Iraq, according to his brother, Shoki "Steve" Konja.
"What is he going to do there?" Steve Konja, a US citizen, told the Guardian. "Basically, they are sentencing him to death."
Konja said his brother does not speak Arabic, and that the last member of their family to leave Iraq was kidnapped twice and held for ransom because of his relatives in the US. "The government of Iraq cannot protect and defend its own citizens – let alone a bunch of Christians coming from the US," Konja said.
These concerns were echoed by advocates including the Minority Humanitarian Foundation (MHF), which provides aid to Iraqi minorities. MHF planned to file a lawsuit with the American Civil Liberties Union to stop the deportation of Chaldeans to Iraq.
"Donald Trump has essentially given these Christians a death sentence," said MHF founder and president, Mark Arabo.
Last year, then-secretary of state John Kerry said a genocide was occurring against Christians in Iraq, though international courts have not officially given the violence there that designation.
ICE agency spokesperson Gillian Christensen said an "overwhelming majority" of those arrested were convicted for crimes including "homicide, rape, aggravated assault, kidnapping, burglary, drug trafficking, robbery, sex assault, weapons violations and other offenses."
In Detroit, Christensen said the operation "was specifically conducted to address the very real public safety threat represented by the criminal aliens arrested."
But community advocates scoffed at that claim, arguing many of the charges were handed down decades ago and those convicted had served their sentences for the crimes.
Konja served 23 years in prison for drug charges and was released in 2009. In prison, he pursued his GED and helped teach other inmates, his brother said.
For the past eight years, he has worked at a large chain store where he was a director of operations, overseeing 400 employees. "He completely turned his life around," his brother said.
Steve Konaj said the arrest has left him disillusioned with the country he considers his home.
"This is not United States," he said. "I've been here 40 years. I believe in the dream, I believe in the constitution. I love it to death. I'm willing to sacrifice myself if needed, but to tell these people: 'You committed a crime 30 years ago, when you were 19, 20 – now you have to pay again for that mistake.'"
Iraq had previously not cooperated with US deportation efforts but the two countries negotiated a new policy in March after Trump issued a travel ban for citizens of seven Muslim-majority countries including Iraq.
The ban was revised after it was struck down in a federal court; the new ban – which is also the subject of a legal challenge – no longer includes Iraq and removes language that prioritized entry for religious minorities, including Christians, from these countries.