16 Jun
Nearly all of these are English-edition daily newspapers. These sites have interesting editorials and essays, and many have links to other good news sources. We try to limit this list to those sites which are regularly updated, reliable, with a high percentage of "up" time.


World Politics
United States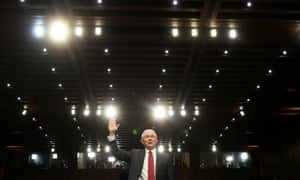 Jeff Sessions is sworn in before testifying before the Senate in Washington DC Tuesday. Photograph: Saul Loeb/AFP/Getty Images
An American lobbyist for Russian interests who helped craft an important foreign policy speech for Donald Trump has confirmed that he attended two dinners hosted by Jeff Sessions during the 2016 campaign, apparently contradicting the attorney general's sworn testimony given this week.
Sessions testified under oath on Tuesday that he did not believe he had any contacts with lobbyists working for Russian interests over the course of Trump's campaign. But Richard Burt, a former ambassador to Germany during the Reagan administration, who has represented Russian interests in Washington, told the Guardian that he could confirm previous media reports that stated he had contacts with Sessions at the time.
"I did attend two dinners with groups of former Republican foreign policy officials and Senator Sessions," Burt said.
Asked whether Sessions was unfamiliar with Burt's role as a lobbyist for Russian interests – a fact that is disclosed in public records – or had any reason to be confused about the issue, Burt told the Guardian that he did not know.
Several media reports published before Trump's election in November noted that Burt advised then candidate Trump on his first major foreign policy speech, a role that brought him into contact with Sessions personally.
Burt, who previously served on the advisory board of Alfa Capital Partners, a private equity fund where Russia's Alfa Bank was an investor and last year was lobbying on behalf of a pipeline company that is now controlled by Gazprom, Russia's state-controlled energy conglomerate, first told Politico in October that he had been invited to two dinners that were hosted by Sessions last summer, at the height of the presidential campaign.
Sessions, a former senator for Alabama who was chairman of the Trump campaign's national security committee, reportedly invited Burt so that he could discuss issues of national security and foreign policy.
When John McCain, the Republican senator from Arizona who is a frequent critic of Trump and Russian president Vladimir Putin, asked Sessions in a hearing this week before the Senate intelligence committee about whether the attorney general had ever had "any contacts with any representative, including any American lobbyist or agent of any Russian company" during the 2016 campaign, Sessions said he did not.
"I don't believe so," Sessions said.
Other outlets, including the New Yorker magazine and Reuters, also reported last year that Burt had contributed his views to Trump's speech. When NPR interviewed Burt in May 2016 about the talk, he said he was "asked to provide a draft for that speech, and parts of that draft survived into the final [version]".
The speech, delivered on 27 April 2016 at the Mayflower Hotel, was attended by Russian ambassador Sergey Kislyak and is now at the heart of new questions about Sessions' personal dealings with Russian officials. Sessions recused himself from oversight of the FBI's investigation into possible collusion between the Kremlin and the Trump campaign in March after it emerged that he held two undisclosed meetings with the Russian ambassador last year.
In his explosive testimony before Congress earlier this month, former FBI director James Comey, who was fired by Trump, suggested that he had known that Sessions would eventually have to recuse himself from the Russia probe, but declined to explain the details in public.
Questions directed at Sessions by lawmakers days later – after they had privately been briefed by Comey – suggested it related to a third alleged encounter with Kislyak that had not been disclosed, this time at the Mayflower Hotel speech. In his confirmation hearing, Sessions had told lawmakers under oath that he had never had communication with Russian officials.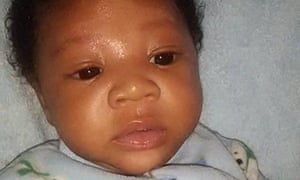 Messiah Marshall. Houston police chief Art Acevedo said: 'His journey was cut short by cowards who have absolutely no respect for the sanctity of life.' Photograph: Facebook
A 10-month old boy has been shot dead in his father's arms as he was being taken for a walk outside a Houston apartment complex.
Messiah Justice Marshall was being carried by his father at about 1.30pm on Wednesday when three men approached them. According to police, an argument ensued, and one of the suspects fired repeatedly at the baby's father.
Messiah's father, who has not been named, tried to escape through a parking lot and came across a passerby who drove them to a nearby gas station, where police and paramedics arrived. The boy died at the scene.
"He was just at the beginning of his journey and his journey was cut short by cowards who have absolutely no respect for the sanctity of life, by cowards that crossed a line. You don't shoot at a man carrying his 10-month old son," said Art Acevedo, the Houston police chief.
Acevedo told reporters that the department is searching for three suspects in their early twenties. "There's lines you cannot cross," he said at a press conference on Thursday.
The driver who took Messiah and his father to the gas station described the incident to Click2Houston. "[The father] got in the car and we went to the Valero because I saw a cop there earlier. He started screaming, 'Call an ambulance! Call 911!' and finally help came," the driver, Joshua Levy said. "I was a little nervous, my legs started shaking. It's so sad seeing him walk around with his baby basically dead in his hands."
Acevedo said that police will step up their presence at the complex in an effort to find the suspects and thwart any future gang activity. "We're not going to rest until we bring these people into custody," he said.
Police are investigating if there was any prior contact between the father and the suspects. "Doesn't matter what motivated them. I don't care what was going through their minds but they crossed an extremely, extremely clear line," Acevedo said. "We're not going to put up with this."
Messiah is not the only child to die in a Houston-area shooting recently. In March, Houston police arrested a man on suspicion of fatally shooting an eight-year-old girl while she was in a car being driven by her mother that was involved in a traffic accident.
Eurozone finance ministers agree to lend Greece €8.5bn under its bailout programme, with a commitment to debt relief in the future
…………… On the debt relief issue, the eurozone finance ministers have agreed to consider extending the maturity of some Greek bonds.