18 Jun
Nearly all of these are English-edition daily newspapers. These sites have interesting editorials and essays, and many have links to other good news sources. We try to limit this list to those sites which are regularly updated, reliable, with a high percentage of "up" time.


World Politics
France
United States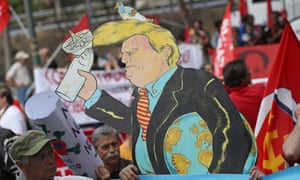 'If countries fail to offer a strong response, it risks setting the disastrous precedent that commitments can be treated as provisional.' Photograph: Sean Gallup/Getty Images
Wael Hmaidan
Hmaidan is executive director of Climate Action Network International
World leaders' response to Donald Trump's announcement that he would withdraw the US from the Paris agreement was strong and unified. But did it sting the president and his administration? To deter other potential backsliders and maintain the integrity of the Paris agreement, the perpetrator of a defection of this magnitude should be made to feel the pain. But how?
Trump – and other leaders that may later try to wiggle out of their commitments – must be shown that there will be real consequences to their credibility and influence and relations with other countries.
Ensuring the vitality of the agreement requires countries to show Trump that his ability to achieve other core diplomatic objectives will depend on honouring US commitments, and that he must consider more than the parochial interests of his most extreme supporters in determining how he will contribute to the global effort. If countries fail to offer a strong response, it risks setting the disastrous precedent that commitments can be treated as provisional, progression is not expected, and free-riding will not entail significant costs. This will only invite further defection.
In an important 2007 essay, founder of Bloomberg New Energy Finance Michael Liebreich proposed a strategy for countries to deter defection and achieve strong international climate outcomes. Liebreich argued that the best approach is for countries to be "nice, retaliatory, forgiving and clear". That is, they should unilaterally offer to do as much as possible, retaliate against those who do not reciprocate, reward recalcitrant countries when they do step up, and let other countries know in advance that this is their strategy.
Since the US election, most countries have bent over backwards to be nice to Trump. Even as Trump wavered, more than 40 countries have joined the agreement and numerous others have reconfirmed their pledges. Few countries have called him out for his aggressive efforts to reverse Obama-era climate policies. Now that he has said he will withdraw, leaders have clearly expressed their dismay at this decision. But these words surely will not be enough to persuade him to change course, or to deter others from weakening their commitments. Where is the retaliation?
Many have suggested that border carbon adjustments on American goods might be an appropriate response. And for good reason: no country wants to expose its manufacturers to competition from countries that are free riding on its efforts. But since trade sanctions can be a blunt and self-defeating tool, countries should also seek leverage points in other areas of concern to the administration.
One obvious and immediate step would be to curtly decline his invitation to renegotiate the agreement, followed by an effort to isolate the US within the ongoing Paris negotiations. Because the Trump administration cannot leave the agreement until November, 2020, the administration could muck up the development of the "rulebook" that will guide its implementation. Arguably, with one foot out the door, the US may not retain much influence in these discussions.
But the US also negotiates in concert with the Umbrella Group, an informal bloc of countries that includes Japan, Canada, Russia, Australia, and New Zealand. By suspending collaboration with the US and declining to coordinate common positions, these countries could signal both their ongoing commitment to the agreement and their displeasure with Trump's decision, while limiting the administration's ability to make mischief in the rulebook negotiations.
Countries could also seek leverage outside of the climate policy space, focusing on issues of particular concern to the Trump administration. Consider Nato financing. As with the Paris agreement, Trump feels aggrieved that Nato is profoundly unfair because he believes that the US pays a disproportionate share of the costs. At the same time that he has refused to contribute the "billions and billions and billions" that he bizarrely claims the Paris agreement obliges the US to pay in climate assistance, he has demanded that the other Nato members shoulder more of the costs of the alliance.
Linking these two issues provides an opportunity to gain leverage. Nato members could reiterate their willingness to contribute more to collective security, but make clear that they view climate stability as critical to that security. They could then say that if the US will not address the climate dimensions of their common security challenges, they will need to pick up the slack, and that that may not leave much room for increased military expenditures. In fact, Angela Merkel has already made a similar argument with regard to Germany's willingness to absorb a disproportionate share of the costs of ameliorating the ongoing refugee crisis.
A day after the acquittal of Jeronimo Yanez, the police officer who shot and killed Philando Castile in St Paul last year, Minnesota senator Al Franken cited "systemic racial inequalities" when he said: "Philando did not deserve to die."
Franken issued his statement on Facebook on Saturday afternoon, hours after police made 18 arrests as a crowd of thousands protested the jury's decision.
"I am heartbroken for the family and loved ones of Philando Castile," the Democrat said, "whose beloved son, brother, boyfriend, nephew and friend was tragically taken from them last summer. Philando did not deserve to die.
"I am thankful to Ramsey County attorney John Choi for pursuing justice for Philando and his family, and whatever one's opinion of the outcome in this case, we must come together and take concrete action to reckon with and dismantle the systemic racial inequalities that lead to far too many of these deaths."
Yanez was cleared on Friday of all charges relating to the death of Castile, a 32-year-old school cafeteria worker, during a 6 July traffic stop that turned deadly seconds after Castile alerted the officer that he was carrying a gun. Castile had a permit for the weapon. Castile's death captured national attention when his girlfriend streamed the grim aftermath on Facebook.
Minnesota governor Mark Dayton, another Democrat, offered his condolences to Castile's family after the verdict, calling his death "a terrible tragedy" in a statement that made no mention of Yanez. Dayton drew criticism in the days after the shooting for suggesting that Castile might not have been shot if he was white.
After the verdict on Friday a mixed-race crowd, including many people with children, assembled at the state capitol, carrying signs that read "Unite for Philando" and "Corrupt systems only corrupt".
The protest was peaceful as darkness fell. A smaller group then splintered off and walked down an entrance ramp to block Interstate 94, quickly snarling traffic and leading to a shutdown in both directions. A police line confronted marchers and after a standoff of more than 90 minutes, the group dwindled and appeared to largely clear the interstate without police using force.
Minnesota state police spokeswoman Tiffani Nielson said in a news release on Saturday that officers began arresting protesters at 12.30am, after issuing three warnings to get off of Interstate 94. Those arrested were booked at Ramsey County jail on charges including being a pedestrian on the busy freeway.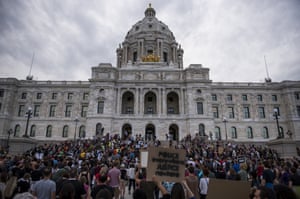 Protestors pack the steps of the Minnesota State Capitol building in St Paul. Photograph: Stephen Maturen/Getty Images
Castile's family stormed out of the courtroom after the verdict was read, and the city of St Anthony announced plans to dismiss Yanez despite his acquittal. Yanez was charged with second-degree manslaughter, punishable by up to 10 years in prison. He was also cleared of lesser counts related to endangering Castile's girlfriend and her daughter for firing his gun into the car near them.
"The fact in this matter is that my son was murdered, and I'll continue to say murdered, because where in this planet [can you] tell the truth, and you be honest, and you still be murdered by the police of Minnesota," Castile's mother, Valerie Castile, said outside court, referring to the fact that her son was shot after he volunteered to Yanez: "Sir, I have to tell you, I do have a firearm on me."
"He didn't deserve to die the way he did," said Castile's sister, Allysza, through tears. "I will never have faith in the system."
Jurors deliberated for about 29 hours over five days before reaching the verdict. Prosecutors argued that Yanez had overreacted and that Castile, a school cafeteria worker, was not a threat. Yanez, who is Latino, testified that Castile was pulling his gun out of his pocket despite his commands not to do so. The defense also argued Castile was high on marijuana and said that affected his actions.
Yanez stared ahead with no reaction as the verdict was read. Afterwards, one of his attorneys, Tom Kelly, said the defense was "satisfied" and "felt all along his conduct was justified".
"However that doesn't take away from the tragedy of the event," he added.
City officials in St Anthony said they would offer Yanez a "voluntary separation" because they had concluded "the public will be best served" if he is no longer an officer there.
Chancellor said inquiry into London blaze will ask if UK fire regulations are correct and whether they were complied with
The chancellor, Philip Hammond, believes the cladding fitted on the Grenfell Tower block was banned in the UK. Appearing on the BBC's Andrew Marr Show on Sunday, Hammond also said retrofitting sprinklers could not always ensure fire safety, though they would be fitted if a public inquiry advised doing so in the wake of the fire.
The cladding used on Grenfell Tower, which has been widely blamed for spreading the blaze, is banned in the UK on buildings of that height, Philip Hammond has said.
The chancellor told BBC1's Andrew Marr Show: "My understanding is the cladding in question, this flammable cladding which is banned in Europe and the US, is also banned here.
"So there are two separate questions. One: are our regulations correct, do they permit the right kind of materials and ban the wrong kind of materials? The second question is: were they correctly complied with?
"That will be a subject that the inquiry will look at. It will also be a subject that the criminal investigation will be looking at."
Hammond said a criminal investigation would examine whether building regulations had been breached when the block was refurbished, while the public inquiry set up by the government would also examine if rules had been broken.
He said it would be up to the inquiry to determine whether the regulations were properly drafted, and whether they were correctly enforced in this case.
Although Hammond said that the material used in the Grenfell Tower refurbishment, containing flammable polyethylene, was "banned" in the UK, a Treasury spokesman said later that what he meant was that it was banned for buildings of a certain height.
Hammond was referring to a statement issued by the department for communities at the end of last week when it was asked to clarify the legal position. It said: "Cladding using a composite aluminium panel with a polyethylene core would be non-compliant with current Building Regulations guidance. This material should not be used as cladding on buildings over 18m in height."
John McDonnell, the shadow chancellor, said that sprinklers should be installed in high-rise buildings like Grenfell Tower to minimise the chances of such a fire ever happening again.
Pointing out that he had been raising this issue in parliament for years, he told Sky News: "Whatever it costs, we need to get them installed."
McDonnell said that, if necessary, the constraints on councils that limit what they could borrow should be relaxed to enable them to fund the work.
However, Hammond suggested in his BBC interview that putting sprinklers in tower blocks might not always be necessary.
"If the conclusion of a proper technical evaluation is that [fitting sprinklers] is the best way to deal with the problem, then of course. But my understanding is that the best advice is that retrofitting sprinklers may not always be the best technical way of ensuring fire safety in a building," he said.
However, the chancellor said ultimately the government would be guided by what the public inquiry into the Grenfell Tower fire recommended.
Ministers would ask for interim recommendations from the inquiry relatively soon, instead of waiting several years for a final report before taking action, he said. "If there is something that needs to be done to make buildings safe, then it will be done.
"The commitment that government should make, and I will make it now, is that when the inquiry produces its findings – and I don't mean in years' time, because we are going to ask them to produce interim findings – we will act on them."
When it was put to him that the government had ignored a call to review building regulations relating to fire safety made by the coroner four years ago following the Lakanal House fire, Hammond said he did not accept that.