24 Jun
Nearly all of these are English-edition daily newspapers. These sites have interesting editorials and essays, and many have links to other good news sources. We try to limit this list to those sites which are regularly updated, reliable, with a high percentage of "up" time.


World Politics
United States
Associated Press in Miami Beach
US cities will lead national policy on climate change after the Trump administration's withdrawal from the Paris climate accords, working to reduce emissions and become more resilient to rising sea levels, Mitch Landrieu of New Orleans said at an annual meeting in Florida.
"I think most mayors in America don't think we have to wait for a president" whose beliefs on climate change are disconnected from science, Landrieu said.
The US Conference of Mayors supported the Paris agreement, and according to preliminary results released on Saturday morning from an ongoing nationwide survey, the vast majority of US mayors want to work together and with the private sector to respond to climate change.
"There's near unanimity in this conference that climate change is real and that humans contribute to it," said Landrieu, who will replace Oklahoma City mayor Mick Cornett as conference president in Miami Beach this weekend. "There may be a little bit of a disagreement about how actually to deal with it.
"If the federal government refuses to act or is just paralyzed, the cities themselves, through their mayors, are going to create a new national policy by the accumulation of our individual efforts," he said.
New York City mayor Bill de Blasio said US cities too often find themselves alone when trying to address the effects of climate change. De Blasio joined Miami Beach mayor Philip Levine on a tour of a South Beach neighborhood where the city has raised streets and installed pumps to send up to 120,000 gallons of water a minute flowing back into Biscayne Bay.
The project – aimed at keeping the island city dry amid rising seas – has received national attention, but Levine noted that not all communities can afford to fight climate change without state or federal funding.
"But if we don't do it, who's going to do it, right?" de Blasio said. "Cities and states around the country are now doing the kinds of things the national government should do. It's just that we can't depend on our national government anymore."
A May survey of local sustainability efforts, conducted by the conference and the Center for Climate and Energy Solutions, initially only included 80 mayors who hold leadership positions within the conference. After Donald Trump pulled the US out of the Paris agreement, the survey was extended to all conference members and the mayors of about 1,400 cities with populations of 30,000 or more.
Cities still have months to respond to the questionnaire on low-carbon transportation options, renewable energy and energy efficiency programs, but the data received so far from 66 cities in 30 states showed 90% were interested in forming partnerships with other local governments to create climate plans, implement transportation programs or procure equipment such as electric vehicles.
The responses have come from cities ranging in size from 21,000 people – Pleasantville, New Jersey – to New York City's 8.5 million. According to the survey, the majority want to buy or already bought green vehicles, and most also have energy efficiency policies for new and existing municipal buildings.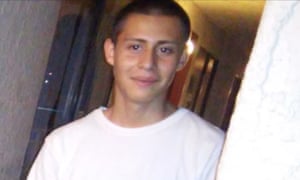 Armando Garcia-Muro was hit in the chest during the gunfire and later died at hospital. Photograph: Courtesy of Genevie Escobar
Los Angeles sheriff's deputies said they accidentally shot and killed a teenager while firing bullets at a dog during a response to a noise complaint, marking the latest killing by US police to spark national outrage.
Officers were responding to a call about "loud music" early Thursday morning when a pit bull charged at the deputies and bit one of them, according to authorities in California. A 17-year-old, identified by family members as Armando Garcia-Muro, initially restrained the dog, but the animal got loose, prompting two deputies to fire from about 5ft away, police said.
Garcia-Muro was hit in the chest during the gunfire and later died at hospital, according to the sheriff's office, which said it appeared a "skip round" had struck the teenager.
The death of the Latino teenager came at the end of a week of intense backlash across America about police treatment of people of color. Police in Minnesota released footage of the fatal police shooting of Philando Castile, a black motorist whose death was live-streamed on Facebook by his girlfriend.
Video and records revealed that the officer, who was acquitted of all charges, said he felt in danger because he smelled marijuana and fired at Castile after just 40 seconds, despite the fact that the 32-year-old school cafeteria worker was calmly responding to the policeman's questions. New footage also showed that police subsequently handcuffed his distraught girlfriend in the vehicle with her four-year-old daughter, who tried to comfort her mother because, she said, "I don't want you to get shooted."
An incident in Seattle also sparked national protests after police shot and killed a pregnant mother of four inside her apartment in the presence of her young children after she had called police to report a burglary.
The death of Garcia-Muro, who lived in the city of Palmdale and would have been entering his senior year in the fall, was an "extremely unfortunate incident", according to sheriff's officials, who said five deputies were present and two of them fired around six to eight rounds.
"They need to be held responsible," Tennia Barron, a close family friend, told the Guardian on Friday. "How does a bullet ricochet off the ground and hit you in the torso?"
"They really need to investigate this," she said, adding that this was "no accident".
After the 60- to 65-pound pit bull "aggressively charged" and bit one of the deputies, officers were waiting for paramedics and trying to corral the dog to prevent further injuries, officials said. When officers fired at the dog, the deputy who had been bitten was also hit by a bullet fragment and was taken to a hospital, where he was listed in stable condition.
The dog would be put down, police said.
The incident serves as another example of the potentially fatal consequences of calling police on communities of color. In a press release, the sheriff's office labeled Garcia-Muro a "suspect" even though he was not accused of any criminal activity. Authorities also claimed that deputies had responded "at least four times" to the address for "loud music and gang activity" in the past two months.
Barron, 40, said she was outraged by the references to gang activity, saying Garcia-Muro had no involvement in gangs and was beloved in the community: "He was a happy, energetic outgoing kid. He loved to help people. If you asked him to do anything, he wouldn't complain about it. He always had a smile on his face."
The man was not wearing any shoes, and he was crawling along the baking asphalt with socks on his hands.
That was how David Lee Witherspoon Jr, president of a food pantry, found him while driving through Phoenix last week. The man told Witherspoon he had left his home without any footwear after a fight, though Witherspoon thought he might have been homeless. Then he had taken off his socks to remove some burrs, but the road surface was so scorching he was forced onto all fours. Luckily Witherspoon had some spare sneakers in his car, and helped the man put them on.
"Anyone crawling along the street when it's over 100 degrees – you would not survive very long before you got third-degree blisters on your hands and even your knees," Witherspoon said.
It is currently so hot in Arizona that just inhaling can feel painful. Dozens of flights have been canceled at the Phoenix airport. The National Weather Service has declared an excessive heat warning that will be in place until Monday, amid temperatures approaching 120F.
Yet the swelter is, for the majority of people, mostly avoidable thanks to air conditioning. For those living under bridges and in tents, however, it is suffocating and inescapable. Eventually, it could be fatal.
Almost 6,000 homeless people were counted in the Phoenix region during a one-day census last year. Of those without shelter, a number gather a few miles west of downtown, where there are few trees, dirt lots, and roads littered with trash. On Thursday, a 21-year-old man named Jonathan Olvera and his girlfriend, who declined to give her name, were sitting on a shaded sidewalk.
"All this week it's been hot," he said, wearily. His girlfriend's cheeks were red from the sun; he looked more severely burned. Both were fatigued, with dry lips.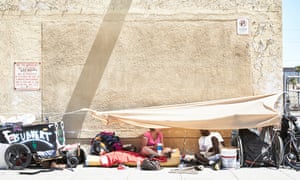 Homeless people trying to stay out of the heat in Phoenix. Photograph: Stephen Denton for the Guardian
On the ground next to them were their backpacks and a few empty water bottles. "We try to drink as much water as we can," Olvera said. "We put cold water on our heads or carry rags that we keep wet."
Katrina Giddings, 35, said she had spent the previous night, when temperatures were in the high 90s, bedded down on some concrete. "It was a terrible night," she said. "I kept waking up every hour just to drink some water and to get my hair wet."
According to the National Weather Service, when the air temperature is 102F and the sun is shining, blacktop can be heated to as much as 167F. That is hot enough to fry an egg or cook ground beef, though more worryingly, the weather service also notes that in such conditions, "human skin is instantly destroyed". Pets' paws are also vulnerable – and it is common for homeless people to have dogs.
Phoenicians might fancy themselves accustomed to climatic extremes, though this week even they have been surprised: temperature records have been surpassed two days in a row.