26 Jun
Nearly all of these are English-edition daily newspapers. These sites have interesting editorials and essays, and many have links to other good news sources. We try to limit this list to those sites which are regularly updated, reliable, with a high percentage of "up" time.

World Politics
Poland
Great Britain
United States
The US supreme court handed a partial victory to the Trump administration on Monday as it lifted significant elements of lower court orders blocking the president's controversial travel ban, which targets visa applicants from six Muslim-majority countries.
The nation's highest court agreed to hear arguments on the legality of Trump's controversial immigration order – which also temporarily suspends the US refugee resettlement program – in autumn this year, paving the way for parts of the order to go into effect over the summer.
Much of Trump's executive order, a revised version of a first travel ban that was rolled out chaotically in January, had been stayed by federal courts in Maryland and Hawaii, meaning the ban had never taken effect. These rulings were later upheld by federal appeals courts.
Lauren Gambino in Charleston, West Virginia
As Donald Trump celebrated the marriage of Wall Street executive-turned-treasury secretary Steve Mnuchin in the Washington swamp he repeatedly pledged to drain, Bernie Sanders stepped onstage in Pittsburgh.
In a city the president last month said he was elected to represent rather than Paris, home of the global climate accord from which Trump has withdrawn, the Vermont senator denounced a "moral outrage that this country will never live down".
In Washington, Senate Republican leaders pushed for a vote to dramatically reshape the US healthcare system, ignoring pleas from within their own party to allow more time for debate. In the Rust Belt, Sanders spent the weekend rallying opposition to their plan.
In Pennsylvania, Ohio and West Virginia, Sanders was unsparing in his attack on the Republican healthcare bill, which would likely leaves millions of people without insurance cover.
"The so-called healthcare bill passed in the House last month is the most anti-working class legislation in the modern history of our country," he said in Pittsburgh, at the first of three rallies organized with the progressive group MoveOn.org, aiming to mobilize opposition ahead of an expected Senate vote this week.
The Senate plan, which was drafted in secret and released last Thursday, would repeal major pieces of the Affordable Care Act (Aca) and exact deep cuts to Medicaid.
"The horrible and unspeakable truth," Sanders said, speaking to a crowd of roughly 1,600, "is that if this legislation was to pass, and if millions of people, many of whom are terribly ill today, would to lose their healthcare that they have, there is no question but that many many thousands of our fellow Americans will die unnecessarily."
"Unacceptable!" a man called out.
Others shouted: "I will die!
In Columbus, Ohio, Sanders told the crowd he been criticized for portraying the healthcare bill as a matter of life and death. But it was "common sense", he said, to say that if you take away healthcare coverage, "people will die by the thousands".
"I say this with pain, with anxiety," he added. "Thousands."
For many attendees, this was personal. Diana Zoelle, a retired political science professor, feared cuts to Medicaid would leave her 89-year-old mother unable to afford nursing home care. Her mother had spent nearly all of her retirement savings, she said, and had been told she was eligible for Medicaid, which covers the longer-term care needs of nearly two-thirds of nursing home residents.
"But then Trump says he's taking $880bn out of Medicaid," Zoelle said. "I guess he assumes that I will take my mother home with me from the nursing home and that I will pay for everything she needs and then I won't have anything for my old age."
One of the women Zoelle came with shook her head. "If the healthcare bill goes through," she said, "that's when the real revolt is going to start because it's going to affect them and they will act."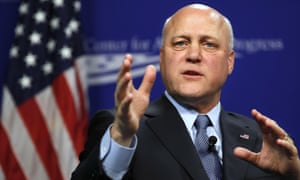 'I think most mayors in America don't think we have to wait for a president' whose beliefs on climate change are disconnected from science, Mitch Landrieu said. Photograph: Jacquelyn Martin/AP
Associated Press in Miami Beach
Mayors meeting in Florida are considering an ambitious commitment to have US city governments run entirely on renewable sources such as wind and solar by 2035.
Leaders from more than 250 cities gathered at the US Conference of Mayors in Miami Beach were scheduled to vote on Monday on a resolution to reach the 100% clean energy goal.
Miami Beach mayor Philip Levine is leading the effort after being in the spotlight for his moves to combat sea level rise.
A May survey by the Center for Climate and Energy Solutions said 47 cities spent nearly $1.2bn annually on electricity for city operations.
Mayors at the conference have overwhelmingly expressed support to fight climate change, especially after the Trump administration pulled out of the Paris climate agreement last month.
"I think most mayors in America don't think we have to wait for a president" whose beliefs on climate change are disconnected from science, New Orleans mayor and new conference president Mitch Landrieu said at the beginning of the conference.
"There's near unanimity in this conference that climate change is real and that humans contribute to it. There may be a little bit of a disagreement about how actually to deal with it.
"If the federal government refuses to act or is just paralyzed, the cities themselves, through their mayors, are going to create a new national policy by the accumulation of our individual efforts."
Harriet Sherwood, Religion correspondent and agencies
A high-profile body that liaises between Israel and the Jewish diaspora has reacted with fury at a decision by the Israeli prime minister, Benjamin Netanyahu, to in effect abandon a plan to allow men and women to pray together at the Western Wall.
The Jewish Agency has cancelled a gala dinner with Netanyahu in Jerusalem and is to discuss the ramifications of the decision at a meeting this week.
The Israeli cabinet decided on Sunday to scrap a compromise agreement made 17 months ago, which was intended to resolve a battle lasting more than a quarter of a century over equal rights for women praying at the Western Wall.
Netanyahu came under intense pressure from ultra-Orthodox parties in his coalition government and the religious authorities that manage the site, the holiest place that Jews can pray.
The plan would have created a new area for worship at the Western Wall for men and women to pray together. At present, prayer areas are segregated, with a smaller stretch of the wall of the ancient temple reserved for women.
The deal, made in January 2016, was welcomed by liberal and reform Jews, and the feminist group Women of the Wall, which has mounted monthly protests at the Old City site since 1989. The gatherings frequently ended in physical tussles and arrests.
Women of the Wall also demanded an end to ultra-Orthodox bans on women praying aloud, reading from the Torah and wearing traditional prayer shawls, known as tallit.
The compromise followed three years of intense negotiations between liberal Israeli and American Jewish groups and the Israeli authorities and was seen as a significant breakthrough in promoting religious pluralism in Israel, where ultra-Orthodox authorities govern almost every facet of Jewish life.

Benjamin Netanyahu has been accused of reneging on the 'historic' agreement. Photograph: Ronen Zvulun/AP
But opposition from Israel's ultra-Orthodox religious establishment has prevented the agreement from being implemented.
Speaking after Sunday's announcement, Moshe Gafni, the leader of the ultra-religious United Torah Judaism party, said: "We are happy about this, and thank the holy one, blessed is he, on this great success."
But Anat Hoffman, the chairwoman of Women of the Wall, accused Netanyahu of reneging on a "historic" agreement with liberal Jewish denominations.
"This is a bad day for women in Israel," she wrote on Facebook. "The Women of the Wall will continue to worship at the women's section of the Western Wall with the Torah scroll, prayer shawls and phylacteries until equality for women arrives at the wall as well."
Natan Sharansky, a former government minister and chairman of the Jewish Agency, who helped broker the original deal, said the move was a "deep disappointment".
The agreement would have established "a dignified space for egalitarian prayer at the Western Wall,'' Sharansky said. "[The] decision signifies a retreat from that agreement and will make our work to bring Israel and the Jewish world closer together increasingly more difficult."
Survivors of the Grenfell Tower fire have been evicted from their emergency hotel accommodation at short notice after the local council was unable to extend their booking.
In a letter from Kensington and Chelsea council to the families affected, it said people needed to urgently leave their rooms by 4pm on Friday.
"Despite efforts to extend your stay at the Holiday Inn Kensington Forum, regrettably the hotel has stated that they do not have availability," the council wrote.
The letter, which was subsequently shared on social media, tells families to contact the council's accommodation team as a matter of urgency and provides a phone number.
A council spokesman said: "The Holiday Inn Gloucester Road was unable to continue accommodating 30 households due to previous bookings and we are deeply sorry for the manner in which the families had been informed of the need to move them."
The people concerned were reportedly staying in 20 rooms at the Kensington hotel and the council said those who had to leave had been offered alternative hotels in central London.
Pilgrim Tucker, a community organiser working with the Grenfell Action Group, said in a statement released by the Radical Housing Network: "It's beyond disgusting that after all these people have been through, losing their neighbours and watching their homes burn to the ground, authorities are prepared to tell them that they have hours to pick up their bags and move to some unknown destination… It makes you wonder if anything has been learned from the Grenfell catastrophe."
Community groups and volunteers claim some people have been moved several times since the fire broke out. In response, the council said it was trying hard to avoid "unnecessary moves for people".
A volunteer, who asked to remain anonymous, said: "This is bad for the families. It's bad because they've already had to endure enough, bad because they are being told this at the last minute, and let's admit, this country only treats certain people this way.
"It is also bad because people are now being split across accommodation all over and that means it's probably going to be even harder for the families in question to get support."
Leila al-Halabi, who has been volunteering in the area since the fire, claimed "families have been split up into various accommodation away from each other".
She said the council was not doing enough to make sure families got what they needed. "It's volunteers doing this and many families do not even know where to get what or what they are entitled to. Still, translators are not offered," she said.
"Each family should be allocated a member from the council to be their main point of contact to see what they need and inform them of what they are entitled to."
Tucker said: "We still need answers as to what will happen to private renters, subtenants and homeowners of Grenfell Tower. We strongly suggest that given the scale of the disaster, all tenants of Grenfell, not just council tenants, are prioritised for permanent social housing in the local borough."
Last week, the number of people dead or missing presumed dead rose to 79. The blaze also left hundreds of residents homeless.
A spokesman for the Grenfell response team, which was set up to coordinate relief efforts, said: "Ensuring that we house all those who have been effected by the Grenfell Tower fire is one of our most pressing priorities.
"It is a significant task to find people permanent accommodation, but we are making progress.
Opinion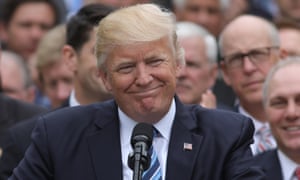 'The core of the bill is a huge reduction in Medicaid, America's healthcare program for the poor, elderly and disabled.' Photograph: Carlos Barria/Reuters
T

he Senate's bill to repeal the Affordable Care Act is not a healthcare bill. It's a tax cut for the wealthiest Americans, paid for by a dramatic reduction in healthcare funding for approximately 23 million poor, disabled, working and middle-class Americans.
America's wealthiest taxpayers (earning more than $200,000 a year, $250,000 for couples) would get a tax cut totaling $346bn over 10 years, representing what they save from no longer financing healthcare for lower-income Americans.
That's not all. The bill would save an additional $400bn on Medicaid, which Mitch McConnell, Paul Ryan, and Donald Trump are intent on shrinking in order to cut even more taxes for the wealthy and for big corporations.
If enacted, it would be the largest single transfer of wealth to the rich from the middle class and poor in American history.
This disgrace is being proposed at a time when the nation's rich own a higher percentage of the nation's wealth and receive the highest percent of America's income since the era of the Robber Barons of the late nineteenth century.
Almost all of the transfer is hidden inside a bill that's supposed to be a kinder and gentler version of its House counterpart, which Trump called "mean, mean, mean."
Look closely and it's even meaner.
The Senate bill appears to retain the Affordable Care Act's subsidies for poorer Americans. But starting in 2020, the subsidies would no longer be available for many of the working poor who now receive them, nor for anyone who's not eligible for Medicaid.
Another illusion: the bill seems to keep the Affordable Care Act's Medicaid expansion. But the expansion is phased out, starting in 2021.
The core of the bill – where its biggest savings come from – is a huge reduction in Medicaid, America's healthcare program for the poor, elderly and disabled.
This, too, is disguised. States would receive an amount of money per Medicaid recipient that appears to grow as healthcare costs rise.
But starting in 2025, the payments would be based on how fast costs rise in the economy as a whole.
Yet medical costs are rising faster than overall costs. They'll almost surely continue to do so – as America's elderly population grows, and as new medical devices, technologies, and drugs prolong life. Which means that after 2025, Medicaid coverage will shrink.
The nonpartisan Urban Institute estimates that between 2025 and 2035, about $467bn less will be spent on Medicaid than would be spent than if Medicaid funding were to keep up with the expected rise in medical costs.
The states would have to make up the difference, but many won't want to or be able to.
One final major deception. Proponents of the bill say it would continue to protect people with preexisting conditions. But the bill allows states to reduce insurance coverage for everyone, including people with preexisting conditions.
So insurance companies could technically "cover" people with preexisting conditions for the cost of, say, their visits to a doctor, but not hospitalization, drugs, or anything else they need.
The Senate bill only seems like a kinder, gentler version of the House repeal of the Affordable Care Act, but over time it would be even crueler.
Will the American public find out? Not if McConnell can help it.
He hasn't scheduled a single hearing on the bill.
He's shut out major hospitals, physician groups, consumer advocates and organizations representing millions of patients with heart disease, cancer, diabetes, and other serious illnesses.