01 Jul
Nearly all of these are English-edition daily newspapers. These sites have interesting editorials and essays, and many have links to other good news sources. We try to limit this list to those sites which are regularly updated, reliable, with a high percentage of "up" time.

Five years ago, the news that Australia's most famous Catholic, Cardinal George Pell, was to be charged with historical sex offences would have been like a tsunami inside the church. Not now.
Today the mood is numbed acceptance, the feeling that this is the inevitable last act in the drama of a man who authored his own tragedy.
It was his appearances before the child abuse inquiries by the Victorian Parliament and the Royal Commission that really savaged his reputation, both because of the deficiencies they uncovered and because of his wooden, cold responses.
But in the Australian Catholic Church, the damage from clergy abuse was done long ago, and the latest development is merely cause for more disappointment. For years, most ordinary Catholics have focused on their local parishes and ignored the hierarchy, as dismayed as anyone by the shocking revelations of official cover-ups, moving paedophile priests and silencing victims.
Largely inured to bad news, most will simply carry on.
On Thursday, Victoria Police announced that Pell will face multiple allegations against multiple victims, though we will not know the details until the charges are filed on July 26 in the Melbourne Magistrates Court.
No one would relish a court ordeal, but – after years of rumours swirling, accusations and counter-accusations – it is surely best for the cardinal, for the alleged victims, for the Catholic Church and for wider society that these claims are tested in court. Only then can the saga be laid to rest.
Pell has been a colossus on the Australian and international religious scene, for decades a seemingly unstoppable force: combative, relentless, overbearing, determined to crush dissent in the church, resisting what he saw as dangerous moral relativism in society.
To his admirers, he was courageous, resolute and dependable; to his critics he was arrogant, ruthless, a bully. I'd say all those adjectives contain elements of truth: the very qualities that made him a hero to some made him a villain to others, and vice versa.
When Pell was at his height, as Archbishop of Melbourne, then Sydney, few inside the church had the energy or tenacity to take him on as he strove to restore clerical authority and provide an orthodox Catholic voice on social issues. His immediate predecessors were felt, not unreasonably, to have been a little timid in standing up for Catholic teaching against an often hostile media – and no one could accuse Pell of being timid.
Clouds hang over the Vatican on Thursday, June 29. The Catholic Archdiocese of Sydney says Vatican Cardinal George Pell will return to Australia to fight sexual assault charges as soon as possible. Photo: Gregorio Borgia
He battled hard to reshape the church in his own image and, under Pope John Paul II, must have felt for a while that he was winning, but it was too late: the church was victim of several social trends he could not control, including the loss of authority common to all institutions in recent decades, vastly exacerbated by its own failings.Under Pell, the unpleasant practice flourished of reporting "innovations" or minor infractions to Rome, where – the progressives noted – the authorities acted far more quickly and decisively against a priest who adapted the Mass or advocated an end to clerical celibacy or favoured women priests, for example, than one who abused children.Read Full Article>>


World Politics
France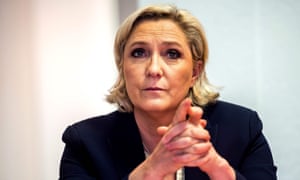 Le Pen invoked her immunity as a member of the European parliament in refusing to answer questions from investigators during the election campaign. Photograph: Philippe Huguen/AFP/Getty Images
Marine Le Pen, the leader of France's far-right Front National, has been placed under formal investigation over allegations that her party illegally claimed millions of euros from the European parliament to pay for France-based staff.
Le Pen's lawyer said she had been summoned by investigating magistrates in Paris and "as expected" had been placed under formal investigation for breach of trust. She will appeal against the decision.
Under French law, being put under formal investigation means there is "serious or consistent evidence" that points to probable involvement in a crime. It is a step towards a trial, though investigations can be dropped without proceeding to court.
The case was triggered by a complaint from the European parliament, which accused the Front National of defrauding it on a large scale. An investigation by a European parliament watchdog claimed that between 2011 and 2012 Le Pen had illicitly paid party staff for Front National work using money that should only be used for MEPs to pay assistants for legislative tasks.
In February, the European parliament said it would start docking Le Pen's pay unless she paid the money back.
Le Pen has denied any wrongdoing and denied the allegations which she called political "persecution" of her.
Le Pen, who reached the final round of the presidential election in May and was squarely beaten by Emmanuel Macron, had invoked her immunity as a member of the European parliament in refusing to answer questions from investigators during the election campaign.
United States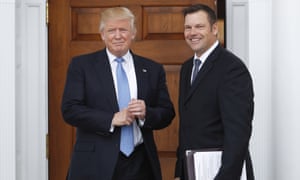 Donald Trump with Kris Kobach at the Trump National Golf Club in Bedminster, New Jersey. Kobach, who is the commission's vice-chair, sent a letter to states on Thursday asking for voter data. Photograph: Carolyn Kaster/AP
An attempt by Donald Trump's newly convened commission on election integrity to gather detailed information on the country's voting population prompted a furious backlash on Friday, as at least 24 states either resisted the request on privacy protection grounds or flat-out rejected it as a backdoor effort at mass voter suppression.
In a letter sent to the states on Thursday, the commission's vice-chair, Kris Kobach, asked for comprehensive lists including names of voters, addresses, voting histories, party affiliation, criminal histories, military status and more. The letter did not spell out how the commission intended to use this information, but in an interview with the Kansas City Star newspaper, Kobach said he wanted to "quantify different forms of voter fraud and registration fraud and offer solutions".
That set alarm bells ringing among election experts and voting rights activists who have followed Kobach's career as elections chief in Kansas and seen him cite the risk of individual voter fraud – in reality, a negligible or non-existent problem – as an excuse to pass controversial laws making it harder for many lower-income and minority voters to cast a ballot.
Many of them believe the commission has been set up to justify Trump's false claim – echoed by Kobach and by the commission's chairman, vice-president Mike Pence – that 3 to 5m votes were cast illegally in last November's election.
California's elections chief, Alex Padilla, said his state's participation "would only serve to legitimize the false and already debunked claims of massive voter fraud". He called the commission "a waste of taxpayer money and a distraction from the real threats to the integrity of our elections today: aging voting systems and documented Russian interference in our elections".
At least 12 other states – including Kentucky , Massachusetts , Minnesota , Mississippi, New York , Tennessee and Virginia – have issued similar refusals to cooperate
"This entire commission is based on the specious and false notion that there was widespread voter fraud last November," Virginia's Democratic governor, Terry McAuliffe, said. "At best this commission was set up as a pretext to validate Donald Trump's alternative election facts, and at worst is a tool to commit large-scale voter suppression."
White House spokesman Sean Spicer confirmed several times during a press briefing on Tuesday that Donald Trump maintains his belief that millions of people may have engaged in 'voter fraud' during the 2016 US election. There is no evidence of widespread voter fraud. Research over the last 16 years has found voter fraud to be extremely uncommon, and 2016 appeared to follow that pattern
Another 11 states raised questions, in many cases because they are concerned their laws maintaining confidentiality and privacy could become moot once their lists were in the hands of the federal government. Bizarrely, even Kansas – with Kobach as elections chief – said it could not fully comply with the request, because state law did not permit release of even partial social security numbers.
Although the strongest opposition came from Democrats, the resistance to Kobach's request crossed party lines. Many state-level Republicans such as Ohio secretary of state Jon Husted insisted they ran clean and fair elections and did not have issues with fraud.
This entire commission is based on the specious and false notion that there was widespread voter fraud last November

Terry McAuliffe, Virginia governor
Election experts do not dispute there is room for improvement in many aspects of the US electoral system, including the streamlining of its voter registration records. But they say this commission is blatantly partisan – Pence, Kobach, and fellow member Kenneth Blackwell, are all Republicans with track records of championing vote suppression mechanisms, and seemingly uninterested in adopting meaningful solutions to real problems.
"If they were serious about improving integrity in our elections, they would be talking about providing resources so our voting machines and voter registration databases are safe from hacking," said Myrna Perez, director of the voting rights and elections project center at New York University's Brennan Center. "They would be talking about an automatic voter registration system that was expansive and thoughtfully designed."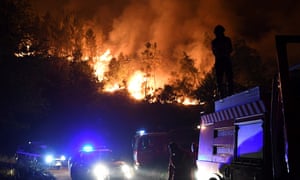 Firefighters try to extinguish a forest wildfire in Colmeal in central Portugal on 21 June. Photograph: Francisco Leong/AFP/Getty Images
Human-caused climate change dramatically increased the likelihood of the extreme heatwave that saw deadly forest fires blazing in Portugal and Spain, new research has shown.
Much of western Europe sweltered earlier in June, and the severe heat in England, France, Belgium, the Netherlands and Switzerland was also made significantly more likely by global warming. Such temperatures will become the norm by 2050, the scientists warned, unless action is taken to rapidly cut carbon emissions.
Scientists combined temperature records and the latest observations with a series of sophisticated computer models to calculate how much the global rise in greenhouse gases has raised the odds of the soaring temperatures.
They found the heatwave that struck Portugal and Spain was 10 times more likely to have occurred due to global warming. In Portugal, 64 people died in huge forest fires, while in Spain 1,500 people were forced to evacuate by forest blazes.
The intense heat was made four times more probable in central England, which endured its hottest day since 1976, and in France, the Netherlands and Switzerland, where emergency heatwave plans were triggered.
The analysis was carried out by World Weather Attribution (WAA), an international coalition of scientists that calculates the role of climate change in extreme weather events. "We found clear and strong links between June's record warmth and human-caused climate change," said Geert Jan van Oldenborgh, at the Royal Netherlands Meteorological Institute and part of WWA.
"Heat can be deadly – especially for the very young and the elderly," said Friederike Otto, at Oxford University and also part of WWA. "This extreme event attribution analysis makes clear that European heatwaves have become more frequent, and in the South of Europe at least 10 times more frequent. It is critical that cities work with scientists and public health experts to develop heat action plans. Climate change is impacting communities right now and these plans save lives."
A drumming cockatoo, basking sharks and flamingos are among this week's pick of images from the natural world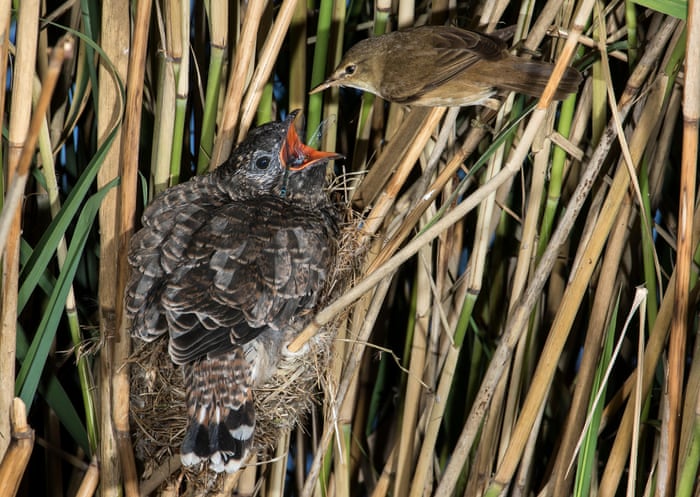 A cuckoo being fed by a reed warbler in Lincolnshire, UK.
Photograph: Glenn Welch/Alamy Stock Photo