02 Jul
Nearly all of these are English-edition daily newspapers. These sites have interesting editorials and essays, and many have links to other good news sources. We try to limit this list to those sites which are regularly updated, reliable, with a high percentage of "up" time.


World Politics
France

© Archive AFP | The far left's La France Insoumise (LFI) party leader and Member of Parliament Jean-Luc Mélenchon.
French far-left lawmakers said on Thursday they would boycott President Emmanuel Macron's speech to both houses of parliament in the majestic palace of Versailles next Monday, accusing him of acting like a Pharaoh.
Joint sessions of parliament, known as a Congress, are rare and take place in the sumptuous palace of France's former kings built at Versailles outside Paris by Louis XIV to symbolise absolute power.
But leftwing firebrand Jean-Luc Mélenchon, who leads the 17-strong 'France Unbowed' group in parliament, said the Congress showed Macron's intent to concentrate power in his own hands.
"It is the sign of the pharaonic drift of this monarchical presidency," Mélenchon, a fierce orator known for his colourful rhetoric, told reporters.
"This meeting has no real objective other than have us listen to the president."
Mélenchon, who came fourth in the first round of the presidential election in April with 19.5 percent of the votes, also complained about his lawmakers getting no top jobs in parliamentary committees and what he said was too little time to prepare amendments on labour law decrees.
"We are rebelling and we won't be subdued," he said, adding: "Our only way to show our anger is … not to go to Versailles."
Great Britain
Thousands march in UK capital to protest against austerity and Theresa May's Conservative minority government
United States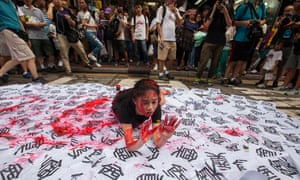 A performance artist makes her mark about Chinese rule on the streets of Hong Kong yesterday. Photograph: Alex Hofford/EPA
Tens of thousands of pro-democracy protesters delivered a rebuke to President Xi Jinping after the Chinese leader warned that Hong Kong must not become a launchpad for challenges to Beijing's authority.
Organisers said 60,000 people joined the two-mile march – held every year since 1997 – blaming thunderstorms for falling short of the goal of 100,000 demonstrators. Police reportedly put the turnout at 14,500.
On 1 July 1997, Britain handed Hong Kong back to China after more than 150 years of colonial rule. The date is now marked with a march, one of the larger demonstrations in the territory's packed protest calendar, and the city remains the only place on Chinese soil where mass demonstrations are permitted. This year's rally coincided with the first visit by the Chinese president and creeping pessimism over Beijing's increasingly hardline stance towards the territory.
"Any attempt to endanger China's sovereignty and security, challenge the power of the central government … or use Hong Kong to carry out infiltration and sabotage activities against the mainland is an act that crosses a red line and is absolutely impermissible," Xi said as he ended his trip. He was hundreds of miles away when the protest march began.
"Xi doesn't understand Hong Kong people. The Communist party's solution to the world's problems is money, because that is all they have," said Martin Lee, a veteran activist and former legislator. "The Communists don't have core values and principles to stand on, but we cherish our freedoms, civil rights and the rule of law."
Lee, 79, is known as the "father of democracy" to supporters and a "traitor" or, worse, a "running dog of the colonialists", in Communist party circles.
"We are walking a very difficult path, the road of democracy, and so long as we continue to walk we are bound to be successful," he said at the end of the rally. "Even if our country will be the last in the entire world to reach that goal, we will still get there."
Thousands of protesters held up signs demanding that China free Liu Xiaobo, the jailed Nobel peace laureate who was recently diagnosed with terminal liver cancer and transferred from prison to hospital. Liu and his wife hope to go to the US for medical treatment, but their applications to travel have been rebuffed by Chinese authorities.
Others demanded that Hong Kong's outgoing chief executive, Leung Chun-ying, be locked up over corruption allegations, and many slogans were simply words of encouragement for a movement that has seen little progress on democracy: "Never back down", "Fight for Hong Kong," and, more poetically, "Being born in uncertain times carries certain responsibilities".
"We're not attacking China; we're just defending our rights and our freedoms," said Martyn Chai, 17, a protester and secondary school student. "All we're asking for is what was promised: to have a high degree of autonomy and govern ourselves, but the Chinese government only wants to control Hong Kong. We've been lied to for the past 20 years since the handover."
Hong Kong people are different from mainland Chinese, with a unique way of life and distinct culture, Chai said, adding he felt no connection to mainland China. Beijing's rejection of open and free elections still enrages him nearly three years after the decision.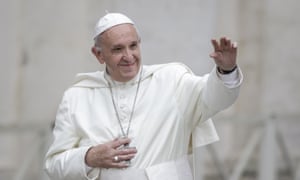 Pope Francis is replacing Müller, who is against divorced believers being allowed holy communion. Photograph: Giuseppe Ciccia/Pacific Pres/Rex/Shutterstock
Reuters
The Vatican has signalled a major shake-up of its administration, with Pope Francis replacing his top theologian, a conservative German cardinal who has been at odds with the pontiff's vision of a more inclusive church.
A brief Vatican statement said Cardinal Gerhard Ludwig Müller's five-year mandate as head of the Congregation for the Doctrine of the Faith, a key department charged with defending Catholic doctrine, would not be renewed.
Müller, 69, who was appointed by the former pope, Benedict, in 2012, will be succeeded by his deputy, the archbishop Luis Francisco Ladaria Ferrer.
Ladaria, a 73-year-old Spaniard, who like the Argentinian pope is a member of the Jesuit order, is said by those who know him to shun the limelight. Müller, by contrast, often appears in the media.
"They speak the same language and Ladaria is someone who is meek. He does not agitate the pope and does not threaten him," said a priest who asked not to be named but who works in the Vatican and knows both Müller and Ladaria.
Since his election in 2013, Francis has given hope to progressives who want him to forge ahead with his vision for a more welcoming church that concentrates on mercy rather than the strict enforcement of rigid rules they see as antiquated.
Müller is one of several cardinals in the Vatican who have publicly sparred with the pope.
In 2015, he was among 13 cardinals who signed a letter to the pope complaining that a meeting of bishops discussing family issues was stacked in favour of liberals. The letter was leaked, embarrassing the signatories.
"Clearly, the pope and Cardinal Müller have not been on the same page for five years," the priest said.
Müller has criticised parts of a 2016 papal treatise called "Amoris Laetitia" (The Joy of Love), a cornerstone document of Francis's attempt to make the 1.2 billion-member church more inclusive.
In it, Francis called for a church that is less strict and more compassionate towards "imperfect" members, such as those who divorced and remarried, saying "no one can be condemned forever".
Conservatives have concentrated their criticism on the document's opening to Catholics who divorce and remarry in civil ceremonies without getting church annulments.
Under church law, they cannot receive communion unless they abstain from sex with their new partner, because their first marriage is still valid in the eyes of the church and they are seen to be living in sin.
In the document, the pope sided with progressives who had proposed an "internal forum" in which a priest or bishop decide jointly with the individual on a case-by-case basis if he or she can be fully reintegrated and receive communion.
The fourth annual BigPicture Natural World Photography Competition aims to celebrate the diversity of life on Earth, and encourages people to protect and conserve it. Thousands of entries were received for the competition held by the California Academy of Sciences, and here are the winners