03 Jul
Nearly all of these are English-edition daily newspapers. These sites have interesting editorials and essays, and many have links to other good news sources. We try to limit this list to those sites which are regularly updated, reliable, with a high percentage of "up" time.


World Politics
United States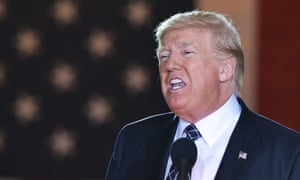 Donald Trump has called the media 'enemies of the American people'. Photograph: Mandel Ngan/AFP/Getty Images
Donald Trump was on Sunday accused of encouraging his supporters to attack journalists, after he tweeted a video of himself at a pro-wrestling event throwing to the floor a man with a CNN logo for a head.
The video, sent as CNN broadcast its Sunday talk show State of the Union, came the morning after an appearance from Trump at an event in Washington honouring veterans, in which he used his speech to further his attacks on the press and broadcasters. "The fake media tried to stop us from going to the White House. But I'm president, and they're not," he said.
CNN said in a statement that Trump was encouraging violence against reporters and "involved in juvenile behaviour far below the dignity of his office".
A director of the Committee to Protect Journalists (CPJ) told the Guardian "charged rhetoric online", issued by the White House, "undermines the media in the US and emboldens autocratic leaders around the world".
Trump's tweet contained doctored video from his appearance on Wrestlemania XXIII in 2007, in which he "body-slammed" – and subsequently shaved bald – Vince McMahon, the WWE promoter and husband of Trump's Small Business Administration chief, Linda McMahon. Trump is a member of the WWE hall of fame. The video appeared to have been taken from Reddit, where it was reportedly posted by a user named "HanAssholeSolo".
In an atmosphere of swirling distrust between journalists and the politicians they cover, "body-slamming" became a loaded term in May when a Republican congressional candidate in Montana slammed Guardian reporter Ben Jacobs to the floor.
Greg Gianforte pleaded guilty to assault and was sentenced to community service. After donating $50,000 to the CPJ, he was sworn in as a member of the US House of Representatives. Jacobs' glasses, broken in the assault, are now on display at the Newseum in Washington.
In its statement on Sunday, CNN said: "It is a sad day when the president of the United States encourages violence against reporters. Clearly, [deputy White House press secretary] Sarah Huckabee Sanders lied when she said the president had never done so.
"Instead of preparing for his overseas trip, his first meeting with Vladimir Putin, dealing with North Korea and working on his healthcare bill, he is instead involved in juvenile behaviour far below the dignity of his office. We will keep doing our jobs. He should start doing his."
Courtney Radsch, advocacy director for the CPJ, told the Guardian: "Singling out individual journalists and news outlets creates a chilling effect and fosters an environment where further harassment and even physical attacks are seen to be acceptable.
"We are already concerned about physical attacks on reporters and clearly the White House's charged rhetoric online undermines the media in the US and emboldens autocratic leaders around the world. We already saw that there has been at least one serious attack recently, on Ben Jacobs, a reporter for the Guardian, and this does not create a positive environment for the press online or offline."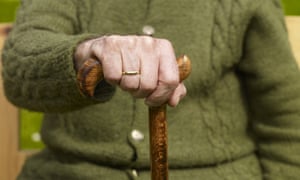 Life expectancy of the average American is 78.8 years, whereas those in many other countries – where people spend less money on care – live longer. Photograph: F1 Online / Rex Features
Healthcare in America is more expensive than in any other rich country. In 2016, the average American spent $4,571 on their health – a figure five times higher than the average out-of-pocket spending of other countries in the Organization for Economic Cooperation and Development (OECD).
That fact hasn't changed much over the years: compared to 35 other countries, Americans have spent more on their health every year since 2000. Even once you factor in government spending, healthcare in the US is still more expensive than elsewhere. Total health spending last year, including private out-of-pocket and government spending, was $8,985 per person in the US while the OECD average was just $3,633.
And yet all that health spending hasn't resulted in better health. The life expectancy of the average American is 78.8 years, putting the US a fraction ahead of the Czech Republic, where out of pocket spending was just $236 last year.

Healthcare Photograph: Mona Chalabi for the Guardian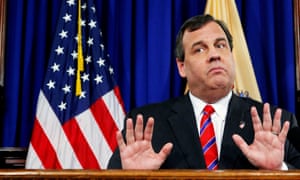 Christie denied he had got any sun on Sunday, but a spokesman later said this was because he was wearing a hat. Photograph: Eduardo Munoz/Reuters
New Jersey's Island Beach state park was closed on Sunday due to a budget standoff – with the exception of governor Chris Christie, his family and friends.
The Republican governor shut down the state government at midnight on Saturday in a health insurance battle with the Democrat-led legislature.
While others were reportedly turned away by police, New Jersey Advance Media took a picture of Christie with his wife Mary Pat and others on the otherwise deserted public beach.
Christie later travelled by helicopter from the beach in Berkeley to the state capital Trenton to hold a news conference about the shutdown. Asked if he got any sun, Christie replied: "I didn't get any sun today."
When later told of the photo showing him relaxing on the beach, Christie's spokesman Brian Murray said: "Yes, the governor was on the beach briefly today talking to his wife and family before heading into the office."
But that did not mean Christie got any sun. "He had a baseball hat on," Murray said.
The governor is moving back and forth from Trenton to the summer beach house provided by the state in Berkeley to deal with the shutdown in the capital and also spend time with his family by the shore over the Independence Day holiday.
Christie said the beach house is "where my family is sleeping, so that's where I'll sleep tonight. When I have a choice between sleeping with my family, and sleeping alone, I generally like to sleep where my family is."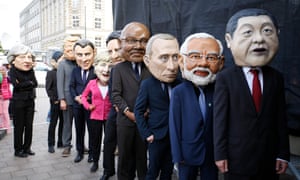 Protesters dressed up as G20 leaders in Hamburg on Sunday. Photograph: Morris MacMatzen/Getty Images
Protesters plan to take advantage of the decision to hold this week's G20 summit in a crowded inner-city area of Hamburg and copy police crowd control tactics to "kettle Trump, Putin and Erdo?an".
Authorities in Germany's second-largest city are preparing for the arrival of an unprecedented line-up of controversial world leaders, as well as protest groups eager to voice dissent on 7 and 8 July.
Donald Trump and Vladimir Putin will meet at the summit, and Germany will try to push climate change and free trade to the top of the agenda.
The chancellor, Angela Merkel, has argued that her birthplace, a wealthy port city and a "beacon of free trade", was "almost predestined" to host the gathering of the world's leading industrialised and developing economies.
But the decision to hold it at a congress centre in a densely populated part of the inner city, bordering a district with a long-running history of anti-establishment protests and annual May Day riots, has put police services on high alert.
On Sunday night, the first of a series of protest marches culminated in clashes with police over a disputed campsite in one of the city's park areas. Several people were reportedly injured and one person was arrested.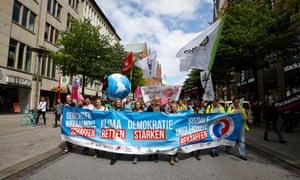 An anti-G20 protest march in Hamburg on Sunday. Photograph: Morris MacMatzen/Getty Images
Jan Reinicke, of the Association of Criminal Police, told the Guardian: "Many of my colleagues and I find it incomprehensible that another big city has been chosen for such a gathering after the terrible events of Genoa. Why Hamburg when you could have held the G20 in, say, a forest in Bavaria or on Heligoland?"
The 2001 G8 summit in the Italian port city was overshadowed by clashes between police and an estimated 200,000 demonstrators, and the death of a 23-year-old Italian anti-globalisation protester, Carlos Giuliani.
Hamburg authorities have said they expect about half the numbers of protesters that descended on Genoa in 2001, but the presence of divisive political figures such as Trump and his Turkish counterpart, Recep Tayyip Erdo?an, is likely to draw protesters from a wide range of political causes.
A "G20 not welcome" march on Saturday is expected to attract between 50,000 and 100,000 members of anti-fascist, feminist and Kurdish groups, as well as climate activists. A separate protest march, "Hamburg Shows Attitude", has been organised by a range of cultural and social institutions in the city.
Police have expressed particular concern about Thursday afternoon's "Welcome to Hell" march, expected to draw up to 8,000 anarchists and leftwing radicals.
The congress centre borders the densely populated Schanzenviertel district on its western and southern edge, and rail tracks prohibit access from the north, meaning delegates will likely only be able to enter the venue from the west.