05 Jul
Nearly all of these are English-edition daily newspapers. These sites have interesting editorials and essays, and many have links to other good news sources. We try to limit this list to those sites which are regularly updated, reliable, with a high percentage of "up" time.


World Politics
United States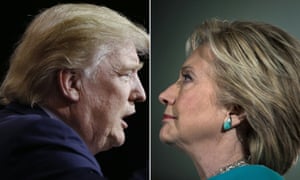 Mark Warner, the top Democrat on the Senate intelligence committee, says there was evidence that fake news campaigns appeared to target voters in swing states. Photograph: Jay Laprete/AFP/Getty Images
The spread of Russian-made fake news stories aimed at discrediting Hillary Clinton on social media is emerging as an important line of inquiry in multiple investigations into possible collusion between the Trump campaign and Moscow.
Investigators are looking into whether Trump supporters and far-right websites coordinated with Moscow over the release of fake news, including stories implicating Clinton in murder or paedophilia, or paid to boost those stories on Facebook.
The head of the Trump digital camp, Brad Parscale, has reportedly been summoned to appear before the House intelligence committee looking into Moscow's interference in the 2016 US election. Mark Warner, the top Democrat on the Senate intelligence committee carrying out a parallel inquiry, has said that at least 1,000 "paid internet trolls working out of a facility in Russia" were pumping anti-Clinton fake news into social media sites during the campaign.
Warner said there was evidence that this campaign appeared to be focused on key voters in swing states, raising the question over whether there was coordination with US political operatives in directing the flow of bogus stories.
Robert Mueller, the special counsel appointed by the justice department to oversee the investigation into the Russian role in the election, is thought to be looking into all these issues, as well as possible links between Russian fake news factories and far-right sites in the US.
It is a wide-ranging investigation that is examining the unusually large number of contacts between Trump associates and Russian officials during the campaign, as well as the possibility that the Kremlin has personal or financial leverage over members in the Trump camp, including the president himself according to his own remarks on Twitter.
The role of Russian generated fake news is a separate strand which has gained less attention up to now, but the part it played in depressing the Clinton vote in key states like Wisconsin, Michigan and Pennsylvania in the critical last days of the 2016 campaign could have helped change the course of recent American history.
We set ourselves up to be victims of an international cyberwarfare campaign. We were very effective pawns

John Mattes
A huge wave of fake news stories originating from eastern Europe began washing over the presidential election months earlier, at the height of the primary campaign. John Mattes, who was helping run the outline campaign for the Democratic candidate Bernie Sanders from San Diego, said it really took off in March 2016.
"In a 30-day period, dozens of full-blown sites appeared overnight, running full level productions posts. It screamed out to me that something strange was going on," Mattes said. Much of the material was untraceable, but he tracked 40% of the new postings back to eastern Europe.
Four of the Facebook members posting virulent and false stories about Clinton (suggesting, for example, that she had profited personally by arming Islamic State extremists) had the same name, Oliver Mitov. They all had a very small number of Facebook friends, including one which all four had in common. When Mattes tried to friend them and contact them there was no reply.
Many websites producing anti-Clinton fake news were based in Albania and Macedonia. A pro-Sanders Facebook page with nearly 90,000 followers was run by an Albanian IT expert who, when interviewed by the Huffington Post, appeared to speak very little English, although his page consistently published polished English prose.
Mattes, a former Senate investigator, did some digging into the sudden phenomenon of eastern European Sanders enthusiasts. He found that was a spike in activity on the anonymous browsing tool Tor in Macedonia that coincided with the launch of the fake news campaign, which he believes could represent Russian handlers contacting potential east European hosts to help them set up automated websites.
"This is a cost-effective hands-free method with no blowback to you if you are in St Petersburg creating this product," Mattes said. He argued that if the pro-Sanders websites in east Europe had been primarily motivated by maximising clicks they would have moved on to another viral subject.
Arnel Hecimovic
A star-spangled baby in Avondale Estates
Photograph: Erik S Lesser/EPA
A girl enjoys the party in Denver
Photograph: Marshall/Rex/Shutterstock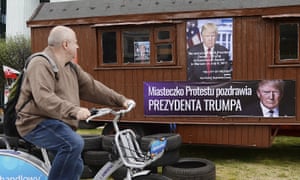 'Warsaw is reportedly luring Trump with promises of adoring crowds, in contrast to the chillier receptions he can expect in western Europe.' Photograph: Czarek Sokolowski/AP
P

oland's rightwing government is pulling out all the stops for what it sees as its greatest foreign policy achievement to date: a visit to Warsaw today by US president Donald Trump. In what has to be acknowledged as wily diplomacy, the Law and Justice (PiS) government is appealing to the US president's achilles heel: his vanity, reportedly luring him with promises of adoring crowds, in contrast to the chillier receptions he can expect in western Europe.
The ruling party is bussing in its supporters from all over Poland, encouraging them to take part in a "great patriotic picnic" on the occasion of Trump's visit. The idea is to make the big man feel as good about himself as possible, which will hopefully benefit Poland in some way, such as a more categorical assertion that Nato would – under US leadership – protect Poland from any aggression from Moscow.
PiS is working hard to tickle Trump's ego. The party's leader and Poland's most important politician, Jaros?aw Kaczy?ski, described Trump's decision to visit Warsaw as a "new success" for Poland. "[Others] envy it, the British are attacking us because of it." Meanwhile, the defence minister, Antoni Macierewicz, described Trump as "a man who is changing the shape of the world's political scene", adding that his "historic" visit would "once and for all, erase [Poland's] experience of occupation and Soviet enslavement".
There used to be a time when one could predict US foreign policy in rational terms; today it's more an issue of how Trump's ego will react to a particular situation. As a narcissist enthralled with those who offer him affirmation, Trump will likely respond to Warsaw's lavish praise in kind. Additionally, he shares much ideologically with the current Polish government: hostility towards Muslim migrants and doubt over climate change and German leadership in the EU.
Trump is already responding to Warsaw's fawning. His national security adviser, HR McMaster, promised the American president would deliver "a major speech" in Warsaw where "he will praise Polish courage throughout history's darkest hour, and celebrate Poland's emergence as a European power. And he will call on all nations to take inspiration from the spirit of the Poles as we confront today's challenges." McMaster added that Trump would "lay out a vision" for "America's future relationship with Europe" in Poland. Were the last promise to materialise, this would certainly be viewed as a diplomatic coup for Warsaw, and a snub to the likes of Berlin and London where such an important speech might have been expected to be made.
Indeed, there is the danger that Trump will use his Warsaw speech to draw a divisive line between what he would likely portray as a commonsense eastern Europe, proud of its (Christian) identity and values and a multiculturalism-obsessed, politically correct and naive western Europe that has lost its way and left itself vulnerable to Islamist terrorism. The Polish government will certainly hope for such a message, to help legitimise its anti-migrant and increasingly anti-EU stance, particularly in the eyes of its domestic audience.
But while the Polish government may well hear the message it wants from Trump, its attempts to portray Poles as more sympathetic to Trump than western Europeans will be more illusion than reality. Recent Pew Research suggests Poles are generally very sceptical of the US president. Only 23% expressed confidence in Trump to "do the right thing regarding world affairs", compared to 22% in the UK, while 57% of Poles lack confidence in him. In comparison, at the end of his presidency, 58% of Poles expressed confidence in Obama's handling of world affairs.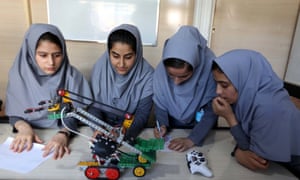 Afghan school girls test robot vehicles at a school in Herat. Six Afghan teenage girls have been denied visas to travel to the United States for an international robotics competition. Photograph: Jalil Rezayee/EPA
Reuters
Two Afghan girls refused visas to the United States for a robot-building competition have said they were mystified as the contest's organisers said teams from Iran and Sudan as well as a de facto Syrian team had gained visas.
The unusual story of the Afghan all-girl team of robotics students emerged as the United States grapples with the legality of President Donald Trump's order to temporarily ban travel from six Muslim-majority countries.
Afghanistan itself is not on the list and Team Afghanistan's robot, unlike its creators, has been allowed entry to the United States. Asked by Reuters on Tuesday why the girls were banned, a US State Department spokesperson cited regulations prohibiting the agency from discussing individual visa cases.
So the six team members will watch the ball-sorting machine compete in Washington DC via video link during the 16-18 July event from their hometown of Herat, in western Afghanistan, according to the First Global contest organisers.
"We still don't know the reason why we were not granted visas, because other countries participating in the competition have been given visas," said 14-year-old Fatemah Qaderyan, part of the team that made two journeys to the US embassy in the Afghan capital, Kabul, to apply for their papers.
"No one knows about the future but … we did our best and we hope that our robot could get a position along other robots from other countries," Qaderyan said.
Most of the female team members were either infants or not yet born at the time of the US-backed military intervention in Afghanistan in 2001 that toppled the Taliban regime whose ultra-hardline interpretation of Islamic sharia law banned girls from school, women from working outside the home and all females from leaving home without a male relative.
More than 15 years later around 10,000 US and allied international troops remain in Afghanistan to support an elected government in Kabul that constitutionally guarantees women's rights but is increasingly losing ground to a Taliban insurgency that now controls or contests some 40% of territory.
Qaderyan's teammate from Herat, 17-year-old Lida Azizi, was less forgiving of the US visa decision. "All of the countries can participate in the competitions, but we can't. So it's a clear insult for the people of Afghanistan," Azizi said.
First Global's president, Joe Sestak, said in a post on its Facebook page that he was "saddened" by the US decision but the Afghan team would be able to connect with the competition via a live Skype video link.
"That is how we must now honour our fellow teammates, those brave girls from Afghanistan," he said.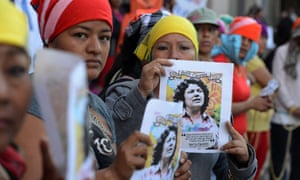 Indigenous Lenca women protest against the murder of Berta Cáceres last year. Now her daughter has been attacked. Photograph: Orlando Sierra/AFP/Getty Images
The daughter of the murdered Honduran environmentalist Berta Cáceres has survived an armed attack, just weeks after being named leader of the indigenous rights organisation formerly led by her mother.
Bertha Zuñiga, 26, was attacked along with two other members of the Civic Council of Popular and Indigenous Organisations of Honduras (Copinh) as they drove back from a community visit in central Honduras on Friday.
Three assailants tried to attack the Copinh members with machetes after a black pickup truck forced them to stop by blocking the road. They managed to escape, but came under renewed attack as the driver of the pickup tried to force their vehicle off the cliff-edge road.
Activists championing women's rights around the world are being systematically targeted with threats and abuse. To mark International Women Human Rights Defenders' Day, we hear from four campaigners who have come under attack for their work. Women from Honduras, Nepal, China and Egypt share their stories of persecution
Zuñiga, the second of Cáceres's four children, was travelling with Sotero Chavarría and Asunción Martíne, who are members of Copinh's leadership committee.
The group escaped unharmed but the incident has again heightened fears about the violence against human rights defenders in Honduras.
Cáceres was shot dead in her home in March 2016 after years of intimidation and deaths threats linked to her activism. Her friend who was with her during the attack, the Mexican environmentalist Gustavo Castro, survived by pretending to be dead. Cáceres fought to defend the ancestral land rights of the Lenca people from big mining, dam-building and logging projects.
Her murder brought international condemnation, but the violence has continued. Two of her colleagues – Nelson García and Lesbia Urquia – have been murdered since her death; several others have survived assassination attempts.
The latest attack took place around 2.30pm on Friday, not long after the Copinh delegation left Cancire, a small rural community in the Santiago de Puringla municipality of La Paz.
Copinh believes the attacks could be connected to a dispute over access to a local water source for Cancire and surrounding villages. The Zazagua hydroelectric dam has led to water shortages in the area, which has generated conflict between neighbouring communities.
The incident has been reported to authorities, but no arrests have so far been made.
Cáceres co-founded Copinh with her former husband 24 years ago. While best known for her environmental work, she was also a staunch defender of women's and LGBT rights.
She was set to stand for vice-president on an independent ticket when the country was thrown into chaos by a military-backed coup in July 2009.
The subsequent rightwing government initiated a range of pro-business policies, sanctioning hundreds of licences for environmentally destructive projects in rural areas without any prior consultation with communities.
At least 124 environmental and land activists have been murdered in Honduras since the coup, making it the most dangerous country in the world in which to defend natural resources, according to the anti-graft NGO Global Witness.