World Politics
United States
Despite criticism of his first G20 summit, the US president tweeted video of pictures with family and world leaders set to choral version of his catchphrase
Source: @realDonaldTrump
The Jackass  forgot this one, which we fondly recall – Doesn't play well with others.
The McGlynn
'Make America great again/ Make America great again / Lift the torch of freedom/ All across the land', the song begins, as pictures of Trump greeting Angela Merkel, Justin Trudeau, Narendra Modi and other world leaders fly past in a flurry of cross dissolves and zooms
Donald Trump's trip to Hamburg for the G20 saw Trump frozen out by many of his international partners while he continued to baffle observers with his eagerness to give Russia the benefit of the doubt on election hacking.
The Guardian said the US president "seemed so out of step with the rest of the world that it was a case of the 'G1' versus the 'G19'". The New York Times said the trip had chiefly been "welcome respite from the forever wars in Washington". And the Washington Post said the visit proved Trump was still "an unpredictable force on the world stage and an outlier among longtime American partners".
But for Trump himself it was clear that the only way to truly sum up his second foreign trip was with a two-minute web video soundtracked by a choir belting out his campaign slogan over triumphant martial brass.
"Make America great again/ Make America great again / Lift the torch of freedom/ All across the land," the song begins, as pictures of Trump greeting Angela Merkel, Justin Trudeau, Narendra Modi and other world leaders fly past in a style familiar to anyone who has used Apple's iMovie. There is room for plenty of shots of his wife and daughter (who helped make the summit great herself), and even a couple near the end of his controversial meeting with Russia's Vladimir Putin.
It's not the first song to turn Trump's catchphrase – adapted from Ronald Reagan – into a stirring anthem. Delegates at last year's Republican convention in Cleveland were treated to a rousing country-rock anthem on the same theme. But although this choral version is less catchy, the almost Germanic sound of this song is at least appropriate to the summit's location. And perhaps to the message of cultural nationalism he expounded in Poland.
The US president had said in a Sunday morning tweet that he and Vladimir Putin had discussed "forming an impenetrable Cyber Security unit so that election hacking, & many other negative things, will be guarded and safe," following their talks at the G20 summit in Hamburg, Germany.
Senator Lindsey Graham had told NBC's Meet the Press that working with Russia on cybersecurity was "not the dumbest idea I have ever heard but it's pretty close," saying that Trump's apparent willingness to "forgive and forget" stiffened his resolve to pass legislation imposing sanctions on Russia.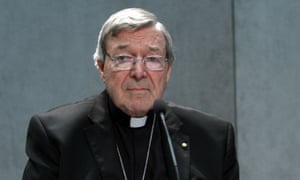 Cardinal George Pell has arrived back in Australia to fight historical sexual abuse charges. Photograph: Marco Ravagli / Barcroft Images
Australian Associated Press
Cardinal George Pell has returned to Australia to face historical sexual abuse charges in Melbourne at the end of the month.
The 76-year-old was pictured early on Monday morning leaving Sydney airport after flying in from the Vatican via Singapore.
On 30 June Victoria police charged the cardinal, a former Melbourne and Sydney archbishop and Ballarat priest, with multiple sexual offences.
Australia's most senior Catholic insists he is innocent and has said he is looking forward to fighting the charges in court.
The cardinal, a top adviser to Pope Francis, has taken leave of absence as the Vatican's financial chief to fight the charges.
He told reporters in Rome in June that the laying of charges had strengthened his resolve to prove his innocence.
"There has been relentless character assassination," he told reporters in Rome after the charges were laid. "I'm looking forward, finally, to having my day in court.
"I'm innocent of these charges. They are false. The whole idea of sexual abuse is abhorrent to me."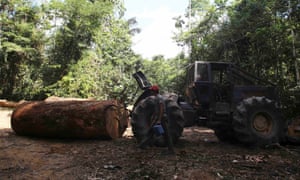 A man walks past a vehicle ready to drag a log from the forest in Jamanxim national park. He was hired by loggers to cut down trees in the Amazon rainforest. Photograph: Nacho Doce/Reuters
Environmental campaigners have blamed the Brazilian government for intensifying violence in the lawless Amazon after two land activists were murdered and a transporter carrying vehicles for Brazil's environment agency was torched last week.
Activists said government plans to reduce forest protection gave farmers, loggers and land grabbers a sense of impunity to attack government inspectors and activists squatting rural properties.
"We are seeing a very big increase in violence in rural areas, and the biggest cause is the posture, the behaviour and the policies being adopted in (the capital) Brasília," said Marcio Astrini, policy coordinator for Greenpeace Brazil.
Controversial proposals in Brazil's conservative congress, where a powerful agribusiness lobby wields considerable influence, include liberalising strict environmental licensing regulations and lowering the legal protection for much of a 1.3m hectare forest reserve.
According to the Pastoral Land Commission, a non-profit group, 45 people have been murdered this year in land conflicts, compared to 61 in the whole of 2016.
On 6 July, Ademir Pereira, 44, local leader of a group called the League of Poor Peasants, was murdered at a car wash in Porto Velho, capital of Rondônia state, while his wife was meeting the local superintendent of Incra, a government land reform agency. He was shot dead by two men in a car.
"It is not possible to live in a country where people die while seeking a piece of land," Cletho de Brito, the Incra official who was with Pereira's wife when she found out about his killing, told the news site newsrondonia.com in a video interview.
Afonso Chagas, a Pastoral Land Commission volunteer in Rondônia, said Pereira was part of a long-standing occupation called Terra Nossa. Six people have been killed over the occupation in the last two years, he said.
On 7 July, Rosenilton de Almeida, 44, was murdered leaving an evangelical church in Rio Maria, Pará state, by two men on a motorbike, said Walrimar Santos, a police spokesman.
Witnesses said police arrived firing and executed the 10 occupiers. Officers said they were received by shots, said Clarissa Leão, a spokeswoman for the Federal Police – Brazil's equivalent of Scotland Yard or the FBI – who are investigating the massacre.
In the early hours of 7 July, a transporter carrying eight vehicles for the Brazilian government environment agency, Ibama, was set on fire while parked in Cachoeira da Serra, also in Pará.
"They set it on fire while the driver was in it. He nearly got burned alive, he opened the door, it was burning," said Luciano Evaristo, the agency's director of environmental protection. Ibama ordered local sawmills to be closed after the attack.
"It is a war of the Brazilian state against crime," Evaristo said.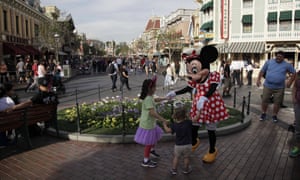 Minnie Mouse dances with visitors at Disneyland in Anaheim, Calif. (AP Photo/Jae C. Hong) Photograph: Jae C. Hong/AP
Growing up in Anaheim, Robert Hanley knew Disneyland well. His high school band played there. "And the funny thing is, when I got into the workforce as a younger gentleman, I helped build California Adventure," he said, referring to a theme park inside the main resort. "I did electrical."
Hanley even has a Tinker Bell tattoo on his right bicep. But he hasn't been back to Disneyland recently.
He is one of about 800 people living on the streets on any given night in Anaheim, a Los Angeles-area city that boasts over 20 million annual visitors and billions of dollars in tourism revenue.
Amid a regional homelessness crisis, Anaheim is taking a controversial course of action over its increasingly visible population. Over the past couple of months, the city has been removing benches from bus stops along its main tourist thoroughfare, abutting Disneyland.
"We had folks that basically were staying at these shelters," Mike Lyster, an Anaheim city spokesperson, said.
Lyster said the decision to remove the benches had nothing to do with Disneyland, or a concern that tourists coming out of the park would be put off by seeing people sleeping at the bus stops.
"It's very easy for folks to say: 'Oh, it has to do with Disneyland'. We actually never heard from Disneyland on this," Lyster said. "This actually has nothing to do with that. And it has everything to do with the bus riders who use this bus stop."
A Disneyland spokesperson declined repeated requests for comment. But some Anaheim residents were skeptical.
"I think that that's bullshit," said Stephenie Saint Vincent, who is one of the several hundred people who live in tents in the river bed at the edge of town. She has a disability, and was sitting on her walker at the bus stop.
"I think they should put the seats back, because it's not fair to everybody else."
Homelessness numbers have been soaring in southern California – in neighboring Los Angeles County they have reached a record high, according to this year's homeless count. In Anaheim, a steady stream of tourists sporting Mickey Mouse ears and Disneyland pins intermingles with a slower trickle of people who are homeless, with varying degrees of visibility.
Don Zimmerman, a 57-year-old Floridian who was visiting Disneyland for the first time, said he didn't understand the city's logic. "If you have a homeless population, you need to deal with the homeless population and fix that problem," he said "Taking the benches away isn't very nice."
The benches are slowly being replaced with concrete "stools" designed for people to sit on while they wait for the bus, but which "really aren't conducive to somebody sitting there for hours at a time" and would be impossible to sleep on, Lyster said.
Even so, he took umbrage at the notion that removing the bus benches was an anti-homeless initiative, and said Anaheim was working hard to address homelessness.
…………..He even understands why the city took the benches away.
"They figure that if [the homeless have] got nowhere to sleep, they'll leave," he said. "But they didn't leave. They've got nowhere to go."