World Politics
United States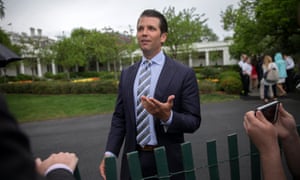 The revelation that Donald Trump Jr attended a meeting with a Russian lawyer is the first public evidence that members of the Trump campaign were willing to accept Russian assistance. Photograph: Shawn Thew/EPA
Donald Trump Jr was informed in an email ahead of a meeting with a Russian lawyer that damaging information about Hillary Clinton to be handed over was part of an effort by the Russian government to help the Trump campaign, the New York Times has reported.
The Times did not publish the email – sent by Rob Goldstone, the intermediary who set up the meeting – but reported that three different people had described it to them.
Trump Jr's meeting is the first "clear evidence" in public of senior Trump campaign members meeting with Russians while looking for such material, a leading Democrat on the Senate intelligence committee said on Monday.
Mark Corallo, a spokesman for Marc Kasowitz, the president's private attorney handling the Russia investigation, said simply: "The president was not aware of and did not attend the meeting."
The White House did not immediately respond to a request for comment.
A spokeswoman for the DNC said: "Donald Jr was willing to accept the help of a hostile foreign government to sway the election. In the ensuing months, the Trump family watched as news of the Kremlin's hacking campaign developed and they did nothing but celebrate and encourage it to continue."

Donald Trump Jr met the Russian, Natalia Veselnitskaya, in June 2016, during the presidential election campaign, at Trump Tower in New York. Senator Mark Warner, the top Democrat on the Senate Intelligence Committee, says the panel 'absolutely' wants to speak to the president's son about the meeting he had with a Russian lawyer who promised damaging information about Hillary Clinton during the campaign.
But Alan Futerfas, appointed Trump Jr's lawyer to represent him in the Russian investigations, described the New York Times report as "much ado about nothing".
In a statement issued on Monday evening, Futerfas said May and June 2016 had been "an intensely busy time for Don Jr".
The statement went on: "During this busy period, Robert Goldstone contacted Don Jr in an email and suggested that people had information concerning alleged wrongdoing by Democratic party front-runner, Hillary Clinton, in her dealings with Russia. Don Jr.'s takeaway from this communication was that someone had information potentially helpful to the campaign and it was coming from someone he knew.
"Don Jr had no knowledge as to what specific information, if any, would be discussed. Further, at no time was there ever any understanding or commitment that he, or anyone else, would find the information, whatever it turned out to be, to be reliable, credible or of interest, or would even survive due diligence. The meeting lasted about 20-30 minutes, and nothing came of it. His father knew nothing about it. The bottom line is that Don, Jr. did nothing wrong."
The statement said that Natalia Veselnitskaya, the lawyer who met Trump Jr, "was not a government official", adding that he "has not received any request from any committee or office. If we do, we will work with any committee or office to convey what he knows."
Mark Warner of Virginia, the top Democrat on the intelligence committee, said he "absolutely" wanted to speak to the president's son about the meeting. "This is the first time that the public has seen clear evidence of senior-level members of the Trump campaign meeting with Russians" to obtain information damaging to Clinton, Warner added.
Trump Jr attended the meeting in June 2016 at Trump Tower in New York – allegedly brokered by Goldstone, a British music publicist – with Veselnitskaya, a lawyer who reportedly has ties to the Kremlin; Paul Manafort, who was the Trump campaign's chairman at the time, and Donald Trump's son-in-law, Jared Kushner. The revelation, first reported by the New York Times, was the first public evidence that members of the Trump campaign were willing to accept Russian assistance.
Earlier, Susan Collins of Maine told reporters that "our intelligence committee needs to interview him and others who attended the meeting" as part of its investigation into Russian interference in the presidential election. Adam Schiff, the top Democrat on the House intelligence committee, has made a similar demand.
At the White House press briefing on Monday, the spokeswoman Sarah Huckabee Sanders insisted "the only thing inappropriate" about Trump Jr's meeting was "the people who leaked" the details. She added that she did not know of any other meetings between Trump Jr and Russian nationals and that Donald Trump had only learned of the meeting "in the last several days".
Alleged collusion between the Trump campaign and Moscow is the subject of an investigation by a special counsel. The president, who met his Russian counterpart, Vladimir Putin, for the first time last week, has dismissed the claims as "fake news".
Trump Jr has come under particular scrutiny as he appeared to offer shifting explanations for the meeting. On Monday, the 39-year-old businessman tweeted sarcastically: "Obviously I'm the first person on a campaign to ever take a meeting to hear info about an opponent … went nowhere but had to listen".
That appeared at odds with his first statement on Saturday when he omitted any mention of Clinton, saying the discussion focused on a defunct programme that had allowed American adoptions of Russian children.
Then, on Sunday, as the New York Times broke fresh details, Trump Jr admitted that Veselnitskaya told him "she had information that individuals connected to Russia were funding the Democratic National Committee [DNC] and supporting Ms Clinton". He added: "No details or supporting information was provided or even offered. It quickly became clear that she had no meaningful information."
T

he cookout offered free food, a face-painting booth and a "protest sign-making station" – a pile of cut-up cardboard boxes, paint markers and rolls of packing tape. A group of neighborhood boys, each no older than 12, gathered around. They wanted signs to tape to their bicycles, so they could ride around and "tell Trump" what they thought of him.
One grabbed a piece of cardboard and wrote in big letters: "TRUMP'S A BITCH."
Max Neely quickly stepped in.
"I'm not sure you should use that word," he said, his voice taking on a fatherly tone. At 6ft2in, he towered over them. "That word isn't very respectful to women, and there are a lot of women around here today that we should be respecting. Maybe you can think of another word to use."
The boys conferred. Eventually, they settled on a different, less offensive protest sign – at least in Neely's eyes. "FUCK TRUMP," it read, followed by four exclamation points.
A 31-year-old activist with long hair and a full bushy beard, Neely had a full day of political activism ahead of him: Donald Trump was in Harrisburg to mark his 100th day in office with a speech at the Pennsylvania Farm Show Complex. In other parts of the city, the liberal opposition were also readying themselves: organizations such as Keystone Progress, Dauphin County Democrats and the local Indivisible group planned to march in protest.
Neely's group were not among them. Instead, they had set up a picnic site in a small park, offering a barbecue and leftist pamphlets. Someone had planted a bright red hammer-and-sickle flag in the grass. On a nearby table hung a black banner that bore the words "Redneck Revolt: anti-racist, pro-gun, pro-labor".
Activist Steve Hilditch, who runs a chapter of the Redneck Revolt group. Photograph: Cecilia Saixue Watt
"If you haven't noticed, we aren't liberals," said Jeremy Beck, one of Neely's cookout friends. "You know, if you keep going further left, eventually, you go left enough to get your guns back."
Wooly liberals, they're not. Redneck Revolt is a nationwide organization of armed political activists from rural, working-class backgrounds who strive to reclaim the term "redneck" and promote active anti-racism. It is not an exclusively white group, though it does take a special interest in the particular travails of the white poor. The organization's principles are distinctly left-wing: against white supremacy, against capitalism and the nation-state, in support of the marginalized.
Pennsylvania is an open-carry state, where gun owners can legally carry firearms in public without concealment. Redneck Revolt members often see the practice of openly carrying a gun as a political statement: the presence of a visible weapon serves to intimidate opponents and affirm gun rights. Many of the cookout attendees owned guns, and had considered bringing them today – but ultimately they had decided to come unarmed, in the interest of keeping the event family-friendly.
You know, if you keep going further left, eventually, you go left enough to get your guns back

Jeremy Beck
---
R

edneck Revolt began in 2009 as an offshoot of the John Brown Gun Club, a firearms training project originally based in Kansas. Dave Strano, one of Redneck Revolt's founding members, had seized upon what he saw as a contradiction in the Tea Party movement, then in its infancy. Many Tea Party activists were fellow working-class people who had endured significant hardships as a result of the 2008 economic crisis which, in his eyes, had been caused by the very wealthy. And yet, Tea Partiers were now flocking in great numbers to rallies funded by the 1%.
By supporting economically conservative politicians, Strano thought, they would only be further manipulated to benefit the already rich.
"The history of the white working class has been a history of being an exploited people," he wrote. "However, we've been an exploited people that further exploits other exploited people. While we've been living in tenements and slums for centuries, we've also been used by the rich to attack our neighbors, coworkers, and friends of different colors, religions and nationalities."
Now, eight years later, more than 20 Redneck Revolt branches have sprouted across the US; the groups range widely in size, some with only a handful of members. Max Neely is a member of the Mason-Dixon branch, which encompasses central Pennsylvania as well as his native western Maryland. Many members are white, but the organization seeks to build on a "redneck" identity beyond race.
"I grew up playing in the woods, floating coolers of beer down a river, shooting off fireworks, just generally raising hell, all that kind of stuff," said Neely. "Things most people would consider a part of redneck culture. We're trying to acknowledge the ways we've made mistakes and bought into white supremacy and capitalism, but also give ourselves an environment in which it's OK to celebrate redneck culture."
The group draws a great deal of inspiration from the Young Patriots Organization, a 1960s-era activist group consisting primarily of white working-class Appalachians and southerners. "I'm very impressed with Redneck Revolt," said Hy Thurman, one of the early founders of the Young Patriots. "I think they're right on with what they're trying to do."
The group opposed racism and worked closely with the Black Panthers, but they did make use of the Confederate flag in their recruiting. Thurman explained that it was used only strategically, to start conversations with poor white people who might identify with the symbol.
In the same way that the Young Patriots once used the Confederate flag, Redneck Revolt seeks to employ another emblem of rural America: guns…………..
Cathi Lyninger of Louisville protests the neo Nazis in Pikeville. Photograph: Pat Jarrett
………….Redneck Revolt groups work on providing an explicitly anti-racist presence in rural areas, and focus particularly on gun shows. Many members are from places where guns are relatively normalized, and Neely wants Redneck Revolt to serve as a viable alternative for people who might otherwise join the growing right-wing militia movement.
Since the 1992 Ruby Ridge siege, the US has witnessed an increase in anti-government paramilitary organizations. Oath Keepers, for example, is a militia group that strives to defend the US constitution, which the group believes is under threat by its own government. They claim to be nonpartisan, but its members' politics tend to skew far right. During last year's presidential election, they announced that members would be monitoring voting booths to prevent election tampering, stating he was "most concerned about expected attempts at voter fraud by leftists".
But groups like Oath Keepers have much in common with far leftists: concerns about the infringement of human rights, objections to mass surveillance and the ever reauthorized Patriot Act, anger at the continued struggles of the working poor.
"We use gun culture as a way to relate to people," said Neely, whose grandfather was an avid hunter. "No liberal elitism. Our basic message is: guns are fine, but racism is not."
Officially, Oath Keepers' bylaws prohibit anyone associated with a hate group from joining, though their background checks have proven to be inconsistent at best. But there are other rightwing groups around – the explicitly racist kind.
Opinion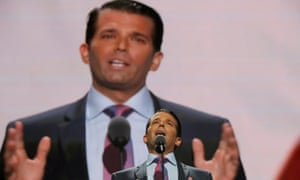 'Whatever his talents, good judgment is not one of them.' Photograph: Brian Snyder/Reuters
Donald Trump Jr is a curious beast. Of all the hotheads around his hotheaded father, the oldest son leads the charge in confirming the president's very worst instincts.
If there's a public spat with the media, you can find Trump Jr throwing his own punches. If there's an ultra-rightwing gadfly (inside the White House or just on the internet), you can find Trump Jr heartily endorsing their comments.
And now we know: if there's a Russian stranger offering up dirt on his political opponents, Trump Jr will happily sit down with them.
The younger Donald may have many talents. His Twitter bio cites, for instance, his position as "Boardroom Advisor on The Apprentice". Those capital letters add a surprising degree of gravitas to this part of his résumé.
But whatever his talents, good judgment is not one of them. Nor is honesty.
First the facts, as we know them so far: Trump Jr agreed to meet with a Kremlin-connected lawyer at Trump campaign headquarters just two weeks after his father clinched the Republican presidential nomination. The meeting took place with the then campaign chairman, Paul Manafort, and Trump Jr's brother-in-law, Jared Kushner.
When the New York Times first confronted Trump Jr about the meeting, his explanation was that the meeting was primarily about adoptions. He mentioned nothing about a certain presidential candidate called Hillary Clinton.
"It was a short introductory meeting," he said in a statement. "I asked Jared and Paul to stop by. We primarily discussed a program about the adoption of Russian children that was active and popular with American families years ago and was since ended by the Russian government, but it was not a campaign issue at the time and there was no follow up."
The next day, when confronted with confidential documents, Trump Jr told a very different story. It is worth reading that new explanation in detail to understand the twists and turns of his mind, at this point in time.
"I was asked to have a meeting by an acquaintance I knew from the 2013 Miss Universe pageant with an individual who I was told might have information helpful to the campaign," he began in his updated statement. This much is clear: Junior took the meeting with a Russian national because he expected "information helpful to the campaign".
"I was not told her name prior to the meeting," he continued. "I asked Jared and Paul to attend, but told them nothing of the substance. We had a meeting in June 2016," he continued.
This is a curious addition to the narrative. Trump Jr took the meeting without knowing the identity of the person involved, based solely on the word of "an acquaintance" from a Miss Universe pageant. That acquaintance turns out to be a former tabloid journalist called Rob Goldstone, who took a selfie on the day after Trump's election wearing a T-shirt emblazoned with the giant red word: RUSSIA.
But let's get back to Junior's story, shall we? "After pleasantries were exchanged, the woman stated that she had information that individuals connected to Russia were funding the Democratic National Committee and supporting Ms Clinton," he explained. "Her statements were vague, ambiguous and made no sense. No details or supporting information was provided or even offered. It quickly became clear that she had no meaningful information."
This is apparently meaningful for the president's eldest son. It is not in dispute that his intent was to obtain damaging information about the Clinton campaign from a Russian national. His only defense for apparently wanting to collude with an unknown foreign national was that nothing moved forward because she had no supporting information.
At this point, the Russian – a lawyer we now know to be named Natalia Veselnitskaya – changed the subject to the Magnitsky Act and adoptions. Magnitsky represents a series of US sanctions designed to punish Russian officials for human rights abuses, notably the violent death in custody of a lawyer investigating fraud by tax officials. The Russian response was to ban US adoptions of Russian children, among other tit-for-tat measures. "My father knew nothing of the meeting or these events," Trump Jr concludes.
There is so much that is troubling about this latest version of events that it is hard to know where to begin. By his own admission, the president's oldest son took a meeting with the most senior campaign officials and Trump advisers with an unknown Russian national. In the months since, the entire Trump White House and campaign denied such meetings vehemently.
Worse, he took the meeting – along with the most senior campaign staff – in the hope and expectation of receiving damaging information about his campaign opponent. All from a Russian national introduced by an acquaintance, with no other background information about her.
This is clear proof both of malicious intent and a desire to collude with Kremlin-connected Russian nationals, whether or not this particular collusion moved forward. Trump Jr was sending a clear signal to Putin's allies and operatives that he was open for business. He also seems unclear about why Magnitsky involves something that goes far beyond US adoptions of Russian children.
It isn't hard to see what the alternative could and should have looked like. Ethical conduct has been the standard for presidential campaigns stretching back decades, until the Trumps took center stage.
Consider George HW Bush's advice to his family in May 1988, at a similar point to Trump's Russia meeting. "As we move closer to November, you'll find you've got a lot of new friends," he wrote. "They may become real friends. Or if the polls show Dukakis kicking us – there might be some friendships that will vaporize. They'll ask for things – 'Do you know anyone at commerce? Can you call Joe Doakes at state?'