World Politics
United States
Illustration: Steve Bell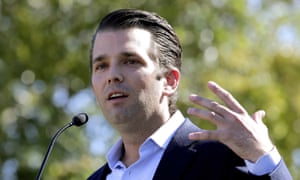 Donald Trump Jr's lawyer, Alan Futerfas, told NBC News about Akhmetshin: 'He is a US citizen. He told me specifically he was not working for the Russian government, and in fact laughed when I asked him that question.' Photograph: Matt York/AP
Donald Trump's denial of collusion with Russia suffered yet another blow on Friday when it emerged that his son failed to disclose the presence of a former Soviet military officer at the now notorious meeting.
Rinat Akhmetshin – who claims he served in a counter-intelligence unit but never formally trained as a spy – told the Associated Press that he attended the meeting with Donald Trump Jr, which was billed as part of a Russian government effort to boost Trump's election campaign.
The latest revelation came as news reports suggested there were at least eight attendees at the meeting, which occurred at Trump's eponymous New York tower shortly after he effectively clinched the Republican presidential nomination. The presence of additional participants contradicted Trump Jr's assertion this week to the Fox News host Sean Hannity that all of the information about the meeting had been publicly disclosed.
Late Friday, the identity of a seventh person in the room was revealed to be Anatoli Samochornov, a Russian-born American translator who was working with Natalia Veselnitskaya, the Russian lawyer initially at the center of the meeting. Veselnitskaya had previously informed the New York Times she was accompanied by a translator but would not provide his name. Ken Vogel, a reporter at the New York Times, revealed Samochornov's identity during an appearance on MSNBC.
But it was the presence of Akhmetshin, now a pro-Moscow lobbyist, that raised new questions about the controversial meeting and its purpose. Akhmetshin dismissed reports that he has ties to Russian intelligence agencies as a "smear campaign", but was described by the chairman of the Senate judiciary committee as an expert in "subversive political influence operations often involving disinformation and propaganda" this year.
In an interview with the AP, Akhmetshin said he had accompanied Veselnitskaya to Trump Tower in New York, where they met an interpreter who also participated in the meeting in June 2016. He told the news agency he had learned about the meeting only that day, when Veselnitskaya asked him to attend, and turned up in jeans and a T-shirt.
The AP reported: "During the meeting, Akhmetshin said Veselnitskaya brought with her a plastic folder with printed-out documents that detailed what she believed was the flow of illicit funds to the Democratic National Committee (DNC). Veselnitskaya presented the contents of the documents to the Trump associates and suggested that making the information public could help the Trump campaign, he said.
'This could be a good issue to expose how the DNC is accepting bad money,' Akhmetshin recalled her saying."
According to Akhmetshin, Trump Jr asked Veselnitskaya if she had all the necessary evidence to supporting her claims. But when Veselnitskaya replied that the Trump campaign would need do further research, Trump Jr lost interest.
"They couldn't wait for the meeting to end," Akhmetshin told the AP, adding that he did not know if Veselnitskaya's documents were provided by the Russian government.
The meeting was also attended by Jared Kushner, the president's son-in-law, and Paul Manafort, then chairman of the Trump campaign. Akhmetshin said he recognised Manafort because they worked in "adjacent political circles" but never together.
He told the AP that the meeting was "not substantive" and he "actually expected more serious" discussion. "I never thought this would be such a big deal, to be honest."
The meeting had been brokered by Rob Goldstone, a British music publicist whose clients include the Russian singer Emin Agalarov, an acquaintance of the Trump family.
Asked about Akhmetshin's presence, Trump Jr's lawyer, Alan Futerfas, told NBC News: "The person was described as a friend of Emin's and maybe as a friend of Natalia's … He is a US citizen. He told me specifically he was not working for the Russian government, and in fact laughed when I asked him that question."
Futerfas added: "I have absolutely no concerns about what was said in that meeting."
Dmitry Peskov, spokesman for Russian president Vladimir Putin, told reporters on Friday: "We don't know anything about this person."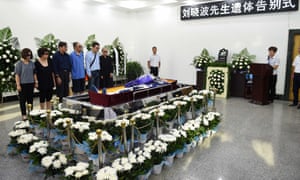 Funeral ceremony for Liu Xiaobo, who died on Thursday of liver cancer at 61. His wife, Liu Xia, is on the right, wearing sunglasses. Photograph: Shenyang government/Supplied
The Nobel laureate and democracy icon Liu Xiaobo has been cremated in north-eastern China, Chinese authorities have announced, amid growing fears for the safety of his wife, Liu Xia.
The veteran dissident died on Thursday, aged 61, becoming the first Nobel peace prize winner to die in custody since the 1935 recipient, German pacifist Carl von Ossietzky, died under surveillance after years confined to Nazi concentration camps.
Speaking at a press conference in the city of Shenyang, where Liu died, government spokesperson Zhang Qingyang said his cremation had taken place at a local funeral parlour following a "short mourning service" early on Saturday morning.
"Liu's body was cremated … in accordance with the will of his family members and local customs," China's official news agency, Xinhua, said in a brief dispatch.
Xinhua claimed that both family members and friends had attended the dissident's funeral – although friends and supporters have said they were barred from travelling to Shenyang by Chinese security services.
The spokesman told reporters Liu's wife, the poet and photographer Liu Xia, had been in attendance and had been given her husband's ashes. She was in "very low spirits," he added, according to AFP.
Propaganda photos released by Chinese authorities showed mourners, including Liu Xia, gathered beside a casket that was ringed by pots of white chrysanthemums. Above what appeared to be the dead activist's corpse a black banner read: "A farewell ceremony for Mr Liu Xiaobo". Officials said Mozart's Requiem was played.
As the revered democracy activist was cremated, friends of the couple said they were growing increasingly concerned about the well-being of Liu Xia. The 56-year-old has been living under heavy surveillance and in almost total isolation since her husband won the Nobel prize, in 2010, and had hoped to leave China along with Liu Xiaobo before his death.
"We have lost touch with her now for three full days," Jared Genser, a US human rights lawyer who represents her and her late husband, told the Guardian. "I'm incredibly concerned about her health and welfare."
China News Service, a Communist party-controlled news agency, claimed on Friday that Liu Xia was "a free woman" who was deliberately shunning her friends and relatives because she wanted to grieve in peace.
Zhang, the government spokesman, repeated those claims on Saturday as Liu's cremation was announced. "Liu Xia is free," he said, according to Reuters, without revealing her whereabouts. "I believe the relevant departments will protect Liu Xia's rights according to the law," Zhang added.
According to AFP, Zhang claimed Liu Xia was "emotionally grieving" and did not want "too much outside interference".
Genser rejected claims that Liu Xia was free as "a sick joke".
"It leaves me incredulous to think that the Chinese government would think that anybody would believe such a claim: that she is grieving and does not want to be disturbed. I mean, come on. That is just totally ridiculous."
Genser added: "We all know the truth. The truth is clear as day. She has been under house arrest without charge or trial for seven years and even after her husband is dead that appears not to be good enough for the Chinese government."
Meanwhile friends contradicted official claims that Liu Xiaobo's friends had been permitted to attend his funeral. Activist Hu Jia said he did not know of a single friend who had been able to go.
Shang Baojun, a Chinese lawyer who represented Liu Xiaobo and was his friend, said he had not attended the funeral. "I know nothing about it," he said by phone, before explaining that it was "not convenient" to talk – a common expression in China indicating that someone is coming under pressure from authorities to stay silent.
Writing on Twitter, Mo Zhixu, another activist and friend, said he had not recognised any friends of the Lius in the photographs released by the government. "The party-state cannot even be bothered to be halfhearted about their acting in this play," he wrote.
The Global Times, a Communist party controlled tabloid, chose to mark Liu's cremation with a vicious personal assault. "He was paranoid, naive and arrogant," the newspaper said in an English-language editorial. "Chinese society opposes and despises him.
"Deification of Liu by the west will be eventually overshadowed by China's denial of him," it added, branding the Nobel laureate "a disruptive player to China's development theme".
Genser called for international pressure to help Liu Xia "escape this Kafkaesque nightmare that has been her life".
"My heart breaks for her. It is just terrible. We have to get her out. We can't live in a world in which she is not free," he said.
Additional reporting by Wang Zhen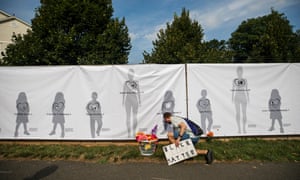 Gun control advocates erected a memorial to the shooting victims of Sandy Hook elementary school outside the NRA. Photograph: Jim Lo Scalzo/EPA
For 55 months, protesters have demonstrated outside the National Rifle Association headquarters in Fairfax, Virginia. In snow, rain and blazing sun, they have met to mark each month since 14 December 2012, when 20 children and six adults were shot dead at Sandy Hook elementary school in Newtown, Connecticut, and to protest NRA influence over the lack of action by Congress on stricter gun control laws.
On Friday, between 400 and 500 people lined both sides of the street outside the gleaming, modern NRA building. Usually, the 14th of each month brings a dedicated crowd of 30.
About 20 armed counter-demonstrators from a local group marched along the street, carrying signs that supported gun rights and touted the benefits of good guys with guns.
"Shame! Shame!" the gun control protesters cried.
Friday's protest, organized by the Women's March on Washington, honored the protesters who were there every month and sought to expand their agenda, with a focus on what protesters called the coded NRA attacks on black and brown Americans and a failure to defend Philando Castile, a licensed gun owner shot dead by a police officer during a traffic stop in St Paul, Minnesota. The officer was cleared of all charges.
The protest came in the wake of an incendiary recruitment ad for the gun rights group, in which an NRA spokeswoman raised fears about violent protesters and said the NRA had to confront such groups with the "clenched first of truth".
With an ally in the White House and Republicans controlling both houses of Congress, the NRA faces no threat of new federal gun control laws. The problem facing the NRA, one analyst said after the 2016 election, was what to do when it had won so much.
The NRA's answer has been to portray its members as the "counter-resistance", and to portray the resistance against Donald Trump as an existential threat to American freedom.
In a speech in February, Wayne LaPierre, NRA executive vice-president and CEO, criticized federal judges for ruling against the president in the cases sparked by Trump's travel ban.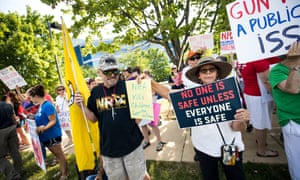 National Rifle Association supporters stand among gun control advocates as they rally outside the NRA headquarters in Fairfax, Virginia. Photograph: Jim Lo Scalzo/EPA
"Leftwing judicial activism" is a "form of violence against our constitutional system", LaPierre said, comparing judicial rulings to throwing "a molotov cocktail at the US constitution".
A month after January's Women's March on Washington drew millions of peaceful protesters, many wearing hand-knit pink hats, LaPierre assailed the liberal resistance, saying protesters "all share one thing in common: they're angry, they're militant, and they're willing to engage in criminal violence to get what they want".
After the NRA released its controversial "clenched fist of truth" ad, the Women's March co-president Tamika Mallory demanded that the NRA apologize. She then organized a demonstration that would take protesters from NRA headquarters to the the justice department in Washington.
The NRA's only comment prior to the protest was another video featuring spokeswoman Dana Loesch, released on Thursday, which attacked the organizers of the Women's March as "anarchist angels".
On Friday morning in Virginia, as protesters waved signs and set up a mural showing Sandy Hook victims, the only visible NRA presence was a handful of discreetly dressed men with earpieces, standing inside the gates. The group's public firearms museum, one man said later, was closed.
After speeches from a range of advocates, including a survivor of the Pulse nightclub shooting in Orlando last year, and a statement from Philando Castile's mother saying the NRA should be ashamed for not supporting her son, marchers set off early. About three miles into the 17-mile march, in 90F (32C) heat, they paused for lunch, water and stretching at a Subway sandwich shop.
Supremia Bostika, who had driven more than two hours from Newport News, Virginia, to attend, said she had watched the NRA ad and found it "kind of offensive". Bostika, wearing a Black Lives Matter T-shirt, said the ad was "flipping the script" and trying to portray protesters as violent and threatening, which was not the case.
Her comments were interrupted by a request from an organizer for the group to form a circle and do some group stretches to prepare for another three miles of walking.
"Yoga!" one protester exclaimed, brightly.
Afterwards, more than 130 protesters continued to march two-by-two along a busy road, the sun blazing overhead. They had about 15 miles to go.
Eurasian wolf cubs, a wreathed hornbill and an elephant crossing the road are among this week's pick of images from the natural world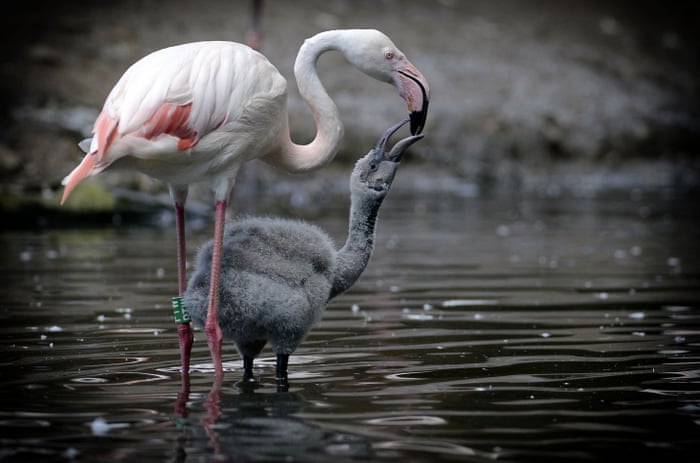 A flamingo with its chick at Jihlava zoo, in the Czech Republic.
Photograph: Slavek Ruta/REX/Shutterstock