World Politics
United States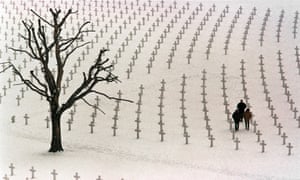 American war graves near the Dutch town of Margraten. 'During the 2016 campaign, Trump spoke of 'America first,' which he knew was the name of political movement in the United States that opposed American participation in the second world war.' Photograph: Arnd Wiegmann/Reuters
I

n his committed mendacity, his nostalgia for the 1930s, and his acceptance of support from a foreign enemy of the United States, a Republican president has closed the door on conservatism and opened the way to a darker form of politics: a new right to replace an old one.
Conservatives were skeptical guardians of truth. The conservatism of the 18th century was a thoughtful response to revolutionaries who believed that human nature was a scientific problem. Edmund Burke answered that life is not only a matter of adaptations to the environment, but also of the knowledge we inherit from culture. Politics must respect what was and is as well as what might be.
The conservative idea of truth was a rich one.
Conservatives did not usually deny the world of science, but doubted that its findings exhausted all that could be known about humanity. During the terrible ideological battles of the 20th century, American conservatives urged common sense upon liberals and socialists tempted by revolution.
The contest between conservatives and the radical right has a history that is worth remembering. Conservatives qualified the Enlightenment of the 18th century by characterizing traditions as the deepest kind of fact. Fascists, by contrast, renounced the Enlightenment and offered willful fictions as the basis for a new form of politics. The mendacity-industrial complex of the Trump administration makes conservatism impossible, and opens the floodgates to the sort of drastic change that conservatives opposed.
Thus the nostalgic moment for this White House is not the 1950s, usually recalled warmly by American conservatives, but the dreadful 1930s, when fascists of the new right defeated conservatives of the old right in Europe. Whatever one might think of conservative nostalgia for the 1950s, it is notable for what it includes: American participation in the second world war and the beginnings of the American welfare state. For conservatives, it all went wrong in the 1960s.
For the Trump administration, it all went wrong rather earlier: in the 1940s, with the fight against fascism and the New Deal. Stephen Bannon, who promises us new policies "as exciting as the 1930s", seems to want to return to that decade in order to undo those legacies.
He seems to have in mind a kleptocratic authoritarianism (hastened by deregulation and the dismantlement of the welfare state) that generates inequality, which can be channeled into a culture war (prepared for by Muslim bans and immigrant denunciation hotlines). Like fascists, Bannon imagines that history is a cycle in which national virtue must be defended from permanent enemies. He refers to fascist authors in defense of this understanding of the past.
Unlike Bannon, Trump is not an articulate theorist, but his utterances do give us a similar sense of when the "again" in "Make America great again" was: it seems to be the same "again" that we usually find in "Never again." In 2014 he spoke hopefully of some future crash which would bring the "riots to go back to where we used to be when we were great". The notion of riots as progress is rather telling: his father was arrested at a Ku Klux Klan riot in 1927.
During the 2016 campaign, Trump spoke of "America first," which he knew was the name of political movement in the United States that opposed American participation in the second world war. Among its leaders were nativists and Nazi apologists such as Charles Lindbergh. When Trump promised in his inaugural address that "from now on, it's going to be America first" he was answering a call across the decades from Lindbergh, who complained that "we lack leadership that places America first." American foreign and energy policies have been branded "America first".
Conservatives came to regard the American involvement in the second world war as a high mark of American morality, the work of "the greatest generation". The current administration wants no part in this national story. In January, the White House passed over Holocaust Remembrance Day without mentioning the Jews. Its spokesman contrived in April to suggest that Hitler had not killed his "own people" by gas, an error of fact that reveals a deeper absence of ethics. The only way to believe that the German handicapped people and the German Jews who were gassed were not Germans is to accept the Nazi definition of race.
Conservatives always began from intuitive understanding of one's own country and an instinctive defense of sovereignty. The far right of the 1930s was internationalist, in the sense that fascists learned one from the other and admired one another, as Hitler admired Mussolini.
The far right of today sees Russia as its model. Putin is openly admired by America's leading white supremacists
The far right of today sees Russia as its model. Putin is openly admired by America's leading white supremacists Richard Spencer and Matthew Heimbach (who is currently on trial for using force to eject people from a Trump rally, and whose defense is that he "acted pursuant to the directives and requests of Donald J Trump").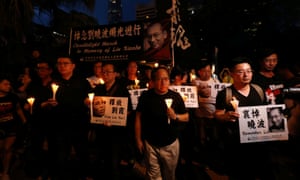 Protesters in Hong Kong carrying candles in a march to mourn the death of Nobel Peace laureate Liu Xiaobo. Photograph: Bobby Yip/Reuters
Thousands of mourners marched through the heart of Hong Kong in a candlelight vigil for Chinese Nobel peace prize laureate Liu Xiaobo, sending a powerful message to Beijing as it tries to erase his legacy.
The Hong Kong rally is the only large-scale commemoration for Liu on Chinese soil. The semi-autonomous city maintains a wide range of freedoms that are non-existent in mainland China, and several newspapers in the city splashed Liu's portrait on their front pages.
Besides mourning Liu, many called for the release of his wife Liu Xia, who despite never being accused of a crime has been kept under house arrest since her husband won the Nobel peace prize in 2010.
At the front of the march was Lee Cheuk-yan, a former lawmaker of 20 years, carrying a banner calling for Liu's spirit to inspire people. The four white Chinese characters painted on a black cloth was a replica of a banner hoisted by student protesters in Tiananmen Square in 1989, an event that Liu flew back to China to join.
"We're here to tell [Chinese president] Xi Jinping that Hong Kong people will continue to fight in the spirit of Liu Xiaobo," Lee said. "The way the funeral was controlled by the Communist party, it's very sad to say that Liu Xiaobo cannot be free even in death. But now we must free Liu Xia, because she has already suffered so much."
In China, many do not even know Liu's name, the result of a massive government censorship campaign that has scrubbed nearly all messages of support from Chinese websites and social media. Mass rallies are extremely rare, with police quick to break up even small gatherings.
"The Beijing regime is so callous, they don't care what anyone thinks and their treatment of Liu Xiaobo proves that," said Claudia Mo, a pro-democracy lawmaker. "We need to show Beijing and the rest of the world that Hong Kong people will not be silent in the face of injustice."
"Beijing has this parental mentality, demanding obedience from Liu Xia: they tell her not to speak, not to go abroad," Mo added. "But she must be set free."
The march saw mourners wind through downtown Hong Kong, bringing a district usually bustling with partygoers out on a Saturday evening to a near standstill. For many it was a family affair with parents bringing their young children.
Confused tourists from mainland China asked police what was the purpose of the march, and responded with blank stares after hearing Liu's name.
"Is he a bookstore owner?" one man asked, probably referring to the abduction of five Hong Kong publishers in late 2015 by Chinese authorities.
But barely anyone recognised the old man marching alone in running shorts, sandals and a blue hat featuring a United Nations logo as Lam Wing-kee, one of the missing booksellers who skipped bail and went public with his account of months spent in police custody.
"I was incredibly sad at the end of his death, but you cannot depend on one person to bring democracy to China," Lam said. "Although a great icon has fallen, there will be 50 people ready to take his place.
"Democracy in China isn't about one day, one event or one person, this view is too pessimistic," he added. "Look at the long-term and you will see that it make take generations, but there will democracy."
The government's treatment of Liu is a troubling sign for many Hong Kong people agitating for greater democratic rights in the former British colony, and is a symbol of an authoritarian state unwilling to bend even with a dissident on his deathbed.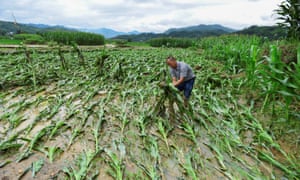 A villager lifts up fallen corn plants after a flood at a farm in Jianhe county, Guizhou province, China in July 2017. Photograph: Reuters
Robin McKie Observer Science editor
Governments may be seriously underestimating the risks of crop disasters occurring in major farming regions around the world, a study by British researchers has found.
The newly published research, by Met Office scientists, used advanced climate modelling to show that extreme weather events could devastate food production if they occurred in several key areas at the same time. Such an outcome could trigger widespread famine.
The scientists, led by Chris Kent, of the Met Office, focused their initial efforts on how extreme weather would affect maize, one of the world's most widely grown crops. Heat and drought were the prime risks, although flooding was also included in the analysis.
The group found there is a 6% chance every decade that a simultaneous failure in maize production could occur in China and the US – the world's main growers – which would result in widespread misery, particularly in Africa and south Asia, where maize is consumed directly as food.
"The impact would be felt at a global scale," Kent told the Observer. "This is the first time we have been able to quantify the risk. It hasn't been observed in the last 30 years, but the indications are that it is possible in the current climate."
An example of the kind of disaster that could occur is provided by the maize harvests that failed last year in Africa. Communities in Zambia, Congo, Zimbabwe, Mozambique and Madagascar were affected and six million people were left on the brink of starvation. A joint failure of China and America's maize harvest would have a far greater impact.
Having studied the risks facing maize production, the group is now following up this work by studying climate impacts on the world's other staple crops – in particular rice, wheat and soya beans – in order to assess how weather extremes could affect their production.
According to the UN Food and Agriculture Organisation, maize, rice and wheat together make up 51% of the world's calorie intake. Billions of people rely on these crops for survival. Any disruption to their production would have calamitous consequences.
The trouble is that crop-growing methods and locations have changed considerably over time, as has the climate and the probability of extreme events, Kent told the Observer. "This means the number of relevant observations to the present-day growing of stable crops has been reduced, and that limits our ability to have useful estimates of the risks to the growing of these crops."
To get round this problem, the team ran 1,400 climate model simulations on the Met Office's new supercomputer to understand how climate might vary in the next few years and found that the probability of severe drought was higher than if estimated solely from past observations. The scientists concluded that current agricultural policies could considerably underestimate the true risk of climate-related shocks to maize growing and food supply.
The particular risk outlined by the study envisaged simultaneous catastrophic disruptions in China and the US. In 2014 total world production of maize was around 1 billion tonnes, with the US producing 360 million tonnes and China growing 215 million. If production in these two countries were hit by simultaneous extreme weather events, most likely droughts, more than 60% of global maize production would be hit.