20 Jul
Nearly all of these are English-edition daily newspapers. These sites have interesting editorials and essays, and many have links to other good news sources. We try to limit this list to those sites which are regularly updated, reliable, with a high percentage of "up" time.


World Politics
United States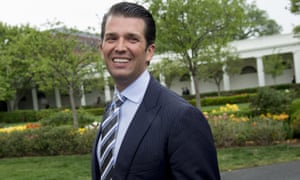 Donald Trump Jr replied 'I love it' when first offered incriminating material on Clinton from the Russians. Senators will want to know what he meant. Photograph: Saul Loeb/AFP/Getty Images
The investigation into possible Russian collaboration with the Trump campaign to skew the outcome of the 2016 US presidential election moves another step closer to the incumbent in the Oval Office next Wednesday with the scheduled appearance of Donald Trump Jr and former Trump campaign chairman Paul Manafort at a congressional hearing.
The prospect of a public grilling by the Senate judiciary committee of the president's son promises another live TV sensation to rival the testimony of the former FBI director James Comey last month. The event is being billed as a high-stakes spectacle that will give Congress the chance to glean new details relating to the interactions between key Trump associates and Russian individuals and political interests.
Coming just two days after the closed-door testimony slated for Monday of the president's son-in-law and senior adviser, Jared Kushner, in front of the Senate intelligence committee, the hearings in Room 226 of the Dirksen building will cap a big week on the Russian affair. Suspicions about possible collusion between Moscow and Trump associates to sway the US election in favor of the reality TV celebrity have dogged the White House for months, overshadowing all other aspects of Trump's young presidency.
Neither of the invited witnesses have yet confirmed that they will actually show up on Wednesday, but such is the intensity of pressure that any absence would arguably be even more sensational than an appearance. Here are some of the talking points they are likely to face should they opt to face the music:
Donald Trump Jr
Top of the priority list for Senators will be the now notorious meeting in Trump Tower that the president's son allowed to be convened on 9 June last year. Why did the younger Donald allow the meeting to go ahead, knowing, as we have seen from the email chain that he released last week, that the main interlocutor, Natalia Veselnitskaya, was pitched to him as a "Russian government attorney"?
Don Jr's statement on the meeting gives his explanation, but it raises more questions than it resolves. He said that it quickly became clear that Veselnitskaya "had no meaningful information" to divulge on Hillary Clinton and Russian funding of the Democratic National Committee, but that implied disappointment on his part that more dirt had not been forthcoming.
Democratic committee members can be expected to press him on why he replied "I love it" when offered incriminating material on Clinton from the Russians. Was he not aware that accepting valuable contributions from foreign nationals is an illegal act under campaign finances laws?
Other aggressive lines of inquiry that might well come up are:
· Was the release just days after the Trump Tower meeting of the first batch of almost certainly Russian-hacked emails from the Democratic National Committee a pure coincidence?
· What precisely was in the folder that Veselnitskaya handed over to Don Jr at the meeting, as revealed by another Russian in the room, the lobbyist Rinat Akhmetshin?
· Did Don Jr offer to do anything to help in response to Veselnitskaya and Akhmetshin's call for an end to US sanctions against Russia under the Magnitsky Act, a subject raised under the guise of discussing the adoption of Russian children?
· Were any arrangements made for future contacts, and if so were they followed through?
Paul Manafort
Though the seasoned political consultant has soaked up a lesser share of the opprobrium that has rained down as a result of the Russian meeting than either Don Jr or Kushner, he was present in the room. As the then campaign manager for the Republican nominee's bid for the White House he had as much as anyone to gain from receiving Russian dirt on Clinton.
As such he can expect to face firm questioning about the 9 June meeting. But Wednesday's hearing will also give senators the chance to ask Manafort about his own extensive and highly controversial decade-long dealings within Ukraine and with the orbit of the Russian president, Vladimir Putin.
Those dealings have dogged Manafort for almost a year after he was forced to resign as Trump campaign chairman when the New York Times reported that ledgers, which he dismissed as forgeries, containing $12.7m of undisclosed payments had been found in Ukraine where he advised the former pro-Russian president Viktor Yanukovych.
Senators may want to hear him explain on the record such alleged off-the-books payments, and also why it took him until 27 June to register his firm as a foreign agent earning $17m in the two years before Yanukovych was deposed in 2014.
Other possible lines of inquiry:

In 1964, while still in her early twenties, Marian Kramer sat at a lunch counter in Monroe, Louisiana, and was served a tuna fish sandwich and a glass of dishwater.
A committed civil rights activist, Kramer would regularly participate in integrated lunch counter sit-ins, organize picket lines and register black people to vote. For this, both the Ku Klux Klan and the police were after her.
The first time Kramer drove an automobile was because of the KKK, in fact. While being chased by the hate group, the original driver of the vehicle had lost her nerve and Kramer, never one to give up, took the wheel and drove to the house of a black farmer, where they were hidden.
When the owner of a local store shot at a young black man, Kramer helped organize a picket line, a full-on boycott. For her trouble in facilitating the sea change of human rights for African Americans in the 20th century, the police threw her into a recently emptied garbage truck, the walls dripping with the sludge from the trash of a nation. She was placed in jail and, alongside other leaders, spent eight days and nights in solitary confinement. She was charged with disorderly conduct.
But that's ancient history. Isn't it?
More than 50 years and the turn of a century later, Kramer, now 73, sat in a chintzy Detroit courtroom charged with the exact same offense. Her co-defendant, an ordained Methodist minister named Bill Wylie-Kellermann, sat next to her.
Kellerman had a similar record, having stopped counting at 50 how many times he had been arrested for acts of civil disobedience (he no longer kept track because he saw it as "a form of idolatry"). Over the years, he had been dragged out of government meetings limp, had used his own blood as a prop in demonstrations, and had broken into military institutions on Easter to protest atomic weapons – all of this while preaching in some of the oldest churches in the US.
Together, they made a near complete picture of American activism in the 20th century.
This time, they had been arrested for blocking private water shutoff trucks in their hometown of Detroit. Along with seven others and a host of onlookers, Kramer and Kellerman linked arms, sang songs and prayed while obstructing the only entrance to Homrich Inc, the private company hired to perform the deed. Only a handful of shutoffs were performed that sweltering summer day, compared to the usual 400 or so.
In 2016, more than one in six Detroit households had their water cut off, 83,000 homes over the past three years. In defiance of the status quo, the group that would come to be known as the Homrich 9 would use their bodies and lives as the collateral for the sins of a nation.
And after nearly two years, they were finally receiving their day in front of a jury for their actions.
Rev Bill Wylie-Kellermann poses after having delivered his final sermon before retiring at St Peter's Episcopal Church. Photograph: Garrett MacLean for the Guardian
When reporters come to places like Detroit, their articles often read as simple catalogues of misery – records of the mute suffering of the poor and dispossessed. While it's true Detroit has no shortage of wretchedness, taken together these stories paint the picture of helpless people who are acted upon, people with no agency.
Spend some time here, and a different narrative emerges.
"Keep troubling the waters until everyone has water."
Staff and Associated Press
A US lawyer representing the family of Justine Damond, the Australian who was shot dead by police in Minneapolis, has hit back at claims the officer who fired the shots may have thought he was being ambushed.
Robert Bennett, who has represented police shooting victims including Philando Castile, told US network CBS that Damond was in her pyjamas at the time and clearly did not present a threat.
"She obviously wasn't armed, was not a threat to anyone, and nor could she have reasonably perceived to be," he said.
"I think that's ludicrous," Bennett said. "It's disinformation … it doesn't have any basis in fact."
Harrity told investigators he heard a loud sound before officer Noor shot Damond, also known as Justine Ruszczyk.
According to the Minnesota bureau of criminal apprehension (BCA), Harrity told investigators he and Noor were in a squad car on Saturday when the sound startled Harrity. Damond appeared at the driver's side door and Noor shot her from the passenger seat.
Harrity's attorney, Fred Bruno, told the Star Tribune "it's certainly reasonable" to assume any officer would be concerned about an ambush. He referenced the recent death of a New York City officer killed in her squad car.
"It was only a few weeks ago when a female NYPD cop and mother of twins was executed in her car in a very similar scenario," Bruno said.
NYPD officer Miosotis Familia was shot in the head on 5 July while sitting in her car in the Bronx.
On Thursday Damond's Australian family said they plan to bring their daughter back to Australia for a hometown farewell.
"All we want to do is bring Justine home to Australia to farewell her in her hometown among family and friends," a statement on behalf of the Ruszczyk family said.
"We are still trying to come to terms with this tragedy and we are struggling to understand how and why this could happen. These are very early days and the family, in Australia and in the USA are devastated by our loss.
"We want to see the investigation come to a conclusion, as soon as possible, so we have some resolution to the tragedy."
A makeshift memorial to Justine Damond in Minneapolis. Photograph: Stephen Maturen/AFP/Getty Images
The Australian prime minister, Malcolm Turnbull, has spoken out again about Damond's shooting, saying the entire incident was "completely inexplicable".
"I spoke to Justine's dad yesterday about it and gave him our love and sympathy," he told Melbourne radio station 3AW radio on Thursday.
"What a terrible tragedy … the whole incident is completely inexplicable," he said. "It doesn't make any sense how she could be seen as a threat."
Turnbull said he expected that a full inquiry would take place and that Australian authorities were expecting answers.
However, four days after the fatally shooting, Noor has yet to talk with investigators and his lawyer has given no indication he ever will.
Some legal experts say the move is wise and well within the officer's rights. But without Noor's version of events, there's virtually no explanation for what happened on Saturday when he fired a shot from the passenger seat of a squad car, past his partner in the driver's seat and killed Damond, who was standing outside the vehicle.
Transcripts of 911 calls that were made public Wednesday show Damond called dispatchers twice to report a possible sexual assault in the alley behind her home.
Damond made her first call at 11.27pm, when she said she heard a possible sexual assault. She told the dispatcher she wasn't sure but thought a woman was in distress. She called back eight minutes later when no officers had arrived and told the dispatcher she was worried they had gone to the wrong address.
The assistant police chief Medaria Arradondo told reporters that officers searched the area and found no suspects.
Exclusive video: Justine Damond saving ducklings weeks before shooting death
Justine Damond, an Australian woman shot dead by police in Minneapolis, was filmed shortly before her death saving a group of ducklings from a storm drain near her home in Minneapolis. Photojournalist Angela Jimenez filmed the scene and is publishing with the permission of Damond's family. Later Damond told a friend: 'There was this moment when I think they realized I was there to help and they just started jumping to my lap, I was in bliss!'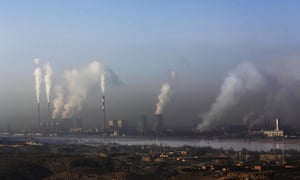 The coal industry says the growth of coal-fired stations in Asia is proof of a bright future for the fuel. Photograph: Lu Guang/Greenpeace
The much-discussed boom in coal-fired power in south-east Asia is being bankrolled by foreign governments and banks, with the vast majority of projects apparently too risky for the private sector.
Environmental analysts at activist group Market Forces examined 22 deals involving 13.1 gigawatts of coal-fired power in Indonesia and found that 91% of the projects had the backing of foreign governments through export credit agencies or development banks.
Export credit agencies, which provide subsidised loans to overseas projects to assist export industries in their home countries, were involved in 64% of the deals and provided 45% of the total lending.
The majority of the money was coming from Japan and China, with the Japan Bank for International Cooperation (JBIC) involved in five deals and the Export-Import Bank of China (Cexim) involved in seven deals. All the deals closed between January 2010 and March 2017.
The China Development Bank was the biggest development bank lending to the projects, imparting $3bn, with a further $240m in development funds coming from Korea's Korea Development Bank.
The lending comes despite the world's biggest development bank – the World Bank – warning last year that plans to build more coal-fired power plants in Asia would be a "disaster for the planet" and overwhelm the deal forged at Paris to fight climate change.
"Right now, several key countries supporting the Paris climate change agreement are actively undermining it by trying to expand the polluting coal-power sector in other countries," said Julien Vincent, executive director of Market Forces.
"We wouldn't have this massive spread of new coal-fired power if public finance institutions weren't making them bankable," Vincent told the Guardian. The government-backed banks offer low interest and long-term loans, transferring risk from the private sector to the taxpayer and offering other lenders confidence in the projects.
"As early as 2015, private capital investments into clean energy were already double those into fossil fuels. Private investors are vacating the field in terms of coal and putting their money into renewable energy," said Vincent.
He said preliminary analysis of projects that are in the pipeline in Indonesia and Vietnam, but haven't yet reached financial close, show the trend is set to continue into the future unless governments – especially Japan and China – change their attitude.
"There's probably almost 20 gigawatts of coal power that will go ahead pretty much because it's got public finance," Vincent said.
The push of financing comes as Japan, China and Korea move to cut plans for coal-power in their own countries. Vincent said the moves were related, since Indonesia was now seen as a testing ground for new coal-fired power station technology.
The coal industry says plans for new power stations in Indonesia and Vietnam is evidence of the promise of new-build coal-fired power stations.