21 Jul
Nearly all of these are English-edition daily newspapers. These sites have interesting editorials and essays, and many have links to other good news sources. We try to limit this list to those sites which are regularly updated, reliable, with a high percentage of "up" time.


World Politics
United States
Trump condemns Sessions: 'I wouldn't have hired him' – audio
US president reveals his anger about attorney general Jeff Sessions's decision to recuse himself from the Russia inquiry, saying if he had known that would happen he would have 'picked somebody else' for the job. Trump, speaking to the New York Times on Wednesday, also branded Sessions's decision as "extremely unfair … to the president"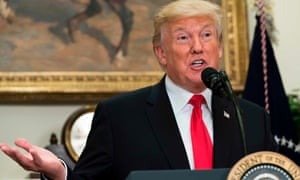 Reports that US President Donald Trump may be exploring pardons for aides 'extremely disturbing' say Democrats. Photograph: Saul Loeb/AFP/Getty Images
Guardian staff and agencies
The highest-ranking Democrat on the US Senate intelligence committee has said it was "extremely disturbing" if Donald Trump was contemplating a pardon for aides that could be implicated in a probe on Russian meddling in last year's election.
Senator Mark Warner was referring to a Washington Post article late Thursday saying that Trump was consulting with advisers "about his power to pardon aides, family members and even himself" in connection to the probe led by special counsel and former FBI director Robert Mueller.
Trump's lawyers were attempting to "corral the probe" and were compiling a list of Mueller's alleged potential conflicts of interest in order to "stymie his work", according to the Post, which quoted anonymous sources for the article.
In a statement, Warner said that Russia's interference in the 2016 elections "was an attack on our democracy. Both the Senate intelligence committee and special counsel Mueller are currently investigating whether any coordination occurred between Russia and individuals associated with the Trump campaign".
"The possibility that the president is considering pardons at this early stage in these ongoing investigations is extremely disturbing," said Warner, the senior senator from Virginia and vice-chair of the intelligence committee.
"Pardoning any individuals who may have been involved would be crossing a fundamental line."
The White House has yet to comment on the Post report.
In an interview with the New York Times on Wednesday, Trump warned Mueller that some of his family finances should be off-limits to his investigation.
Asked if Mueller looking at finances unrelated to Russia would be a red line, Trump responded: "I would say yes."
A move by Trump's legal team to look for conflicts of interest among members of Mueller's investigative team was also reported by both the New York Times and Associated Press on Thursday.
AP said two people with knowledge of the investigative process say efforts under way include exploring the political affiliations of Mueller's investigators and their work history.
Attorney Jay Sekulow, a member of the president's external legal team, told AP that the lawyers "will consistently evaluate the issue of conflicts and raise them in the appropriate venue".
Janee Harteau distances herself from actions of officer Mohamed Noor in shooting of Australian woman in Minnesota
Guardian staff and agencies
Minneapolis police chief Janee Harteau speaks for the first time in response to the death of Australian woman Justine Damond, who was fatally shot by an officer. Harteau says 'this should not have happened' and assures Justine's family, as well as 'those in Australia', that she will do everything in her power to make sure 'due process is followed and justice is served'
The Minneapolis police chief has said the fatal shooting of Australian woman Justine Damond "shouldn't have happened" and that it was the result of the actions and the flawed judgment of one officer.
The death of Damond, 40, who was fired at multiple times through the open window of a police patrol car, has outraged her relatives and the public in both Australia and the United States. The Australian prime minister, Malcolm Turnbull, called it "shocking" and "inexplicable".
The police chief, Janee Harteau, who was on leave at the time of the shooting last week, distanced the police department from the actions of officer Mohamed Noor in her first public comments on the matter. Her press conference also followed the release a statement by the Minnesota Bureau of Criminal Apprehension [BCA] on the investigation on Thursday.
"Justine didn't have to die. Based on the publicly released information from the BCA [Bureau of Criminal Apprehension], this should not have happened," Harteau said.
"On our squad cars you will find the words, 'To protect with courage and serve with compassion.' This did not happen. Having the information that is publicly available right now recognising there's an open BCA investigation."
Harteau said Noor's shooting of Lamond, who had called 911 to report a possible sexual assault and was in her pyjamas when she approached the squad car and was shot multiple times, "go against who we are as a department, how we train and the expectations we have for our officers".
Harteau also questioned the training and body camera procedures that the police department had in place. "We had the cameras for about eight months, so it's not second nature for officers to put those cameras on yet," she said.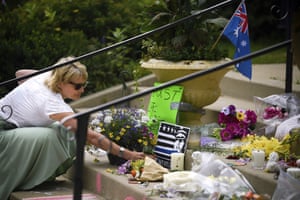 Flowers are placed at a memorial for Justine Damond on the steps of the Lake Harriet Spiritual Community church in south Minneapolis. Photograph: Aaron Lavinsky/AP
"Which is why we want to do everything we can in training and in policy to ensure that they're put on before an officer arrives at the scene, because one can never predict when something is going to happen."
Harteau said she had spoken to Damon's family and fiance, Don Damond, on Thursday morning.
"I told him I was sorry for his loss and that this did not have to happen," Harteau said.
"Don expressed the concern and fear our community may have in calling 911. Although disheartening, I understand the fear and why it exists.
"This has had a negative impact on the community trust we have built."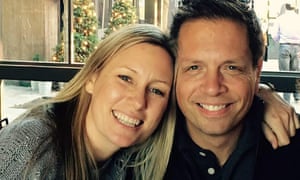 Justine Damond and her partner Don Damond. Photograph: Facebook
Responding to a question from a reporter that it was rare for a police chief to publicly disown an officer under investigation, Harteau acknowledged it was unusual but said "each situation is different, and when information has been made public, I certainly can speak on what the public knows".
Noor should have had his body camera activated and the department was working on ways to ensure cameras are on when they should be, such as automatically turning on recording when a gun is drawn, she said.
Noor has refused to speak to investigators, which Harteau said was his "constitutional right".
In response to a question from another reporter citing speculation that Noor was an "affirmative action hire" and did not receive adequate police training, Harteau said: "It's not about race or ethnicity. We have a very robust training and hiring process. This officer completed that training, very well, just like every officer, he was very suited to be on the street."
Harteau's press conference came hours after a lawyer who represented another police shooting victim in Minnesota said Damond's family had hired him.
"Usually people who call the police in their pyjamas are not ambushers, especially spiritual healers and pacifists," Bennett said in a telephone interview. Damond owned a meditation and life-coaching company.
"You shouldn't shoot unarmed people who call the cops," Bennett said.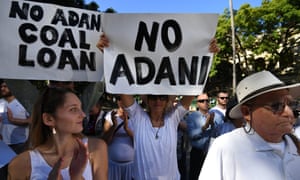 Environmental activists voice their opposition to Indian mining company Adani's proposed Carmichael coal mine, outside Parliament House in Brisbane, Australia, 25 May 2017. Photograph: Dan Peled/EPA
T

en years ago, David Simon's iconic TV series The Wire portrayed contemporary Baltimore as wracked by illegal drug use, violent crime and failing institutions. But underneath the symptoms were the structures of political economy. As the show's tagline had it, "everything is connected". Simons explained that the show was intended to depict "a world in which capital has triumphed completely, labour has been marginalised and moneyed interests have purchased enough political infrastructure to prevent reform."
A world away and the idea that everything is connected through a malformed political economy is also central to Anna Krien's recent Quarterly Essay, The Long Goodbye. Coal, Coral and Australia's Climate Deadlock. In Krien's Australia, it is the power of the coal industry that is the fundamental problem.
Journeying across Australia, Krien visits proposed mine sites, coastal and inland towns, and snorkels the Great Barrier Reef. Everywhere she goes, there is evidence of the coal industry's malign influence, distorting civic debate with dodgy jobs figures, marginalising other voices, corrupting politics, thwarting urgent reform for the common good, and driving the carbon pollution that is killing our reef.
With an evocative eye for human detail, Krien shows that in addition to being unsustainable in environmental terms, the coal industry is also terrible for the health of our democracy. The revolving door of elites is "a harmonious shifting of bodies in and out of politics, fossil fuel industry groups, energy and mining companies". The access enjoyed by coal mining lobbyists ("always happy to see you") is contrasted with the eminent scientist who can't get a meeting with the minister.
Regulations are written to suit big coal – not the fresh water, farmland, wildlife or people they are notionally intended to protect. When someone is plucky enough to take the big companies on – a farmer, an Indigenous group, an environmental group – the coal mining companies get into fits of temper about the rules, and politicians are inclined to reward the tantrums by making things even easier.
The economics of coal doesn't make sense but, says Krien, "it all adds up" because "spending has been locked in, promises made, factions formed, donations offered". She concludes that Australia's political system is effectively captive, subject to a "Stockholm syndrome built on donations, royalties, taxes and threats".
In Krien's account, the symptoms of coal's unhealthy influence on Australian politics are seen to spin out in all directions, from the political response to the tenacious struggle of Wangan and Jagalingou traditional owners to stop the Adani mine, to Tony Abbott's obsessive war on renewable energy, to the distortion of Australia's global diplomatic agenda.
A broader idea of sustainable business denotes an appreciation that the proper role of business in a democracy and society has limits. It would be for the good of Australia if many of the connections described by Krien could be loosened or severed. "Ban political donations", says Krien; but there is much more that can be done, including improving freedom of information laws, slamming shut the revolving doors, addressing the crisis in mainstream media diversity, introducing next generation anti-pollution laws, ensuring affected citizens have proper access to environmental justice, imposing the full costs of mine remediation on the perpetrators, and ending all tax breaks to fossil fuel companies and their representatives. And we need a federal Icac.
Perhaps above all, a moratorium on new coal developments is now essential to meeting globally agreed climate targets. But taking the expansion of the coal industry out of the game is not only essential to halting global warming but could also be a bonanza for improving and cleaning up our democracy.
Opinion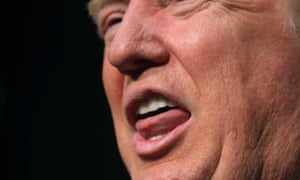 'The Democratic establishment appears to not be learning any lessons.' Photograph: Chip Somodevilla/Getty Images
D

onald Trump is one of the least popular politicians in the history of the United States. Yet, Trump is still more popular than Hillary Clinton. Let that sink in.
According to the latest Bloomberg National Poll, Trump has a net favorability of 41% whereas Clinton has a net favorability of 39%. If Democrats are to escape the political wilderness, they will have to leave Clinton and her brand of politics in the woods.
Now, there is no doubt that Clinton has suffered sexist double standards just as Barack Obama encountered racist double standards. Trump labeled her "Crooked Hillary" and his supporters rallied around the chant "Lock her up". Rich in hypocrisy, Trump has continued to attack Clinton for her emails even though his son has proven to have done much worse.
Nevertheless, it would be wrong to pin all of Clinton's unpopularity on sexism and the conspiracies of the extreme right. The Bloomberg poll demonstrates that more than one-fifth of Clinton supporters say they now have an unfavorable view of her. Based on follow-up interviews with poll participants, many Clinton voters expressed that their negative feelings were not simply due to her losing but were about the Democratic party's positioning for the future.
Even though Clinton has blamed everyone but herself, it is clear that her campaign's failure to galvanize voter turnout was one of the biggest reasons why Trump won. Her checkered record on progressive policies, bland centrist message and the Democrats' presumption that Trump's nomination sealed their victory probably did not help.
Clinton has largely kept a low profile since the election, occasionally sending Twitter barbs in Trump's direction. The best case scenario for Democrats is for Clinton – and her family – to stay away. The wise thing for the party to do is to abandon the failed "Third Way" centrist politics that she and her husband have come to exemplify.
Even so, the Democratic establishment appears to not be learning any lessons. Kamala Harris, the first-term California senator rumored to be a frontrunner for the Democratic presidential nomination in 2020, recently mingled with top Clinton donors and supporters in the Hamptons. Apparently tying rising talent to the infrastructure of a politician less popular than Trump is the game plan for moving forward.
Playing mostly defense against Trump and talking a lot about Russia, the Democratic establishment has struggled to develop an alternative message that Americans find attractive. According to a recent ABC News/Washington Post poll, only 37% of the country believes Democrats "stand for something". Even the new sticker options for the Democratic Congressional Campaign Committee are depressingly shallow. Some of the slogans read: "Make Congress Blue Again" and "I Mean, Have You Seen The Other Guys?"
Although the establishment comes across as unimaginative and clueless, it is not as if Democrats lack other options. Bernie Sanders has become and remains the most popular politician in the whole country. His bold and progressive populist campaign may have lost out to Clinton in the primaries, but it may reflect a more viable blueprint for the future. The question is whether Clinton loyalists will put aside their purity politics and be pragmatic enough to change the direction of the party.
Looking across the pond, Jeremy Corbyn's Labour Party provides another example to learn from. Dismissed by Blairite centrists in his own party, Corbyn not only over-performed in the general election, he rewrote British politics.
As Matthew Yglesias argued in Vox, Corbyn's electoral map looks a lot like Clinton's; not only did he inspire young voters in a similar way to how Sanders did here, Corbyn ran on a bold policy agenda. In an age in which voters are characterized as irrational creatures who don't vote because of policy, YouGov found that the top reason supporters backed Labour was because of the party's social democratic manifesto.
Democrats have become a tale of two wings. If the Clintonite establishment wing comes across as hopelessly uninspiring, the Berniecrat progressive wing has appeared energetic and full of ideas. Consider the #PeoplesPlatform sponsored this week by Sanders' Our Revolution alongside other organizations, such as Democratic Socialists of America, Women's March and Fight for 15. This platform – which Americans can sign a petition for – urges Democrats in Congress to support bills, such as Medicare for All, Free College Tuition, Voting Rights and Criminal Justice and Immigrant Rights.