22 Jul
Nearly all of these are English-edition daily newspapers. These sites have interesting editorials and essays, and many have links to other good news sources. We try to limit this list to those sites which are regularly updated, reliable, with a high percentage of "up" time.


World Politics
United States
Ben Jennings on Ivanka Trump's role in the White House – cartoon
Ivanka Trump, the former businesswoman and fashion model, briefly took her father's seat during a G20 session in Hamburg, prompting claims of nepotism and a heavy dose of sarcasm about her diplomatic credentials
US intelligence intercepts show Sergey Kislyak told supervisors he discussed Trump campaign and policy issues during meetings with attorney general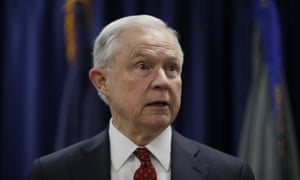 Jeff Sessions' accounts of his meeting with the Russian ambassador to the US, Sergey Kislyak, clash with those of Kislyak. Photograph: Matt Rourke/AP
Jeff Sessions discussed Donald Trump's White House bid with the Russian ambassador to Washington in 2016, according to reported US intelligence intercepts which contradict the US attorney general's assurances that the campaign was not discussed.
Sergey Kislyak told his superiors in Moscow he talked about campaign-related matters and significant policy issues during two meetings with Sessions, according to current and former US intelligence officials, the Washington Post reported on Friday.
The ambassador's accounts of the meetings – which US spy agencies intercepted – clash with those of Sessions and pile fresh pressure on the attorney general just days after the president publicly criticised him.
Sessions was a senator and senior foreign policy adviser to Trump during the presidential race. After being tapped to run the justice department, he initially failed to disclose his encounters with Kislyak and then said the meetings were not about the Trump campaign.
Jeff Sessions denies contact with Russians during Senate hearing – archive video
During his January confirmation hearing to become attorney general, Sessions was quizzed by Democrat Senator Al Franken about alleged contact between members of the Trump campaign and Russia. "I have been called a surrogate at a time or two in that campaign and I did not have communications with the Russians," Sessions – who was under oath – told him. Now evidence has emerged that Sessions in fact met twice with the Russian ambassador to the US, Sergey Kislyak. A spokeswoman for Sessions said the meetings were in his capacity as a member of the armed forces committee and denied he had misled the Senate.
The Post cited an unnamed US official who called Sessions' statements "misleading" and "contradicted by other evidence". An unnamed former official said the intelligence indicated Sessions and Kislyak had "substantive" discussions on matters including Trump's positions on Russia-related issues and prospects for bilateral relations in a Trump administration, the paper reported.
The officials acknowledged that the ambassador could have mischaracterised the meetings in his briefings to Moscow.
The attorney general has repeatedly said he never discussed campaign-related issues with Russian officials and that it was in his capacity as a senator, not a Trump surrogate, that he met Kislyak. "I never had meetings with Russian operatives or Russian intermediaries about the Trump campaign," he said in March.
The apparent discrepancy with Kislyak's version of events capped a torrid week for Sessions. Trump said in an interview published on Wednesday that he regretted appointing him after Sessions recused himself from investigations into links with the Trump campaign and Russia.
The president, marking six months in office, appeared to be venting concern that the investigation headed by Robert Mueller was reportedly expanding to include his business ties with Russia.
Sessions told reporters on Thursday that he would continue in his job "as long as that is appropriate". He made no immediate response to the Post's article on Friday.
However in a statement, a justice department spokeswoman told the paper: "Obviously I cannot comment on the reliability of what anonymous sources describe in a wholly uncorroborated intelligence intercept that the Washington Post has not seen and that has not been provided to me."
In a separate development on Friday, the Senate judiciary committee said that next week it would interview the president's son, Donald Trump Jr, and his former campaign chief Paul Manafort behind closed doors rather than in public testimony, as originally planned.
Both men agreed agreed to negotiate to provide the committee with documents and be interviewed by committee members and staff prior to a public hearing, the committee chairman, Chuck Grassley, and its ranking member, Dianne Feinstein, said in a statement. "Therefore, we will not issue subpoenas for them tonight requiring their presence at Wednesday's hearing but reserve the right to do so in the future."
The report about the Russian ambassador capped another tumultuous day in Washington.
Janeé Harteau has 'lost the confidence of the people' says mayor Betsy Hodges, who in turn faces calls to resign at chaotic media conference
Source: AP/KSTP
Demonstrators take over a news conference held by Betsy Hodges on Friday, asking her to resign following the shooting of unarmed Australian Justine Damond by a police officer. The conference took place hours after the Minneapolis police chief, Janeé Harteau, resigned at Hodges's request
The chief of police in Minneapolis has resigned at the request of the city's mayor, Betsy Hodges, after Hodges said she had "lost the confidence of the people".
Janeé Harteau has faced criticism for her handling of the shooting of unarmed Australian woman Justine Damond, as well as previous killings going back to 2013.
"I've lost confidence in the chief's ability to lead us further," said Hodges in a media statement. "And from the many conversations I've had with people around our city, it is clear that she has lost the confidence of the people of Minneapolis as well. For us to continue to transform policing … we need new leadership at [Minneapolis Police Department].
Hodges' own media conference later on Friday evening quickly descended into chaos as protesters angrily called for the mayor to resign as well, saying they "had been terrorized enough". The crowd – a coalition of community groups pushing for police reform – drowned out her comments with chants of "Bye bye Betsy."
Echoing the catchcry used in calls for justice after the 2016 shooting death of Philando Castile, they shouted: "If Justine don't get it, shut it down." The initial round of protests were led by Jonathan Thompson, a friend and coworker of Castile.
After the room was cleared and the conference restarted, Hodges said it had been a "heartbreaking and challenging and awful week for the people of our city".
"I share people's frustration about the pace of change in our policing and building community trust. Transformational change is difficult, it is uncomfortable and it takes time," she said.
Hodges nominated assistant chief Medaria Arradondo to be the next chief. Nicknamed "Rondo", he served as the department's public face after Damond's shooting while Harteau was on personal leave. Arradondo, who is African-American, has been with the department since 1989.
Reached after the protest, Thompson said it was important that he had confronted the mayor in front of an assembled crowd of reporters that included many Australian journalists.
The fight for Justine is not over. It's just begun. We got a lot of allies.

Jonathan Thompson, protester
"Betsy Hodges was trying to appease the international press, trying to say, 'I did something about it. I did something really good. I asked the chief to step down,' and thinking that's going to end what's happening, but it's not going to end nothing," he said.
Thompson, who now runs an organization called New North, added that he hoped Australians would find ways to get involved. "The fight for Justine is not over. It's just begun. We got a lot of allies. We need Australia right here with us … and we won't stop fighting for Justine and victims like Justine."
Mel Reeves, a long time community activist in Minneapolis, was part of the group that stormed the media conference. He said that initially they had just planned a street protest, but went to city hall when they heard about the meeting, and after a few failed attempts, managed to get inside.
"What you witnessed there was frustration. The frustration in this city is building over. The international community needs to understand that the Minneapolis Police Department has been a very abusive one. The killings are just the tip of the iceberg. People get brutalized on a regular basis," he said.
Harteau on Thursday attempted to distance the police department from the actions of officer Mohamed Noor, who shot the unarmed woman after she made an emergency call to police. She said the killing "shouldn't have happened".
The death of Damond, 40, who was fired at multiple times through the open window of a police patrol car, has outraged her relatives and the public in both Australia and the US. The Australian prime minister, Malcolm Turnbull, called it "shocking" and "inexplicable".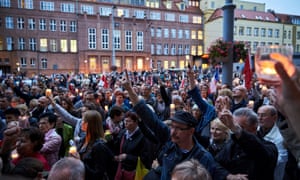 People attend a protest against supreme court legislation in Gda?sk. Photograph: Jan Rusek/Agencja Gazeta/Reuters
Reuters in Warsaw
Poland's upper house of parliament has approved a supreme court overhaul, defying the European Union and critics at home who say the legislation will undermine democratic checks and balances.
Tens of thousands of protesters gathered in Warsaw and cities across Poland for candlelit vigils to protest against the draft bill, as the senate debated it late into the night.
Some protesters carried Polish and European Union flags, chanting: "Free courts."
To become law, the proposal still has to be signed by the president, Andrzej Duda, an ally of the ruling conservative Law and Justice (PiS) party. The eurosceptic PiS argues new rules are needed to make the judiciary accountable and efficient.
But the opposition and judges' groups in Poland as well as critics in Brussels say the legislation is a new step by the Polish government towards authoritarianism.
The United States, Poland's most important ally in Nato, issued a statement urging Poland to ensure any changes respect the constitution. "We urge all sides to ensure that any judicial reform does not violate Poland's constitution or international legal obligations and respects the principles of judicial independence and separation of powers," it said in a statement.
An opinion poll for private television network TVN showed on Friday that 55% of respondents said Duda should veto the overhaul of the judiciary, while 29% wanted him to sign it.
Since coming into power in 2015, the PiS has sought to tighten government influence over courts, and brought prosecutors and state media under direct government control. It has also introduced restrictions on public gatherings and made it harder for some non-governmental organisations to function.
"We believe that Poland is slowly but systematically turning into a penal institution," opposition senator Jan Rulewski, a veteran activist of the anti-communism movement, said during the debate, dressed in a prison uniform.
The PiS remains broadly popular among its electorate, despite an upswelling of protest in recent days as it rushed the judiciary overhaul through parliament. With the economy growing robustly and unemployment at record lows, the party's nationalist rhetoric infused with Catholic piety resonates strongly among Poland's conservative voters.
The government of the EU's biggest eastern member state has so far dismissed criticism, saying the changes would ensure state institutions serve all Poles, not just the "elites".
On Wednesday, the EU gave Poland a week to shelve the judicial reforms that Brussels says would put courts under direct government control.
If the PiS government does not back down, Poland could face fines and even a suspension of its voting rights, although other eurosceptic EU governments, notably Hungary, are likely to veto strict punishments.
Senior Czech judges denounced the judicial overhaul in Poland as an attack on the rule of law on Friday.
A pod of pilot whales, nesting storks and a clan of hyenas are among this week's pick of images from the natural world