24 Jul
Nearly all of these are English-edition daily newspapers. These sites have interesting editorials and essays, and many have links to other good news sources. We try to limit this list to those sites which are regularly updated, reliable, with a high percentage of "up" time.


World Politics
United States
Anthony Scaramucci: leakers will be punished – video
Source: Reuters
The McGlynn: Bullshit!
White House communications director Anthony Scaramucci calls leaks coming from the White House 'un-American' and 'an injustice to the institution of the American presidency' and said those leakers will be fired. Scaramucci added that Donald Trump has 'no reason to pardon anybody' and 'did nothing wrong'. He was referring to Trump's tweet on Saturday saying he had 'complete power to pardon' amid ongoing investigations of possible ties between his 2016 campaign and Russia.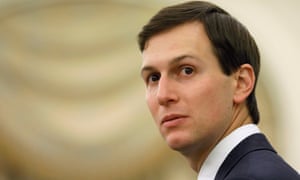 Jared Kushner, seen in Riyadh, Saudi Arabia in May. Photograph: Jonathan Ernst/Reuters
Jared Kushner, the son-in-law of Donald Trump, who acts as his senior White House adviser, secured a multimillion-dollar Manhattan real estate deal with a Soviet-born oligarch whose company was cited in a major New York money laundering case now being probed by members of Congress.
A Guardian investigation has established a series of overlapping ties and relationships involving alleged Russian money laundering, New York real estate deals and members of Trump's inner circle. They include a 2015 sale of part of the old New York Times building in Manhattan involving Kushner and a billionaire real estate tycoon and diamond mogul, Lev Leviev.
The ties between Trump family real estate deals and Russian money interests are attracting growing interest from the justice department's special counsel, Robert Mueller, as he seeks to determine whether the Trump campaign collaborated with Russia to distort the outcome of the 2016 race. Mueller has reportedly expanded his inquiry to look at real estate deals involving the Trump Organization, as well as Kushner's financing.
Kushner will go before the US Senate intelligence committee on Monday in a closed session of the panel's inquiry into Russian interference in the election in what could be a pivotal hearing into the affair.
Leviev, a global tycoon known as the "king of diamonds", was a business partner of the Russian-owned company Prevezon Holdings that was at the center of a multimillion-dollar lawsuit launched in New York. Under the leadership of US attorney Preet Bharara, who was fired by Trump in March, prosecutors pursued Prevezon for allegedly attempting to use Manhattan real estate deals to launder money stolen from the Russian treasury.
The scam had been uncovered by Sergei Magnitsky, an accountant who died in 2009 in a Moscow jail in suspicious circumstances. US sanctions against Russia imposed after Magnitsky's death were a central topic of conversation at the notorious Trump Tower meeting last June between Kushner, Donald Trump Jr, Trump campaign manager Paul Manafort and a Russian lawyer with ties to the Kremlin.
Donald Jr and Manafort have been called to testify before the Senate judiciary committee on Wednesday, at which they are certain to face questions about the Trump Tower encounter.
Two days before it was due to open in court in May, the Prevezon case was settled for $6m with no admission of guilt on the part of the defendants. But since details of the Trump Tower meeting emerged, the abrupt settlement of the Prevezon case has come under renewed scrutiny from congressional investigators.
Four Russians attended the meeting, led by Natalia Veselnitskaya, a lawyer with known Kremlin connections who acted as legal counsel for Prevezon in the money laundering case and who called the $6m settlement so slight that "it seemed almost an apology from the government". Sixteen Democratic members of the House judiciary committee have now written to the justice department in light of the Trump Tower meeting demanding to know whether there was any interference behind the decision to avoid trial.
Constitutional experts are also demanding an official inquiry. "We need a full accounting by Trump's justice department of the unexplained and frankly outrageous settlement that is likely to be just the tip of a vast financial iceberg," said Laurence Tribe, Harvard University professor of constitutional law.
Separately, the focus of investigators on Trump family finances stem from the vast flow of Russian wealth that has been poured into New York real estate in recent years. As Donald Trump Jr put it in 2008, referring to the Trump Organization: "We see a lot of money pouring in from Russia."
Among the overlapping connections is the 2015 deal in which Kushner paid $295m to acquire several floors of the old New York Times building at 43rd street in Manhattan from the US branch of Leviev's company, Africa Israel Investments (AFI), and its partner Five Mile Capital. The sale has been identified as of possible interest to the Mueller investigation as Kushner later went on to borrow $285m in refinancing from Deutsche Bank, the German financial house that itself has been embroiled in Russian money laundering scandals and whose loans to Trump are coming under intensifying scrutiny.
Court documents and company records show that AFI was cited in the Prevezon case as a business partner of the defendants. In 2008, Prevezon entered a partnership with AFI in which Prevezon bought for €3m, a 30% stake in four AFI subsidiaries in the Netherlands. Five years later, AFI tried to return the money to the Russian-owned company, but it was intercepted and frozen by Dutch authorities at the request of the US government as part of the Prevezon money-laundering probe.
In Manhattan, Leviev's firm also sold condominiums to Prevezon Holdings from one of its landmark developments at 20 Pine Street, just a few blocks from Wall Street.
Real estate brochures describe the lavish interior decor of the condominiums, replete with bathrooms bedecked in stone and exotic woods, and boasting "the ultimate in pampering; a sybaritic recessed rain shower". The 20 Pine Street apartments that Leviev sold to Prevezon were later frozen by US prosecutors seeking to block the flow of what they alleged to be money stolen from the Russian treasury and laundered through New York real estate.
Prevezon's 20 Pine Street apartments and €3m in assets were all released as part of the settlement in May.
The Guardian contacted both Kushner and Leviev for comment, but they did not immediately respond.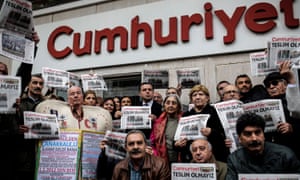 Protesters hold copies of Cumhuriyet during a demonstration in Istanbul last year. Photograph: Yasin Akgul/AFP/Getty Images
Kareem Shaheen and Gözde Hatuno?lu in Istanbul
The trial of 17 reporters and executives from Cumhuriyet, one of Turkey's last standing opposition newspapers, is set to begin on Monday with rights activists decrying the continuing muzzling of free speech in one of the world's largest jailers of journalists.
The charges include accusations that the newspaper's journalists aided the separatist Kurdistan Workers party (PKK) and the Fethullah Gülen movement, which is widely believed in Turkey to have orchestrated last year's coup attempt, and complaints of irregularities in the elections of the organisation's board of executives.
Rights activists say the trial is an assault on freedom of expression and the accusations are absurd, because Cumhuriyet, the country's newspaper of record that is committed to secularism, has long warned of the dangers of the Gülen movement, which itself has long been at odds with the PKK.
They argue that the other charges are an attempt at replacing the newspaper's board of directors with government appointees more pliable to the ruling party's influence.
"I have been a journalist for a long time and have dealt with this for a long time," said Ayd?n Engin, a veteran journalist with Cumhuriyet who is also standing trial on Monday, but had been released for health reasons. "I will say that I am ashamed and in agony for my country because of these irrational accusations," he said.
President Recep Tayyip Erdogan and his ruling Justice and Development (AK) party have, for years worked to dismantle or co-opt Turkey's free press. That crackdown has accelerated in the year since last July's coup, with more than 150 journalists believed to be behind bars in Turkey, the highest in the world ahead of China and Egypt.
As of March this year, 173 media outlets had been shut down, including newspapers, magazines, radio stations, websites and news agencies. More than 2,500 journalists have been laid off as part of the closures and 800 have had their press cards revoked, according to the Republican People's party (CHP), the main opposition bloc.
The government has also exerted pressure on media outlets that do not toe the official line by pressuring advertisers not to do business with them and pursuing cases of defamation, or by slapping them with large, unpayable fines. After media outlets that once belonged to the Gülen movement were seized, the government-appointed trustee boards that have transformed those newspapers and TV stations into a loyalist press.
These loyalist media outlets are often referred to as "penguin media" because a TV station that was fearful of antagonising the government during the Gezi protests of 2013 aired a documentary about penguins instead of broadcasting the protests.
That threat of a trustee board hangs over Cumhuriyet, a newspaper that was founded in 1924 and is the only serious newspaper in circulation that is vehemently opposed to government policies. It has described the crackdown after the coup in which the government dismissed or detained tens of thousands of civil servants, police and military officers, academics, judges and journalists as a "witch-hunt", and has repeatedly criticised Erdo?an as an authoritarian attempting to destroy democracy.
"Erdo?an has described democracy as a train before," said Engin, referring to a quote by the president that described democracy as a train that one can get off from once you reach you destination. "It's going to be worse for Cumhuriyet. Maybe it will be a shut down, a quick and painless death, or we will suffocate slowly."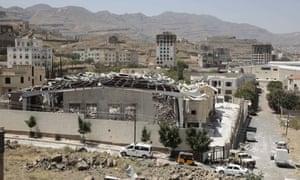 A funeral hall where 140 people died after an airstrike by Saudi-led forces in October 2016 in Sana'a. Photograph: Hani Mohammed/AP
The British government approved £283m of arms sales to Saudi Arabia in the six months after a Saudi airstrike on a funeral that killed scores of people and was criticised by the UN, figures reveal.
The airstrike, on 8 October 2016, hit a funeral hall in the Yemeni capital, Sana'a, killing 140 people and injuring hundreds more, in one of the bloodiest attacks in the two-year Saudi-led campaign in Yemen.
British arms exports to Saudi Arabia have faced intense scrutiny from MPs and campaigners since the start of the conflict, but the country remains the UK's most important weapons client.
Following the attack, the UK trade secretary, Liam Fox, delayed signing a set of export licences and his officials prepared for sales to Saudi Arabia to be suspended. However, documents obtained by the Guardian revealed that the foreign secretary, Boris Johnson, advised him that the sales should continue, as he judged there was no clear risk that British weapons would be used for serious breaches of international humanitarian law.
In the following six months, the government authorised exports including £263m-worth of combat aircraft components to the Saudi air force, and £4m of bombs and missiles, according to data from Campaign Against Arms Trade.
"The terrible funeral bombing should have been a time for reflection and for the UK to reconsider its uncritical political and military support for Saudi Arabia," said Andrew Smith, spokesman for Campaign Against Arms Trade. "Instead, it has continued licensing fighter jets, bombs and other deadly weapons to the regime.
"If killing 140 people and turning a scene of mourning into a massacre isn't enough to stop the arms sales, then what more would it take? Yemen has fallen into a terrible humanitarian catastrophe. How many more people need to die before the UK finally does the right thing and stops arming the regime?"
The figure does not include aircraft cannon equipment, targeting software, aircraft components, assault rifles and more that were exported under 24 open licences, in which the value of the equipment is not recorded.
Smith said open licences were "even less transparent" than the standard individual export licences, which apply to specific sets of restricted goods that are being exported.
This month, the high court ruled that the government had not breached its own weapons export laws by continuing to approve arms sales to Saudi Arabia, despite mounting allegations of indiscriminate bombing of civilians in Yemen. UK and EU arms sales rules state that export licences cannot be granted if there is a "clear risk" that the equipment could be used to break international humanitarian law.
Dismissing the case brought by Campaign Against Arms Trade, the judges ruled that the government had access to enough senior Saudi officials and data on the conflict to allow it to be confident there was no clear risk UK weapons might be used to commit atrocities.
"The UK government takes its defence export responsibilities very seriously and operates one of the most robust export control regimes in the world," said a spokeswoman for the Department for International Trade. "We rigorously examine every application on a case-by-case basis against the consolidated EU and national arms export-licensing criteria.
"We draw on all available information, including reports from NGOs and our overseas network, and our export licensing system allows us to respond quickly to changing facts on the ground. We have suspended or revoked licences when the level of risk changes and we constantly review local situations."
The latest statistics also reveal £86m-worth of weapons exports to Turkey between the attempted coup in July 2016 and the end of March 2017, including £25m of body armour, helmets and armour plates, and £16m of armoured vehicles. This is a steep rise on the £45m authorised over the same period a year earlier.
Venice residents protest against excessive tourism – video
Source: VENEZIA MODERNA
Earlier this month an estimated 2,000 Venetians marched against a tourism industry they argue has eroded their quality of life, that is damaging the environment and driving residents away. Venice's population has fallen from about 175,000 in the post-second world war years to 55,000 today.
Opinion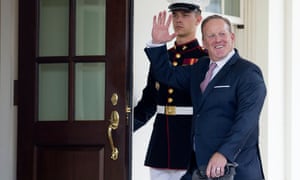 Outgoing White House press secretary Sean Spicer
waves to reporters. Photograph: Michael Reynolds/EPA
S

ean "Spicey" Spicer, we knew ye all too well. Six months of shambolic press briefings, incoherent communications strategy and endless rumors of your demise. It was all too much for us, and ultimately for you too.
How satisfying it must have been to quit just as the asylum came under new management. How pleasurable for you to watch Anthony "the Mooch" Scaramucci take your podium as the new communications director and literally struggle to make the microphones work. That's what we like to call a political metaphor.
To be fair for a brief second or two, the notion of Trump's communications director is obviously a contradiction in terms. How can anyone direct the communications of a man who tweets at the TV? We all know, as you do, Sean, that serving as Trump's press secretary is the Worst. Job. Ever.
Perhaps that's why the Mooch fumbled his first announcement, about your successor. Sarah Huckabee Sanders, your principal deputy, is the winner of the poisoned chalice and the target of endless TV critiques from the reality TV star now serving as commander-in-chief.
Congrats, Sarah! And thanks for reminding us at the top of the briefing that Friday was the last day of "Made in America Week". What a week it's been for Trump's American-made output.
The Mooch reminded us of his qualifications for the complex job of strategic communications by digging deep into his bag of man-of-the-people phrases to explain his mission. "There might be an arbitrage spread between how well we are doing and how well some of you guys think we're doing," he explained.
Perhaps in a few weeks the former financier could introduce the nation to "National Arbitrage Week", when hard-working Americans could focus their energies on day-trading their 401(k)s. That way the arbitrage spread on the Mooch's job prospects might narrow too.
In a fine display of message discipline, the newly crowned King of Comms spent his first few minutes shooting down all those nasty press reports about a feud with Reince Priebus, the rather sad and diminished White House chief of staff.
Reince is best friends with Spicey, and he nixed the Mooch from another job because of ethical concerns about his overseas investments. How quaint: ethical concerns in the Trump White House.
Both Priebus and the beleaguered nationalist Steve Bannon – formerly the puppet master inside the West Wing – are reported to have opposed the Mooch's new job. Trump overruled them both to create a White House that has more byzantine power-struggles than Constantinople.
In his first turn at the podium, the Mooch dismissed this as so much fake news. Far from being rivals, he and Reince were brothers. And like all good middle-aged brothers, he said, "we rough each other up sometimes". The Corleone brothers may have enjoyed a similar kind of relationship before it all went south.
Of course the real challenge in this White House lies not behind the press podium but about 60ft away, inside the Oval Office.
Donald J Trump believes he is the master of communications, as his thumbs dance delightfully across the Twitterverse. He judges his comms staff not on the basis of the usual metrics – poll numbers and press coverage, for instance. That's far too conventional for the man who upended convention by winning the presidency after losing the popular vote by historic margins.
No, this chief executive casts his communications director on the basis of his TV appearances, giving no regard to his lack of experience in, you know, communications. The Mooch is one of Trump's fiercest defenders on cable news: an essential qualification for a pro-Trump pundit and a questionable basis for corralling the sprawling communications of the executive branch.
Sadly Trump also cast the Mooch without checking his policy positions or previous statements on the same TV screen he watches all day. Because the president's new pet student has tweeted in support of gun control. Of course, those old tweets mysteriously disappeared on Friday.
He also appeared on Fox Business News in 2015, deriding Trump as "an inherited-money dude from Queens County". In less than glowing terms, he called Trump "anti-American" and predicted that he would fail to get elected.
Six bizarre moments we won't let Sean Spicer forget – video report
Sean Spicer is said to be looking for another role in the Trump administration following an uneven tenure as press secretary. Since taking the position, Spicer has clashed with journalists over the Trump inauguration, and even hidden in bushes outside the White House, leading to widespread ridicule ranging from Melissa McCarthy's SNL impression to garden decoration