28 Jul
Nearly all of these are English-edition daily newspapers. These sites have interesting editorials and essays, and many have links to other good news sources. We try to limit this list to those sites which are regularly updated, reliable, with a high percentage of "up" time.

A Victorian Labor MP who has been denied entry to the US while travelling on official parliamentary business, made an official visit to Syria 10 years ago.
Khalil Eideh, who was born in Lebanon, but is an Australian citizen, was barred from boarding a flight to Denver while trying to leave from Vancouver.
Mr Eideh is an Alawite Muslim and it is understood he still has family connections in Syria, which has a large Alawite community.
Victorian Labor MP Khalil Eideh. Photo: Glenn Hunt
Mr Eideh was in Canada with a cross-party group of MPs who are studying drug policy and heroin injecting rooms throughout Europe and North America.
He is expected to return home to Melbourne immediately.
Senior Labor figures have spoken to Mr Eideh who was reportedly bewildered after being given no reason for denying him entry.
One Labor source described the situation as an "extraordinary injustice".
"There's no grounds for this," the source said.
On Friday Andrews government Minister Lily D'Ambrosio said the government was very concerned Mr Eideh had been barred from the US after being issued a valid visa.
She said the incident appeared to be "very unfair", raising serious concerns about "international operations of the US system".
"There are serious questions that have to be answered," she said.
Mr Eideh, who is the deputy president of Victorian parliament's legislative council, was elected in 2006.
Victorian Sex Party MP Fiona Patten, who is part of the delegation, said she was devastated.
She said Mr Eideh was travelling on an official US visa that he had received three weeks ago.
"It's horrible," she said. "We've just landed in Denver missing one of our team."
Ms Patten said she was unaware of Mr Eideh's current whereabouts but assumed he had remained in Vancouver.
She said he was devastated at being barred entry to the US.
The reason for denying entry to Mr Eideh remains unclear.
The US embassy declined to comment for privacy reasons.
A spokeswoman for the Victorian government said the Department of Foreign Affairs and Trade had been asked to seek an explanation from US authorities.

World Politics
United States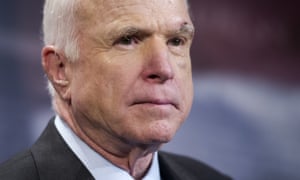 McCain returned to Washington this week after a diagnosis of brain cancer. Photograph: Cliff Owen/AP
The Arizona senator John McCain torpedoed the Obamacare repeal bill – and with it Donald Trump's legislative agenda – in a night of high drama on Capitol Hill.
McCain's vote against the bill in the early hours of Friday delivered a major setback for Republicans who have spent seven years vowing to repeal and replace the Affordable Care Act.
McCain, who returned to Washington this week after being diagnosed with brain cancer, joined fellow Republicans Susan Collins of Maine and Lisa Murkowski of Alaska in voting down the so-called "skinny repeal" bill 51-49.
The bill would have removed the individual mandate, which requires all Americans to have health insurance or pay a fine. In an analysis released roughly an hour after the bill was filed, the non-partisan congressional budget committee estimated that 15 million people would lose their cover if it passed and premiums would rise by 20%.
Trump issued a statement on Twitter early on Friday morning where he insisted that he now wanted to let Obamacare collapse. He said: "3 Republicans and 48 Democrats let the American people down. As I said from the beginning, let ObamaCare implode, then deal. Watch!"
The bill was made public minutes before 10pm EDT on Thursday night, giving senators only two hours to review the measure before voting on it. Many Republican senators disdained the legislation, calling it a "disaster" and worse than Obamacare.
McCain, a six-term senator who was his party's 2008 presidential candidate against Barack Obama, told reporters to "wait for the show" as he arrived for the vote in the Senate chamber.
Once on the Senate floor, McCain was lobbied by the vice-president, Mike Pence, who was there to preside in case of a tie, for more than 20 minutes. The two went back and forth and occasionally disappeared from the chamber altogether.
But as the votes were cast, McCain, who has long nurtured a reputation as a maverick willing to buck party lines, delivered a black eye to Trump, who had famously mocked him as "not a war hero" during the 2016 campaign.
McCain is a decorated navy veteran who was repeatedly tortured during five and a half years of captivity in the Vietnam war.
The dramatic vote ended months of furious negotiating which exposed a party riven over how to dismantle a law that extended healthcare coverage to millions of Americans and has taken root in several states, in some cases with the help of Republican governors.
The vote also deprived Trump of his first major legislative victory six months into his turbulent administration. The president had campaigned on repealing Obamacare but intervened late in the process. His lobbying was sporadic, inconsistent and occasionally counterintuitive. He said in an interview that the House healthcare bill that passed in May, and which the Senate bill mirrors, was "mean".
Afterwards, the Senate Democratic leader, Chuck Schumer, spoke to reporters about McCain's vote.
Schumer said he and McCain had spoken "three or four" times a day since the Arizona senator returned to Washington, discussing the bill and the secretive process Republicans were using to try to pass the measure.
"Given his stature, his remarks at the beginning when he came in, moved everybody and I think that helped," Schumer said. "He's a hero. He's a hero of mine."
"And can we also not forgot the two women senators who were there from the beginning," interjected Senator Amy Klobuchar of Minnesota.
Schumer said he could not recall a more dramatic night. Then he turned around and corrected his response, saying: "The birth of my daughter."
Republicans could tell that the mood was changing in the Senate as the vote approached. "You could see, honestly, the body language in the entire chamber change the last two hours," David Perdue of Georgia told the Guardian. "You guys were up there, you could see it. One side was kind of ebullient and talking, and the other side was very subdued, and all of a sudden, it began to change. And I think it was an instinctive reaction to maybe, 'This thing's not going to pass tonight.' And nobody knew for sure until you saw three votes."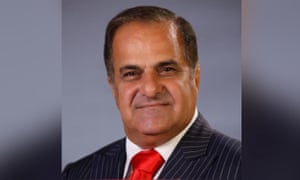 Victorian MP Khalil Eideh, pictured holding a basketball was stopped from boarding a flight from Vancouver to Denver. Photograph: Victorian Parliament
Australian Associated Press
An Australian state MP has been prevented from entering the United States, and fellow travelling politicians have been given no reason for the move.
Lebanon-born Khalil Eideh, a Labor MP in Victoria, was stuck in Vancouver on Friday after a United Airlines staffer told him he was not allowed to board a flight to Denver with the rest of the group.
"The United Airlines staff knew he had been denied entry to the US before any of us," the Sex party MP Fiona Patten told AAP from Denver on Friday.
"He was incredibly upset … disbelieving."
Patten said Eideh was not told why he wasn't allowed on the plane.
Labor MP Natalie Suleyman said Eideh was originally told he was not booked on the flight before the check-in staff broke the bad news.
"They said "you've been denied entry to the States," Suleyman said. Eideh was given no explanation, she said.
Eideh was born in Tripoli in Lebanon to Syrian parents who follow the Alawite Islamic faith.
He moved to Australia in 1970 aged 15 and later became a mail officer with Australia Post. From the 19 years up until he entered parliament in 2006 he was managing director of Bluestar Logistics, a trucking company based in Melbourne's west.
When elected as an upper house MP for the Western Metropolitan Region, Eideh faced attacks over a letter he signed in 2002 seeking to get the Syrian Honorary Counsel in Melbourne removed because he played a "divisive" role in the local community.
"At a time when the danger and threat from the colonial and Zionist is increasing on our Arabic world in general … an oppressive mentality surfaced in Melbourne, Australia, aiming to create a tremendous crisis within the Alawi Islamic Association," the letter reads.
The letter ended with a pledge to President Assad: "Loyalty, absolute loyalty to your courageous and wise leadership and we pledge to continue to be faithful soldiers behind your victorious leadership".
He later wrote to the Jewish Community Council of Victoria saying he signed a "standard form letter" to the Syrian government and it had been taken out of context.
"I abhor and reject terrorism and all it represents. I would never assist a regime that supports or promotes terrorism," Eideh wrote in June 2006.
It's understood Mr Eideh has also visited Syria. Lebanon is not one of the countries on Donald Trump's controversial visa ban list.
"We're travelling MPs on an official visit, we all went through an extensive process to secure a visa for the US," Suleyman said.
Opinion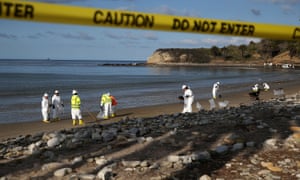 'The EPA began in 1970 as an agency charged with curbing pollution.' Photograph: Justin Sullivan/Getty Images
T

he Environmental Protection Agency's new administrator, Scott Pruitt, has called for a "back-to-basics" or "originalist" approach to the agency. It is unclear what he means, but in a 22 May memo he said he would prioritize the EPA's program that handles heavily contaminated waste areas, known as "Superfund sites".
In the memo, Pruitt heralds that under his administration, "Superfund and the EPA's land and water cleanup efforts will be restored to their rightful place at the center of the agency's core mission".
For Pruitt, the primary role of the EPA is janitorial: using taxpayer money to clean up after polluting industries. But that is neither how the EPA was originally envisaged, nor how the Superfund program was conceived.
The EPA began in 1970 as an agency charged with curbing pollution. Throughout the 1970s, Congress gave the EPA power to set limits on air pollution, regulate automobile emissions, define appropriate water treatment technology, set drinking water standards and regulate pesticides. Outside of minor provisions, this legislation was about the EPA preventing pollution, not cleaning it up.
In 1976, rising concern about uncontrolled dumping and burning of hazardous materials prompted passage of the Resource Conservation and Recovery Act, which allowed the EPA to regulate hazardous waste from cradle to grave.
Unfortunately, there were already thousands of hazardous waste "graves" in existence. For decades, companies dumped hazardous waste haphazardly.
In the 1940s and early 1950s, for example, the Hooker Chemical Company filled an old canal – Love canal, as it was known – with some 21,800 tons of chemicals, some of which Hooker knew to be hazardous.
In 1953, the company covered the canal with dirt and sold it to a local school board for a dollar. The city built a school and playground atop the dump, and residents built houses along its edge.
As knowledge of the hazardous legacy at Love Canal and similar places emerged in the 1970s, it generated fear, outrage and grassroots, anti-toxic movements. These movements in turn bolstered support for an EPA program to address existing hazardous waste sites.
In 1980 – 10 years after the birth of the EPA – Congress passed the Superfund Act. The law imposed strict liability for the cost of cleanup on entities responsible for hazardous waste sites. It also established a small tax on chemical and petroleum industries that were associated with hazardous waste.
Money from the tax fed a large trust fund, a "Superfund", which the agency could draw on to clean up "orphan" sites, where responsibility could not be determined. In both cases, the idea was that the "polluter pays", either as a directly responsible party or as part of an industry generally responsible for hazardous waste.
The Superfund tax survived for 15 years, building up a large trust fund used for cleanup. Two Republican presidents, Ronald Reagan and George HW Bush, signed off on reauthorizing the tax in the 1980s and 1990s. As the Superfund program developed, the EPA discovered thousands of new sites, making funding for the program all the more important.
But rightwing Republicans who took control of Congress in 1994 rebuffed Bill Clinton's urging to renew the tax. It expired in 1995.
The trust fund peaked in 1996 at about $5.5bn (in 2016 dollars). But without a source of replenishment, the well ran dry by 2003, leaving taxpayers with the bill for cleanup. Since then, Congress has trickled general revenue money into the program with smaller and smaller appropriations ever year. Without adequate funding, the EPA's progress on cleanup has slowed dramatically.
In 2010, the EPA asked Congress to renew the tax, arguing that doing so would "ensure that parties who benefit from the manufacture or sale of substances that commonly cause environmental problems at hazardous waste sites, and not taxpayers, help bear the cost of cleanup". Barack Obama and legislators have also pushed to renew the tax, but without avail.
It is time to bring the Superfund tax back. No doubt, the program can be made better. Superfund taxes on industry, for example, could be better calibrated with the amount and degree of hazardous waste produced. Supplements from general tax revenues are reasonable.
But the bedrock idea that industries connected to pollution should fund hazardous waste cleanup should stay in place. It is a fairer, if imperfect, system than putting the burden on taxpayers. And it is the only way to assure adequate funding over time and thus to make Superfund cleanup a priority in practice.