29 Jul
Nearly all of these are English-edition daily newspapers. These sites have interesting editorials and essays, and many have links to other good news sources. We try to limit this list to those sites which are regularly updated, reliable, with a high percentage of "up" time.


---
When Rex Tillerson, the former CEO of Exxon Mobil, was confirmed by the US congress, he agreed to sever all ties with the world's largest publicly traded international oil and gas company.
But of course that didn't summarily erase the relationships he has built with leaders of oil-producing countries, which stand to influence his tenure.
Before joining the Trump team, Tillerson had no experience in government, the military or as a public servant. But he knows his world and is well-known on the international stage.
Having worked his way up through different positions in Exxon since 1975, he became Chairman and CEO in 2006. This position provides a familiarity with international diplomacy, expertise in managing large operations, and skills negotiating with global leaders.
Or, to quote Trump:
World Politics
United States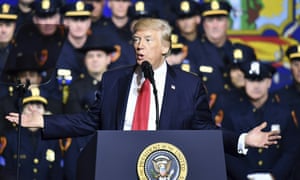 Donald Trump speaks to police and crime victims in Long Island. Photograph: Nicholas Kamm/AFP/Getty Images
Staff and agencies
Donald Trump has appeared to advocate rougher treatment of people in police custody.
The president was promoting his hardline immigration agenda to an audience of police officers and the relatives of victims of crime in Brentwood, Long Island.
"If you're a gang member and you're here illegally, you're going home," the senior White House adviser Stephen Miller told reporters traveling to New York on Air Force One with Trump.
In his speech, however, the president spoke dismissively of arresting officers who protect suspects' heads while putting them in police cars.
"And when you see these thugs being thrown into the back of a paddy wagon," he said, "you just see 'em thrown in, rough.
"I said, 'Please don't be too nice.' Like when you guys put somebody in the car and you're protecting the head. You know? The way you put the hand over [the head], like 'Don't hit their head' and they've just killed somebody, 'Don't hit their head.'
"I said, 'You can take the hand away,' OK?"
The president's remarks drew cheers, laughter and applause.
Trump also claimed that laws were written to "protect the criminal" and "not the officers" and told his audience the "laws are stacked against you" and needed to be changed.
Trump pledged to "destroy" the international MS-13 street gang and other similar organizations, saying he was focused on MS-13 because it is "particularly violent".
MS-13, or Mara Salvatrucha, originated among El Salvadorean migrants in Los Angeles in the 1980s. The justice department has said it now has more than 10,000 members across the US.
Trump's speech came as the attorney general, Jeff Sessions, traveled to El Salvador to highlight progress on the gang crackdown under which, civil rights groups counter, police and immigration agents have unfairly targeted some teenagers.
"We received complaints in recent weeks from terrified parents on Long Island that teens have already been detained on the thinnest of rationales, such as wearing a basketball jersey," said Sebastian Krueger from the New York Civil Liberties Union.
There have been at least two lawsuits filed by people claiming they were mistakenly included in gang databases and then targeted for deportation, said Paromita Shah, from the National Immigration Project at the National Lawyers Guild.
The MS-13 gang has committed a string of gruesome murders in Suffolk County, New York, including the April killing of four young men. There have been 17 murders on Long Island tied to the gang since January 2016, the Suffolk County police department has said.
Trump told his audience MS-13 members did not like to shoot their victims because death came too fast, preferring instead to knife and cut their victims, so they died slowly and more painfully.
"These are animals," he said.

Passenger group challenged Federal Aviation Administration after agency rejected request for rules on seat size and distance between rows
The Flyers Rights passenger group says small seats bunched too close together slow down emergency evacuations. Photograph: Leon Neal/AFP/Getty Images
Associated Press
In a ruling on Friday, one of the judges called it "the case of the incredible shrinking airline seat".
The Flyers Rights passenger group challenged the Federal Aviation Administration in court after the agency rejected its request to write rules governing seat size and the distance between rows of seats.
A three-judge panel for the federal appeals court in Washington said the FAA had relied on outdated or irrelevant tests and studies before deciding that seat spacing was a matter of comfort, not safety.
The judges sent the issue back to the FAA and said the agency must come up with a better-reasoned response to the group's safety concerns.
"We applaud the court's decision, and the path to larger seats has suddenly become a bit wider," said Kendall Creighton, a spokeswoman for Flyers Rights.
The passenger group says small seats bunched too close together slow down emergency evacuations and raise the danger of travellers developing vein clots.
FAA spokesman Ian Gregor said the agency was considering the ruling and its next steps. He said the FAA considers the spacing between seat rows when testing to make sure airliners can be evacuated safely.
The airline industry has long opposed the regulation of seat size. Its main US trade group, Airlines for America, declined to comment on the ruling.
Airlines have steadily reduced the space between rows to squeeze in extra seats and make more money. On discount carrier Spirit Airlines, the distance between the headrest of one seat and that of the seat in front of it a distance called "pitch" is 28 inches (71cm), which, after accounting for the seat itself, leaves little legroom for the average passenger.
This year, news leaked that American Airlines planned to order new Boeing 737 jets with just 29 inches (74cm) of pitch in the last three rows to make room for an extra row of premium-priced seats toward the front of the plane.
American Airlines chief executive Doug Parker said on Friday that after objections from customers and flight attendants, the airline backed off. Those rows will have 30 inches (76cm) of pitch, which is still a tighter fit than the airline's current planes.
Flyers Rights said the average seat has become narrower too, shrinking from 18.5 inches (47cm) a decade ago to about 17 inches (43cm). The group got the judges' attention.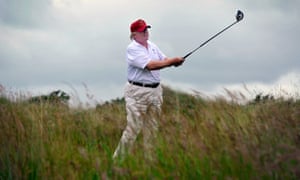 Donald Trump takes a shot at the opening of his first course in Aberdeenshire in 2012. Photograph: Andy Buchanan/AFP/Getty Images
The Trump Organization faces a long battle with Scotland's environment agencies after they objected to its plans to build a new golf course on the coast of Aberdeenshire.
The agencies have told Donald Trump's company its plans for a second 18-hole course at his Trump International Golf Links Scotland resort north of Aberdeen breach strict rules on sewage pollution, environmental protection and conserving groundwater.
The Scottish Environment Protection Agency (Sepa), which polices the country's water quality and pollution regulations, has tabled formal objections to the proposed course unless the Trump Organization substantially revises its plans, and spends more on sewage and water supplies.
Aberdeenshire council, the local planning authority, has also been warned by the conservation agency Scottish Natural Heritage (SNH) that it is unhappy with the location of the 18-hole course, to be named after Trump's Scottish mother, Mary MacLeod, within the substantial dunes system which made the site so attractive to Trump.
SNH said there was a substantial risk parts of the course would be damaged by drifting dunes which the company's minor changes to its design have failed to address. The agency said it risked breaching national planning policy and the national marine plan.
It pointed to a "stark experience" in February 2016 when the existing course was damaged by drifting dunes during a storm, smothering grasses planted to stabilise the dunes – a risk its critics had repeatedly warned about.
"It remains likely that in future coastal-edge dynamism would repeatedly disrupt and increasingly threaten elements of the golf course (whether tees, greens or areas stabilised to support them)," SNH told planning officers. If the Trump Organization tried to protect the course by building solid, artificial walls to stop the dunes from drifting in future, the agency said it was likely to formally object.
Sepa's protests increase the chances that the proposed course, a key part of Trump's much-delayed and scaled-down plans for a major golf resort at the site, will be rejected by the council or sent to a public planning inquiry.
A swimming jaguar, a new species of frog, and a racoon are among this week's pick of images from the natural world