30 Jul
Nearly all of these are English-edition daily newspapers. These sites have interesting editorials and essays, and many have links to other good news sources. We try to limit this list to those sites which are regularly updated, reliable, with a high percentage of "up" time.
World Politics
United States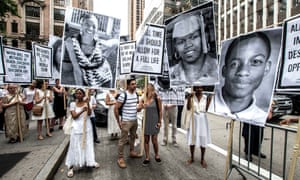 In protest at the policies of the Trump administration and threats to various communities in America, artists, activists and community members participated in the solidarity march to bring attention to the marginalized. Photograph: Zuma Wire/Rex/Shutterstock
On a July day in 1917, in the face of a presidential administration seen as taking regressive steps on civil rights, nearly 10,000 black Americans walked down Fifth Avenue in New York. Wearing uniform clothing and carrying signs, demanding federal action over the lynchings of black men, they marched in total silence.
A century later, also clad in white, a much smaller group assembled outside Bryant Park on Friday. They were there to commemorate the occasion in a world, attendees said, that did not feel altogether changed.
"It just seems like we've gone in a circle," said Sacha Dent, an educator from the city. "And it's the same thing with not just things that are like lynchings and close to lynchings but just the hate … everywhere."
The attendees held portraits of well-known victims of police and vigilante violence – Philando Castile, Trayvon Martin, Tamir Rice – and of people who lost their lives after traumatic encounters with the criminal justice system, such as Sandra Bland and Kalief Browder.
"I called around and I realized that no one was marking the moment," said the march organizer, Marsha Reid, "and that seemed astonishing and a little sad to me considering the relevance of the current moment … So I did it."
The original march was organized by the National Association for the Advancement of Colored People (NAACP) and the famous civil rights thinker WEB DuBois, a founder of the organization. It was conceived in a direct response to a white race-mob attack in East St Louis in which more than 100 black Americans were killed and another 6,000 had their homes burned to the ground.
According to the NAACP, the 1917 march was the first protest of its kind in New York and the second instance of African Americans publicly demonstrating for civil rights.
On Friday, visitors to the US Google homepage were greeted with a "doodle" commemorating the centennial. The tech giant recently partnered with Equal Justice Initiative for a digital project on lynching.
"Make America safe for democracy," read one sign carried in New York. "We march because we deem it a crime to be silent in the face of such barbaric acts," read another.
There was no march down Fifth Avenue, though. The city would not grant access to the street where Trump Tower now sits, and where Donald Trump claimed last summer that he could shoot someone in broad daylight and not lose any voters. Instead, participants numbering no more than 100 clustered between police barriers on Sixth Avenue with their posters while a marching band played Sam Cooke's A Change Is Gonna Come and SpottieOttieDopaliscious by OutKast.
The original march addressed a set of grievances to then president Woodrow Wilson. Reid said her march was not asking for anything in particular.
"There's no demand as such," she said, "but just reiterating the need for keeping this in everyone's consciousness."
That may be all for the better. DuBois' march did not push the Wilson administration to act, even though civil rights activists had seen him as a potential ally.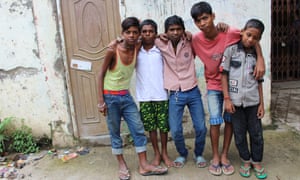 Railway children: Akil, 15, Bijay, Utpal, Deva, Paras, all 13, live on Sealdah station. Photograph: Mark Townsend for the Observer
When they awoke, their child had gone. As the parents slept near platform 14a, someone had carefully bent down between them and taken their three-year-old daughter. Astonished, they demanded to review the CCTV images but found there was no footage. No witnesses came forward. On 15 June, between 3am and 5am, another child had vanished into thin air from Kolkata's Sealdah rail station.
The precise number of minors who go missing from Sealdah's 20 platforms is not known. The only ones documented are those fortunate enough to be rescued. Between June 2016 and last May, 1,628 vulnerable children, most of them travelling alone, were retrieved – the highest number ever found at a single train station in India. Of these, 134 were girls and the youngest was four years old. Hundreds more were apprehended by police, entirely for their own safety.
They were among the thousands of children who arrive at the station alone each year – many of them fleeing poverty or abuse at home, some despatched by desperate families unable to provide for them, or hoping they will secure some kind of work that will provide money – work for which they are legally too young and which can be highly dangerous. They may live for months in the station, then suddenly disappear, their fate unknown to their families and the Indian authorities.
Officials at Kolkata's Child in Need Institute (Cini) describe a narrow window of time during which they must reach the child, befuddled amid the pandemonium of one of India's busiest stations, before the traffickers do.
Compounding the challenge is the speed with which minors are swallowed by the vast crowds. Children can go missing in plain sight. About 750 trains reach Sealdah each day with almost two million people passing through the station, seven times more than Britain's busiest station, London Waterloo, and nearly 30 times greater than Manchester Piccadilly. "We have to move extremely quickly," said Cini's Babu Dey, who has spent more than 20 years rescuing vulnerable children at Sealdah.
It has been a politically sensitive issue for years, so what is astonishing is that the number of children disappearing from India's immense railway network shows little sign of receding. What happens to those who vanish is unclear. Many are trafficked into the sex trade, others are forced into child labour across the city.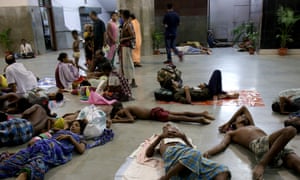 Many homeless families live on Sealdah station from where hundreds of children go missing every year. Photograph: Piyal Adhikary/EPA
A random visit by the Observer during a normal working day – Tuesday 18 July – confirmed the scale of the crisis. At Sealdah's child help desk, a logbook contained details of the latest children to have been rescued. At 11.25 the previous night a six-year-old girl had been found wandering the northern platforms and brought in. Twelve hours later a 14-year-old boy was rescued, alone and confused. At 1.30pm a 12-year-old boy had been retrieved from platform four and now sat solemnly at the desk waiting to be taken home.
Around the corner at the offices of the railway police, inspector Monirujaman Molla revealed he had found a further five children that day. It was 2.17pm. Molla picked up a heavy binder and began thumbing through the names of 346 children found so far this year. In 2016 his team identified 529, the first year such records were kept. "They keep on coming, all the time," he shrugged, nodding towards a small cubicle.
Inside sat two boys, aged 10 and 13, from the south side of the city, who had just been plucked from platform 12. The children explained they had travelled to Sealdah to "roam" – a rite of passage for many Bengali youngsters who equate the station with adventure and discovery. "Unfortunately some never make it home," said Dey. Others, he added, travelled up to 40km to use "railwire," Sealdah's free wifi, only to vanish forever.
Meanwhile, reports were coming in of other children going missing. Less than a kilometre from Sealdah, on the third floor of Cini's central office, the staff of Kolkata's 24-hour toll-free Childline were jotting down details of the latest to have vanished. Among them was a four-year-old boy who vanished two days ago. A deaf five-year-old girl had disappeared the previous evening. A further two minors had just been reported missing, the latest a 13-year-old girl.
An official from Kolkata's Childline had just received a tip-off that a police officer was keeping a boy, aged 12, as child labour in a district close to Sealdah. "I had better go to investigate," he said, leaving the room.
Calls to the service increased 50% last year to 3,000. Police data for West Bengal, the district that includes Sealdah, reveals that 639 children have so far been reported missing this month. A further 647 have been found. On Friday, nine children were reported missing with another 38 recovered.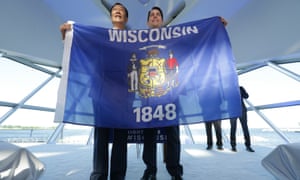 Foxconn chairman Terry Gou, left, and governor Scott Walker hold the Wisconsin flag to celebrate the company's $10bn investment to build a display panel plant in Wisconsin. Photograph: Mike De Sisti/AP
The announcement by the Taiwanese giant Foxconn that it will build an LCD-manufacturing facility in Wisconsin worth an estimated $10bn was met with considerable fanfare.
But the state has a troubled history in matters of economic development, and the company, a supplier to Apple, Google, Amazon and other tech giants, has a lackluster record when it comes to fulfilling its promises. The news should raise red flags.
The deal, backers say, will create 13,000 jobs in six years – in return for a reported $3bn in state subsidies. Only 3,000 of those jobs will come immediately. Furthermore, the Washington Post has reported that Foxconn has a track record of breaking such job-creation promises. In 2013, the company announced plans to hire 500 people and invest $30m in Pennsylvania. The plan fizzled out.
Wisconsin's Republican governor, Scott Walker, was elected in 2010 on a campaign pledge to bring 250,000 jobs to the state. So far he has fallen short. A successful Foxconn project would be a major step towards repairing his damaged credibility.
On Friday, he had a rejoinder for doubters of the project. At a stop in Eau Claire as he toured the state to promote the deal, the governor said: "There's a whole lot of people out there scrambling to try and come up with a reason not to like this. I can tell you, that's fine but I think they can go suck lemons."
The plan has been touted as a big win not just for Walker, but also for House speaker Paul Ryan – whose district is likely to host the proposed plant – and Donald Trump. In a press briefing, a senior administration official said the announcement was "meaningful", because "it [represents] a milestone in bringing back advanced manufacturing, specifically in the electronics sector, to the United States".
Trump appealed to workers affected by the decline in US manufacturing during his campaign, with his signature promise to "make America great again". He has pointed to bad trade deals as a significant reason for the country's economic problems, saying he could do better.
At the White House on Wednesday, the president said: "If I didn't get elected, [Foxconn] definitely would not be spending $10bn."
Ryan said the announcement demonstrated the president's commitment "to driving American manufacturing and bringing new jobs home".
Big claims have been made. Earlier this week, Trump told the Wall Street Journal that Apple has plans to build three factories in the US. Apple has not confirmed the claim. Walker has dubbed the area of his state where the Foxconn plant will be located "Wisconsin Valley".
Yahoo Finance, however, has pointed out that Foxconn has a track record of using robots. Wisconsinites may see fewer job opportunities than they hoped for. Worker conditions at Foxconn's huge plants in China, meanwhile, have proved controversial. The famous Longhua plant has experienced a rash of worker suicides.
Jennifer Shilling, a Democratic Wisconsin state senator, criticised the deal.
"The bottom line is this company has a concerning track record of big announcements with little follow through," she said. "Given the lack of details, I'm skeptical about this announcement and we will have to see if there is a legislative appetite for a $1bn-to-$3bn corporate welfare package."
The Wisconsin legislature is controlled by Republicans. They will not need bipartisan support to pass such subsidies, most likely outside the budget process.
Dignitaries will join descendants of allied soldiers who died at Ypres during first world war for huge commemoration
Last Monday morning in Ypres, or "Wipers" as it was known by the British and Commonwealth soldiers, the flow of traffic through the vast Menin Gate at the entrance of the old Belgian town was stopped to allow the Last Post ceremony to be performed.
It was the 90th anniversary of the inauguration of the great white gate, the first memorial to the missing, built on the route marched by the soldiers on the way to the frontlines of the first world war.
The Belgian defence minister, Steven Vandeput, warned of the need to remember the sacrifices, particularly in today's turbulent times, and a small crowd braved the drizzle to stand in silence in front of the huge Portland stone arch bearing the names of 54,392 men who fell but who were never found.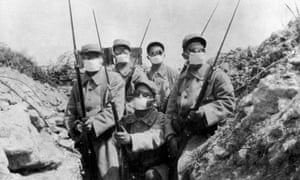 French troops wearing an early form of gas mask in the trenches during the 2nd Battle of Ypres. Photograph: Hulton Archive/Getty Images
Then they listened to the bugles and a piper sound their lament for those who died in Flanders Fields. It was a familiar routine to Ypres's 35,000 residents. Since 1928, a similar daily ritual has been performed at the stroke of 8pm by volunteers, a tradition broken only by a period of occupation in the second world war. Moving, but low key. This Sunday evening, however, things are set to be very different.
After 18 months of planning, the Prince of Wales, accompanied by the Duke and Duchess of Cambridge, William and Kate, are to join many thousands more in Ypres, including Theresa May, dignitaries from all the combatant nations, and an array of household names from stage and screen, to pay what is most likely to be the final great act of remembrance, in the presence of the sons and daughters, nieces and nephews of the hundreds of thousands of allied soldiers who died in the blood and mud of the Ypres salient.
Three horrific battles were fought for little gain here, of which the third and final was launched 100 years ago on Monday. "I died in hell – they called it Passchendaele", the soldier and poet Siegfried Sassoon wrote of the carnage that raged between 31 July and 10 November 1917.
There were more than 320,000 allied deaths. German losses are estimated to have been between 260,000 and 400,000. The allied victors had made just five miles (8km) of ground when all was said and done, and still today the remains of around 30 soldiers are found every year, to be identified initially by the boots they were wearing when they died, said Peter Francis of the Commonwealth War Graves Commission. "A more sacred place for the British does not exist in the world," concluded Winston Churchill in 1919.
Five years ago, David Cameron announced that fines retrieved from the banking sector following the financial crisis would fund a wealth of first world war centenary commemorations, including large-scale events.
Gallipoli, Jutland and the Somme have been remembered so far. This Sunday evening, as the sun goes down, the duke and duchess, along with the king and queen of Belgium, will join 200 descendants whose ancestors' names are engraved on the Menin Gate. Prince William will say a few words, alongside the king, and they will lay a wreath before the bugles sound. Later that evening the royal couple will join a crowd of 8,000, perhaps more, in Ypres's rebuilt market square to watch the story of the four years of war on a huge stage that took 10 days to erect.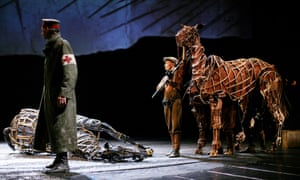 Performances and music will be set to a backdrop of light projections on to the huge Cloth Hall. A new short tale from the creator of War Horse, the author Michael Morpurgo, will be acted out, accompanied by a live narration from the actress Helen Mirren. Extracts from The Wipers Times, the play by Ian Hislop and Nick Newman based on the satirical trench newspaper published by British soldiers, will be read to the crowds. The spectacle will be shown live on the BBC.
It was in the early hours that the British infantry launched their attack in 1917. At a rather more civilised hour on its anniversary on Monday morning, 4,000 direct descendants of the battle of Passchendaele will join Prince Charles to attend a ceremony at the Commonwealth War Graves Commission's Tyne Cot cemetery, where almost 12,000 men are buried.