02 Aug
Nearly all of these are English-edition daily newspapers. These sites have interesting editorials and essays, and many have links to other good news sources. We try to limit this list to those sites which are regularly updated, reliable, with a high percentage of "up" time.
World Politics
United States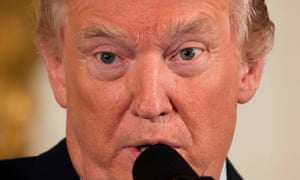 Michael Fullilove described Trump as presiding over a White House entourage 'animated by egomania and narcissism'. Photograph: Jim Watson/AFP/Getty Images
Donald Trump's presidency is "failing", and there is little sign that he is learning from his mistakes, according to the executive director of Australia's respected foreign policy thinktank, the Lowy Institute.
Michael Fullilove took the opportunity of a speech to the National Press Club in Canberra to provide a swingeing assessment of the American president's performance, casting Trump as the "lord of misrule" presiding over a White House entourage "animated by egomania and narcissism and marked by coarseness and ill-discipline".
Fullilove said Trump was a radical departure from US presidents since the 1930s who had seen the advantages of global leadership. "Mr Trump presents a very different face to the international community."
"He is not persuaded that America does well when others do well. In fact, he seems to prefer that others do badly," he said on Wednesday.
"We often refer to the president of the United States as the leader of the free world. Our problem now is that this president doesn't really believe in the free world and does not seem to want to lead it."
Fullilove said Trump appeared to have more interest in looking like the commander-in-chief than stepping up and inhabiting the role. "He has not yet encountered a single externally-generated crisis – what will he do when chronic international problems become acute?"
He said of critical interest to Australia was the American posture in our immediate Asia-Pacific region, but the administration "seems to have shrunk Asia to the dimensions of North Korea".
Despite the regular public bluster about Pyongyang's nuclear weapons and missile programs, there was no clear idea what Trump would do about North Korea.
He said that given the current regional tensions, it was possible a conflict could escalate, resulting in a violent clash on the Korean peninsula that would draw America in – but it was also possible that a vacuum in American leadership could result in North Korea becoming a fully-fledged nuclear threat.
Fullilove said America's relationship with China was also incoherent. He drew a contrast between Trump railing against Beijing during the presidential race and his "overly deferential" post-election posture – a contrast he put down to policy incoherence rather than outright obsequiousness.
He said given Trump didn't appear to believe in the merit of security alliances, it was entirely possible the president could cut "some kind of grand bargain with China, perhaps trading away security interests, in return for trade concessions".
Referring to the flashpoint in the South China Sea, which generates intense focus and anxiety in the region, Fullilove wondered: "Does anyone believe that Mr Trump really cares about a few half-submerged water features in the South China Sea?"
But despite outlining what seemed to be a compelling case for Australia to step back from our post-war alliance with Washington, Fullilove said the relationship was too important.
He said the US alliance provided Australia with a security guarantee, with intelligence-sharing of vital importance to the Australian Defence Force.
"A lot of Australians will find the prospect of dealing with, working with, Mr Trump distasteful but we need to grimace and bear it".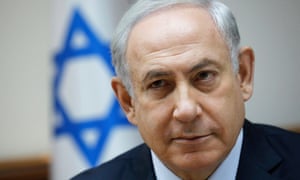 Three investigations into Benjamin Netanyahu and his circle have gripped the Israeli public. He denies any wrongdoing. Photograph: Amir Cohen/Pool/EPA
Benjamin Netanyahu's former chief of staff is reportedly in negotiations to become a state witness – which would make him the second prominent figure to do so – in a series of police investigations into the Israeli prime minister and his inner circle.
According to widespread reports in the Hebrew media, Ari Harow, for years one of Netanyahu's closest political associates, is in talks with police to give evidence, allegedly in exchange for a lesser sentence over accusations of wrongdoing in the sale of his consulting company.
Last week Mickey Ganor, a businessman and key player in an allegedly corrupt deal to buy submarines from Germany, struck a deal with authorities to become a state witness.
Netanyahu has strenuously denied wrongdoing in relation to any of the cases, and is not a suspect in the submarine case. However, a series of high-profile investigations have in recent months inched ever nearer to his closest circles, touching on everything from allegations of corruption in arms purchases, to the prime minister's attempts to control the Israeli media, and on gifts to him and his family from wealthy benefactors.
David Shimron, Netanyahu's lawyer and cousin, has also been questioned over the submarine deal. Shimron has denied any wrongdoing.
Three investigations into Netanyahu and his close circle – known as cases 1000, 2000 and 3000 – have gripped the Israeli public, prompting almost weekly revelations in domestic media and regular demonstrations outside the home of the country's attorney general, who is accused of acting slowly in his handling of the cases.
In political terms the investigations have shown the Netanyahu administration in a deeply unflattering light. A procession of confidants, as well as the prime minister and his wife, Sara, have been questioned by police.
Among a roll call of wealthy Netanyahu backers who have spoken to police are the billionaire casino magnate Sheldon Adelson, Adelson's wife, Miriam, and the Hollywood producer Arnon Milchan.
Police have also been seeking unsuccessfully to interview the Australian businessman James Packer, who, like Milchan, has given gifts to the Netanyahu family.
Among the sharpest critics of the way Netanyahu's inner circle has been doing business has been the former prime minister Ehud Barak. In a video posted to his Facebook page last month he asked: "Hasn't the time come to put an end to all of this?"
"Have we all gone crazy?" he said. "Are we suckers who are willing to live with it?"
Any cooperation between Harow and the state could potentially hit Netanyahu particularly close to home in Case 2000, which is examining whether the prime minister behaved inappropriately when he allegedly offered the publisher of Israel's biggest-selling daily, Yedioth Ahronoth, his help in reducing the readership of the paper's pro-Netanyahu rival, Israel Hayom, in exchange for more favourable coverage.
At the centre of that case are recordings made of discussions between Netanyahu and Yedioth's publisher, Noni Mozes, that were found on Harow's phone.
According to reports in the Israeli media, Harow has indicated to police that he is willing to provide testimony in an investigation into gifts given to the Netanyahus and the investigation into the sale of his consulting business.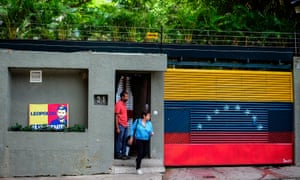 A woman leaves the house of the Venezuelan opposition leader Leopoldo López in Caracas, just hours after he was taken away from his home by the intelligence service. Photograph: Ronaldo Schemidt/AFP/Getty Images
The rearrest of two of Venezuela's most prominent opposition leaders in midnight operations has prompted further condemnation of President Nicolás Maduro's government – which was already accused of attempting to seize absolute power in the crisis-hit country.
Security officials led the raids early on Tuesday, after a court ruled that Leopoldo López and Antonio Ledezma had violated the terms of their house arrests by calling on Venezuelans to protest against the weekend vote to elect a new body to rewrite the constitution.
The vote for the constituent assembly was boycotted by the opposition, and has been denounced around the world as an attack on democracy.
López was sentenced to 14 years in prison for his role in leading street protests against Maduro in 2014. Ledezma is accused of plotting a coup. Human rights defenders have said in both cases the charges have been trumped up.
According to a statement from the pro-government supreme court, the two also had plans to flee.
The UN human rights chief, Zeid Ra'ad al-Hussein, said he was "deeply concerned" that the two men had been taken into custody. "I urge the authorities not to make an already extremely volatile situation even worse through the use of excessive force, including through violent house raids by security forces that have occurred in various parts of the country."
The US state department said the detentions were further evidence that Maduro "is not willing to respect fundamental human rights".
José Miguel Vivanco, America's director at Human Rights Watch, said the rearrests "expose the true nature of the dictatorship (Maduro) is imposing on Venezuelans.
"Maduro may lock up two prominent political prisoners, but he cannot silence the millions of Venezuelans who oppose his government, nor key democratic leaders abroad who know that these detentions are desperate moves to cling to power at the expense of Venezuela's democracy and the rights of its people."
Lopez's wife, Lilian Tintori, posted a video of the moment of her husband's arrest on Twitter. "12:27 in the morning: the moment when the dictatorship kidnaps Leopoldo at my house."
López was granted house arrest early last month after spending three years in the Ramo Verde prison. Ledezma has been under house arrest since 2015. His daughter, Vanessa, posted a video of her father, wearing pyjamas, being taken away by officials of the Sebin intelligence service.
Other opponents of the government have been targeted by security forces, and several human rights activists have gone into hiding since Friday following repeated raids on their homes, one source told the Guardian. Several are considering leaving the country, said the source, who requested anonymity.
Since 1 April, when widespread protests began against the government, more than 121 people have been killed. According to the prosecutor's office, 16 died on Sunday, when the vote was held for the new constituent assembly, which would have the power to dissolve the legislature and other state institutions as well as rewrite the constitution.
More than 5,000 people have been detained by security forces in the past four months, and 1,389 remain in custody, according to Foro Penal, a human rights group. By the organization's count, there are 498 political prisoners in the country.
Boris Johnson, the British foreign secretary, accused Maduro of "acting like a dictator of an evil regime" and called for for the release of political prisoners.
The opposition-controlled parliament convened on Tuesday for the first time since Sunday's vote, and three members of the minority pro-government bloc broke with their coalition to form a new faction opposed to the rewriting of the constitution.
Leopoldo López and Antonio Ledezma have been taken from their homes by what appears to be the country's intelligence agency, family members of the two have tweeted
Speaking ahead of the session, the head of the parliament, Julio Borges, said: "Our message is that the constituent assembly should be cancelled."
However, state media have said the assembly will meet on Thursday in a chamber of the capitol – a legislative building adjacent to the parliament. It remains unclear who will participate, as the national electoral council has not yet released the names of the body's newly elected members.
The ambassadors of the UK, France, Spain and Mexico – countries that said they would not recognize the new super-body – attended the parliamentary session in support of the lawmakers elected in December 2015 elections, where members of the opposition coalition, known as MUD, won a majority of seats.