03 Aug
Nearly all of these are English-edition daily newspapers. These sites have interesting editorials and essays, and many have links to other good news sources. We try to limit this list to those sites which are regularly updated, reliable, with a high percentage of "up" time.

Four Sioux from South Dakota have spent the last 23 years in prison, convicted of raping their nieces. Although witness statements were withdrawn, they have never been acquitted. This apparent miscarriage of justice is rooted in a climate of prejudice against Native Americans.
World Politics
United States
Opinion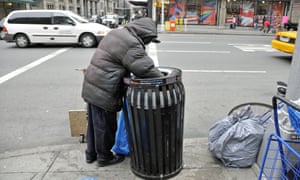 'Other nations would be mortified by the scale of this country's wealth and income inequality.' Photograph: REX Shutterstock/imageBROKER
F

ellow Americans. Today we must finally confront a reality that we, as a nation, have been avoiding with all of our collective concentration. I refer to a country that sits on the brink of failure. A nation whose unravelling will produce untold devastation far and wide, the repercussions of which will threaten our livelihoods, those of our children and even our children's children. No longer can we look away. We must step up and ask: what is our duty, as the most powerful nation on the planet, not only to ourselves but to all good men and women around the world?
The crisis in Venezuela shows us how important properly run elections are to global stability, but Venezuela is not the country to which I refer. I cite it only because, like this failing country, Venezuela's recent elections have also been damaged by gerrymandering, leading our brave UN ambassador, Nikki Haley, to call those elections "a step toward dictatorship". She should know, for the same could be said about this failing state.
There are strong indications that this failing state's elections were further marred by the subterranean interventions of a foreign power. Fellow Americans, I need not remind you that this is completely unacceptable. Only Americans are permitted to meddle in foreign elections.
And yet on every day, and with every tweet, the leader of this country is determined to undermine the rule of law and the rules of grammar. Not only has this tyrant repeatedly threatened to jail his opponents, he also openly incites his state security forces to wanton violence.
This ruler's power is premised on exacerbating the sectarian tensions that have festered in the country since even before its founding. And he constantly threatens his neighbours, particularly his southern neighbour, which he menaces with a bill of sale for something the neighbour never offered to purchase. Such dangerous and erratic behaviour has no place among civilised nations.
My fellow Americans. The failures of this nation exceed the bizarre affectations of its would-be autocrat. Years of mismanagement and theft by the country's ruling families have produced a situation where this wealthy nation steals from its poor to line the pockets of its rich. Other nations would be mortified by the scale of its wealth and income inequality. Meanwhile, this country stubbornly refuses to provide healthcare for all of its citizens, while its sham legislature accomplishes virtually nothing, all the while broadcasting its ineptitude live on quasi-official state TV.
Every day, with every tweet, this country's leader undermines the rule of law and the rules of grammar
We will not be fooled. The world knows when it witnesses democracy in action just as it knows when it sees a pantomime of democracy in action. This regime promises jobs for its citizens, and then fires them after 10 days.
Time is running out. We must not let the madmen of this regime continue to threaten not only our allies, but also our globally shared climate. As we did with Saddam Hussein's Iraq, we must make a decision, a decision dictated by the cause of peace but one that may lead us down the path of war. The security of the world requires it.
That is why, today, the United States of America has been left with no choice but to invade the United States of America.
God Bless America
Moustafa Bayoumi is the author of How Does It Feel To Be a Problem? Being Young and Arab in America; and This Muslim American Life: Dispatches from the War on Terror. He is Professor of English at Brooklyn College, City University of New York.
Asylum seekers walk outside Olympic Stadium as security guards look on in Montreal. Photograph: Ryan Remiorz/AP
A recent surge in asylum seekers arriving from the United States has prompted Canadian authorities to open a temporary welcome centre in one of Montreal's best-known landmarks.
By doing so, they aim to skirt a 2004 agreement between Canada and the US that forces most migrants to apply for asylum in the first country in which they arrive.
In recent months, the province of Quebec has become a major entry point. More than than 3,300 asylum seekers have crossed into the province from the US, sending authorities scrambling to set up additional welcome centres.
On Wednesday, the province began bussing asylum seekers – who including children and pregnant women – to the site of its latest welcome centre: Montreal's Olympic stadium, a 56,000-seat arena normally used for sporting events, rock concerts and trade shows.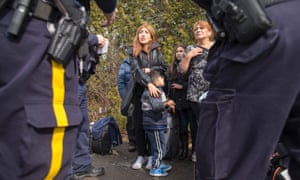 A family from Colombia is detained by Royal Canadian Mounted Police officers after they illegally crossed the border near Hemmingford, Quebec. Photograph: Geoff Robins/AFP/Getty Images
An estimated 1,174 asylum seekers arrived in Quebec in July, said Francine Dupuis, who heads a government-funded program that helps refugee claimants navigate their first weeks in the country.
"We've never seen this before," Dupuis told Radio-Canada. "It's really quite a bit more intense than what we're used to."
Most in the latest group are from Haiti, said Dupuis. "It's a community that feels as though they're in a fragile situation in the United States," she added.
……………… It took just 24 hours for the stadium – built in the 1970s as a venue for the city's 1976 Olympics – to be converted into a welcome centre where the asylum seekers will be sheltered and receive help in finding housing and completing paperwork related to their asylum claims.
So far, 150 cots – arranged neatly into rows among the concrete walls of a windowless area in of the stadium – have been set up, along with access to showers and a cooking area.
The stadium could hold as many as 450 beds for asylum seekers if demand remains high, said Dupuis. Most are expected to spend only a few weeks in the centre before moving into longer-term housing while they wait for their claims to be heard.
Read Full Article>>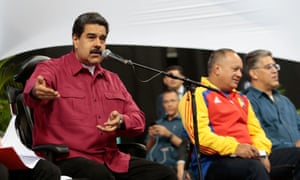 Maduro speaks during a meeting with members of the constituent assembly in Caracas on Wednesday. Photograph: Reuters
Venezuela's president has accused the company that provides the technological platform for the country's voting system of bowing to US pressure after it said the official turnout figure in Sunday's vote had been manipulated by at least a million votes.
Nicolás Maduro stood by the official count of more than 8m votes and said an additional 2 million people would have voted if they had not been blocked by opposition protesters. "That stupid guy, the president of Smartmatic, pressured to the neck by the gringos and the Brits, said there were 7.5 million [voters]," Maduro said in televised remarks. "I think there were 10 million Venezuelans who went out."
Antonio Mugica, the chief executive of London-based Smartmatic, had said on Wednesday that results recorded by the company's systems show "without any doubt" that the official turnout figure was tampered with.
Maduro provided no evidence to support his claim, but his remarks were received with resounding applause from a meeting of about 500 people elected to the assembly on Sunday.
The body, made up entirely of the ruling Socialist party and its political allies, will have the ability to dissolve state institutions and rewrite the constitution. Maduro has also vowed he will use it to target his opponents.
He called the vote in May after weeks of protests fuelled by widespread anger over food shortages, triple-digit inflation and high crime.
Venezuela's opposition has announced plans to block the assembly's inauguration, which Maduro put back a day to Friday, and called for mass protests "against the installation of the constituent fraud".
As many as 40 countries have also said they would not recognise the new assembly, which critics say is a thinly veiled attempt by Maduro to consolidate power.
Mugica said on Wednesday that Smartmatic detected the overstated turnout because of Venezuela's automated election system. "We estimate the difference between the actual participation and the one announced by authorities is at least 1m votes," he said. "We know, without any doubt, that the turnout of the recent election for a national constituent assembly was manipulated."
The turnout figure had previously been contested. The electoral council president, Tibisay Lucena, had put it at 41.53%, or 8,089,320 people, but the opposition put the number at between 2 million and 3 million. Independent analysis had suggested about 3.5m votes.
Lucena dismissed Mugica's allegations, calling it an "opinion" of a company that played only a secondary role in the election and had no access to complete data.
In a rare display of criticism from a veteran Chávista, Andrés Izarra, a former information minister under Maduro's predecessor, Hugo Chávez, tweeted: "Company which supports Venezuelan electoral system confirms that election was manipulated by at least a million votes."
His tweet quickly went viral. In a follow-up tweet, Izarra said he recognised there were "doubts that must be cleared up about the results of Sunday's election" but warned the opposition that he had not become one of them. "Squallid [sic] ones, don't count on me EVER," he tweeted.
Julio Borges, the leader of the opposition-held parliament, said voter fraud was "the most serious crime that can be committed against democracy".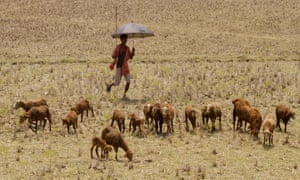 'Unfair': poor farmers are most at risk from future humid heatwaves but have contributed little to the emissions that drive climate change. Photograph: NurPhoto/via Getty Images
Extreme heatwaves that kill even healthy people within hours will strike parts of the Indian subcontinent unless global carbon emissions are cut sharply and soon, according to new research.
Even outside of these hotspots, three-quarters of the 1.7bn population – particularly those farming in the Ganges and Indus valleys – will be exposed to a level of humid heat classed as posing "extreme danger" towards the end of the century.
The new analysis assesses the impact of climate change on the deadly combination of heat and humidity, measured as the "wet bulb" temperature (WBT). Once this reaches 35C, the human body cannot cool itself by sweating and even fit people sitting in the shade will die within six hours.
The revelations show the most severe impacts of global warming may strike those nations, such as India, whose carbon emissions are still rising as they lift millions of people out of poverty.
"It presents a dilemma for India between the need to grow economically at a fast pace, consuming fossil fuels, and the need to avoid such potentially lethal impacts," said Prof Elfatih Eltahir, at Massachusetts Institute of Technology in the US who led the new study. "To India, global climate change is no longer abstract – it is about how to save potentially vulnerable populations."
Heatwaves are already a major risk in South Asia, with a severe episode in 2015 leading to 3,500 deaths, and India recorded its hottest ever day in 2016 when the temperature in the city of Phalodi, Rajasthan, hit 51C. Another new study this week linked the impact of climate change to the suicides of nearly 60,000 Indian farmers.
Eltahir said poor farmers are most at risk from future humid heatwaves, but have contributed very little to the emissions that drive climate change. The eastern part of China, another populous region where emissions are rising, is also on track for extreme heatwaves and this risk is currently being examined by the scientists.
Their previous research, published in 2015, showed the Gulf in the Middle East, the heartland of the global oil industry, will also suffer heatwaves beyond the limit of human survival if climate change is unchecked, particularly Abu Dhabi, Dubai, Doha and coastal cities in Iran.
The new work, published in the journal Science Advances, used carefully selected computer climate models that accurately simulate the past climate of the South Asia to conduct a high resolution analysis of the region, down to 25km.
The scientists found that under a business-as-usual scenario, where carbon emissions are not curbed, 4% of the population would suffer unsurvivable six-hour heatwaves of 35C WBT at least once between 2071-2100. The affected cities include Lucknow in Uttar Pradesh and Patna in Bihar, each currently home to more than two million people.
Vast areas of South Asia – covering 75% of the area's population – would endure at least one heatwave of 31C WBT. This is already above the level deemed by the US National Weather Service to represent "extreme danger", with its warning stating: "If you don't take precautions immediately when conditions are extreme, you may become seriously ill or even die."