04 Aug
Nearly all of these are English-edition daily newspapers. These sites have interesting editorials and essays, and many have links to other good news sources. We try to limit this list to those sites which are regularly updated, reliable, with a high percentage of "up" time.
American-born former Netanyahu Chief of Staff turned political consultant Ari Harow signs agreement to testify against Prime Minister.
Ari Harow
Miriam Alster/FLASH90
Prosecutors have signed an agreement securing the testimony of a former Chief of Staff to Prime Minister Netanyahu in connection with two ongoing corruption cases.
Ari Harow, who twice served as Netanyahu's Chief of Staff, has agreed to testify in a deal that will keep the political consultant out of jail, it was announced on Friday.
The deal includes a plea bargain agreement, with Harow pleading guilty to fraud but charges of bribery dropped, paving the way for a sentence of community service with no prison term.
On Thursday, police publicized additional details of the open investigations against the Prime Minister, stating that Netanyahu was not being investigated merely for improperly receiving gifts, as previously believed, but for bribery, fraud, and breach of trust.
A Tel Aviv court ordered a ban Thursday evening on details of negotiations between prosecutors and Harow, who, it is believed, will testify against the Prime Minister in the "1000" and "2000" cases.
The first investigation, dubbed the "1000 scandal", began in December 2016 and centers around claims the Prime Minister improperly received gifts from a number of wealthy businessmen.
The "2000 scandal" involves allegations the Prime Minister and Yediot Ahronot publisher Arnon "Nuni" Mozes conspired to soften the paper's left-leaning anti-Netanyahu line in exchange for passage of legislation barring the free distribution of Israel Hayom, a rival paper that has cut into Yediot's readership in recent years.
World Politics
United States
Rally for thousands of diehard supporters held on same day news emerged that special counsel has set up panel to examine evidence of alleged collusion
David Smith in Huntington, West Virginia
US president Donald Trump renewed his attack on the investigation into suspected Russian meddling in the US election last year and on allegations of collusion between his campaign and the Russian government at his rally in West Virginia. 'They're trying to cheat you out of the leadership you want with a fake story that is demeaning to all of us and most importantly demeaning to our country and demeaning to our constitution,' Trump told supporters.
Donald Trump has sought to rally thousands of diehard supporters against the investigation into his campaign's alleged collusion with Russia – on the same day news emerged that the special counsel, Robert Mueller, has convened a grand jury in the case.
"They're trying to cheat you out of the leadership that you want with a fake story," Trump told a rally in Huntington, West Virginia.
The concerted effort could be a sign that the White House is realising the full gravity of the situation. Mueller, appointed special counsel in May following the dismissal of FBI Director James Comey, has recruited more than a dozen investigators, including current and former justice department prosecutors with experience in international bribery, organised crime and financial fraud.
On Thursday it was reported first by the Wall Street Journal, but later by other outlets including the Associated Press, that Mueller is using a grand jury in Washington, meaning he could subpoena witnesses and records in the coming weeks and months.
The use of a grand jury, a standard prosecution tool in criminal investigations, suggests that Mueller and his team of investigators are likely to hear from witnesses and demand documents in the coming weeks and months.
In what might be seen as a bid to weaponise his populist base, Trump told the crowd in Huntington, a coal country stronghold where he beat Democrat Hillary Clinton by 42 percentage points: "Most people know there were no Russians in our campaign; there never were. We didn't win because of Russia. We won because of you."
The crowd, many with "Make America great again" hats or signs, erupted in vociferous cheers. Trump continued: "We won because we totally outworked the other side. We won because of millions of patriotic Americans voted to take back their country."
The president asked mockingly: "Have you seen any Russians in West Virginia or Ohio or Pennsylvania? Are there any Russians here tonight, any Russians? They can't beat us at the voting booths so they're trying to cheat you out of the future and the future that you want. They're trying to cheat you out of the leadership that you want with a fake story that is demeaning to all of us and most importantly demeaning to our country and demeaning to our constitution."
Trump's rhetoric at a 9,000-person capacity arena on Thursday echoed rallies during the election campaign where he claimed the system was rigged against him. This time he appeared to be scattering seeds of doubt about the investigations by Mueller and two congressional committees into whether there was collusion between Russia and Trump's presidential campaign.
"I just hope the final determination is a truly honest one which is what the millions of people who gave us our big win in November deserve and what all Americans who want a better future want and deserve," the president added ominously.
"Democrat lawmakers will have to decide. They can continue their obsession with the Russian hoax or they can serve the interests of the American people. Try winning at the voter booth. Not going to be easy, but that's the way you're supposed to do it."
Trump spared the media his usual broadsides and instead focused on the Democrats, whom he claimed were trying to find an excuse for "the greatest loss in the history of American politics". Prosecutors should be looking for former secretary of state Hillary Clinton's 33,000 emails, he added, prompting thunderous cheers and chants of "Lock her up!" – some nine months after the election.
The prolonged denial of links to Moscow signalled a shift in strategy for Trump, who rarely dwells on the issue during rallies, where few supporters seem concerned. His daughter-in-law, Lara Trump, also brought it up during a short speech, calling it a "crazy story about Russia". And West Virginia governor Jim Justice, announcing his defection from the Democrats to the Republicans, told the crowd: "Have we not heard enough about the Russians? I mean, to our God in heaven, think about it: the stock market's at 22,000 and this country has hope and we're on our way."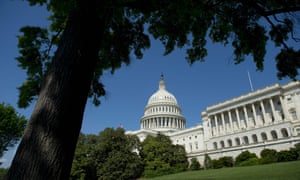 There are only two Muslim members of US Congress. Photograph: Saul Loeb/AFP/Getty Images
M

ore Muslims must seek public office as Donald Trump "fans the flames of Islamophobia", according to André Carson, who is one of just two Muslim members of the US Congress.
Carson criticised Trump in an interview with the Guardian, adding that while there is "no easy answer", misconceptions over the Islamic faith perpetuated by the administration should serve as motivation for more Muslims to engage in the political process.
"I think they're concerned about [Trump] really encouraging the darker elements of our society to become more pronounced in their intolerance and their bigotry," Carson, a Democrat, said of the feeling among the Muslim communities he represents.
"I think that's disappointing, but I think there's a silver lining," he added, "and that silver lining suggests there's an increase in interest in American political life."
Carson made the comments as Guardian Films publishes a film examining community relations in Dearborn, Michigan, which is home to the biggest mosque in North America. The film features five citizens from different backgrounds, from Muslims to Christians, citizen militias and young university graduates, and explores how they see American identity, and grapple with questions of religion, race and class.
While there is not comprehensive data to provide a number of Muslims who currently hold elected office in local and state bodies around the US, religious discrimination and an increase in hate crimes has spurred more Muslims to explore politics, according to some groups that focus on representing Muslims in the government.
Informal surveys indicate New Jersey leading the way, with at least 14 Muslim Americans currently in public office.
After Trump signed an executive order seeking to ban immigrants from certain Muslim-majority countries, one advocacy group, Jetpac, launched a formal campaign designed to encourage more Muslims to run for local office and adopt a more active role in community organizing.
American Muslims in Michigan have gained significant success in running for elected office, and Abdul El-Sayed, the former Detroit health commissioner, recently announced a run for governor in 2018.
El-Sayed, who would become America's first Muslim governor if elected, said: "The vote for the current president was not a vote of inspiration. It was a vote of fear and cynicism. We have to believe in the unifying idea of us – the people."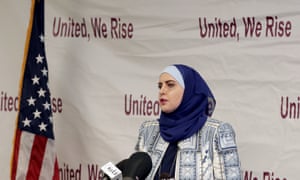 US Senate candidate Deedra Abboud announced her candidacy on 31 July 2017 at the Democratic headquarters in Phoenix. Photograph: Matt York/AP
Deedra Abboud, US Senate candidate for Arizona
In Arizona, Deedra Abboud, an attorney and community leader, recently announced a run for the US senate in the 2018 midterm elections. Abboud, a Democrat who was subjected to a torrent of online Islamophobic abuse after announcing her candidacy, echoed Carson's call for more Muslims to run for office.
In a comment for the Guardian, Abboud wrote: "It is true that Muslims in America are facing a tidal wave of discrimination, flowing forth from the policies of the current administration and affecting every corner of American society. Clearly, it is more important than ever that we confront the insidiousness that is Islamophobia.
"But how? While Muslims pride themselves on being up to date on national politics, as well as being well-versed in world events, when it comes to local politics Muslims are mostly absent. Many Muslims only vote in the presidential elections, if they vote at all.
"We're all busy. We all have families and responsibilities that need our attention. But the time for sitting back and letting others take the lead and do the heavy lifting is over. We have to stop looking around for the perfect leader, and start standing up and being leaders.
"Because knowing what is going on, and even being upset about it, is not enough. We must engage. We must reach out and help others who are struggling, even when we are struggling too. We must form real relationships where we each know we can depend on each other in times of need.
"This means intersectionality. Supporting local causes outside of our Muslim communities. Propping up others being marginalized in today's America. Because while Muslims are the flavor of the month, we aren't the only flavor on the menu.
"We need to start volunteering, running for city councils, for school boards, for state assemblies. United, we rise above the hate. It may seem like Islamophobia is everywhere, but the solution is local. That's where we need to focus."

Abdul El-Sayed. Photograph: Handout
Abdul El-Sayed, Democratic candidate for Michigan governor and former health commissioner for Detroit
El-Sayed wrote: "I'm a son of Michigan. My father and mother immigrated to Michigan from Egypt. I was raised by my father and my stepmother, Jackie, a native of Gratiot County, Michigan. This is where I was born and where I was raised. I love Michigan. But we've fallen on hard times. Our politicians seem to have forgotten that government should be for people, by people. Instead, they've bent over backward to accommodate corporate greed.
"Government has to provide a very basic set of goods and services to people who need them, and it has failed to so. Part of that is because corporate politicians like our current president are too busy dividing us rather than uniting us around our common goals.
"Our campaign is about coming together around the idea that the 10 million strong Michiganders can solve our shared challenges because of our shared future. We can unlock our economy, fix our failing public schools, break our dependence on oil, save our Great Lakes and provide everyone with quality healthcare. The vote for the current president was not a vote of inspiration. It was a vote of fear and cynicism. We have to believe in the unifying idea of us – the people.
"I saw the worst of this 'government by spreadsheet' when I was the health commissioner of Detroit. I was rebuilding a health department in Detroit after the city shuttered its 185-year old health department when it was facing state takeover.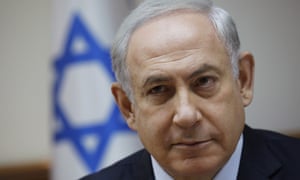 Benjamin Netanyahu's office said the allegations against the prime minister were part of 'a campaign to change the government'. Photograph: Ami
Israel's prime minister, Benjamin Netanyahu, has been named as a suspect in two investigations into allegations of "fraud, breach of trust and bribes" as his former chief of staff had signed a deal with prosecutors to testify against him.
The suspicions against Netanyahu, who denies any wrongdoing, were revealed in a court application by detectives on Thursday seeking a gag order on reporting details of negotiations with Ari Harow, the former chief of staff, to become a state witness.
The negotiations were concluded on Friday with Harow signing a deal in which he agreed to testify in the two cases.
The confirmation of the seriousness of the allegations comes on the day after his wife, Sara, was again interviewed by police in a separate case relating to claims for household costs in the prime minister's residence.
While the scope of the investigations in the so-called cases 1000 and 2000 – the first about gifts from wealthy benefactors and the second over attempts to sway media coverage – have long been known, it is the first time Netanyahu has been publicly designated as a suspect.
Netanyahu's office denied the accusations and said investigators were trying to bring down his government. "We completely reject the unfounded claims made against the prime minister. The campaign to change the government is under way, but it is destined to fail, for a simple reason: there won't be anything because there was nothing," a statement said.
It comes as a third high-profile corruption investigation – case 3000 – has focused on allegations of bribery within his inner circle over a deal to buy submarines from Germany.
The application for the gag order, made to the Rishon Lezion magistrate's court in central Israel, followed the confirmation by Israel's attorney general, Avichai Mandelblit, earlier on Thursday that talks were under way with Harow, a close confidant of Netanyahu, to testify in exchange for leniency.
Harow served as Netanyahu's chief of staff for two years from 2008, when the politician was in opposition. He returned in 2014 to serve as the prime minister's chief of staff, but resigned a year later amid allegations of corruption, which he denied.
Harow was accused of having used his ties to Netanyahu to advance his private interests. Police have recommended he be indicted for bribery and breach of trust, but Mandelblit has yet to file formal charges against him.
The gag order also affects case 1000, in which the prime minister and his wife are suspected of receiving illicit gifts from billionaire benefactors – most notably expensive cigars and champagne from the Israeli-born Hollywood producer Arnon Milchan. Netanyahu is the primary suspect in the case. The couple has denied any wrongdoing.