08 Aug
Nearly all of these are English-edition daily newspapers. These sites have interesting editorials and essays, and many have links to other good news sources. We try to limit this list to those sites which are regularly updated, reliable, with a high percentage of "up" time.
World Politics
United States
The revelation that Fox News made contact with the White House over a false and malicious story could spell trouble for the network – and the president
I

n the early hours of Sunday 10 July 2016, Seth Rich, a 27-year-old digital campaigner with the Democratic National Committee, was walking home after a long night at his favorite Washington sports bar, Lou's City. He was in no hurry, chatting for more than two hours on the phone to his girlfriend. At 4.19am, he told her he was almost at his door and had to go.
Seconds later, gunshots rang out. A minute after that, police arrived to find Rich lying on the ground just a block from his apartment, still alive but fading fast, with two bullet wounds in his back. He died in hospital a few hours later.
It was the tragic end to the life of a popular man with strawberry blond hair and a taste for wearing stars and stripes shirts on the Fourth of July. But it was only the beginning of an even more tragic afterlife: the ruthless exploitation of his death for political purposes by the hard right, from Fox News, Breitbart, and Roger Stone to Newt Gingrich, along with Julian Assange of WikiLeaks and the farther flung reaches of the internet.
Last week, the conspiracy theory that conservatives draped around Rich's lifeless neck – that he was the source of the hacked DNC emails released by WikiLeaks at the height of the 2016 presidential race, and not Russia, as US intelligence insists – was revealed to have received a boost from the highest quarter. The former White House press secretary Sean Spicer, and allegedly even Donald Trump himself, were revealed to have been given advance notice of a sensational Fox News story that blamed Rich for the hack, and implied he had been murdered by Clinton acolytes as payback.
The only problem with the Fox story: it wasn't true.
The blockbuster revelation that Fox News made pre-publication contact with the White House over a malicious and false story blaming a murdered young man for the DNC emails spells potential trouble for both parties. For Fox News, it revives the charge made over many years that its owner, Rupert Murdoch, is prepared to be cavalier with journalistic ethics if it suits his political or corporate interests.
It has also resurfaced memories of the phone-hacking of missing schoolgirl Milly Dowler by the News of the World, Murdoch's UK tabloid flagship that was closed in the wake of the scandal. The allegations are toxic at a time when 21st Century Fox is awaiting the British government's decision on its £11.7bn ($15.3bn) takeover of satellite broadcaster Sky.
For Trump, the disclosures threaten to punch a hole in one of the central pillars of his presidency: his assault against the "fake news" of the mainstream media. Here he stands, charged with egging on Fox News to publish a fabricated story in order to draw public attention away from his own travails over Russia.
Douglas Wigdor, the New York-based lawyer behind the bombshell lawsuit from which this week's revelations come, points to key evidence contained in the complaint involving Ed Butowsky, a Fox News contributor and wealthy Texan Republican donor. Butowsky had taken it upon himself to investigate the death of Rich, and much of the lawsuit deals with what he said in text messages and audio recordings about his dealings with the White House.
"Assuming that what Butowsky said was true, the president has been involved in creating fake news, and that would be very significant and troubling," Wigdor told the Guardian. "You have the US president helping the media to shape a narrative that wasn't true – that's reminiscent of Soviet-type state control of the media."
At the heart of the case is the 16 May article published by Fox News under the headline: "Seth Rich, slain DNC staffer, had contact with WikiLeaks". By that time the Rich conspiracy was flying high on the internet, fueled in no small part by the teasing innuendos of Assange, who for his own perhaps Clinton-hating reasons offered a $20,000 reward for information on the murder, and by the Republican dirty tricks-meister Roger Stone, who proclaimed without producing evidence that Rich had been killed on his way to meet the FBI.
But the Fox News article, which the broadcaster retracted a week later, took the conspiracy to a new level by claiming to have solid intelligence pointing to Rich as the source of the WikiLeaks DNC emails.
That intelligence purportedly came from a former Washington DC detective, Fox contributor Rod Wheeler. He has now turned against the network and is the plaintiff in Wigdor's lawsuit. He alleges that quotes put in his mouth in the Fox News article were fabricated.
Two quotes in particular Wheeler alleges were entirely made up, both of them key to the article's message. In them he claims to have knowledge of contact between Rich and WikiLeaks, and that Clinton associates blocked the inquiry into the young man's murder.
After the lawsuit was lodged in a New York federal court on Tuesday, Fox News issued a defense in which it said "we have no evidence that Rod Wheeler was misquoted". The Guardian invited Fox to turn that on its head: did they have any evidence that Wheeler had been correctly quoted?
The reply came swiftly: "Fox News has retained outside counsel on the matter. Given that this is pending litigation, there will be no further comment."
David Folkenflik, the NPR media correspondent who broke the story of the lawsuit, said he detected shades of Milly Dowler here, with the distinction that News of the World's phone hacking of the teenager had been motivated by paper sales while the Seth Rich affair is far more political. Either way, he said: "Rupert Murdoch has been in this place before, where he has to decide how much he wants his outlets to be serious news organisations or not."
Folkenflik, a Murdoch biographer, added that the lawsuit exposed a degree of interaction between Fox News and the White House that was highly irregular. "They seemed to be riding a motorcycle and side-car strapped together for the trip," he said.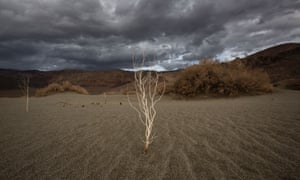 Among the 'intense weather events' qualifying as climate change under the advice in the email chain is drought. Photograph: David Mcnew/AFP/Getty Images
Staff at the US Department of Agriculture (USDA) have been told to avoid using the term climate change in their work, with the officials instructed to reference "weather extremes" instead.
A series of emails obtained by the Guardian between staff at the Natural Resources Conservation Service (NRCS), a USDA unit that oversees farmers' land conservation, show that the incoming Trump administration has had a stark impact on the language used by some federal employees around climate change.
A missive from Bianca Moebius-Clune, director of soil health, lists terms that should be avoided by staff and those that should replace them. "Climate change" is in the "avoid" category, to be replaced by "weather extremes". Instead of "climate change adaption", staff are asked to use "resilience to weather extremes".
The primary cause of human-driven climate change is also targeted, with the term "reduce greenhouse gases" blacklisted in favor of "build soil organic matter, increase nutrient use efficiency". Meanwhile, "sequester carbon" is ruled out and replaced by "build soil organic matter".
In her email to staff, dated 16 February this year, Moebius-Clune said the new language was given to her staff and suggests it be passed on. She writes that "we won't change the modeling, just how we talk about it – there are a lot of benefits to putting carbon back in the sail [sic], climate mitigation is just one of them", and that a colleague from public affairs gave advice to "tamp down on discretionary messaging right now".
In contrast to these newly contentious climate terms, Moebius-Clune wrote that references to economic growth, emerging business opportunities in the rural US, agro-tourism and "improved aesthetics" should be "tolerated if not appreciated by all".
In a separate email to senior employees on 24 January, just days after Trump's inauguration, Jimmy Bramblett, deputy chief for programs at the NRCS, said: "It has become clear one of the previous administration's priority is not consistent with that of the incoming administration. Namely, that priority is climate change. Please visit with your staff and make them aware of this shift in perspective within the executive branch."
Bramblett added that "prudence" should be used when discussing greenhouse gases and said the agency's work on air quality regarding these gases could be discontinued.
Other emails show the often agonized discussions between staff unsure of what is forbidden. On 16 February, a staffer named Tim Hafner write to Bramblett: "I would like to know correct terms I should use instead of climate changes and anything to do with carbon … I want to ensure to incorporate correct terminology that the agency has approved to use."
On 5 April, Suzanne Baker, a New York-based NRCS employee, emailed a query as to whether staff are "allowed to publish work from outside the USDA that use 'climate change'". A colleague advises that the issue be determined in a phone call.
Some staff weren't enamored with the new regime, with one employee stating on an email on 5 July that "we would prefer to keep the language as is" and stressing the need to maintain the "scientific integrity of the work".
The USDA has been contacted for comment.
Trump has repeatedly questioned the veracity of climate change research, infamously suggesting that it is part of an elaborate Chinese hoax. The president has started the process of withdrawing the US from the Paris climate agreement, has instructed the Environmental Protection Agency (EPA) to scrap or amend various regulations aimed at cutting greenhouse gases, and has moved to open up more public land and waters to fossil fuel activity.
The nomenclature of the federal government has also shifted as these new priorities have taken hold. Mentions of the dangers of climate change have been removed from the websites of the White House and the Department of the Interior, while the EPA scrapped its entire online climate section in April pending a review that will be "updating language to reflect the approach of new leadership".
Photograph: Peter Caton/Mercy Corps
Many Somalis in Baidoa say this drought is worse than the one in 2011, when famine was declared in parts of the country and more than 250,000 people died. A far lower death toll this time shows Somalia has been making progress against the odds – and the changing climate. 'I have two children and I live with my husband, we have been here in this camp for three months. We had to come here when our savings finished and our goats died. My family have always been farmers,' says Kaltun Aliyow Mumin, 28, at Dusta camp in Baidoa
 
Afghanistan, published by Taschen later this month, is a retrospective portfolio of the Magnum photographer Steve McCurry's most striking images of the country, from 1979 to 2016