10 Aug
Nearly all of these are English-edition daily newspapers. These sites have interesting editorials and essays, and many have links to other good news sources. We try to limit this list to those sites which are regularly updated, reliable, with a high percentage of "up" time.
World Politics
United States
Paul Manafort. Photograph: Justin Lane/EPA
The FBI used a search warrant to raid former Trump campaign chairman Paul Manafort's home late last month, a spokesman confirmed on Wednesday, using the warrant to seize documents related to the investigation into Russian interference in the US election.
The Washington Post first reported on the raid, which occurred in the predawn hours of 26 July without prior warning. According to the report, FBI agents working with special counsel Robert Mueller seized "various records" from Manafort's Virginia home under a wide-ranging search warrant.
Manafort's spokesman, Jason Maloni, confirmed the raid in a statement to the Guardian: "FBI agents executed a search warrant at one of Mr Manafort's residences. Mr Manafort has consistently cooperated with law enforcement and other serious inquiries and did so on this occasion as well."
A spokesman for Mueller would neither comment on nor confirm the raid.
The raid came one day after Manafort met privately with staffers on the Senate intelligence committee, which is conducting its own inquiry into Russian meddling in the 2016 presidential election. Manafort voluntarily agreed to appear before the panel and has also turned over roughly 400 pages of documents, including those pertaining to his work as a foreign agent on behalf of Ukraine.
The decision by FBI agents to obtain a search warrant nonetheless indicates they likely had probable cause to believe Manafort might not comply with a subpoena request to hand over all relevant records. Such a warrant is typically obtained from a federal judge.
Manafort is a key witness in the federal investigation into Russian interference in the election and potential collusion between Donald Trump's campaign and Moscow.
Although he served as Trump's campaign chairman for just three months, Manafort was a participant in the now infamous June 2016 meeting at Trump Tower that included Trump's son, Donald Trump Jr, son-in-law and senior adviser Jared Kushner and Russian lawyer Natalia Veselnitskaya. Manafort resigned from the campaign last August while facing increased scrutiny over his previous lobbying work for pro-Russian Ukrainian oligarchs.
The raid of Manafort's home is the latest indication that Mueller's investigation is intensifying. Last week, Mueller impaneled a grand jury in Washington that reportedly subpoenaed both documents and testimony from those involved in the Trump Jr meeting.
The meeting came under intense scrutiny when it was first revealed last month and forced Trump Jr to publicly release emails leading up to the encounter.
In the email exchange, Trump Jr was offered "highly sensitive" information that would incriminate Hillary Clinton and was explicitly told of an effort by the Russian government to aid his father's campaign. The elder Trump son responded: "If it's what you say I love it."
Manafort and Kushner were also copied in on the email chain.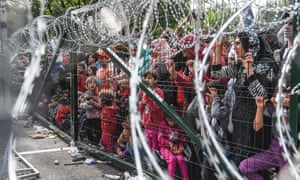 Refugees stand behind a fence at the Hungarian border with Serbia. Photograph: Armend Nimani/AFP/Getty Images
Finnian James in Belgrade
W

hen the Faqirzada family set out for a future in Europe, they did not imagine it like this. As far as they were concerned, Europe meant Germany: their oldest son was already at university in Munich, and they would surely join him in the country.
The five – two parents and three teenage children – followed the same route through the Balkans that brought about 1 million people into the EU in 2015-16. But then borders began shutting.
And so for the past eight months, Muhammad Shafi Faqirzada and his wife and children have been marooned in Serbia. Slowly, they are beginning to realise they might be here for a long time.
"We did not plan on staying," Faqirzada says. "We will wait here to reach the European Union until we die, but if we are here for much longer we must learn Serbian."
As a result of the arrival of large numbers of people into southern Europe that accelerated two years ago this month, there are 7,600 refugees in Serbia, according to the UN refugee agency (UNHCR). Most live in 18 state-run asylum centres that provide basic necessities. Many are starting to prepare for the long haul.
Faqirzada's three children have enrolled in school, a Belgrade primary that opened its doors to 25 refugee children this spring as part of a pilot scheme.
Morning classes are integrated with Serbian students and include biology, maths, chemistry and mechanics. Then the refugee children have their own Serbian language courses, split into beginner and advanced levels, along with another foreign language such as English or German.
"The main difference is that migrant children carry with them more trauma, past trauma – war, separation, loss … a completely new country, language and social barriers, loneliness … and the trauma of the future. Uncertainty in every sense," said Darko Stanojkovic, a Serbian language teacher.
"The kids without parents are like our children here at the school," said Stanojkovic. More than 900 unaccompanied minors are in Serbia, according to UNHCR.
"We talk about Afghani schools; they never had a regular schedule. Now they have some aim in their life," said Jasmina Petrovic, another teacher.
Despite the difficulties of integration, teachers are impressed with how refugee children have thrown themselves into their new, unfamiliar environment. "They are more motivated than any students I have worked with," said Juliana Keljajic, an English teacher.
Andjela Usljebrka is a Serbian language teacher at another pilot scheme school. Her classroom invites high-achieving Serbian students to help teach the refugees. Speaking English bridges the two groups; but as refugees learn Serbian, the Serbian children have begun to learn bits of Afghan languages as well.
"In both ways the children are trying to cross the lines between them," Usljebrka said. It is not just the language and schooling that is unfamiliar for the refugees. Usljebrka recalls seeing the refugee children using their hands at first while playing football with Serbians. Instead of interrupting, she let them figure it out themselves.
"This initial phase was learning for all of us – policymakers, international partner organisations, and schools. It should produce data and information for further policy development," said Anne-Maria ?ukovi? from Unicef's Belgrade office.
Faqirzada, a former civil servant, counts his family's safety and education as the two most important reasons he fled Afghanistan. "My children are happy here, they have freedom to learn," he said.
"I will never go back to Afghanistan, I love it here," said his eighteen-year-old daughter, Mursal. She could never walk outside her home by herself in Afghanistan, much less attend school with boys.
Beyond education, the Serbian government has been expanding the legal rights of asylum seekers to access employment. While refugees are often skilled engineers, computer programmers, and linguists, the possibility of attaining a job in their profession is bleak.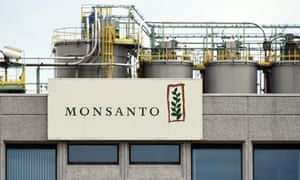 Monsanto was the biggest manufacturer of PCBs and mass produced them between 1935 and 1977 for use as coolants and lubricators in electrical equipment. Photograph: John Thys/AFP/Getty Images
Monsanto continued to produce and sell toxic industrial chemicals known as PCBs for eight years after learning that they posed hazards to public health and the environment, according to legal analysis of documents put online in a vast searchable archive.
More than 20,000 internal memos, minuted meetings, letters and other documents have been published in the new archive, many for the first time.
Most were obtained from legal discovery and access to documents requests by the Poison Papers Project, which incorporates the Bioscience Resource Project, the Center for Media and Democracy and Chiron Return.
Bill Sherman, the assistant attorney general for the US state of Washington – which is suing Monsanto for PCB clean-up costs potentially worth billions of dollars – said the archive contained damning evidence the state had previously been unaware of.
He told the Guardian: "If authentic, these records confirm that Monsanto knew that their PCBs were harmful and pervasive in the environment, and kept selling them in spite of that fact. They knew the dangers, but hid them from the public in order to profit."
As well as the Washington case, Monsanto is facing PCB contamination suits from city authorities in Seattle, Spokane, Long Beach, Portland, San Diego, San Jose, Oakland and Berkeley.
Monsanto's vice president of global strategy, Scott Partridge, did not dispute the authenticity of the documents revealed in the online cache but denied any impropriety.
He told the Guardian: "More than 40 years ago, the former Monsanto voluntarily stopped production and sale of PCBs prior to any federal requirement to do so. At the time Monsanto manufactured PCBs, they were a legal and approved product used in many useful applications. Monsanto has no liability for pollution caused by those who used or discharged PCBs into the environment."
Polychlorinated biphenyls (PCBs) are long-lived pollutants that were mass produced by Monsanto between 1935 and 1977 for use as coolants and lubricators in electrical equipment such as transformers and capacitors.
By 1979, they had been completely banned in the US and elsewhere, after a weight of evidence linking them to health ailments that ranged from chloracne and Yusho (rice oil disease) to cancer, and to environmental harm.
Yet a decade earlier, one Monsanto pollution abatement plan in the archive from October 1969, singled out by Sherman, suggests that Monsanto was even then aware of the risks posed by PCB use.
In a section on "damage to the ecological system by contamination from PCBs," it said: "The evidence proving the persistence of these compounds and their universal presence in the environment is beyond questioning."
"Direct lawsuits are possible" it continued, because "customers using the products have not been officially notified about known effects nor [do] our labels carry this information."
The plan offered three courses of action, each accompanied by "profit and liability" flow charts. The options were: "Do nothing", "discontinue manufacture of all PCBs" or "respond responsibly," admitting environmental contaminations, and taking remedial action.
Sherman said: "At the same time that Monsanto was telling the public that that PCBs were safe, they were literally graphing their potential legal liability against the lost profits and public image boost that might accompany being responsible and honest. At the end of the day, Monsanto went for the profits instead of for public health and environmental safety."
Another internal memo from September 1969 lists PCB leakages in the Gulf Coast, Great Lakes and San Francisco Bay areas and outlines potential cleanup actions. But the memo also says Monsanto's strategy should be to "let govt prove its case on a case by case basis".
It says: "We can prove some things are ok at low concentration. Give Monsanto some defence. We can't defend vs everything. Some animals or fish or insects will be harmed."
Residents of Shishmaref voted to relocate to the mainland, but in common with other Alaskan towns, there is no clear source of funding to do this. Photograph: Andrew Burton/Getty Images
T

he US government's withdrawal from dealing with, or even acknowledging, climate change may have provoked widespread opprobrium, but for Alaskan communities at risk of toppling into the sea, the risks are rather more personal.
The Trump administration has moved to dismantle climate adaptation programs including the Denali Commission, an Anchorage-based agency that is crafting a plan to safeguard or relocate dozens of towns at risk from rising sea levels, storms and the winnowing away of sea ice.
Federal assistance for these towns has been ponderous but could now grind to a halt, with even those working on the issue seemingly targeted by the administration. In July, Joel Clement, an interior department official who worked with Alaskan communities on climate adaptation, claimed he had been moved to a completely unrelated position because of the administration's ideological hostility to the issue.
"We were getting down to the brass tacks of relocation [of towns at risk] and now work has just stopped," Clement told the Guardian. He has lodged an official complaint over his reassignment.
"Without federal coordination from Washington DC, there isn't much hope. This will take millions of dollars and will take years, and these people don't have years. I think it's clear I was moved because of my climate work. It feels like a complete abdication of responsibility on climate change."
According to the Army Corps of Engineers, 31 Alaskan communities face "imminent" existential threats from coastline erosion, flooding and other consequences of temperatures that are rising twice as quickly in the state as the global average. A handful – Kivalina, Newtok, Shishmaref and Shaktoolik – are considered in particularly perilous positions and will need to be moved.
"It was clear from the start of the Trump administration that there was no interest in helping Alaskan communities, particularly coastal communities, adapt to climate change," said Victoria Hermann, president of the Arctic Institute.
"There's now no liaison from Washington on the issue. The biggest loss has been momentum. It feels like the Obama administration was kickstarting something useful but now it has dropped dead."
Shishmaref, like Shaktoolik and Kivalina, is a town with several hundred inhabitants located on a barrier island. Last August, Shishmaref residents voted to relocate to the mainland but, in common with other Alaskan towns, there is no clear source of funding to do this. Meanwhile, Newtok, which sits on the banks of a river and is losing about 70ft of land a year to erosion, appealed in January for disaster funding to relocate.
The coastal communities are threatened by a confluence of conditions that are making life difficult even for the flinty residents, who are used to dealing with an inhospitable, remote environment.
As the coastal buffer of sea ice retreats, towns are more vulnerable to storms and coastline erosion. Many key structures are built on permafrost, which is also melting, causing the buildings to subside or even crumple completely. And a succession of mild years – 2016 was nearly 6F warmer than the long-term average – is disrupting the patterns of wildlife in an environment where people rely upon the animals they catch for sustenance.
"People are coping with the loss of their history, places where they could reliably hunt and gather food, their burial sites," said Mike Brubaker, of the Alaska Native Tribal Health Consortium. "It causes a lot of distress. Before you see the physical impacts of climate change, you see the mental impacts."
The Leo Network, which Brubaker is involved with, has documented a number of recent unusual events linked to climate change, including the sighting of baby squid far outside their normal range by a group of Alaskan school children, altered salmon migration patterns and a lake near the peninsula town of Port Heiden that is on the brink of overflowing due to erosion.
These environmental shifts are placing strain on the viability of several towns that have found both the state and federal government unwilling to fully commit to the cost of moving them – in Shishmaref's case, it will take $180m to relocate a town of 600 people to safer ground.
The Denali Commission is working on a strategy to save the towns once disaster finally hits and has already helped fund upgrades to vulnerable infrastructure. But the agency has been earmarked by the White House for elimination, which would further complicate communities' years-long quest for relocation.
"We have communities here at threat and my peers in DC know this and are asking how they can help," said Joel Neimeyer, federal co-chair of the commission, who said work would continue at the agency until Congress decided on its future. "At the moment there isn't a mechanism to fund an entire village location. It's done in dribs and drabs. We don't know yet if Congress wants to fund a village relocation.
Opinion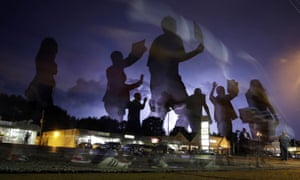 AP10ThingsToSee – Police Shooting Missouri
America has not changed enough to redress the killing of that teenager. Photograph: Jeff Roberson/AP
T

hree years ago, Michael Brown was shot by officer Darren Wilson in Ferguson, Missouri. He was left in the street for hours to bleed. This not only allowed him to die in public without medical aid, but also traumatized his neighbors and sparked outrage across the world.
Three years later, America has not changed enough to redress the killing of that teenager. Officer Wilson was never even indicted – most police officers who kill never are. And since Michael Brown's death, police killings have continued at an alarming rate, with 1,134 in 2015 and 1,093 in 2016.
Disturbingly, things feel like they are getting worse. Donald Trump was pushed into office on a wave of what historian Carol Anderson has called "the politics of white resentment" (which post-election survey data also confirms) and a promise of "law and order".
He recently "joked" to a group of police officers that when they "see these thugs being thrown into the back of a paddy wagon – you just see 'em thrown in, rough." Trump used the term "thugs" as a dog whistle to give cops the idea that they could treat suspects as guilty people, signalling to police they could be judge, jury and executioner.
It brought painful images to mind of how Freddie Gray was given a "rough ride" in a police van until his spine was destroyed (for which none of the six officers involved were held responsible).
Perhaps the most obvious recent marker that we, as a society, have failed to make black Americans feel safe after the killing of Michael Brown is that the NAACP issued its first ever travel advisory for a state, the dubious honor going to Missouri.
The warning is akin to US state department travel advisories about visiting unsafe foreign countries. Addressed to women, LGBT people and/or black people, the warning said "Individuals traveling in the state are advised to travel with extreme CAUTION."
The NAACP warning was triggered not just by police violence, but by rollbacks in legal protections for minorities from discrimination in Missouri law. The advisory also notes that "Two internationally born men [were] gunned down outside in Kansas City after their killer thought them to be Muslim" and that "African Americans in Missouri [are] 75% more likely to be stopped and searched based on skin color than Caucasians" while driving.
Three years on, this is the legacy America has given to Michael Brown's killing, and it is shameful. But not everyone has been so complicit in the failure to make a new world.
The protesters in Ferguson, building on the #BlackLivesMatter consciousness created a couple years earlier in response to the killing of Trayvon Martin, fought valiantly for an immediate cessation of anti-black police violence and loudly demanded a new kind of society.
In the battle of ideas, many of those protesters' efforts worked. The Black Lives Matter movement exploded, paving the way for anti-racist thinking and demonstrations around the world, and laying the intellectual and activist groundwork for much of the anti-Trump resistance and the Women's March.
Protesters have tried to get America to ask bigger, broader questions about police violence, such as: why is policing used to extract wealth from the poor and to inflict violence on the most marginalised? It is only in an unequal, unethical society in which police violence is not only tolerated, but can flourish.
To this end, I was excited to learn that Rev William Barber (the person behind the "moral Mondays" movement for years) is launching a call for a new Poor People's Campaign on Wednesday. It hopes to give life to the campaign Martin Luther King was planning in 1968, before he was assassinated, to bring together poor people of all races in order to challenge US poverty and militarism.
We, as an American society, owe a lot to Michael Brown. The protesters in Ferguson stood up to those behind his needless killing. The rest of us must now honor his short life more fully. We do that not only by keeping more young black people from being killed by police, but by challenging the kind of unequal, unjust society that leads to such lethal police violence in the first place.