11 Aug
Nearly all of these are English-edition daily newspapers. These sites have interesting editorials and essays, and many have links to other good news sources. We try to limit this list to those sites which are regularly updated, reliable, with a high percentage of "up" time.
World Politics
United States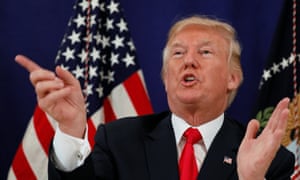 Trump speaks to reporters after a security briefing at his golf estate in Bedminster, New Jersey. Photograph: Jonathan Ernst/Reuters
Donald Trump has thanked Vladimir Putin for expelling 755 American diplomatic staff from Russia, claiming that it will save the US "a lot of money".
The US president on Thursday held a characteristically free-wheeling, subject-hopping, occasionally stunning question and answer session over 20 minutes with pool reporters at his golf club in Bedminster, New Jersey.
When Putin announced last month that the American diplomatic mission in Russia must cut its staff by 755 employees, an ill-tempered response to new US sanctions, the gesture was seen as putting relations at their lowest ebb since the cold war.
But Trump, widely criticised for his warm relationship with Putin, said on Thursday: "I want to thank him because we're trying to cut down our payroll and as far as I'm concerned, I'm very thankful that he let go of a large number of people because now we have a smaller payroll.
"There's no real reason for them to go back. I greatly appreciate the fact that we've been able to cut our payroll of the United States. We're going to save a lot of money."
The claim was just one of many surprise insights into the thinking of Trump, who was flanked by Vice-President Mike Pence and the national security adviser, HR McMaster. Here are subject-by-subject highlights of the session, which the New York Times columnist Frank Bruni described as a "melodious aria" of self-praise:
North Korea
The president on Thursday said his comments that North Korea would be 'met with fire and fury' may not have been tough enough. Speaking at his New Jersey golf club, Trump added that North Korea need to 'get their act together'
"He does something in Guam, it will be an event the likes of which nobody's seen before, what will happen in North Korea."
Asked if that was a dare, Trump bristled: "It's not a dare. It's a statement. It has nothing to do with dare. That's a statement. He's not going to go around threatening Guam and he's not going to threaten the United States and he's not going to threaten Japan and he's not going to threaten South Korea. No, that's not a dare, as you say. That is a statement of fact."
How the threat of nuclear weapons compares with climate change
"Nuclear to me, number one, I would like to 'de-nuke' the world. I know that President Obama said global warming is the biggest threat. I totally disagree… I'd like to de-nuke the world. I would like Russia, the United States and China and Pakistan and many other countries that have nuclear weapons get rid of them. But until such time that they do, we will be the most powerful nuclear nation on earth, by far."
Why he announced a ban on transgender personnel in the military
"I have great respect for the community … I think I've had great support, or I've had great support from that community. I got a lot of votes. But the transgender, the military's working on it now … It's been a very difficult situation and I think I'm doing a lot of people a favour by coming out and just saying it. As you know, it's been a very complicated issue for the military, it's been a very confusing issue for the military, and I think I'm doing the military a great favour."
Investigations into leaks from the White House
"We're looking. We're always looking. We have two leaks. You have the leaks coming out of intelligence and various departments having to do with Syria, having to do with all sorts of different places, having to do, frankly, with North Korea. And those are very serious. And then you have the leaks where people want to love me and they're all fighting for love. Those are not very important but certainly we don't like them. Those are little inner-White House leaks. They're not very important. But actually I'm somewhat honored by them. But the important leaks and the leaks that the attorney general is looking at very strongly are the leaks coming out of intelligence and we have to stop them for the security and the national security of our country."
T

he woods around Calais and Dunkirk have once again become home to more than 1,000 refugees and migrants living in dire conditions without access to toilets, running water, showers or shelter.
Police regularly confiscate sleeping bags, bedding and possessions, and refugees complain that CS spray is often used during early morning raids on people sleeping. Reports of police harassment of refugees have risen as officials from both towns attempt, without success, to stop refugees from settling in the area.
But some kind of new camp now looks inevitable in Calais after a court ruled that the city government must provide showers and water supplies for the rapidly rising population of asylum seekers, who are mostly teenagers from Afghanistan, Ethiopia and Eritrea. Many of them are travelling alone, some as young as 12.
The water supplies were due to be installed by Friday, although the local administration would provide no details of how many were to be installed or where.
Because Calais police remove tents immediately, hundreds of refugees are sleeping in the open on wasteland behind an industrial zone near the port. Some camp on a heap of asphalt, others in the woods, where the area is littered with abandoned clothes and large quantities of human excrement. Even in August, the weather in northern France is stormy and cold. Someone has written "Refugees Welcome" on a nearby wall, but it does not feel a welcoming place.
Ismail Roble, a biology teacher from Ethiopia, from the Oromo minority group, has been in Calais for eight months and is hoping to join family in the UK. He said police had taken his bedding again early that morning. "I can't count how many times it has happened. They spray your eyes when you are asleep," he said as he queued for food. "It's very stressful living in these forests. We have no shelter, no hygiene, no sanitation, no water. It's very cold at night. The French have given us nothing."
In Dunkirk, refugees complain of a much more aggressive approach by local police, who arrive most weeks urging people sleeping in the woods to move on and destroying tents.
Iranian family (l-r) Sahid Rebaz, Yousef Rebaz, three, Amal Muhammed, Deia Rebaz, 10 and Sardan Muhammed, 22, say police slashed their tent.
Amal Muhammed, an Iraqi woman, is travelling with her Iranian husband, Sahid Rebaz, their two children, Deia, 10, and Yousuf, three, and her severely disabled younger brother, Sardam Muhammed, 22, who is unable walk or speak. She said police had slashed their tent while they were sheltering in a clearing in the woods on Monday. She showed cuts in the fabric of the tent, which they have now abandoned.
"They came when we were asleep and shouted 'Get up, get up!' The children were frightened. I was frightened," she said. The family hope to make it somehow to the UK, where they believe they will have better job opportunities, but they appeared to have no understanding of border policy. "If they don't let us cross, will they just let my brother and the children in?" Muhammed asked.
"My brother needs to cross to the UK. He needs medicine," she said, asking another Iraqi refugee to translate for her. "We really need someone to help us. There is no water here, no toilets. It's not a suitable place for children to live."
Sarbast Amin, from Iraq, spent more than 10 years living in St Ives, working for a picture framing company. But this year his wife, Viyan Sadeeq Abdullah, was sent to Yarl's Wood immigration detention centre and then deported to Italy after her asylum claim was rejected. He is also staying in the woods, hoping to find a way to return with his wife to the country they consider home. He described conditions as "very hard".
Charlie Whitbread, a volunteer with Mobile Refugee Support, which helps distribute tents and phone-charging facilities for refugees, said the attitude of police officers varied from week to week. "Some weeks they are quite aggressive and confiscate everything, including baby food and milk. This week it wasn't quite so bad," he said.
A Human Rights Watch report published late last month, titled Like Living in Hell, documented frequent use of CS spray, routine abuse of asylum seekers and migrants and regular disruption of food distribution sessions, concluding that the behaviour appeared to be driven "by a desire to keep down migrant numbers".
But because Calais is known to be the closest crossing point to the UK, these official attempts to make it an unattractive destination for refugees have not worked and people continue to arrive.
The charity Help Refugees, which has worked in the area for two years, conducts monthly headcounts and estimates that there are at least 600 migrants in Calais, around 300 in Dunkirk and another 200 in small camps along the coast. The Refugee Community Kitchen, which cooks food for people living in small groups in wasteland around Calais and Dunkirk, says it is distributing 2,500 meals a day (feeding people twice a day). The Calais prefecture said in an emailed response to questions that it believed there were 450 migrants in the Calais area.
The local authorities' reluctance to install basic facilities for refugees reflects a familiar tension for officials, who are at pains to discourage any return of a large-scale or permanent camp by the port with the provision of any services that they believe might attract migrants to this area of northern France.
The French interior minister, Gérard Collomb, said this week that 17,867 attempts to breach port and tunnel security had been detected so far this year, along with 12,349 attempts to stow away in trucks. He promised that mobile toilets would be provided in Calais but said it was important to "avoid doing anything that resembles fixed infrastructure".
When the Calais camp was demolished last October, thousands of refugees were driven in buses to hostels around France. They were encouraged to seek permanent residency in France, or to return home.
We do things differently
Help Refugees is not simply another aid organization. We're a group of everyday people, taking joint action to improve lives of refugees. In less than two years, we've become the biggest facilitator of grassroots aid on the continent, with more than 80 projects across Europe and the Middle East.