12 Aug
Nearly all of these are English-edition daily newspapers. These sites have interesting editorials and essays, and many have links to other good news sources. We try to limit this list to those sites which are regularly updated, reliable, with a high percentage of "up" time.
WASHINGTON – US President Donald Trump rejected a request of a telephone call with his Venezuelan counterpart, Nicolas Maduro, the White House said on Friday.
Trump has asked that Maduro "respect Venezuela's constitution, hold free and fair elections, release political prisoners, cease all human rights violations, and stop oppressing Venezuela's great people. … Instead Maduro has chosen the path of dictatorship," according to a White House statement.
It added that "President Trump will gladly speak with the leader of Venezuela as soon as democracy is restored in that country."
The statement came shortly after Trump told reporters that "a military option" to the Venezuelan political and economic crisis was still possible.
However, the Pentagon confirmed that it had "not received any orders with regards to Venezuela," adding that "if called upon, we are prepared to support … government efforts to protect our national interests and safeguard US citizens."
Venezuela has been marred in a deepening economic crisis and political stalemate.
The July 30 election of a new National Constituent Assembly, convened by President Maduro, which the country's opposition boycotted, has been widely condemned by the international community.
World Politics
United States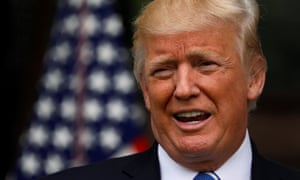 Donald Trump … 'We have many options for Venezuela and by the way, I'm not going to rule out a military option.' Photograph: Jonathan Ernst/Reuters
Donald Trump threatened a US military intervention in Venezuela on Friday, a dramatic escalation in his administration's stance toward the Latin American country which is descending into political chaos.
Trump made the remarks in response to questions from reporters at his golf club in Bedminster, New Jersey.
Asked what options were available for the US in dealing with Venezuela, which has descended into civil unrest under the leadership of president Nicholás Maduro, Trump responded by explicitly not ruling out military force.
"We have many options for Venezuela and by the way, I'm not going to rule out a military option," he said.
"We have many options for Venezuela, this is our neighbor," Trump added. "We're all over the world and we have troops all over the world in places that are very very far away, Venezuela is not very far away and the people are suffering and dying. We have many options for Venezuela including a possible military option if necessary."
Vladimir Padrino, Venezuela's defence minister, said on Friday night that Trump's threat was an "act of craziness" and "supreme extremism".
General Vladimir Padrino, a close ally of Maduro, said: "With this extremist elite that's in charge in the US, who knows what will happen to the world?"
Jose Miguel Vivanco, the Americas director for Human Rights Watch, tweeted: "Perhaps since [Hugo] Chávez named him his successor, no one had helped Maduro as much as Trump and this nonsense he said today."
The White House released a statement saying it had rejected a request from Maduro to speak by phone with Trump. The statement said: "Trump will gladly speak with the leader of Venezuela as soon as democracy is restored in that country."
Venezuela has appeared to slide toward a more volatile stage of unrest in recent days, with anti-government forces looting weapons from the military after the installation of an all-powerful new legislative body.
When a reporter followed up to ask Trump if this "military option" would be US led, the president responded: "We don't talk about it. A military operation, a military option is certainly something that we could pursue."
The remarks come as Maduro has convened a constituent assembly, in an election widely denounced by international observers, to amend the country's constitution to cement his grip on power. Maduro has also forced the country's chief prosecutor from office, while the United Nations has condemned the government's use of excessive force against protestors.
Although Venezuela has the world's largest proven oil reserves, its economy has collapsed in recent years as the country led first by the late Hugo Chávez and then by his successor, Maduro, has resorted to increasingly authoritarian measures to consolidate power.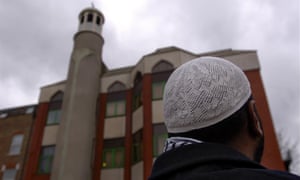 At least six mosques in London have received threatening letters or suspicious packages in the last year. Photograph: Martin Godwin for the Guardian
Counter-terrorism police are investigating an apparent transatlantic anti-Muslim campaign after hate mail and suspicious packages were sent from a location near Sheffield to mosques in London, South Yorkshire and the US.
Handwritten notes were received by three mosques and other addresses across London in July. They all bore a Sheffield postmark, as did hate mail received by at least four US mosques earlier this year, and by three UK mosques in July last year.
Pictures of the letters seen by the Guardian show many of them featured the same pseudonym or initials. Three of the letters received by US mosques were sent at the same time, with the postmarks reading 5.14pm or 5.15pm on 22 February. "There were two second-class stamps on all the letters sent to the US, which is interesting," said Steve Rose, who is responsible for content at Faith Matters, a community action group working to counter extremism.
There were also similarities in handwriting and imagery in the letters seen by the Guardian. "There are similarities in the shape of the numbers," Rose said. "It could be one person sending them, it could be several people."
Forest Gate mosque, Coventry Cross mosque in Bromley-by-Bow, and Shacklewell Lane mosque in Dalston all received letters last month saying the sender would be visiting the mosques.
In July 2016, packages containing white powder were sent to the parliamentary office of Nazir Ahmed, an independent peer, and three mosques in Leyton, Finsbury Park and Tottenham, as well as the Bank of England. "In 2016 this person targets three mosques in London, in 2017 also three mosques," Rose said.
The letters contained offensive language directed towards Pakistani Muslims.
A letter sent to a New Jersey mosque threatened to kill Muslims and featured an offensive cartoon. According to TellMama, a reporting service for cases of anti-Muslim abuse, similar letters targeted mosques in New York, Georgia, and Kentucky this spring.
The Guardian has seen letters with the same pseudonym received by mosques in Washington DC, New Jersey and Alabama, all sent in February, with the latest letter received by the Islam Center in South Dakota in mid-June. "Maybe other mosques got them but didn't report it," Rose said.
On 28 February, the Dar al-Hijrah Islamic Center in Falls Church, Virginia, received a letter that contained threats of violence and offensive cartoons. It was sent with two first-class UK stamps.
Corey Saylor, a spokesman for the Council on American-Islamic Relations, said: "All the letters I have seen have similar drawings, handwriting, and originated from Sheffield.
"Whoever is behind these letters feels empowered to make people on the opposite side of the Atlantic feel afraid to go to their places of worship. Such religious intimidation is wrong in any context and I hope British authorities act to expose and bring appropriate legal charges against the sender."
In a statement about the recent letters received by mosques, the North East Counter Terrorism Unit, which is coordinating the investigation, said: "Police received a number of reports of malicious communications and packages which have been received in recent days across London.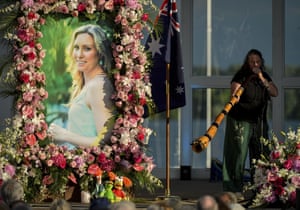 Johanna Morrow plays the didgeridoo during a memorial service for Justine Damond at Lake Harriet in Minneapolis on Friday night. Photograph: Aaron Lavinsky/AP
Associated Press
The father of Justine Damond, the Australian woman shot to death by a Minneapolis police officer, choked back tears at a memorial in that city on Friday night as he vowed to find justice for his 40-year-old daughter, whom he described as being "ripped from our arms".
John Ruszczyk and Damond's fiance were grieving at a public memorial service at the same time the family had originally planned to be on a plane to her wedding.
"We should be walking down the street smiling and laughing," Ruszczyk said of his first visit to Minneapolis. "But now every step on the foot path is very painful. I feel crushed by sorrow."
Hundreds of people, many wearing heart-shaped stickers, attended the memorial service. An Australian flag was displayed prominently on the stage next to Damond's picture.
Her fiance, Don Damond, said it "felt like a privilege to love Justine". They were getting married next week in Hawaii, and he pointed out the painful irony that the service — held at a lakefront stage near her home in southwest Minneapolis — coincided with the family's original travel plans.
He read some of the uplifting messages she would free-write every morning and called her a "living example of self-mastery".
"I have immense gratitude for being the one she chose," Don Damond said. "In Australia, they call it 'you're punching above your weight.' I really had to step up to be at her level."
Her family has set up the Justine Damond Social Justice Fund, which will support causes important to her, including those promoting equal treatment for all.
As Damond's loved ones mourned their loss, the investigation into her death moved forward. A judge approved a search warrant for investigators to examine the smartphones of two Minneapolis police officers in the shooting.
The search warrant application was filed on Thursday by an agent with the Minnesota Bureau of Criminal Apprehension. The agent requested permission to download data from the iPhones issued by the Minneapolis Police Department.
The application states that the information "may more clearly define" the officers' actions before and after she was killed on July 15. Investigators have said officer Mohamed Noor shot the 40-year-old woman after she called the emergency hotline to report a possible sexual assault near her home.
Noor's partner, officer Matthew Harrity, told investigators a noise startled him just before Damond approached their police SUV. Noor was in the passenger seat and shot Damond through the open driver-side window. Noor has declined to be interviewed by investigators and cannot be compelled to do so.
The two officers had not activated their body cameras. Minneapolis police officers are now required to have those cameras on when they respond to calls or make traffic stops.
Chokehold: a maneuver in which a person's neck is tightly gripped in a way that restrains breathing. A person left in a chokehold for more than a few seconds can die.
The former police chief of Los Angeles Daryl Gates once suggested that there is something about the anatomy of African Americans that makes them especially susceptible to serious injury from chokeholds, because their arteries do not open as fast as arteries do on "normal people."
The truth is any human being will suffer distress when pressure on the carotid arteries interrupts the supply of blood from the heart to the brain. Many police departments in the United States have banned chokeholds, but this does not stop some officers from using them when they perceive a threat.
The United States supreme court decided a case about chokeholds that tells you everything you need to know about how criminal "justice" works for African American men.
In 1976, Adolph Lyons, a 24-year-old black man, was pulled over by four Los Angeles police officers for driving with a broken taillight. The cops exited their squad cars with their guns drawn, ordering Lyons to spread his legs and put his hands on top of his head.
After Lyons was frisked, he put his hands down, causing one cop to grab Lyons's hands and slam them against his head. Lyons had been holding his keys and he complained that he was in pain. The police officer tackled Lyons and placed him in a chokehold until he blacked out. When Lyons regained consciousness, he was lying facedown on the ground, had soiled his pants, and was spitting up blood and dirt. The cops gave him a traffic citation and sent him on his way.
Lyons sued to make the LAPD stop putting people in chokeholds. He presented evidence that in recent years 16 people – including 12 black men – had died in LAPD custody after being placed in chokeholds. In City of Los Angeles v Lyons, the US supreme court denied his claim, holding that because Lyons could not prove that he would be subject to a chokehold in the future, he had no "personal stake in the outcome". Dissenting from the court's opinion, Thurgood Marshall, the first African American on the supreme court, wrote:
"It is undisputed that chokeholds pose a high and unpredictable risk of serious injury or death. Chokeholds are intended to bring a subject under control by causing pain and rendering him unconscious. Depending on the position of the officer's arm and the force applied, the victim's voluntary or involuntary reaction, and his state of health, an officer may inadvertently crush the victim's larynx, trachea, or hyoid. The result may be death caused by either cardiac arrest or asphyxiation. An LAPD officer described the reaction of a person to being choked as "do[ing] the chicken", in reference apparently to the reactions of a chicken when its neck is wrung."
The work of police is to preserve law and order, including the racial order. Hillary Clinton once asked a room full of white people to imagine how they would feel if police and judges treated them the way African Americans are treated. If the police patrolled white communities with the same violence that they patrol poor black neighborhoods, there would be a revolution.

Two white Oklahoma City officers subdue a black suspect in 2002. Both officers faced a disciplinary investigation. Photograph: Brian Bates/Reuters
The purpose of my book, Chokehold, is to inspire the same outrage about what the police do to African Americans, and the same revolution in response.
A chokehold is a process of coercing submission that is self-reinforcing. A chokehold justifies additional pressure on the body because the body does not come into compliance, but the body cannot come into compliance because of the vise grip that is on it.
This is the black experience in the United States. This is how the process of law and order pushes African American men into the criminal system. This is how the system is broke on purpose.
•
•
•
There has never, not for one minute in American history, been peace between black people and the police. And nothing since slavery – not Jim Crow segregation, not lynching, not restrictive covenants in housing, not being shut out of New Deal programs like social security and the GI bill, not massive white resistance to school desegregation, not the ceaseless efforts to prevent blacks from voting – nothing has sparked the level of outrage among African Americans as when they have felt under violent attack by the police.
Most of the times that African Americans have set aside traditional civil rights strategies like bringing court cases and marching peacefully and instead have rioted in the streets and attacked symbols of the state have been because of something the police have done. Watts in 1965, Newark in 1967, Miami in 1980, Los Angeles in 1992, Ferguson in 2015, Baltimore in 2016, Charlotte in 2016 – each of these cities went up in flames sparked by the police killing a black man.