13 Aug
Nearly all of these are English-edition daily newspapers. These sites have interesting editorials and essays, and many have links to other good news sources. We try to limit this list to those sites which are regularly updated, reliable, with a high percentage of "up" time.
World Politics
United States
President laments 'hatred, bigotry and violence from many sides' but senior Republicans and Democrats demand condemnation of far-right extremists
Donald Trump has faced bipartisan criticism after failing to explicitly condemn the role of white supremacists in clashes with counter-protesters in Charlottesville, Virginia, that culminated in a car running into a crowd, killing at least one person.

WARNING: Graphic video – some viewers may find this footage distressing.
A woman has died after a car rammed into a group of anti-far-right protesters in Charlottesville, Virginia, on Saturday. It marked a day of violence after clashes between far-right nationalists and people protesting against them. Donald Trump condemned the 'violence on all sides' but was criticised for failing to directly denounce the white supremacists
The president said he condemned "hatred, bigotry and violence on many sides" on Saturday. He then repeated the phrase "on many sides" for emphasis. A White House spokesperson later amplified the president's remarks, telling the Guardian: "The president was condemning hatred, bigotry and violence from all sources and all sides. There was violence between protesters and counter-protesters today."
But there was strong reaction to Trump's refusal to denounce far-right extremists who had marched through the streets carrying flaming torches, screaming racial epithets and setting upon their opponents.
The clashes started after white nationalists planned a rally around a statue of the Confederate general Robert E Lee that is slated to be removed, and culminated in a car being deliberately driven into a group of people peacefully protesting the far right rally, killing one person and injuring at least 19. Senator Ron Wyden, a Democrat from Oregon, described the car ramming as an act of "domestic terrorism".
Speaking at a previously scheduled event in Bedminster, New Jersey, to discuss healthcare for veterans, Trump said: "I should put out a comment as to what's going on in Charlottesville."
After stopping to shake the hands of the assembled veterans, the president said: "We're closely following the terrible events unfolding in Charlottesville, Virginia. We condemn in the strongest possible terms this egregious display of hatred, bigotry and violence on many sides, on many sides." Trump added that this had been "going on for a long time in our country. Not Donald Trump, not Barack Obama. A long, long time." Trump added: "What is vital now is a swift restoration of law and order."
Trump urged Americans to "love each other, respect each other and cherish our history and our future together. So important. We have to respect each other. Ideally, we have to love each other."
However, Trump's remarks met condemnation for being inadequate – not just from Democrats but many members of his own party as well.
The Florida Republican Senator Marco Rubio was among those calling for a straightforward condemnation:
James Fields, from Ohio, arrested following attack at 'Unite the Right' gathering, and two police officers die in helicopter crash
WARNING: Graphic video – some viewers may find this footage distressing. Video footage appears to show the moment a car runs into a crowd of people in downtown Charlottesville on Saturday. Authorities attended the scene and at least one person received medical treatment immediately after the incident, according to reports
A man has been arrested and charged with murder after a car rammed into a group of people peacefully protesting against a white supremacist rally in Charlottesville, Virginia, killing one person and injuring 19.
Police said a 32-year-old woman had died and that they were attempting to notify her family before releasing more details.
Col Martin Kumer, the superintendent of Albemarle-Charlottesville Regional Jail, told the Guardian that 20-year-old James Fields, of Ohio, had been arrested following the attack on Saturday.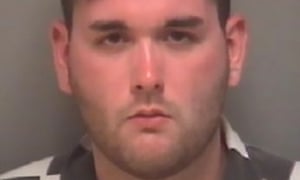 James Fields was charged with second-degree murder. Photograph: Albemarle County Jail/AFP/Getty Images
"He has been charged with second degree murder, three counts of malicious wounding and failing to stop at an accident that resulted in a death," Kumer said in an email.
Donald Trump condemned the "violence on many sides", but faced criticism for failing to directly denounce the far-right demonstrators.
Speaking from Bedminster, New Jersey, the US president said: "We condemn in the strongest possible terms this egregious display of hatred, bigotry and violence on many sides, on many sides."
But the Republican senator Marco Rubio tweeted that it was important for Trump to describe the events as a "terror attack by white supremacists".
The FBI said it was opening a civil rights investigation into the accident along with the Justice Department's civil rights division and the district attorney's office.
The US attorney general, Jeff Sessions, said: "The violence and deaths in Charlottesville strike at the heart of American law and justice. When such actions arise from racial bigotry and hatred, they betray our core values and cannot be tolerated.
"US attorney Rick Mountcastle has commenced a federal investigation and will have the full support of the Department of Justice. Justice will prevail."
In a separate incident, two police officers died when their helicopter, which was monitoring the far-right rally, crashed outside Charlottesville.
State police said in a statement the helicopter was "assisting public safety resources with the ongoing situation" when it crashed in a wooded area. The pilot, Lieutenant H Jay Cullen, 48, of Midlothian, Virginia, and Trooper-pilot Berke Bates of Quinton, Virginia, died at the scene.
The deaths came at the end of a day marked by violent clashes between far-right nationalists and people who had come to protest against their occupation of a downtown park containing a statue of the Confederate general Robert E Lee.
Witnesses said those hit by the car were peacefully protesting the white supremacist rally and footage showed the vehicle crashing into another car, throwing people over the top of it.
The photographer Pat Jarrett, who witnessed the incident, said: "A gray Dodge Charger plowed into a sedan and then into a minivan. Bodies flew. People were terrified and screaming. Those closest to it said it was definitely a violent attack. The driver, who people later described as a skinny white guy with a straggly beard, reversed out of there and drove off, the front end of his car all smashed up."
Charlottesville mayor Mike Signer tweeted: "I am heartbroken that a life has been lost here. I urge all people of good will – go home."……………..
A group of clergy linked arms to block a set of stairs leading into the park. The Rev Seth Wispelwey, of Sojourners United Church of Christ in Charlottesville, said: "We're here to counteract white supremacy, and to let people know that it is a system of evil and a system of sin."
Steve Thomas, from Lynchburg, Virginia, who also protested against the far-right groups, said: "I think that what we are witnessing here has always been simmering beneath the surface, and now has been emboldened and enabled by the Trump administration's politics and rhetoric."
WARNING: Some viewers may find this footage distressing.
Hundreds of far-right demonstrators wielding torches and chanting 'you will not replace us' march on the University of Virginia campus in Charlottesville on Friday night. The 'alt-right' protesters surround a small group of counter-protesters who had linked arms around a statue of Thomas Jefferson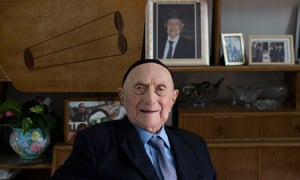 Israel Kristal at his home in Haifa in 2015. Photograph: Abir Sultan/EPA
Associated Press
Israel Kristal, the world's oldest man who lived through both world wars and survived the Auschwitz concentration camp, has passed away just a month short of his 114th birthday, his family have said.
Oren Kristal, a grandson, said he died on Friday. "He managed to accomplish a lot. Every year he lived was like a few years for somebody else," Oren told the Associated Press.
Last year Guinness World Records awarded Kristal a certificate as the world's oldest man.
Kristal was born to an Orthodox Jewish family near the town of ?arnów in Poland in 1903. "When he was a child during World War I in Poland he was a helper for a booze smuggler; he used to run barefoot in the snow through the night many kilometres with a heavy package on his back at about 12-years-old, smuggling alcohol between the lines of the war," Oren, his grandson, said.
"He used to walk very fast until he was very old – faster than me – and he used to tell me that when he was my age if you didn't walk fast enough your feet would stick to the frozen ground," said Oren.
Kristal was orphaned shortly after the first world war and moved to Lodz to work in the family confectionery business in 1920.
During the Nazi occupation of Poland, Kristal was confined to the ?ód? ghetto and was later sent to Auschwitz and other concentration camps. His first wife and two children were killed in the Holocaust. Six million Jews were systematically murdered by German Nazis and their collaborators during the second world war.
"He used to tell us whenever we were mourning someone that we should consider that they are being buried in the land of Israel, most of the people he knew did not get to be buried in a grave when they died," Oren said.
Kristal survived the second world war weighing only 37kg (about 81 pounds) and was the only survivor of his large family. He later married another Holocaust survivor and moved with her to Israel in 1950 where he built a new family and a successful confectionery business.
"He was a very hard-working man, a lot of energy always running from one place to another doing something," Oren Kristal said. He said his grandfather participated in one of his grandsons' bar mitzvahs just a few weeks ago.
An observant Jew, Kristal himself only celebrated his bar mitzvah last year, a hundred years later than usual. He missed his bar mitzvah, the Jewish coming-of-age ceremony held when a boy turns 13, because of the first world war.
Kristal is survived by two children, numerous grandchildren and great-grandchildren, according to media reports.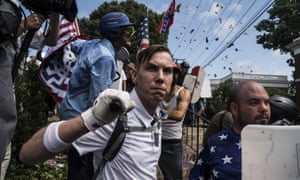 Far-right monitoring groups estimated that between 500 and 1,000 people attended the Unite the Right rally. Photograph: Zuma Wire/Rex/Shutterstock
Eight years ago, as the nation's first black president took office, pundits debated whether Barack Obama's election marked the rise of a "post-racial America".
On Saturday, hundreds of American neo-Nazis and white nationalists clashed with anti-fascist demonstrators in the streets of a liberal university town, sending the city into chaos as the governor declared a state of emergency. The white nationalists had planned to rally around a statue of the Confederate general Robert E Lee, which Charlottesville, Virginia, had decided to remove from a public park.
The far-right activists who converged on Charlottesville say diversity is just another word for white genocide. Many are Holocaust deniers and blatant antisemites. They argue that white Americans are under attack, and they have been attempting to recruit new members on college campuses across America.
Both Republican and Democratic leaders, though not President Trump, decried the protesters' explicit racism, calling it a betrayal of American ideals.
A neo-Nazi leader called Saturday's rally, which was widely identified as the largest in decades, "an absolutely stunning success". By the end of the day three people were dead – two in a police helicopter crash and a woman killed when a car drove into a group of counterprotesters – and dozens injured. Police have charged a 20-year-old man with murder, the Justice Department has announced an investigation, and some politicians have condemned what initially appeared to be an act of "domestic terrorism".
Speaking from his golf resort in New Jersey on Saturday, Trump, whose election was greeted enthusiastically by neo-Nazis and the Ku Klux Klan, condemned the "hatred, bigotry and violence on many sides" in Charlottesville, emphasising "on many sides" twice. He was widely criticised for not explicitly condemning the racism of the white nationalist protesters.
"It's the first president I've ever seen that wouldn't just outright condemn. [He] said that there were many sides in the equation," said Matthew Heimbach, the leader of the neo-Nazi Traditionalist Worker party, which he said had brought more than 100 people to Charlottesville to join the rally. Like other neo-Nazi and white nationalist leaders, Heimbach was an enthusiastic supporter of Trump during his campaign but has since said he feels betrayed and disappointed by how the president has actually governed.
"He's not on our side," Heimbach said of the president. However, he added: "It's interesting that Mr Trump had identified that the left is violent. Maybe he has a more nuanced position that most presidents previous to him."

In their quest to maximise outrage and publicity, white nationalists have often chosen to target liberal university campuses and liberal towns.
Charlottesville, nestled in the foothills of the Blue Ridge Mountains and often described as the northernmost tip of the south, is a geographically and symbolically ideal place for the far right to assert itself.
Thomas Jefferson lived just seven miles away, while the current president owns a large estate nearby. According to John F Kennedy: "The natural beauty of the surrounding countryside and the manmade beauty of Charlottesvillle combine to weave a tapestry of American history few other towns or cities can boast."