14 Aug
Nearly all of these are English-edition daily newspapers. These sites have interesting editorials and essays, and many have links to other good news sources. We try to limit this list to those sites which are regularly updated, reliable, with a high percentage of "up" time.
World Politics
Germany
Challenge from left's new saviour Martin Schulz fades among voters content with economic success
Not long ago, he was seen as a bearer of hope, not just for his own party, Germany's Social Democrats, but for the whole of the embattled European left. He was nicknamed "Sankt Martin", the man who had the potential to topple Angela Merkel from her throne after almost 12 years and bring a wave of fresh ideas that would reinvigorate a political landscape turned staid by her long-term presence.
Martin Schulz, 61, was even being looked to closely by Jeremy Corbyn's advisers at a time when the Labour leader was struggling to mobilise support. They marvelled at how he had burst on to Berlin's political stage and was inspiring a new generation of young voters, while encouraging those who had abandoned the party to return in their thousands.
Now, with six weeks to go until Germans go to the polls, Schulz is trailing Merkel miserably and already appears to be settling for a seat on the Bundestag opposition benches. "The SPD candidate is toiling hard, but no one is taking any notice," wrote leading commentator Heribert Prantl in an editorial for the Süddeutsche Zeitung.
The polls show Schulz's SPD trailing Merkel's CDU/CSU alliance by about 14%, having been almost neck-and-neck just a few months ago. Polling analysts are not so much blaming Schulz's campaign, which has seen him off on an energetic tour across Germany at the same time as Merkel has been happily relaxing in the South Tyrol, but on the strength of his opponent's brand, the sense of reliability she exudes, and the continuity she will offer a Germany that is on an economic high.
The trust she inspires was reinforced last week by pictures of Merkel and her husband, Joachim Sauer, wearing the same outfits they have worn for many years in a row, while they always visit the same hotel and stay in the same room.
Prantl says the decision to vote for Merkel is the equivalent of a gambler who is happy to break even. "People are still satisfied with 'being in the black' with Merkel," says Prantl, "because in a world that is topsy-turvy and being ruled by so many crazy people, they'd quite like to keep her, simply because she's not mad, but capable and experienced."
In a world that is being ruled by so many crazy people, they'd quite like to keep her, simply because she's not mad

Heribert Prantl
When Schulz arrived in Berlin, having spent the previous two decades on the European political scene, latterly as president of the European parliament, he attracted thousands of new – and former – recruits to the SPD, after two decades in which it had haemorrhaged support. The party's standing in the polls rose by 10 percentage points. He went on to receive a record 100% of the votes to become the party leader. The SPD's euphoria was expressed in T-shirts emblazoned with his bespectacled, bearded face, along with the slogan "Time for Martin" and red balloons printed with the words "A breath of fresh air". He was greeted with screams and cheers when he entered rooms full of SPD members.
But the Schulz effekt, as it was called, proved short-lived. The party suffered setbacks in regional elections, and despite Schulz expressing the importance of social justice – Gerechtigkeit – his campaign buzzword, at a time of a widening rich-poor divide, the euphoria ebbed amid complaints there was little substance in his plans for Germany.
The traditional base of the SPD is still smarting over the labour reforms introduced by the last SPD chancellor, Gerhard Schröder, which were key to Germany's economic recovery and its ability to cast off the label "sick man of Europe".
Schulz has promised to address the growing inequality for which Schröder is blamed. The SPD, as junior partner in Merkel's grand coalition for the past four years, is credited with having pushed through legislation on a minimum wage. But the poorest 20% of Germans have yet to see better living standards. On paper the employment statistics look good, with Germany on track to have zero unemployment in the next three years. But increasing numbers of workers are in poorly paid, unstable work. Many voters are therefore said to be deciding on the steady pair of hands, rather than taking a risk, or deciding not to vote at all.
Alexander Wallasch is one of many commentators expressing unease about the dominance of Merkel, pointing out the particular irony that she is now as popular as she was before the refugee crisis two summers ago, when her controversial decision to open Germany's doors led many to predict she would be forced out of office.
United States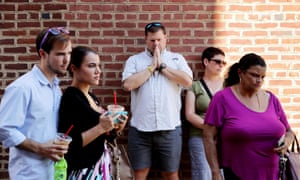 People gather at an informal memorial at the spot where Heather Heyer was killed after a car ploughed into a crowd of protesters in Charlottesville, Virginia. Photograph: Chip Somodevilla/Getty Images
Politicians from all sides have rounded on Donald Trump for failing explicitly to condemn white supremacy groups or use the term domestic terrorism after a woman was killed when a car smashed into anti-racism protesters at the weekend. The US Department of Justice has opened a civil rights investigation into the death.
On Saturday the president condemned hatred and violence "on many sides" in his remarks, but did not directly single out the white supremacists, whose attempt to hold a major rally in Charlottesville, Virginia resulted in the governor, Terry McAuliffe, a Democrat, calling a state of emergency. Disorder including clashes with counterprotesters left more than 30 injured.
The woman who was killed by the car that ploughed into counter-protesters was named as 32-year-old Heather Heyer, a legal assistant who had repeatedly championed civil rights issues on social media.
A 20-year-old man, James Fields, of Maumee, Ohio, has been charged with her murder. On Sunday photographs taken earlier on Saturday surfaced that showed Fields standing with a neo-Nazi group and holding a shield emblazoned with a far-right emblem.
Car drives into crowd in Charlottesville, Virginia – video
The failure of Trump to directly blame white supremacists, after some had marched through Charlottesville's streets shouting, "Hail Trump" while making Nazi salutes, has prompted harsh criticism. Many are urging for the president to make his condemnation more specific, including leading Republicans such as senators Marco Rubio and Cory Gardner and New Jersey's governor Chris Christie, as well as a slew of Democrats.
Gardner tweeted: "Mr President, we must call evil by its name. These were white supremacists and this was domestic terrorism." Rubio tweeted there was "nothing patriotic about Nazis ,the #KKK or #WhiteSupremacists It's the direct opposite of what #America seeks to be."
Christie, a staunch Trump supporter, wrote: "We reject the racism and violence of white nationalists like the ones acting out in Charlottesville. Everyone in leadership must speak out."
On Sunday morning talk shows, Tom Bossert, the White House homeland security adviser, defended the president's statement by suggesting that some of the counterprotesters had also been violent, and only when pressed did he specifically condemn the racist groups.
The White House responded to the criticism on Sunday with a statement that said the president had "said very strongly in his statement yesterday that he condemns all forms of violence, bigotry, and hatred. Of course that includes white supremacists, KKK Neo-Nazi and all extremist groups. He called for national unity and bringing all Americans together.".
The White House statement was followed hours later by even tougher rhetoric against white nationalists from vice-president Mike Pence. "We have no tolerance for hate and violence from white supremacists, neo Nazis or the KKK," Pence said on a visit to Colombia. "These dangerous fringe groups have no place in American public life and in the American debate, and we condemn them in the strongest possible terms."
Ivanka Trump, the president's daughter and also a White House aide, meanwhile, did criticise the groups directly, tweeting, "There should be no place in society for racism, white supremacy and neo-nazis."
Trump is on a 17-day "working vacation" at his golf resort in Bedminster, New Jersey, but is sure to face questions about his response and views on white supremacists when he next speaks to journalists publicly.
The president's short-lived communications chief, Anthony Scaramucci, also added his voice to the criticism of Trump's response , and speculated about the future of Steven Bannon, the White House chief adviser who previously served as the executive chairman of the far-right news site Breitbart. On ABC's This Morning with George Stephanopoulos, Scaramucci said of Trump's Saturday comments from Bedminster: "I wouldn't have recommended that statement." He added, "I think he would have needed to have been much harsher."………………………Far right activists shouted down
Later on Sunday afternoon in downtown Charlottesville, "Unite the Right" rally organiser Jason Kessler attempted to hold a press conference with "alt right" activist leader Richard Spencer. The two had earlier distanced themselves from the accused killer, James Field.
As soon as Kessler emerged in the forecourt of Charlottesville's city hall, a crowd of more than 300 people who had gathered along with the waiting media began yelling insults at the men. At the microphones, Kessler became increasingly animated but was completely inaudible.
Jason Kessler tried to hold a news conference a day after a peaceful protester was run over by a car driven by a far-right supporter who had attended the blogger's rally. But booing from a large crowd forced him to stop and he had to be escorted away by state troopers
After a few minutes, a crowd of anti-far-right protestors rushed the improvised podium. Kessler fled and made his escape with the protection of waiting state police in riot gear. Behind the line of police, the crowd resumed chanting, "Nazis go home" and "we are unstoppable another world is possible".
After about 15 minutes when it was clear Kessler had left the downtown area, police and the crowd dispersed. In a nearby ice cream shop, Joe Montoya, a local resident who had been vociferous in the crowd, said he was glad that the city had prevented Kessler from speaking. "This is what our town is like," he said.
"Charlottesville is a diverse place," Montoya said. "We come together at times like this. Love wins"
Donald Trump's father, Fred Trump, is widely believed to have had links to, or at least been an enthusiastic supporter of, the Ku Klux Klan. He was arrested at a Klan rally in New York City in 1927.
The first mention of Donald Trump in the New York Times appears to have been in 1973 when, as president of the Trump Management Corporation that controlled thousands of New York City rental apartments , he countersued the federal government after it accused his family's company of racial discrimination.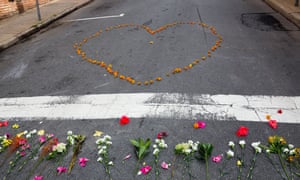 Flowers at the scene of the incident in Charlottesville, Virginia, US, that left Heather Heyer dead and 19 others injured. Photograph: Tasos Katopodis/EPA
The woman who died when a car rammed into a group of people protesting against a white supremacist rally in Charlottesville was named on Sunday as Heather Heyer, a 32-year-old legal assistant with a law firm in Virginia, who repeatedly championed civil rights issues on social media.
Heyer, whose Facebook cover photo read: "If you're not outraged, you're not paying attention", worked for the Virginia law firm Miller Law and regularly drew attention to cases of police malpractice and racism, as well as posting her support for Bernie Sanders in his presidential campaign.
A friend from childhood, Felicia Correa, who launched a crowdfunding page and said she was speaking for Heyer's mother, who was not ready to speak in public, said: "She died doing what was right. My heart is broken, but I am forever proud of her."
Her boss at the law firm said she had attended Saturday's counter-demonstration to send a clear message to neo-Nazis and Ku Klux Klan sympathizers that people in her hometown abhor their views. She was "a very strong, very opinionated young woman" who "made known that she was all about equality", Alfred Wilson told Reuters.
However, it was testimony to the bitterness of the local situation that among scores of tributes to Heyer's principles and courage, several people posted comments laying equal blame on the anti-racist and civil rights groups as on the neo-Nazi and far-right groups whose planned rally they were demonstrating against.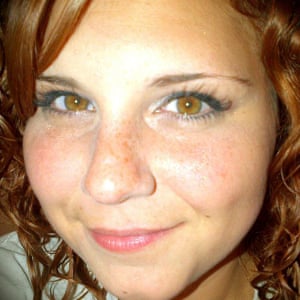 Heather Heyer: 'She died doing what was right' Photograph: Reuters
The crowdfunding page to raise money for her family has already far exceeded its $50,000 target, with almost 3,000 people donating within 11 hours, many leaving tributes describing her as a hero. Sheryl Hodge wrote: "We are so sad and outraged. We will not let Heather go in vain." George Christos said: "Very sad that our country continues to see this hatred and that a young life was lost as a result."
Her friends were organising a candlelit vigil in her memory on Sunday night.
Heyer came from Greene County, one of the smallest counties in Virginia, where she graduated from William Monroe high school – motto "Every child, every chance, every day" – and kept in touch with her alumni from the class of 2003. The school was originally founded from money left by William Monroe, an 18th-century immigrant from England, to provide free education for white children, but it now posts a firm commitment on its website against discrimination "on the basis of race, color, national origin, sex, disability, or age in its programs and activities".
Heyer's second last Facebook post, in October 2016, was a link to a site urging those fearful of Muslims to meet and befriend one. Since it was still open, hundreds of people added comments to it, most expressing admiration for her and condolences to her family, but a few – who instantly attracted outraged reactions – blamed her for being at the rally.
Playful gelada and inquisitive sea lions are among our pick of images from the natural world this week
Opinion
White supremacists can no longer be relied on to fight each other. A dangerous coalition is emerging, cloaked in non-violent rhetoric
•

Julia Ebner and Jacob Davey are researchers into far-right extremism
WARNING: Some viewers may find this footage distressing.
Hundreds of far-right demonstrators wielding torches and chanting 'you will not replace us' march on the University of Virginia campus in Charlottesville on Friday night. The 'alt-right' protesters surround a small group of counter-protesters who had linked arms around a statue of Thomas Jefferson. Source: Getty/Anadolu Agency

The vehicle attack that left a civil rights activist dead and 19 others injured on Saturday was the product of continuous incitement to violence across extreme rightwing echo chambers. After police announced the disbanding of the far-right protest in Charlottesville, Virginia, the live stream chat room of the "alt-right" writer Baked Alaska was flooded with calls to kill Jews, black people and counter-protesters. And members of the anti-communist channel in the chat application Discord vowed to push back harder "until the enemy is completely defeated".
Shortly after the incident one user of the message board 4Chan wrote of the killer: "Whoever he is, he is a hero. I salute him." Others expressed regret that the car had not been bigger, reflecting a climate of denial, justification and belittlement around the vehicle attack – mirrored in the White House's muted response.
With thousands marching under the banner of "You will not replace us", the event represented one of the largest gatherings of the US extreme right this century. Billed as a protest against the removal of the statue of the confederate general Robert E Lee, and in defence of freedom of speech, the rally attracted a broad church of groups from libertarians to white supremacists. Key figures from the alt-right, the far-right movement in the US, rubbed shoulders with militant constitutionalists, southern nationalists and neo-Nazis. Several branches of the Ku Klux Klan were in attendance, as well as delegations representing the white-supremacist Daily Stormer website and the notorious National Socialist Movement. The event was endorsed on the other side of the Atlantic by the Greek ultra-nationalists Golden Dawn and self-described German identitarians.
By hijacking topics such as the preservation of southern heritage, free speech, anti-left sentiments, and pro-white and anti-immigration attitudes, the organisers gained traction across this broad spectrum of extreme rightwing thinking. While the event was framed on /pol/ – 4chan's "politically incorrect" message board – as a way to fight "a totalitarian communist crackdown" and "defend the right of southerners", the Daily Stormer was rather more frank in promoting it as the starting point "to end Jewish influence in America"…………………
Radicalising moderates is a key objective for groups at the heart of this movement. "We want to hit the average. We want normal people," Andrew Anglin wrote in the Daily Stormer. Tactics vary, with several groups privileging the weaponisation of internet culture to reach the young. Some obsess over aesthetics in an apparent attempt to distance themselves from neo-Nazi insignia and imagery, to present a more approachable face to outsiders: the Ku Klux Klan urged members to dress casually, while for Anglin the priority is "to be hip" and sexy". The rally certainly acted as a powerful publicity boost, with the Discord server increasing its membership by a thousand in the week leading up to it.
Our analysis at the Institute for Strategic Dialogue (ISD) suggests that attendance was motivated by a variety of grievances and ideological triggers. Examining Twitter traffic around the #UniteTheRight hashtag, we found that 31% of expressed grievances focused on race – with keywords such as "white genocide" and "anti-white" – and 27% on the left, with frequent denouncing of anti-fascists and communists. Then came frustration around freedom of speech (22%), southern heritage (13%) and the establishment (4%). However, all converged in the concern that the heritage, privilege and future of the white man is under threat. Let there be no doubt that this a white supremacist phenomenon.
The fact that the extreme right has been able to mobilise people from across its hitherto disparate ideological spectrum and galvanise thousands into promoting and attending should be a wake-up call. And this has happened as the Trump administration ends US government support for countering far-right extremism in order to focus exclusively on Islamist terrorism. All this should signal the need to take the danger posed by neo-Nazism and white supremacism – cloaked in broadly political, non-violent rhetoric – more seriously.