16 Aug
Nearly all of these are English-edition daily newspapers. These sites have interesting editorials and essays, and many have links to other good news sources. We try to limit this list to those sites which are regularly updated, reliable, with a high percentage of "up" time.
World Politics
Great Britain
Main UK parties condemn US president for apparently equating Charlottesville racist protesters with civil rights activists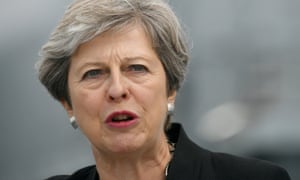 The prime minister has not agreed to requests to cancel Trump's planned state visit to the UK. Photograph: WPA Pool/Getty Images
Theresa May has joined politicians from the main parties in the UK in criticising Donald Trump for suggesting there was a moral equivalence between the Charlottesville racist protesters and those campaigning against them.
But the prime minister has not agreed to requests to cancel Trump's planned state visit to the UK in the light of his latest comments, despite renewed calls for the honour to be withdrawn.
Asked about Trump's claim that some of those taking part in the Charlottesville demonstration deemed as neo-Nazi were "very fine people", May said they should have been condemned.
Speaking in Portsmouth at a ceremony to mark the arrival of the new aircraft carrier HMS Queen Elizabeth, May said: "I see no equivalence between those who propound fascist views and those who oppose them. I think it is important for all those in positions of responsibility to condemn far-right views wherever we hear them."
Sir Vince Cable, the Lib Dem leader, renewed his call for the invitation of a state visit to be rescinded in the light of Trump's remarks. But No 10 said May's position had not changed, and that the offer of a state visit had been "extended and accepted".
Cable said: "Donald Trump has shown he is unable to detach himself from the extreme right and racial supremacists. The fact he remains highly dependent on White House advisers from the extreme right shows he is firmly anchored in this detestable worldview.
"It would be completely wrong to have this man visit the UK on a state visit."
Jeremy Corbyn, the Labour leader, had already called for the cancellation of Trump's state visit. He is expected to comment further later on Wednesday.
Sajid Javid, the communities secretary, used Twitter to denounce the US president.
Sam Gyimah, the Conservative prisons minister, posted: "Words matter. Silence matters. We must call out hate – unambiguously – to preserve the free & tolerant society many have fought & die for."
He added: "The 'leader of the free world' loses moral authority when he cannot call fascism by its name."
Referring to the former Klu Klux Klan leader David Duke, who welcomed Trump's remarks, Nicola Sturgeon, Scotland's first minister, said: "When the likes of David Duke praise you, you are on the wrong side. There are no 'fine' Nazis. We must all stand firm against far right."
She added: "Some issues are just too fundamental for diplomatic silence. This is one of them."
United States
How Donald Trump emboldened the US far right – video explainer
Donald Trump reverted to blaming 'both sides' for violence at a far right rally in Charlottesville, Virginia. Having eventually denounced specific racist groups, the president used a press conference to once again spread blame for the weekend's disorder to those he calls the 'alt-left'. Violence and disorder between far-right and anti-fascist groups has been widespread across the US since his election as president
Donald Trump wanted to build a casino in Sydney three decades ago, but the plan was rejected due to 'Trump mafia connections', declassified NSW cabinet papers reveal. Photograph: Joe McNally/Getty Images
A bid by Donald Trump to build Sydney's first casino was rejected 30 years ago after police expressed concerns about his links to the mafia.
News Corp revealed on Wednesday morning minutes of the New South Wales cabinet that show police had warned the state government against approving a 1986-87 bid by a Trump consortium to build and operate a casino in Darling Harbour.
Trump, in partnership with the Queensland construction company Kern, was one of four groups vying for the lucrative project. The NSW government dumped it from the process on 5 May 1987, along with two other bidders.
At the time, the state treasurer, Ken Booth, said he had received reports on the bids from the police board, the state's Treasury, the Darling Harbour Authority, and an independent financial consultant.
"I wish to inform honourable members that in light of these reports the government has decided to eliminate three tenderers from further consideration," Booth told the state parliament. "These are the HKMS consortium, the Federal-Sabemo consortium and the Kern-Trump consortium."
The public was not told the substance of the NSW government's concerns. Booth said the reports "contain confidential and commercially sensitive material" and refused to make them public.
Now, under rules that declassify NSW cabinet papers after 30 years, summaries of the various reports on the Kern/Trump bid have come to light.
The documents, obtained by News Corp, show the Kern/Trump group was one of three deemed "dangerous" by the police board. "Briefly stated, the Police Board considers that HKMS, Federal/Resorts/Sabemo, Kern/Trump, are unacceptable," the summary of the police report said.
"Atlantic City would be a dubious model for Sydney and in our judgment, the Trump mafia connections should exclude the Kern/Trump consortium," a summary of the police board's report said.
The cabinet papers also show there were doubts about the viability of the Kern/Trump bid. A report prepared by the independent contractor, the Canadian Imperial Bank of Commerce, found the Kern/Trump bid was one of two that were "not financially viable".
The report found that revenues for the casino were overstated. "The proposal is financially viable on the basis that the projected financial structure is reasonably based," a summary said.
"However, projected casino revenue estimates are not soundly based and the quantum of the potential overstatement is so material that the tender is not financially viable. Also, the tender is not financially viable on the basis of expected returns to equity investors."
The Darling Harbour Authority, which assessed the design of Trump's proposed casino, was largely supportive. It described Kern/Trump casino design as "rich, attractive and well-integrated" and said it would have "strong public appeal".
The casino control division also gave Kern/Trump "unqualified certification" for the running of a casino in NSW.
One of the chief critics of the proposed casino at the time was the Rev Fred Nile, who is still a sitting member of the NSW upper house.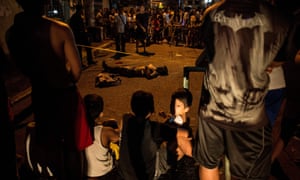 Residents surround the body of an alleged drug user killed in Manila. Photograph: Noel Celis/AFP/Getty Images
Oliver Holmes South-east Asia correspondent
Police in the Philippines have killed more than 30 people in a series of raids near Manila, in the bloodiest night yet of President Rodrigo Duterte's war on drugs.
Supt Romeo Caramat said 67 police operations in various parts of Bulacan, a province north of the capital, had left 32 "drug personalities" dead and more than 100 others arrested.
Human rights groups have repeatedly warned that Duterte, nicknamed "the Punisher" by his supporters for his approach to policing, may be overseeing crimes against humanity in his brutal anti-drugs campaign, which has left thousands dead.
Duterte was elected president last year on a quick-fix, populist platform of wiping out crime and pledging to put drug pushers in funeral parlours, not prisons.
He has said he is "happy to slaughter" millions of of drug users and dismissed the deaths of children as "collateral damage".
Since Duterte became president last July, government figures show police have killed 3,451 "drug personalities". More than 2,000 other people have been killed in drug-related crimes and thousands more murdered in unexplained circumstances, according to police data.
Duterte has vowed, however, to protect officers who kill drug suspects under suspicious circumstances.
In February, after thousands of alleged drug users and suspected dealers had were killed, the president ordered a temporary halt in all operations, raising hopes that the bloodshed would end.
The raids between Monday to Tuesday resulted in the single largest death toll in one night since officers killed 16 people, including a city mayor, in an attack on a southern city on 30 July.
Police records said officers seized 21 firearms and about 100g (3.5 ounces) of "shabu", a form methamphetamine.
The 72-year-old leader, who remains popular domestically, has lashed out at any international criticism of the killings.
He has warned the EU not to "fuck with us" after the European parliament passed a resolution expressing "grave concern over credible reports" that Philippine police were engaged in extrajudicial killings, a claim officers vehemently deny. Duterte also called the former US president Barack Obama a "son of a whore".
Britain has taken a less vocal stance over the killings, sending international trade secretary, Liam Fox, to meet Duterte in April, part of a global tour to seek post-Brexit deals with countries outside the European Union.
President Donald Trump has also sought to ties with Duterte, praising him for an "unbelievable job" in his anti-narcotics campaign.
After the US secretary of state, Rex Tillerson, met Duterte last week, the Philippine president said Washington had "considerably toned down" criticism of human rights abuses.