17 Aug
Nearly all of these are English-edition daily newspapers. These sites have interesting editorials and essays, and many have links to other good news sources. We try to limit this list to those sites which are regularly updated, reliable, with a high percentage of "up" time.
World Politics
United States
Steve Bell's If … Donald Trump reassures the nation
The McGlynn: It would not surprise me if Bannon was unaware he was providing an interview.
Susan Bro, the mother of murdered anti-fascist protester Heather Heyer, struck a defiant note at an emotional memorial service in front of 1,200 mourners
Susan Bro, the mother of Heather Heyer, who was killed while participating in anti-fascist protests, urges mourners gathered inside the Paramount Theater on Wednesday not to let her daughter's death be in vain. Bro says those responsible for Heyer's death in Charlottesville have only served to magnify her cause
They tried to kill my child to shut her up," said Susan Bro, dwarfed by the large stage and cinema screen at the Paramount Theater in downtown Charlottesville, Virginia. "But guess what? You just magnified her."
The 1,200 mourners in the room rose to their feet and applauded as the mood ebbed between somber reflection, defiance and a celebration of 32-year-old Heather Heyer's life.
"I'd rather have my child," Bro, Heyer's mother, continued. "But by golly, if I've got give her up, we're going to make it count." She urged the crowd, so large it had spilled on to the street outside, to honour the memory of her daughter by channeling "anger into righteous action".
"I want this to spread, I don't want this to die. This is just the beginning of Heather's legacy. This is not the end of her legacy."
Heyer, who worked as paralegal at local law firm, was killed a few dozen metres from the old theatre in a terror attack allegedly perpetrated by white nationalist James Fields. The 20-year-old rammed his Dodge Challenger into a crowd of anti-fascist protests on Saturday afternoon, sending bodies flying into the air and wounding 19 other people.
Heyer's murder came on a weekend of violence as hundreds of neo-Nazis and white nationalists descended on Charlottesville, a small, liberal city in central Virginia, ostensibly to protest against the city's attempt to remove a monument to confederate general Robert E Lee in a public park.
Relics of the city's racist past are not hard to find. The Paramount Theater was constructed in 1931 during an era of legalized racial segregation. Black and white people had used separate entrances, and sat in separate sections of the cinema to watch the same movies until the abolition of Jim Crow.
I want this to spread, I don't want this to die. This is just the beginning of Heather's legacy

Susan Bro
But before the assembled mourners on Wednesday, the city sought to share a message of diversity and inclusivity embodied through Heyer's life.
The Rev Harold Bare of the local Covenant church, where Heyer had worshipped, told the service he had been asked by Bro to "speak about diversity".
He said that 36 years ago, when he first arrived at the church, "our congregation was a modest size of one colour, totally", but it now welcomed those from all communities in the city.
"All humanity is family created by God," Bare said.
Mark Heyer, Heather's father, held back tears as he told the service he was "overwhelmed by the rainbow of colors in this room.
"That's how Heather was. It didn't matter who you were or where you were from, if she loved you, you were stuck."
Her grandfather, Elwood Shrader, said: "In our family, all lives matter. She absorbed that quite well."
There had been concerns that the service would be been targeted by the far right, after posting to the extremist website the Daily Stormer showed posters encouraging members to "get people on the ground".
But, under heavy security, with dozens of local and state police patrolling inside and outside the building, the service passed with little incident.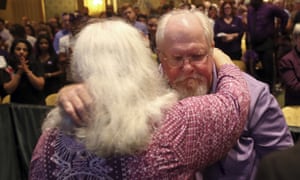 Susan Bro and Mark Heyer embrace during a memorial for their daughter. Photograph: Andrew Shurtleff/AP
Outside, the Virginia senator Tim Kaine and the state's governor Terry McAuliffe, both Democrats, were briefly heckled by a small group calling for the removal of the Lee statue.
"No parent should ever have to go through losing a child," McAuliffe said. "Now is time for healing, it is time for reconciliation. We need to go forward, we need to put the hatred behind us, the bigotry. We need to come together, as Heather's mother spoke about."
Heyer's boss, Larry Miller, said she was like a family member to him. "She's very compassionate, she's very precise, got a big heart," he said. "She wants to make sure that things are right. She cares about the people that we take care of."
Hundreds gather in Charlottesville for vigil against violence – video
Source: AP
Hundreds of people gather at the University of Virginia campus in Charlottesville on Wednesday evening for a candlelit vigil against hate and violence. Marchers assembled peacefully in the same place where hundreds of torch-carrying white nationalists marched on Friday, when several fights broke out. There were chaotic scenes at the weekend during another rally in which a counter-protester was killed.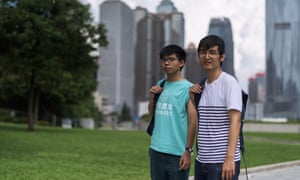 Joshua Wong (L) and Alex Chow, leaders of Hong Kong's 'Umbrella Movement', before their court appearance Photograph: Anthony Wallace/AFP/Getty Images
Hong Kong's democracy movement has suffered the latest setback in what has been a punishing year after three of its most influential young leaders were jailed for their roles in a protest at the start of a 79-day anti-government occupation known as the umbrella movement.
On Thursday afternoon Alex Chow, Nathan Law, and Joshua Wong, the bespectacled student dubbed Hong Kong's "face of protest" were sentenced to between six and eight months imprisonment each.
The trio, aged 26, 24 and 20 respectively, had avoided jail a year ago after being convicted of taking part in or inciting an "illegal assembly" that helped spark the umbrella protests, in late September 2014. But this month Hong Kong's department of justice called for those sentences to be reconsidered, with one senior prosecutor attacking the "rather dangerous" leniency he claimed had been shown to the activists.
Thursday's decision to increase their punishments sparked outrage among supporters and campaigners who condemned what they called the latest example of Beijing's bid to snuff out peaceful challenges to its rule.
"It smacks of political imprisonment, plain and simple," said Jason Ng, the author of Umbrellas in Bloom, a book about Hong Kong's youth protest movement.
There was also criticism from the United States where Republican senator Marco Rubio attacked the decision as "shameful and further evidence that Hong Kong's cherished autonomy is precipitously eroding".
"Joshua Wong, Nathan Law, Alex Chow and other umbrella movement protesters are pro-democracy champions worthy of admiration, not criminals deserving jail time," said Rubio, who heads the congressional-executive commission on China.
Beijing's heavy hand is on display for all to see.

Marco Rubio, US senator
"Beijing's heavy hand is on display for all to see as they attempt to crush the next generation of Hong Kong's pro-democracy movement," he added.
Speaking before the verdict, Wong told the Guardian he was sure he would be jailed since the decision to seek stiffer punishments was driven by politics, not legal arguments. "It's a political prosecution," he said. "It is the darkest era for Hong Kong because we are the first generation of umbrella movement leaders being sent to prison."
Wong claimed the decision to use the courts to crack down on umbrella activists showed China's one-party rulers had managed to transform the former British colony, once a rule-of-law society, into a place of "authoritarian rule by law".
"No one would like to go to prison but I have to use this as a chance to show the commitment of Hong Kong's young activists," he said. "It is really a cold winter for Hong Kong's democracy movement – but things that cannot defeat us will make us stronger."
Thursday's controversial ruling caps a torrid year for the pro-democracy camp of this semi-autonomous Chinese city, which returned to Beijing's control on 1 July 1997 after 156 years of colonial rule.
During a June visit marking the 20th anniversary of handover, Chinese president Xi Jinping oversaw a tub-thumping military parade which observers said underscored the increasingly hardline posture Beijing was now taking towards Hong Kong amid an upsurge in support for independence. "The implication is: 'We will come out in the streets and put you down if we have to,'" the political blogger Suzanne Pepper said at the time.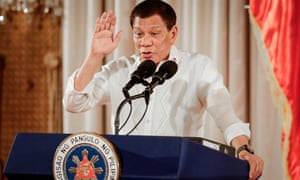 Rodrigo Duterte 'should retract his reprehensible remarks', Human Rights Watch said. Photograph: Mark R. Cristino/EPA
Oliver Holmes, Southeast Asia correspondent
Human Rights Watch has denounced a call by Philippine president Rodrigo Duterte for police to shoot rights activists who get in the way of his bloody drug war.
Duterte should immediately withdraw his statement or be investigated for possibly instigating or inciting violence against Philippine rights advocates, the New York-based advocacy group said.
The body's deputy Asia director, Phelim Kine, said the threat "is like painting a target on the backs of courageous people working to protect the rights and upholding the dignity of all Filipinos".
Duterte "should retract his reprehensible remarks immediately before there is more blood on his hands", he added.
Speaking following the bloodiest night of his one-year tenure in high office, Duterte said he would investigate human rights defenders criticising him, or order officers to kill them.
"One of these days, you human rights groups, I will also investigate you. That's the truth. For conspiracy," Duterte said.
"If they are obstructing justice, you shoot them," he said. "So they can really see the kind of human rights."
Police in the Philippines killed 32 people in a series of raids near Manila on Monday night, part of an operation authorities said was aimed to "shock and awe" drug dealers.
Duterte later said he approved of the "massive raid" and called for more bloodshed: "Let's kill another 32 every day. Maybe we can reduce what ails this country."
The former prosecutor, who has repeatedly assured police he will pardon them for crimes, previously threatened to kill human rights defenders in December 2016.
Nicknamed "the Punisher" for his lethal approach to policing, Duterte has also threatened to block an investigation by the national commission on human rights into alleged abuses by Philippine security forces, although he later said his threat was a "joke".
His call on Wednesday for police to consider human rights advocates legitimate drug war targets is a sinister escalation in his rhetoric, Human Rights Watch said.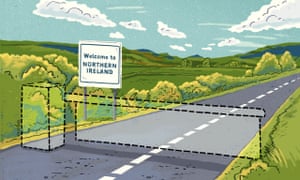 Illustration: Eva Bee
S

weet nothings are lovely while they're being whispered in your ear. The problem is that a sweet nothing is still nothing. The British government's long-awaited position paper on the Irish border after Brexit is really rather lovely. It tells Irish people of all political persuasions exactly what they want to hear: that there will be no physical border of any kind across the island and that free movement will go on as if nothing had happened. But behind all of these delightful reassurances, there is sweet FA.
The British government has a lot of seducing to do. By October, it has to have persuaded all the EU member states that "sufficient progress" has been made on the three big preliminary issues: the monetary divorce bill; the mutual rights of British citizens living in the EU and vice versa; and Ireland. To put this more bluntly, if the Irish government is not persuaded that Britain has a serious plan for the avoidance of a hard border on what will be its only land frontier with the European Union, the talks on a post-Brexit final status are going nowhere. This reality seems to have dawned at last – hence a position paper that could not be more emollient if it came dripping with honey.
But to understand how this seems to the Irish government and to most people on the island, imagine you are in a decent job. It is reasonably paid, apparently secure and the working environment is quite amicable. Your neighbour, who you like but do not quite trust (there's a bit of history there) comes to you with a proposition. She's establishing an extremely risky start-up venture with a high probability of catastrophic failure. Will you join her? Well, you ask, what are the possible rewards? Ah, she says, if – against the odds – everything goes splendidly, you'll get the same pay and conditions you have now.
The paper takes existing realities and repositions them as a distant mirage: less emerald isle, more Emerald city
This is, in essence, what the British government is offering Ireland. If everything goes fantastically well, you'll end up with, um, the status quo. Trade will "operate largely in the same way it does today". The position paper is effectively a hymn to the way things are now. We don't have a hard border, and we won't after Brexit. We do have a common travel area that works remarkably well, and it will continue to go splendidly. The position paper takes existing realities and repositions them as a distant mirage, a fantastical possibility: less emerald isle, more Emerald City.
As with the whole Brexit project, the proposals for Ireland are credible only if you accept two mutually incompatible propositions: a) The UK is creating the biggest political and economic revolution since 1973; b) pretty much everything will stay the same. It fully concedes that the changes most of us fear from Brexit – the reimposition of a political and economic border and the reversal of so much of the progress made since the Good Friday agreement of 1998 – would be terrible. Indeed, it goes even further and characterises these changes as unacceptable. But it then goes on to suggest, in effect, that these utterly unacceptable things will not happen only if the EU gives the UK all the benefits of the customs union and the single market with none of the costs or restrictions.
The one really bold move in the paper is its rejection of the technological utopianism of the more enthusiastic Brexiteers, especially in the Democratic Unionist party. The commitment to "avoid any physical border infrastructure" means that there can be no CCTV cameras or registration-plate recognition systems. Magical machines are not going to take the place of human customs officers.
This is a welcome concession to reality, but it is predicated on an even bigger unreality: the assumption that the EU will agree to something quite extraordinary: that a 500km external EU border with more than 200 crossing points will be effectively unpoliced. People and goods will pass over it without let or hindrance. Smugglers, people traffickers and terrorists will go on their merry way unmolested. Small companies will not have to do customs checks at all; large ones will operate a charming honour system in which they retrospectively declare the goods they have moved and pay their duties.
The absurdity of the proposition becomes clear when we think about all the new trade deals that post-Brexit Britain is going to make. With no Irish border controls, US beef, Australian lamb, Chinese steel and Indian cars can be imported into Belfast, sent an hour down the road to Dundalk and exported tariff-free to France, Germany or any other EU country. The only way to stop this happening would be in effect to make Ireland itself a semi-detached member of the EU with all Irish exports subjected to customs controls at EU ports. And this is simply not going to happen – why on earth would any Irish government ever agree to it ?
This is why the position paper, for all its nice words, feels less like a serious attempt to find solutions and more like an early move in the blame game that will unfold when those solutions have not been found. It claims the moral high ground: Britain is utterly opposed to a hard border. Thus, when the EU responds by saying that a hard border follows inevitably from a decision to leave the customs union, it will be the EU's fault. But this is not a blame game or any other kind of game. It is deadly serious. Britain has enormous political and moral responsibilities in Ireland. The position paper tells us what fulfilling those responsibilities would look like in practice – and it looks very like preserving the status quo. The minimum necessary for that to be a credible proposition would be for Britain to stay in the customs union. If it is not willing to do that, it cannot claim to be taking its responsibilities seriously.