19 Aug
Nearly all of these are English-edition daily newspapers. These sites have interesting editorials and essays, and many have links to other good news sources. We try to limit this list to those sites which are regularly updated, reliable, with a high percentage of "up" time.
World Politics
United States
White House says decision was mutual: 'We are grateful for his service'
Bannon says: 'I'm leaving and going to war for Trump against his opponents'
Steve Bannon has been a naval officer, an investment banker, a film producer and an executive at Breitbart News. He was made Donald Trump's chief strategist and was arguably the most influential man in the White House, but has now been removed, ending his highly contentious career at the center of the Trump administration
Steve Bannon has been removed from his post as White House chief strategist, ending his highly contentious career at the center of the Trump administration.
A statement from the White House press secretary was sent to journalists on Friday afternoon after multiple outlets reported Bannon was on his way out.
"White House chief of staff John Kelly and Steve Bannon have mutually agreed today would be Steve's last day," it read. "We are grateful for his service and wish him the best."
Reports on Friday had stated that Donald Trump had decided to remove his chief strategist, but that the White House was trying to work out the details.
A Trump ally told the Guardian that the leaks about Bannon's fate were part of an effort to pressure the White House aide to step down. "They are trying to get him to quit," the source said.
Minutes later, the Guardian learned that Bannon was out.
One source told the Guardian that Bannon had officially resigned weeks ago, before the furore over Trump's remarks equating neo-Nazis and leftwing protesters in Charlottesville, Virginia.
Late Friday afternoon, the Breitbart website, where Bannon had been editor before joining the White House, announced that he had already returned to the helm as executive chairman and presided over their nightly editorial meeting. An indication of what its editorial tone might be came in an interview that Bannon gave to Bloomberg News on Friday afternoon. "If there's any confusion out there, let me clear it up," he said. "I'm leaving the White House and going to war for Trump against his opponents – on Capitol Hill, in the media, and in corporate America."
The website had long been a thorn in the side of establishment Republicans but had been relatively restrained in criticizing the Trump administration, although it become more aggressive towards figures like McMaster and Cohn in recent weeks. Joel Pollak, a senior editor at Breitbart, simply tweeted "#WAR" soon after Bannon's departure was announced.
The removal of Bannon as Trump's chief strategist marks a remarkable rise and fall for a rightwing ideologue regarded by some as the power behind the throne.
Bannon had retreated from the limelight in recent months, after bearing much of the blame for the failure of the president's initial travel ban and amid speculation that his increased profile had drawn Trump's ire.
But a bizarre interview that Bannon gave to the liberal magazine the American Prospect – in which he claimed there was no military solution for North Korea, called the far right a "collection of clowns", and said the left's focus on racism would allow him to "crush the Democrats" – may have altered the balance of power inside the West Wing. For an aide long suspected of leaking freely about rivals, Bannon's excuse that he thought the call was off the record was not helpful.
Bannon's departure leaves a major void in the White House, depriving it of a man once seen as Cardinal Richelieu in cargo pants, an unkempt schemer adept at manipulating the president, who was famously depicted as a childlike naif to his aide's Grim Reaper in a Saturday Night Live sketch. The characterization – summed up in a Time magazine cover that hailed "the great manipulator" – reportedly annoyed the famously thin-skinned president and contributed to Bannon's fall from grace.
Josh Green, the author of the book Devil's Bargain about Bannon and Trump, told the Guardian: "Bannon may be the only person in the White House with clear and distinct politics of his own."
His absence means more power and influence for figures such as Trump's son-in-law Jared Kushner and the national economic council chair, Gary Cohn, who have few, if any, ideological ties to the Republican party and the conservative movement.
Bannon has long occupied an unusual position in the White House. In an administration that one outside ally compared to Baskin Robbins, "composed of 31 flavors," Bannon represented "the nationalist Trump coalition" as opposed to "a lot of people that were not only not Trump supporters but anti-Trump people".
One Bannon ally told the Guardian that the West Wing had seen a "four-on-one fight" recently, with Bannon taking on a coalition of Kushner, Ivanka Trump, Cohn and national security adviser HR McMaster. In the ally's eyes Bannon represented the populist "burn it all down" path while others in the administration wanted Trump to "move the center" and work with the establishment.
An indication how Bannon viewed those remaining in the West Wing came in an interview with the Weekly Standard on Friday afternoon where Bannon said: "The Trump presidency that we fought for, and won, is over."
He added: "We still have a huge movement, and we will make something of this Trump presidency. But that presidency is over. It'll be something else. And there'll be all kinds of fights, and there'll be good days and bad days, but that presidency is over."
Bannon had also stood out as the lone White House staffer to defend Trump's comments on Charlottesville in recent days.
Pic of the week…
A nice warm welcome for our president outside Trump Tower.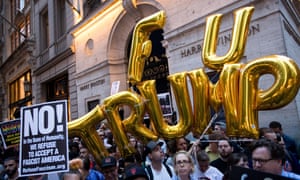 Wonder what the 'F' stands for? Photograph: Drew Angerer/Getty Images
It was a big show of animosity towards the president after he blamed "many sides" for the Charlottesville violence, before eventually condemning white supremacists on Monday. (Little did we know what he'd say on Tuesday.)
Protesters lined Fifth Avenue for hours before Trump turned up, variously chanting "shame"; "No Trump, no KKK, no fascist USA" and "New York hates you". And there was a big Trump-rat.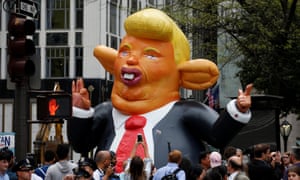 Taking action
We might have a president who thinks there were "very fine people" on a white supremacist/neo-Nazi march, but here are some ways to turn your anger into action.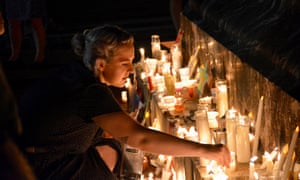 A candlight vigil in Charlottesville, VA, on Wednesday. Photograph: HANDOUT/Reuters
Upworthy published a comprehensive list of "ways you can make a difference" in the wake of the Charlottesville tragedy. The list suggests finding a protest against white nationalism in your own community through the Indivisible guide, and finding out how your congressional reps have responded to Charlottesville and sharing your views.
It also draws attention to a fundraiser for the victims of Saturday's terrorist attack, in which civil rights activists Heather Heyer died. Other options are to commit to volunteering through volunteermarch.org.
Refuse fascism
Refuse Fascism, an activist organization whose name pretty much sums up its aim, is holding conferences in five cities across the US on Saturday as part of its bid to eventually oust Trump.
The conferences – in New York, Chicago, Austin, Los Angeles and San Francisco – are part of Refuse Fascism's preparations for nationwide protests on November 4. The meet-ups have taken on an extra urgency after Charlottesville.
What we're reading
•

"Neoliberalism is an old term, dating back to the 1930s, but it has been revived as a way of describing our current politics – or more precisely, the range of thought allowed by our politics," writes Stephen Metcalf here at the Guardian. Metcalf has a long read on neoliberalism – "the idea that swallowed the world" – which seems relevant ahead of 2018.
•

"It's time to stop pretending that the same people fighting white supremacists are somehow exactly like them," says Branko Marcetic at Jacobin. He's writing about the term "alt-left". For Marcetic: "It should go without saying that the label refers to something that doesn't exist."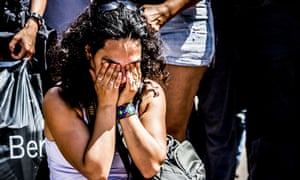 A mourner the day after the attacks in Las Ramblas, Barcelona. Photograph: action press/Rex/Shutterstock
W

hen an explosion ripped through a house in the small southern Catalonian town of Alcanar in the early hours of Thursday, police and firefighters initially assumed there was an innocent explanation.
All that remained of the building when they arrived was a heap of smouldering rubble. Several neighbouring buildings had also been badly damaged by the blast, which could be heard from miles away.
Picking carefully through the debris they found the body of a woman, a severely injured man and the remains of around 20 butane and propane gas bottles.
The house, which had been repossessed by a bank years ago, was being squatted by a group of men who neighbours assumed were Moroccan and who came and went on powerful Kawasaki motorbikes.
Police thought that this meant is was a drugs factory of some kind. The cause of the explosion seemed clear enough: it was the result of an accidental gas leak.
Twenty-four hours later, with 19 more people dead – five of them terrorists – more than 130 people injured, four suspects in custody and scenes of carnage at two popular tourist attractions, Spanish authorities realised the blast at Alcanar was the first sign that a terrorist cell was active in the country.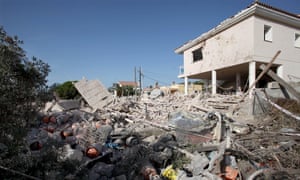 The destroyed house in Alcanar. Photograph: Jaume Sellart/EPA
By late Friday, investigators had concluded that the cell's initial plan was to pack a large truck with a gas bottle bomb and use it to cause a huge explosion in a busy area.
Unable to obtain a truck, plan B appeared to be to build two smaller devices and place them in the back of two hired vans.
But when the bomb-making venture ended with the blast at Alcanar – presumably when the bombmaker accidentally detonated the device – members of the cell fell back on plan C: driving into crowds of people, first in Barcelona and then in the town of Cambrils.
Like other European countries, Spain has been the target of a number of terrorist plots inspired by Islamic State. Until this week, all have been foiled. Seven weeks ago, Spanish police said they had identified and detained an Isis cell on the resort island of Mallorca.
Few people are thought to have travelled from Spain to join Isis in Syria or Iraq – probably fewer than 100, according to some estimates – and no Spanish citizens are thought to hold leadership positions in the organisation.
But despite Spain's recruitment of a small army of informers, the deployment of an array of technical surveillance measures and the vigilance of the police and the intelligence service, the CNI, pessimists among their ranks always assumed that at some point at least one attack would get through.
That point came on Thursday afternoon, 125 miles (200km) north-east of Alcanar, at Barcelona's most popular tourist destination.
Picking its way slowly past El Corte Inglés department store on the Plaça de Catalunya, a white Fiat van approached the top of Las Ramblas, the famous tree-lined boulevard where two traffic lanes run on either side of a wide central pavement.
As always on a summer's afternoon, Las Ramblas was packed with street traders selling everything from fridge magnets to caged birds, children marvelling at the many human statues, and people enjoying a coffee or a glass of cava at the roadside cafes.
And, of course, it was packed with tourists from around the world. A terrorist attack here would hurt everywhere.
The Fiat's engine could be heard revving as it approached and, to the disbelief and then horror of those nearby, it mounted the central pavement and started to accelerate.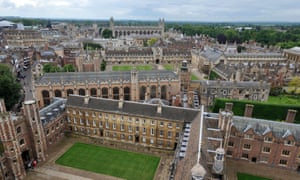 A list of the blocked articles, published by CUP, shows they focus overwhelmingly on topics China's one-party state regards as taboo Photograph: Nick Ansell/PA
The world's oldest publishing house, Cambridge University Press, has been accused of being an accomplice to the Communist party's bid to whitewash Chinese history after it agreed to purge hundreds of politically-sensitive articles from its Chinese website at the behest of Beijing's censors.
The publisher confirmed on Friday that it had complied with a Chinese request to block more than 300 articles from the China Quarterly, a leading China studies journal, in order "to ensure that other academic and educational materials we publish remain available to researchers and educators" in China.
A list of the blocked articles, published by CUP, shows they focus overwhelmingly on topics China's one-party state regards as taboo, including the 1989 Tiananmen massacre, Mao Zedong's catastrophic Cultural Revolution, Hong Kong's fight for democracy and ethnic tensions in Xinjiang and Tibet.
They include articles by some of the world's top China specialists including Columbia University's Andrew Nathan, George Washington University's David Shambaugh, and Harvard University scholars Roderick MacFarquhar and Ezra Vogel.
A piece by Dutch historian Frank Dikötter and a book review by the Guardian's former China correspondent, John Gittings, about the Cultural Revolution were also censored.
In its statement, CUP insisted it was committed to freedom of thought and expression and had been "troubled by the recent increase in requests of this nature" from China. The publisher vowed to raise the issue with the "revelant agencies" in Beijing at an upcoming book fair.
But on Saturday, as reports of the publisher's move spread, it faced a growing outcry from academics and activists who called for the decision to be reversed.
"Pragmatic is one word, pathetic more apt," tweeted Rory Medcalf, the head of the national security college at the Australian National University.
John Garnaut, a longtime China correspondent and former adviser to the Australian prime minister, Malcolm Turnbull, described it as "an extraordinary capitulation" to China.
Renee Xia, the international director of the Chinese Human Rights Defenders network, accused the publisher of having "sold its soul for millions of Chinese govt dollars".
Andrew Nathan, whose name appears three times in the list of censored articles, told the Guardian: "If the Press acceded to a Chinese request to block access to selected articles, as I gather is the case, it violated the trust that authors placed in it and has compromised its integrity as an academic publisher."
Nathan, the editor of a seminal work on the Tiananmen crackdown, added: "I imagine [CUP] might argue that it was serving a higher purpose, by compromising in order to maintain the access by Chinese scholars to most of the material it has published. This is similar to the argument by authors who allow Chinese translations of their work to be censored so that the work can reach the Chinese audience. [But] that's an argument I have never agreed with."
"Of course, there may also be a financial motive, similar to Bloomberg, Facebook, and others who have censored their product to maintain access to the Chinese market. This is a dilemma, but if the West doesn't stand up for its values, then the Chinese authorities will impose their values on us. It's not worth it."
In an open letter two US scholars, Greg Distelhorst and Jessica Chen Weiss, complained that CUP's move meant Chinese academics and scholars would now only have access to a "sanitized" version of their country's history.
"To me the problem is pretty straightforward: the problem is publishing a politically-curated version of Chinese history and doing so in the name of Cambridge University," Distelhorst, an assistant professor at the Massachusetts Institute of Technology, told the Guardian.
"This makes the publisher an active participant in rewriting history … When a government asks you to censor a piece of scholarship, that request is fundamentally opposed to a principle of academic freedom that I believe to be important to Cambridge and to many universities."
In a statement the editor of China Quarterly, Tim Pringle, voiced "deep concern and disappointment" at the tightening controls in China. "This restriction of academic freedom is not an isolated move but an extension of policies that have narrowed the space for public engagement and discussion across Chinese society."
Distelhorst said he sympathised with CUP and particularly the editors of China Quarterly: "Receiving censorship requests puts them in a really difficult position and forces a lot of hard trade-offs … [But] I hope they will reconsider their decision to selectively censor articles and then present the censored version of the journal to the Chinese public."
Since Xi Jinping took power nearly five years ago Beijing has dramatically stepped up its efforts to control Chinese academia, with the president last year calling for universities to be transformed into Communist party "strongholds".
Widow of Chinese Nobel Peace Prize winner says in video that she needs time to grieve but it is not known if she made comments of her own free will
Reuters
Liu Xia appears in a video posted to YouTube.
The widow of Chinese Nobel Peace Prize winner Liu Xiaobo has appeared for the first time since her husband's funeral in an online video in which she said she was recuperating and asked for time to mourn.
Liu Xia had been under effective house arrest since her husband, a prominent dissident since the 1989 Tiananmen Square pro-democracy protests, won the Nobel prize in 2010. He died on 13 July after being denied permission to leave the country for treatment of late-stage liver cancer.
Liu Xia had been allowed to visit him in prison about once a month and to remain with him while he was treated in his final days.
However, friends of the couple have told Reuters that they have been unable to speak with her since after her husband's funeral, after which they say she returned to Beijing and has been staying with a friend.
In a roughly one minute-long video posted on YouTube on Friday, Liu Xia speaks directly to the camera while holding a lit cigarette. She sits on a white sofa in front of a pot of tea in what appeared to be the living room of a home.
"I am outside recuperating, everyone please grant me time to mourn, time for my heart to heal and one day I will be able to face you all in a healthy state," she said. It was not immediately clear what she meant by "outside".
"The doctors tried their best when Xiaobo was ill and Xiaobo also viewed life and death very plainly. So I must recalibrate, and in future when I have made improvements in different aspects, I can be with you all again."
Reuters was not able to verify whether she made the comments of her own free will or her location.
The video was uploaded by user "goudan li", who joined YouTube on 6 July, 2017. Other videos uploaded by the user were ones alleging wrongdoings by fugitive tycoon Guo Wengui. "Goudan li" did not immediately respond to Reuters' messages on the video.
Chinese authorities have said that Liu Xia was free and have told diplomats who asked about her whereabouts that her lack of communication was due to her desire to mourn in peace.
Before the death of her husband, Liu Xia had told diplomats and friends that she wished to leave China should Liu Xiaobo be released.
Jared Genser, a human rights lawyer based in the United States who had advocated for Liu Xiaobo and his wife, filed a formal complaint on the behalf of Liu Xia with the UN Working Group on Enforced and Involuntary Disappearances in early August.