22 Aug
Nearly all of these are English-edition daily newspapers. These sites have interesting editorials and essays, and many have links to other good news sources. We try to limit this list to those sites which are regularly updated, reliable, with a high percentage of "up" time.
World Politics
United States
Statues of Confederate leaders are being removed from public spaces in several US cities. Hundreds of monuments honouring the losing side in the civil war could soon be moved or destroyed, prompting an outcry from far-right groups
O

n 6 August 1862, a young man called Albert Cashier enlisted in the Union army in Belvidere, Illinois. He was short for a soldier, just 5ft 3in. His fellow privates noted that Cashier kept his collar buttoned high up his neck, above his Adam's apple, and that he always slept apart from the other men.
Cashier's size did not hold him back. Fighting with the 95th Illinois infantry, he was involved in some of the most important battles in the war.
Cashier's bravery was noted in accounts from the time. On one occasion, he was captured and escaped by attacking his Confederate guard. In another battle, comrades remembered Cashier sweeping up a Union flag which had been felled from its post by Confederate gunfire. He climbed a tree and lashed the tattered stars and stripes to a branch, showing that the Union would not be cowed.
But what Cashier's fellow soldiers did not know was that the diminutive private had a secret – one that would only be revealed decades later.
Albert Cashier was assigned female at birth.
His story, from immigrant to proud soldier, to eventually being "outed" by nefarious hospital workers, will be retold in Albert Cashier the Musical, which airs in Chicago this month.
The production's six-week run is timely, given Donald Trump's recent announcement that he will not allow transgender individuals to serve in the military in any capacity. There are up to 6,630 transgender people on active duty in the US military, according to a 2016 study, and up to 4,160 in the select reserve.
"The temperature Trump sets for our country, the mood he sets and the anger that he's creating and the polarization that he's building between people – it's just terrible," said Jay Deratany, who wrote the musical. "But I hope this play bridges some gap."
Deratany, who also wrote the play Haram! Iran! – based on the true story of two gay Iranian teenagers who were executed in 2005 – said his own experiences as a gay man had attracted him to Cashier's story.
"I was a lawyer and the idea in the legal field of coming out … I would have lost my career if people found out. I was terrified," he said. "I had a girlfriend at one point and I hid all that. So I identified with Albert and the secret life he had to lead."
---
C

ashier was born Jennie Hodgers in Clogherhead, a fishing village 40 miles north of Dublin, on Christmas Day 1843. He moved to the US as a child, eventually settling in Illinois, and was presenting as a man by the time he enlisted in 1862.
There were just 16,000 men in the US army when the civil war broke out. Abraham Lincoln pleaded for volunteers, and was successful – of the more than 2.5 million people who served in the Union army, the majority did so voluntarily.
With the 95th regiment, Cashier fought in Mississippi, Missouri and Tennessee and Louisiana, marching almost 10,000 miles over three years.
Come out of there, you damned rebels, and show your face!

Attributed to Albert Cashier
"In handling a musket in battle, he was the equal of any in the company," Gerhard P Clausius, a Belvidere amateur historian, wrote in his 1958 essay The Little Soldier of the 95th. "[And] he was able to withstand the long marches, the rigors of camp life, and the problems of an infantryman, as well as his comrades who were bigger and brawnier."
In an article from the True Republican newspaper, published in 1913, Sgt Ives, who served alongside Cashier in the 95th, remembers Cashier taunting Confederate soldiers.
"Come out of there, you damned rebels, and show your face," Cashier is alleged to have said when faced with a concealed enemy.
---
A

fter Trump announced in a series of tweets that the government "will not accept or allow transgender individuals to serve in any capacity in the US military", the move was roundly criticized by ex-military personnel and civil rights groups. The Department of Defense itself appeared to have been blindsided: Barack Obama had ended a longtime ban on trans people serving in the military just one year earlier.
When he issued his decree, Trump may have been unaware that there is a decades-long history of trans people serving in the US armed forces.
There is also a recorded history of women who presented as men to be able to serve. DeAnne Blanton, who co-wrote They Fought Like Demons: Women Soldiers in the Civil War – which documents women who fought in the conflict – said hundreds of women took up arms.
It was common in the 1800s for working class women to identify as men to get jobs that otherwise would be out of their reach, Blanton said. Some professions were simply unattainable for women. In other jobs, such as working in industrial mills, women were paid less than men – a disparity that still exists today.
When the civil war broke out in 1861, after seven southern states declared their secession from the US and attacked Fort Sumter in South Carolina, for some women, it represented an opportunity to boost their wages further.
"A union private made $13 a month, which doesn't seem like a lot of money. But no women's employment at that time, except prostitution, would yield a higher paycheck," Blanton said.
"They'd chop off their hair and bind their breasts and pass themselves off as men to enlist."
One such woman is Sarah Wakeman, who was already presenting as a man before the war. Wakeman's family was in debt, and she was working on a canal boat when the war broke out.
"Her letters make it pretty clear she was doing it for the paycheck," Blanton said.
Wakeman signed up to the Union army in New York as Lyon Wakeman and fought in the Red River campaign – a series of battles along the Red river in Louisiana. She died of dysentery in New Orleans in 1864, aged 21.
"And then there were women who enlisted for the same reasons men did," Blanton said. "They were patriotic and wanted to serve their country and because of the era they lived in, the only way they could do this was to pretend to be men."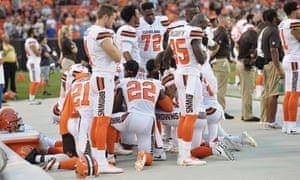 Members of the Cleveland Browns kneel during the national anthem before Monday's preseason game against the New York Giants. Photograph: Ken Blaze/USA Today Sports
Associated Press
Kneeling and bowing their heads, the Cleveland Browns bonded over something bigger than football.
More than a dozen players huddled together on the team's bench Monday night to protest during the national anthem.
The group, which included veterans, rookies, starters and backups, gathered in front of some water coolers and behind their teammates who stood on the sideline shortly before the Browns hosted the New York Giants in a preseason game.
Linebackers Jamie Collins and Christian Kirksey, running backs Isaiah Crowell, Duke Johnson and Terrance Magee, safety Jabrill Peppers, tight end Seth DeValve, wide receivers Kenny Britt and Ricardo Louis and defensive back Calvin Pryor dropped to one knee in a circle. Rookie quarterback DeShone Kizer, offensive tackle Shon Coleman, punter Britton Colquitt, defensive back Jason McCourty and offensive lineman Marcus Martin stood and supported their teammates by putting their hands on their shoulders.
Colquitt, one of two white players in the group, also placed a hand over his heart.
The protest was the largest so far in a movement started last season by quarterback Colin Kaepernick, who is currently out of the NFL. In recent days, Seattle defensive lineman Michael Bennett and Philadelphia defensive back Malcolm Jenkins also have called attention to what they feel is racial injustice in the country.
Oakland running back Marshawn Lynch also has sat during the national anthem in the preseason, but hasn't elaborated on his reasoning.
At half-time, the Browns released a statement.
"As an organization, we have a profound respect for our country's national anthem, flag and the servicemen and servicewomen in the United States and abroad," the team said through a spokesperson. "We feel it's important for our team to join in this great tradition and special moment of recognition, at the same time we also respect the great liberties afforded by our country, including the freedom of personal expression."
Browns coach Hue Jackson drew criticism last week when he seemed to indicate he didn't want his players to protest. However, Jackson clarified his remarks to say he respected any player who wanted to demonstrate.
"The intent of my comments was not to discourage individual expression from our players in light of a cause that moves them to personal expression," Jackson said. "I'm disheartened that I gave anyone that impression because I did not speak with enough clarity. However, my words did reflect my concern – that I would express to any player – about protesting during the anthem. There are many effective ways athletes can utilize their platform if they so desire, but I would respect any individual decision, as ultimately, it would be the player's choice after much thoughtful dialogue."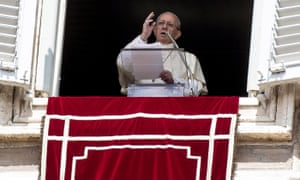 Pope Francis has expressed concern for migrants and refugees. Photograph: Angelo Carconi/EPA
His intention is to lay the ground for the drafting of two global compacts on refugees and migration, which are expected to be adopted at the UN general assembly in September 2018.
The roadmap was published on Monday by the Vatican's migrants and refugees section, which was set up by Francis last year and operates under his direction. The action points were personally approved by the pontiff.
In a message issued before publication, Francis said he had "repeatedly expressed my particular concern for the lamentable situation of many migrants and refugees fleeing from war, persecution, natural disasters and poverty". The situation was "undoubtedly a 'sign of the times'," he said.
The document, Responding to Refugees and Migrants: Twenty Action Points, says the world is facing "the largest movement of displaced people in recent memory".
It says: "While massive numbers of people have been forced to leave their homes due to persecution, violence, natural disasters and the scourge of poverty, migration should nevertheless be recognised, not as a new phenomenon, but rather as a natural human response to crisis and a testament to the innate desire of every human being for happiness and a better life.
"This reality, with its important cultural and spiritual dimensions, is having a significant impact on attitudes and reactions all over the world."
The document's 20 points are grouped in four calls to action: to welcome, to protect, to promote and to integrate. Their "ultimate goal is the building of an inclusive and sustainable common home for all".
Before detailing the action plan, the authors suggest that distinguishing between migrants and refugees, as the UN does in its separate compacts, is problematic.
"Empirical evidence shows that migration is more and more mixed. This makes it difficult to maintain a clear-cut distinction between migrants and refugees. Often their needs are very similar if not identical," the document says.
Among its action points are the creation of legal pathways for safe and voluntary migration and resettlement, and a ban on arbitrary and collective expulsions. It suggests states make wider use of humanitarian, student and family reunification visas.
The document says greater support should be available for countries that have borne the brunt of migration: more than half the world's displaced people are in Africa and the Middle East, with 17% in Europe, according to the UN.
In his message, Francis said personal safety and dignity should be prioritised over national security and, "for the sake of the fundamental dignity of every human person, we must strive to find alternative solutions to detention for those who enter a country without authorisation".
Francis has indicated that migration should be a major Vatican focus in the run-up to the 2018 UN general assembly. He has made the issue central to his papacy since visiting the Mediterranean island of Lampedusa, where thousands of migrants have landed, within weeks of his election. He has also housed several Syrian refugee families in the Vatican.
Graham Gordon, of the Catholic aid agency Cafod, said: "The Holy Father is making clear that all countries must step up to the plate and pull their weight.
Many conservation charities cannot afford to pay interns and well known organisations have entry level jobs that demand a high-level of experience, making it difficult for graduates to enter the profession. Photograph: Dan Kitwood/Getty Images
Jeremy Hance for Mongabay, part of the Guardian Environment Network
Nika Levikov swore she would never work as a waitress again. But, today — with a master's degree in conservation science from Imperial College London — she's taking orders, delivering drinks, and cleaning tables to support herself.
After two years of looking for paid work as a conservationist around Europe and four months doing unpaid work in East Africa, Levikov moved to the island of Malta to work at Greenhouse Malta. Levikov, who owes over $100,000 (£77,644) in student loans, described her work at the small environment NGO as "casual" and "freelancing" — some hours are paid, others are volunteer — while the group looks to secure more funding.
"The reality many of us face is that we will have to babysit, clean toilets, and serve drinks as we try to gain the experience we need in conservation to finally get that dream job," said Levikov, a former intern at Mongabay, who just turned 30.
"I'm not blaming anyone for my current situation in which I am utterly broke and still crossing my fingers that in the near future my career will finally take off," she told Mongabay. "Indeed I was wrong in thinking that all my hard, unpaid work would lead to something or that having a degree from a … highly-respected university would give me a leg-up."
Levikov is not alone.
Over a dozen conservationists related a depressingly similar story: serial unpaid internships, crippling student debt, short-term work for little or no pay, dismissive attitudes, and entry-level job requirements that include expectations of considerable field time and experience.
Other young conservationists declined to comment out of fear that their candidness would affect their job hunt.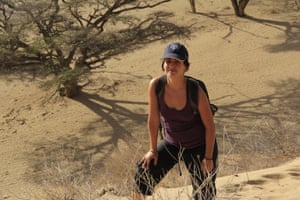 Nika Levikov searching for Grevy's zebras ( Equus grevyi) in Tanzania. Photograph: Mathew Mutinda/Marwell Wildlife/Courtesy of Mongabay
Volunteering and unpaid internships
The world is undergoing vast ecological change. Last year, the international NGO WWF's "Living Planet Report" declared that wildlife populations have dropped 58% in the past 40 years — at least among the 3,706 vertebrates (out of about 10,000) that it surveys. Added to all this is climate change: biologists have catalogued its mark on thousands of species worldwide. Scientists have also declared that we are in a new age, the Anthropocene, that may see a mass extinction as devastating as the one that wiped out the dinosaurs. What this will mean for humanity no one knows.
Amid this upheaval, conservationists are our environmental doctors. They are trying — against all odds — to mitigate the damage humans have inflicted by saving species and safeguarding ecosystems. There are already many species that would not be here at all if not for conservationists' steadfast work.
Yet today's rising conservationists are at risk of being forced out of their career by trends, structures, and decisions they had no part in. Of course, conservation isn't the only career facing hardship — art, coal mining, postal work, and journalism are other examples. But there's a bigger problem here: if young conservationists can't turn their education, experience, and passion into a lifelong career, what will become of life on Earth?
"Conservation is a vocation as well as a profession," said EJ Milner-Gulland, a biologist at the University of Oxford. "Young people entering the job market are more highly trained than ever, and they tend to have a lot of experience as well …But because of the vocational aspect, it is really hard to get paid work."
There is no hard data on conservation employment or pay. For a job that requires an advanced degree and research skills, it's surprising how little research has been done.
Conservation Careers, the field's biggest jobs website, says it shares about 6,000 jobs a year. Its director Nick Askew said there may by as many as 30,000 jobs available annually. He calls this his "best guesstimate." There is no data on how many people are seeking these jobs.
Part of the difficulty of estimating the ratio of conservation jobs to demand is the sheer breadth of conservation work, everything from grant writing at a climate NGO to caring for rhinos at a zoo to doing field research on tree kangaroos in Papua New Guinea — and all that lies between.
Still, conservationists — some of them professors, some young people who have spent months to years looking for work, and some who gave up altogether on conservation — all agree that jobs are often few and far between.