23 Aug
Nearly all of these are English-edition daily newspapers. These sites have interesting editorials and essays, and many have links to other good news sources. We try to limit this list to those sites which are regularly updated, reliable, with a high percentage of "up" time.
World Politics
Great Britain
United States
Steve Bell on Donald Trump and Afghanistan – cartoon
Speaking at a rally in Phoenix, president attempts to counter widespread, bipartisan condemnation of his response to far-right violence
US president blames the media for the widespread condemnation of his response to the Charlottesville protest organised by white supremacists that led to the killing of a counter-protester. Donald Trump was speaking at a rally in Phoenix on Tuesday
Donald Trump has sought to portray himself as the true victim of the deadly events in Charlottesville, launching an all-out assault on the media and branding journalists who "do not like our country" as the true source of division in America.
At a rally in Phoenix, evocative of his populist election campaign, the US president attacked coverage of his response to the white supremacist violence and complained bitterly to his audience about how he had been treated.
He re-read three statements he made in the wake of the tragedy and, deploying authoritarian rhetoric, declared: "It's time to expose the crooked media deceptions and to challenge the media for their role in fomenting divisions and yes, by the way, they are trying to take away our history and our heritage." The crowd – some scowling, some laughing – turned and jeered at journalists in the media enclosure and chanted: "CNN sucks! CNN sucks!"
Even as he spoke protesters outside the Phoenix Convention Center had gathered to voice anger at his presence. Police used smoke bombs and teargas on the crowds after plastic bottles were reportedly thrown.
The rally was the latest example of Trump as a Jekyll and Hyde public performer, coming just 24 hours after a sober speech to the military setting out future strategy in Afghanistan.
On Tuesday he was back in his element, pugnacious and freewheeling, throwing red meat to an eager crowd. The arena, which has a capacity of 19,000, was mostly full of people waving signs saying "Drain the swamp", "Make America proud again" and "Women for Trump".
The president caused outrage when, in a chaotic press conference at Trump Tower, he blamed "both sides" for the carnage in Charlottesville. On Tuesday night he insisted that he had in fact condemned hatred, bigotry and violence as well as neo-Nazis, white supremacists and the Ku Klux Klan.
Protests erupt after Trump's rally in Arizona – video
There were chaotic scenes outside the Phoenix Convention Centre where Donald Trump held a campaign rally on Tuesday, with protesters chanting and what appeared to be smoke bombs and fireworks being set off. Tear gas dispersed the crowd in the area
He took his first statement on Charlottesville from his pocket and told his audience: "You know where my heart is. I'm really doing this to show you how damned dishonest these people are … I don't want to bore you with this but it shows you how dishonest they are."
Trump proceeded to read out the remarks to polite applause, although he failed to repeat the inflammatory words he had used when he blamed "both sides".
He repeatedly broke off from his teleprompter to call out "the failing New York Times" and Washington Post, which he branded "a lobbying tool for Amazon". Amazon's founder, Jeff Bezos, bought the Post but the entities have no relationship.
But it was when the president mentioned CNN – "which is so bad and so pathetic and their ratings are going down" – that the crowd booed loudly and burst into a chorus of "CNN sucks!"
Trump even made reference to the former CNN contributor Jeffrey Lord, who was fired for tweeting the Nazi salute "Sieg Heil" at a liberal activist. "Poor Jeffrey," the president said. "I guess he was getting a little bit fed up and was probably fighting back too hard and they said, 'We gotta get out of here.'"
The president also mocked the protesters outside, claiming the turnout against Tuesday's rally was lower than expected. He returned to a theme of moral equivalence for which he was criticised in the wake of Charlottesville: "You know, they show up in the helmets and the black masks. They've got clubs and they've got everything.
The US president has signalled that he wants to pardon former Arizona sheriff Joe Arpaio, who was convicted for breaking the law with immigration patrols. Trump told a rally in Phoenix that Arpaio is 'going to be just fine'
Opinion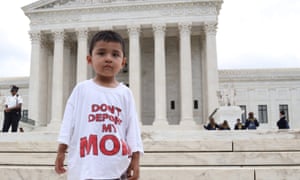 'The use of expedited removal should be reduced rather than expanded.' Photograph: Andrew Gombert/EPA
T

he deportation system verges on lawlessness. The rule of law requires that functioning tribunals arbitrate disputes fairly, efficiently and accurately. The immigration court system, which decides who will be deported and who may remain in the US, fails this test.
Take a recent case handled by the immigration clinic at the University of Texas School of Law. Our client was a radio journalist from Honduras, where speaking out against government misdeeds is very likely to get you killed.
Our client survived several assassination attempts before fleeing to the US and presenting himself at the border to seek asylum under US law. He was detained and eventually released to attend immigration court hearings.
It took four more years before he finally received a ruling this May that granted him asylum, during which time he was separated from his wife and children who continued to face danger in Honduras.
The state of crisis of the immigration adjudication system must be addressed. A common refrain dominates immigration discussions: "They broke the law and should be deported." The message holds power, because it suggests that allowing immigrants cast as lawbreakers to remain in the country weakens the rule of law.
But there are multiple problems with this sweeping justification for deportations that treats immigrants as offenders. Many immigrants have not broken any criminal laws, and most cannot simply "get right" with immigration laws that are astonishingly complex and irrational.
Most importantly, it is the government that verges on breaking the law.
The government has taken an aggressive stance on immigration enforcement, detaining and seeking to deport in large numbers. Yet it has failed to provide adequate resources for adjudication of the resulting cases by the immigration courts, even though these courts must decide complicated issues, including legitimate claims to legal status.
The 2018 proposed budget reflects this pattern, with the immigration courts receiving only a fraction of the $1.5bn promised to Immigration and Customs Enforcement for increased detention and deportations. This imbalance has led to a bottleneck of more than 600,000 pending cases before the immigration courts, and a state of chaos that negatively impacts all involved.
Courts are unable to docket cases promptly, and there is wild unpredictability in the scheduling of hearings. Because information about a case only becomes available after docketing, individuals in immigration court proceedings cannot easily learn when or where hearings will be held. There is no right to government-appointed counsel in immigration cases, so most migrants are unrepresented and struggle to navigate the proceedings alone.
Given the backlog, many hearings are scheduled out for four to five years. At the same time, detained individuals may have a final hearing within just a few months, and shifting priorities have resulted in accelerated adjudication of other cases. Last-minute changes are common because of the courts' challenges in finding enough interpreters, as well as malfunctions in the video equipment used in hearings for detained individuals.
Rather than recognize and address the incredible pressure placed on immigration courts by the exploding docket, the Trump administration has adopted measures that make a bad situation worse.
In fact, immigration court adjudications have actually dropped almost 10% since Donald Trump assumed office.
A country of laws should not allow Kafkaesque immigration court proceedings to decide life and death cases
The administration started by shuffling the courts, sending judges from around the country to courts in border areas or assigning them to video hearings in remote detention centers. Judges have fallen behind on their own dockets to take on matters already under way in courts with unfamiliar procedures and binding law. Parties have difficulty learning who will preside over their hearings and have been forced repeatedly to begin anew in presenting cases to rotating judges. For video cases, detained persons face extreme difficulties offering evidence and testimony to judges thousands of miles away.
Recently, the administration revealed specific plans to expand the use of "expedited removal" and bypass the immigration courts altogether, allowing frontline enforcement officials to deport. Impeding access to a full adjudication will certainly not promote more fair and accurate results, and the plan does nothing to address the existing backlog in the immigration courts. Nor does the proposal slow docket growth, because individuals in expedited removal can seek court intervention to present asylum claims and will likely do so if otherwise faced with immediate deportation.
There are, however, steps that would improve immigration adjudication. Detention should be dramatically scaled back, allowing for more meaningful participation in court proceedings and thus better decisions, while freeing up dollars for other improvements. The use of expedited removal should be reduced rather than expanded, while some cases should be diverted from the courts to the specialized asylum office or similar non-adversarial proceedings, which are more appropriate for handling many claims to status.