24 Aug
Nearly all of these are English-edition daily newspapers. These sites have interesting editorials and essays, and many have links to other good news sources. We try to limit this list to those sites which are regularly updated, reliable, with a high percentage of "up" time.
Evarista Sa / AFP | Venezuela's fugitive former top prosecutor Luisa Ortega at a conference with representatives from Mercosur, in Brasilia, on August 23, 2017.
Venezuela's recently ousted chief prosecutor accused President Nicolas Maduro and several allies on Wednesday of participating in acts of corruption, saying she would turn over proof that would help other countries prosecute.
Venezuela's government quickly fired back, accusing Luisa Ortega Diaz of "grave moral and ethical infractions."
Ortega spoke during a meeting of Mercosur trade bloc prosecutors in the Brazilian capital, Brasilia. Ortega was removed by a new, pro-government constitutional assembly in early August after breaking with Venezuela's socialist government.
She fled abroad with her husband, whose arrest was ordered by the country's supreme court.
"I want to denounce, in front of the world, a grave situation in Venezuela: that of excessive corruption," Ortega said. "Because of that reason, (Maduro's administration) is violating the constitution and law to protect itself."
Ortega said she had evidence implicating Maduro and other top officials in corruption involving Brazilian constructor Odebrecht and other companies.
Ortega told reporters after the meeting that Maduro loyalist Diosdado Cabello received $100 million from Odebrecht via a Spanish company called TSE Arietis, which was owned by cousins of Cabello.
She also claimed that Maduro was the owner of a Mexican company that Venezuela had contracted to provide basic foodstuffs. She said Group Grand Limited was registered in Mexico under the names Rodolfo Reyes, Alvaro Pulido Vargas and Alex Saab, but that Maduro was the real owner.
Ortega's claims could not be immediately verified. Emails sent to Group Grand Limited, TSE Arietis and Odebrecht seeking comment were not immediately returned.
"It's impossible for cases to be investigated in Venezuela," said Ortega, adding that she was providing documentation to the United States, Brazil, Colombia and Spain.
Odebrecht has been at the center of the massive "Car Wash" probe in Brazil involving kickbacks for contracts. Over the last three years, dozens of Brazil's top politicians and businessmen have been jailed, including former Odebrecht CEO Marcelo Odebrecht.
The investigation has led to prosecutions in several countries in Latin America where Odebrecht and other Brazilian construction companies operated.
Hours later Ortega's replacement, Tarek William Saab, told reporters in Venezuela's capital that the accusations "lacked validity" and should presented to Venezuelan authorities.
Saab called Ortega a "world tourist" who had been pushed out because of her own infractions.
Even if Ortega possesses strong evidence, however, it's not clear whether it could hurt Maduro's administration, which is already alienated from many of the region's countries.
While Brazil shares information with other countries related to the "Car Wash" investigation, authorities say they leave the prosecution of foreign nationals to justice officials in those countries.
Ortega's visit to Brazil, Latin America's most populous nation and largest economy, came a day after Maduro claimed that she was working with Washington to damage his administration and said Venezuela would ask for an international arrest warrant for Ortega. It wasn't immediately known if that had been requested or if it would be considered.
World Politics
Germany
Roads, refugees and loneliness are on voters' minds in Germany's 'most average place' a month from the federal poll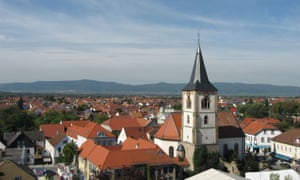 Haßloch in Germany. If it sells here, it will sell elsewhere in Germany, according to the statisticians. Photograph: Hassloch.de
A

s Angelika Schneide pushed her trolley down the ice-cream aisle in Haßloch's supermarket, she hovered over an unfamiliar flavour. "This is the fun of shopping here," Schneide, 46, said, putting a tub in her trolley. "We get to try everything out."
Haßloch, a large village in the south-western state of Rhineland-Palatinate, enjoys the title of "most average place in Germany". Using a list of criteria – including age, income, education and marital status – statisticians determined years ago that its 21,000 inhabitants were broadly representative of the whole of Germany. In the mid-1980s, the Society for Consumer Research (GfK) picked it as the place to test out new products.
About two-thirds of the population are said to be signed up as official testers, in return for vouchers or entries to prize draws. If Schneide is anything to go by, Haßlochers lap up their status as Germany's decision-makers.
"It's quite something to know when I do the weekly shop I'm effectively making decisions on behalf of millions of other Germans," she said.
The GfK theory is that if it sells here, it will sell elsewhere in Germany. If a product flops during a trial run, it will be likely to be consigned to the dustbin of marketing history.
The representative behaviour of Haßloch's inhabitants is also viewed as a useful gauge of how Germans might behave when the country goes to the polls on 24 September.
The election has been widely interpreted as a referendum on Angela Merkel's 12-year chancellorship, and all polls so far predict a secure win for her Christian Democrats.
Schneide's stance was nonchalant. "There is not much of a decision to make, as far as I'm concerned," she said. "Merkel has my backing."
"We can't complain. We've almost paid off our mortgage, my husband's job is secure, the kids are studying. We count the pennies, but so does everyone."
Nearby, in the Falling Bird tattoo parlour, Julia Willeke was having two foxes etched on to her thigh. She said she had not made up her mind yet who to vote for as the election was too far away.
United States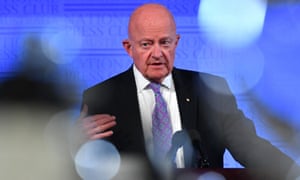 James Clapper in Australia on 7 June 2017. Photograph: Mick Tsikas/AAP
Donald Trump's access to the nuclear codes is "pretty damn scary", a former US intelligence chief has said, calling Trump's rally in Arizona on Tuesday night "disturbing".
James Clapper, director of national intelligence (DNI) for seven years under Barack Obama, questioned the US president's "fitness to be in this office" after his demagogic performance in Phoenix, and expressed anxiety about Trump's power to launch nuclear weapons without consulting Congress or any other official.
Once a president has verified his identity with a code kept constantly on his person or nearby, the military chain of command has no power to block his launch orders.
"Having some understanding of the levers that a president can exercise, I worry about, frankly, the access to the nuclear codes," Clapper told CNN, pointing to the current stand-off with North Korea.
If "in a fit of pique he decides to do something about Kim Jong-un, there's actually very little to stop him. The whole system is built to ensure rapid response if necessary. So there's very little in the way of controls over exercising a nuclear option, which is pretty damn scary."
Clapper did not mention Richard Nixon, who was involved in a tense stand-off with North Korea in 1969, after the regime shot down a US spy plane. Nixon is reported to have gotten drunk and ordered a tactical nuclear strike, which was only averted by his national security adviser, Henry Kissinger.
Nixon's biographers Anthony Summers and Robbyn Swan quoted a top CIA official, George Carver, as saying: "The joint chiefs were alerted and asked to recommend targets, but Kissinger got on the phone to them. They agreed not to do anything until Nixon sobered up in the morning."
Clapper joined a growing chorus of alarm over Trump's erratic behaviour. The Republican chairman of the Senate foreign relations committee, Bob Corker, said last week that Trump "has not yet been able to demonstrate the stability nor some of the competence that he needs to demonstrate in order to be successful".
On Capitol Hill, a Democratic congressman and senator have introduced a bill that would prohibit the president from launching a nuclear first strike without a declaration of war by Congress.
In the wake of the Phoenix speech and Clapper's remarks, one of the bill's authors, the congressman Ted Lieu, tweeted "Freaked out yet?" and called Congress to support the bill.
Peter Westmacott, a former UK ambassador to Washington, said on Twitter that the rally showed "shades of 1933 Germany".
Clapper, who stood down as DNI in January, pointed out that he had served the US under every US president from John Kennedy to Barack Obama, having joined the Air Force in 1963.
"I don't know when I've listened and watched something like this from a president that I found more disturbing," he said. "Having some understanding of the levers of power that are available to a president if he chooses to exercise them, I found this downright scary and disturbing.
"How much longer does the country have to, to borrow a phrase, endure this nightmare?" Clapper asked. He expressed hope that other Republicans would join Corker and "reach the point where enough is enough".
Police in riot gear clash with refugees near main train station after about 800 were evicted from office building on Saturday
Police using water cannon and batons have clashed with refugees who had occupied a small Rome square in defiance of an order to leave a building where they had been squatting.
Television images showed people screaming and trying to hit police, who were dressed in riot gear, with sticks. The square, one block from Rome's main train station, was strewn with mattresses, overturned rubbish bins and broken plastic chairs.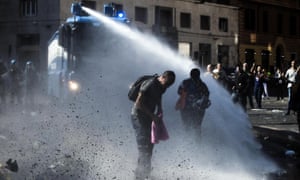 Water cannon in the square. Photograph: Angelo Carconi/AP
About 100 people had occupied the square since Saturday, when most of about 800 squatters were evicted from an adjacent office building they had occupied for about five years.
Hung on the building was a sheet with writing reading: "We are refugees, not terrorists," in Italian.
A small fire burned on the pavement and a sheet hanging from a first-floor window was set alight by squatters inside.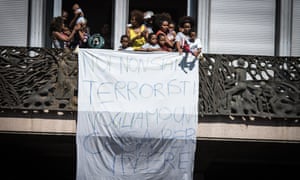 A banner hung on the building. Photograph: Andrea/Pacific/Barcroft Images
Most of the squatters were Eritreans who had been granted asylum. Police said they had refused to accept lodging offered by the city.
In a statement, the police said the refugees had gas canisters, some of which they had opened, and officers had been hit by rocks, bottles and pepper spray. Two people were arrested.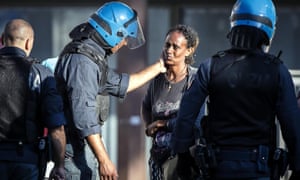 A police officer comforts a woman. Photograph: Angelo Carconi/EPA