26 Aug
Nearly all of these are English-edition daily newspapers. These sites have interesting editorials and essays, and many have links to other good news sources. We try to limit this list to those sites which are regularly updated, reliable, with a high percentage of "up" time.
World Politics
France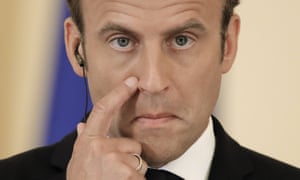 Since entering office, Emmanuel Macron has settled two bills from a personal makeup artist called Natacha M. Photograph: Vadim Ghirda/AP
His wife Brigitte lamented her wrinkles compared with his "freshness" over the breakfast table, but Emmanuel Macron's youthful looks come at a price: €26,000 in three months.
The French president returned to work this week after perhaps the shortest presidential holiday in modern French history to find himself under fire not only for his controversial plans to reform France's complicated labour law, but for spending a small fortune on makeup.
Since entering the Elysée Palace in May, the 39-year-old president has settled two bills from a personal makeup artist called Natacha M; one for €10,000 and another for €16,000.
After the report in Le Point, presidential aides insisted there was no cover-up and that the makeup artist had been called in as "a matter of urgency". Future cosmetic bills would be "significantly reduced", they insisted.
"The sum covers various services including press conferences and foreign trips where the person concerned has to travel with him," one Elysée official told journalists. The official admitted the bill was "high … but less than his predecessor's".
Macron, nicknamed Jupiter after the all-powerful Roman god, is not the first French president to pay handsomely for keeping up appearances.
His predecessor, the Socialist François Hollande, was accused of "shampoo socialism" after reportedly forking out €30,000 for makeup, topped off with a monthly €9,895 bill for a personal barber to cut and dry his thinning hair, according to the satirical newspaper Le Canard Enchainé. The Elysée justified the cost by saying the hairdresser had to "get up early and fix the president's hair every morning … and as many times during the day as necessary".
Vanity Fair claimed Hollande's conservative predecessor, Nicolas Sarkozy, spent €8,000 a month on having his face done.
United States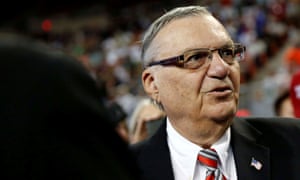 Donald Trump has pardoned former sheriff Joe Arpaio, the hardline Arizona lawman who was convicted of contempt of court in July for defying a judge's order to stop racially profiling Latinos.
Trump had signaled his intention to grant the pardon at a rally in Phoenix on Tuesday evening, when he suggested Arpaio was "convicted for doing his job".
Arpaio's life and career "exemplify selfless public service", White House press secretary Sarah Huckabee Saunders said in a statement Friday night, adding: "After more than fifty years of admirable service to our Nation, he is worthy candidate for a Presidential pardon."
"I am pleased to inform you that I have just granted a full Pardon to 85 year old American patriot Sheriff Joe Arpaio. He kept Arizona safe!" Trump later wrote on Twitter, as a major hurricane made landfall in Texas and after signing a controversial directive on transgender people in the military.
In an interview with the Arizona Republic moments after his pardon was publicly announced, Arpaio hinted at a return to politics.
"I told my wife that I was through with politics," he told the paper. "But now I've decided I'm not through with politics because of what's happening. I didn't ask for a pardon. It has nothing to do with a pardon. I've been saying this for the last couple of months. I've got a lot to offer."
Over Arpaio's 24-year tenure as sheriff of Maricopa county, he gained notoriety for detaining hundreds of undocumented immigrants in a Tent City jail and forcing them to wear pink underwear. The sheriff courted controversy and media attention – calling his own jail a "concentration camp", serving inmates just two meals a day and selling replica pink underwear to the public – as he became a national figurehead for the virulent xenophobia that Trump embraced in his presidential campaign.
In an interview with Fox News' Sean Hannity on Friday evening, the former sheriff joked that he would have fared better in federal prison than in the jails he once operated: "It's federal; I could play bocce and [have] three meals a day."
Arpaio also said he would hold a news conference next week to discuss "the abuse of politics in the judicial process", and blamed the news media for "trying to destroy me all these years".
While many local law enforcement agencies leave immigration matters to the federal agency charged with enforcing them, the Maricopa sheriff's department aggressively pursued the arrest of undocumented immigrants under Arpaio.
His criminal conviction stems from his 2011 refusal to comply with a judge's order to halt the practice of engaging in traffic stops that targeted Latino drivers. Arpaio continued the traffic patrols for nearly a year and a half after the court order. Federal prosecutors charged him with misdemeanor contempt of court in 2016, arguing that his defiance of the order was politically motivated.
Arpaio had been scheduled to be sentenced in October and could have faced up to six months in jail.
Trump said on Tuesday that he was waiting to issue the pardon because he did not "want to cause any controversy".
But not even an impending hurricane could prevent the onslaught of outrage at the presidential pardon in a country still reeling from the white supremacist violence in Charlottesville and Trump's equivocation on denouncing neo-Nazis and the Ku Klux Klan.
Both senators from Arizona – both Republicans – criticized the pardon. Senator John McCain said in a statement that Trump's action "undermines his claim for the respect of rule of law".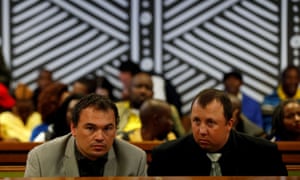 Willem Oosthuizen and Theo Martins Jackson had threatened to burn their victim alive, the court
in Mpumalanga province heard. Photograph: Siphiwe Sibeko/Reuters
Agence France-Presse in Middleburg
A South African judge has found two white farmers guilty of attempted murder after they filmed themselves forcing a black man into a coffin and threatening to burn him alive.
Supporters of the victim celebrated in the courtroom after the judge, Segopotje Mphahlele, told the accused that "for attempted murder of Mr [Victor] Mlotshwa, I hereby find you both guilty."
Willem Oosthuizen and Theo Martins Jackson were also found guilty of kidnap, intimidation and assault with intent to do grievous bodily harm.
They had pleaded not guilty over the incident last year in the eastern province of Mpumalanga, saying they only intended to scare Mlotshwa after he allegedly stole copper cables from their farm.
Two clips of footage taken on their mobile phones showed the assailants shoving Mlotshwa down into the wooden coffin and pressing the lid closed with their boots as he begged for his life.
Rival activists from the ruling African National Congress, the main opposition Democratic Alliance and the radical Economic Freedom Fighters rallied outside court and attended each day of the trial.
When the first phone footage emerged several months ago, it triggered national outrage and led to the arrest of the two men.
"Please don't kill me," Mlotshwa begged the men while in the coffin, the footage shown.
"Why shouldn't we, when you are killing our farm?" one replied.
Mlotshwa was in court to hear the verdicts against the two men, who had alleged that Mlotshwa had threatened to kill their families and burn farm crops before being forced into the coffin.
South Africa is beset by deep-rooted racial inequality 23 years after the end of white-minority apartheid rule, and cases of racism have erupted regularly on social media in recent years.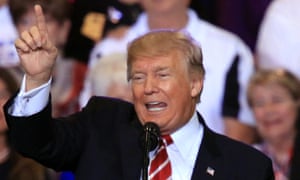 Donald Trump addresses a crowd in Phoenix in the wake of his Charlottesville response. Photograph: Roy Dabner/EPA
M

y great uncle, Alex Maguy, was a truly remarkable man. Born in 1905 in a Polish ghetto, so poor he forever associated hunger with his childhood, by the time he died in 1999, he was a highly successful gallery owner in France, who lived in a flat filled with paintings by Picasso, Matisse, Monet and Chagall.
His brother was murdered in Auschwitz. When Alex himself was captured and sent to the camps, he literally clawed his way out of the train, walked back to France and joined the underground resistance. He also fought in various military campaigns and was decorated by the French, British and Norwegians. Although he stayed in France until the end of his life, he never entirely trusted the French government again; and when, in 1967, Charles de Gaulle described the Jews as "elite people, sure of themselves and domineering", Alex furiously returned his French military awards to the Élysée Palace. For all of these reasons and more, Alex saw Israel, he wrote in the 1990s in an unpublished memoir, "as the realisation of all of my dreams".
I wish I'd had longer to get to know Alex, but I'm glad he is not alive now to see how the realisation of his dreams has betrayed its roots. Last week, Israel's communications minister, Ayoub Kara, who calls Prime Minister Benjamin Netanyahu a "close friend", told the Jerusalem Post that staying on the right side of President Trump was more important than condemning the neo-Nazis marching in Charlottesville, Virginia. In other words, for Israel, Trump trumps Nazis, because that's where we are in 2017.
"Due to terrific relations with the US, we need to put the declarations about the Nazis in the proper proportion," Kara told the Post. "We need to condemn antisemitism and any trace of Nazism… but Trump is the best US leader Israel has ever had… and we must not accept anyone harming him."
So Israel will do what it can to stop the spread of Nazism, except criticise a man who insisted there were some "very fine people" marching with neo-Nazis earlier this month. Whoa, don't strain a muscle, Israel, you're doing some pretty extreme backwards bends there!
These are strange times for liberal Jews who, like me, were born in America only because their grandparents ran there to escape fascism. Now we find ourselves citizens of a country where the president prefers to attack the press than actual Nazis. Women wearing knitted pussy hats on the women's march in January provoked an irritable "Why didn't these people vote?" from Trump, but goons shouting, "Jews will not replace us!" are defended by the president, who insists, "Not all of those people were neo-Nazis, believe me." What, did some people get lost looking for a Starbucks and end up on a racist march? As TV host Jon Stewart said last weekend, "I don't think everybody who likes him is a Nazi, but everybody who is a Nazi sure does seem to like him."
During the election, a certain trope took hold, that to criticise Trump supporters was snobbery, the blithe stance of coastal elites who don't understand the fears of real (white) Americans, and some are sticking to that line now. I still haven't yet figured out how criticism of a billionaire who bagged the support of America's highest earners by promising them lower taxes represents "snobbery", so maybe I'm just slow, but here is what I think of this argument: I think it's disgusting. There is a word for people who support and normalise Nazis and Nazi defenders, and that word is "appeasers", and that now includes, shockingly, Israel, as well as the conservative Jews in Trump's circle such as Jared Kushner – like me, a grandchild of a Holocaust survivor. But a heads up to those groups: this tactic generally does not work out well for you. A Vice documentary from Charlottesville, in which a white supremacist gripes about how Donald Trump "gave his daughter to a Jew, that bastard Kushner", gives a hint as to why.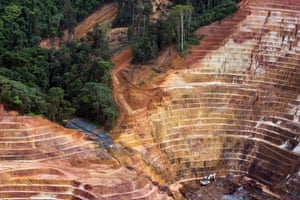 Critics fear the Renca reserve could suffer a similar fate as this land near the Parque Nacional Motanhas do Tumucumaque, Brazil, now home to a gold and iron mine. Photograph: Daniel Beltra for Greenpeace
The Brazilian president Michel Temer has abolished an Amazonian reserve the size of Denmark, prompting concerns of an influx of mineral companies, road-builders and workers into the species-rich forest.
The dissolution of the Renca reserve – which spans 46,000 sq km on the border of the Amapa and Para states – was described by one opposition senator Randolfe Rodrigues of the Sustainability Network party, as the "biggest attack on the Amazon of the last 50 years".
Conservationists said it will open the door for mining companies to enter Renca – the Portuguese acronym for the National Reserve of Copper and Associates – which was set up in 1984 and encompasses nine protected areas.
More than 20 domestic and multinational firms have expressed an interest in the region which is thought to contain deposits of gold, copper, tantalum, iron ore, nickel and manganese.
The government said the reserve is being abolished to attract foreign investment, improve exports and boost an economy that has been struggling to emerge from its deepest recession in decades.
It claimed the change of status would not affect conservation areas and indigenous territories in the region, but Amazon activists warned commercial exploitation by big companies in the past has been followed by illegal land grabbers, artisanal miners and road builders.
Christian Poirier of Amazon Watch said Temer's decision had to be seen in the context of wider efforts by his government to erode protected areas, weaken environmental licensing, and diminish indigenous rights in the interests of wealthy supporters in the extractive industries.
"The abolition of Renca will wreak havoc on the forest and indigenous communities in the interests of the small group of economically powerful groups who are keeping Temer in power," he said. "This is the largest assault so far in a package of threats."
"A gold rush in the region will create irreversible damage to local cultures," warned Mauricio Voivodic, executive director of WWF-Brazil. "In addition to demographic exploitation, deforestation, loss of biodiversity and water resources, this could lead to an intensification of land conflicts and threats to indigenous peoples and traditional populations."
Opinion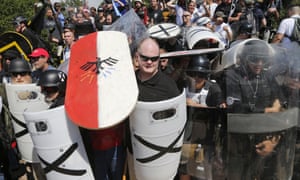 White nationalist demonstrators use shields as they guard the entrance to Lee Park in Charlottesville. Photograph: Steve Helber/AP
T

he word from the White House is that the events at Charlottesville are behind them now, and they're ready to move on. Sure, there is still some fallout from the 12 August march by neo-Nazis, white supremacists and the Ku Klux Klan, as well as from Donald Trump's subsequent declaration that those racists and fascists who carried flaming torches and swastika flags included some "very fine people". There are reverberations too from the president's initial non-condemnation condemnation, in which if he saw "hatred, bigotry and violence" at all, he saw it "on many sides".
One such aftershock came today, when Gary Cohn, Trump's chief economic adviser, told the Financial Times the administration "must do better" in denouncing such groups unequivocally, and that, "as a Jewish-American", he had considered resignation. Still, the message from Team Trump is that all this is in the past. They want the focus to switch to the legislative battles ahead, especially to their plan to give a gargantuan tax cut to the richest people and corporations in America.
They might just get away with it. One of the dizzying lessons of this presidency is that outrage can be dulled by outrage, that fury at one atrocious act is hard to sustain if fury at another soon replaces it. Consider that only four weeks ago Trump all but called for police brutality, telling an audience of uniformed officers they had no need to treat suspects gently. Or that a week or so later he took the world to the brink of nuclear confrontation with North Korea. There is a numbing effect to the frequency of such horrors. We become punch-drunk.
But if Trump succeeds in moving past Charlottesville, it won't only be thanks to an unavoidable process of attrition that has worn liberals down. I'm afraid Trump's opponents made a tactical error. He wanted to change the subject to the question of Confederate statues – and they let him. Days after those violent clashes had seen an antiracist protester murdered, the national conversation centred not on that act of terrorism but on which historical figures should be remembered, and how.
Make no mistake, that's an important argument. But it is inevitably a nuanced one that, as we have seen in Britain too, divides liberal opinion. Two people, equally fervent in their loathing of racism, might disagree on whether it's better to remove a monument, or keep it as a reminder of a shaming past. And there will never be an easy consensus on where to draw the line. If owning slaves is the key criterion, should the statues of George Washington and Thomas Jefferson come down too?
Trump's opponents have spent much of the past two weeks talking about Confederate generals and US history, when they should have maintained a laser focus on the key and shocking point: that an American president spoke with sympathy and admiration for neo-Nazis; that he put these fascists on a moral par with those who oppose them; and that he was more animated in condemning what he called the alt-left than he ever was in lambasting those who parroted the slogans of the KKK, who brandished the symbols of white supremacism and who chanted: "Jews will not replace us."
These are the key facts that should shock every American and a watching world. And here's what's at stake.
For 70 years, since the end of the second world war, a consensus held across the democratic world that seemed so obvious it barely needed stating. It declared that some ideas are beyond the pale, that certain beliefs are taboo because they are unconscionable.
The key prohibition was on any ideology whose organising principle was genocidal racism. It meant, therefore, that even to use a phrase or image associated with the Nazi credo ensured instant ostracism: think of the periodic controversies over public figures accused of dressing up in Nazi regalia, replicating the "sieg heil" salute, or using the phrase "final solution". Whatever else we might disagree on, all but a tiny, isolated fringe understood and accepted that Hitlerism was out of bounds.