28 Aug
Nearly all of these are English-edition daily newspapers. These sites have interesting editorials and essays, and many have links to other good news sources. We try to limit this list to those sites which are regularly updated, reliable, with a high percentage of "up" time.
SUMMARY
There is a large amount of ideological overlap between some European political parties and the Russian government. Significantly, these include parties considered to be 'mainstream' – it is not just 'fringe' parties that share elements of the Kremlin's world-view.
European political parties range from those that are 'hardcore' in their 'anti-Westernism' to those that are fully pro-Western. The former are much more open to cooperation with Russia and are generally aligned with its priorities.
Strong election showings from anti-Western parties can change the character of entire national political systems. Most countries are 'resilient' to 'anti-Western' politics, but a large minority are favourable towards Russian standpoints. Important players like France and Italy form part of the 'Malleable Middle' group of countries which Moscow may seek to cultivate.
The populist, anti-Western revolt of the last decade did not originate in Russia. But it is yet to run its course, and Western politicians should act now to prevent Russia taking further advantage of it.
POLICY RECOMMENDATIONS
To make progress in this area, the problem must first be named. Anti-Western elements, exploitable by the Kremlin, exist not only on the fringes of European politics, but reach right into the heart of established parties.
Strengthening counter-intelligence services, tightening anti-corruption legislation and supervision, strengthening anti-trust laws, and strictly implementing the third energy package would make it more difficult for Russia to develop and exploit its various channels of influence.
It is up to politicians of pro-Western parties, especially 'mainstream' ones, to spot such trends, show leadership, and halt the drift towards a place where liberal democracy transforms itself into something rather less open.
INTRODUCTION
Russia is increasingly getting to know some of Europe's political parties. And it is not just that Russia is coming to Europe – some European political parties are coming to them. In October 2016, members of the Italian political party Lega Nord travelled to Crimea, making up the largest component of the visiting Italian delegation. One of the party's leading members, Claudio D'Amico, had acted as an 'international observer' at the peninsula's status referendum two years previously.[1]
Earlier that same year, in February 2016, Horst Seehofer, head of Germany's Christian Social Union (CSU), Angela Merkel's key coalition partner, made an official visit to Moscow. Although insignificant from a German perspective, the Russian media celebrated Seehofer as the alternative to Merkel and as the German leader who would re-establish German-Russian friendship.[2] At that time, Seehofer had just recently threatened legal action over the German chancellor's policy towards refugees, a message also frequently heard in Russian propaganda.[3]
These types of contacts and ideological convergences show the growing strength of relationships between the Russian authorities and European political parties. Over the last few years, 'Russian meddling' in general elections in the West has become a constant media focus. But, without an election, the story soon drifts away. This is a mistake. The world's attention should linger a bit longer on the landscape that the Russians themselves see when contemplating their neighbours. For Europeans in particular it is time to understand which countries may appear to the Russians as fertile ground for growing fellow ideological travellers.
Russia is preoccupied with building a neighbourhood that responds to its interests and treats it as a great power. For years, the Kremlin has tried to find forces that would support or tacitly agree to this world-view. Where is there significant overlap of interests and ideologies between it and players in Europe? Which European political parties and leading politicians are open to pursuing goals it shares? Are these forces significant, or are Russian fellow travellers restricted to the noisy but less important anti-system opposition?
With those questions in mind, this study examines the European political landscape that the Russians see. The research underpinning it looked at all 252 parties represented in the 28 national parliaments and the European Parliament and attempted to determine how ideologically aligned with Russia each of them is.
One crucial finding of this study is that it is not only the 'fringe' or so-called 'populist' parties that align ideologically with Russia. In fact, the research reveals that important common ground exists between the Russian government and many mainstream political parties, often based on a narrative of 'anti-Westernism' that originates within Europe itself.
The second part of the study examines how the presence of these parties is affecting the larger political system. It reveals how some countries' political systems are becoming more aligned with Russia over time as new parties sharing the same priorities as Russia win increasing representation in national parliaments.
World Politics
Germany
Italy
United States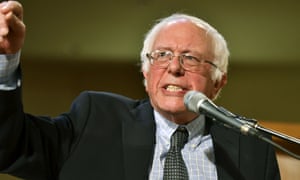 Bernie Sanders speaks at a town hall meeting on jobs and healthcare at Fellowship Chapel church, in Detroit. Photograph: Robin Buckson/AP
Elizabeth Warren addresses the audience at the morning plenary session at the Netroots Nation conference for political progressives in Atlanta, Georgia. Photograph: Christopher Aluka Berry/Reuters
At Fellowship Chapel in west Detroit, Bernie Sanders delivered a thundering battle cry for the progressive movement before a crowd of nearly 2,000 people, squeezed into wooden pews and crowded into an overflow room.
The town hall had the feeling of a revival meeting led by Sanders, who preached with the same urgency a message he delivered repeatedly on the 2016 presidential campaign trail: the system is rigged against the American people.
But in Detroit he punctured the bleak prophecy with a glimmer of hope.
"What this whole debate is about is what constitutes human rights: the right of freedom of speech, freedom of religion," Sanders said. "Franklin Delano Roosevelt said we need economic rights, not just political rights. And healthcare is a human right.
"The good news is that more people agree with us."
As Democrats feel their way out of the wilderness after sustaining one of the most stunning defeats in modern presidential history, the party's ascendant left, emboldened by Sanders's successes in 2016 and an energetic grassroots movement, is pressing ahead with an economic agenda that includes proposals for universal healthcare and debt-free college. And they are starting to feel that this may be their moment.
Progressive leaders such as Sanders and Elizabeth Warren, the firebrand from Massachusetts, have helped steer the party toward a platform of economic populism, which they believe is a political roadmap to winning back the House of Representatives – and possibly even the Senate – in next year's congressional elections, and stopping Donald Trump's agenda in its tracks.
This week, Sanders and Warren, both of whom have moved to fill the leadership vacuum atop the Democratic party, hit the road to champion their progressive politics. Sanders held three events in Rust Belt states that Trump won in 2016, a trip designed to show that his progressive ideas have appeal in rural America, while Warren, who is running for re-election to the Senate in 2018, crisscrossed Massachusetts to meet with constituents.
At a town hall in Dartmouth, Massachusetts, Warren mocked her own wonkish reputation, stretching out her arms to illustrate a rising GDP chart, the start of her response to a question about how to address growing economic inequality.
"OK, everyone settle in – she's going to talk forever," the former Harvard professor joked, before launching into a 10-minute critique of trickle-down economics.
But Warren drew raucous applause when she told the crowd: "We have set up a series of policies in Washington that work for those at the top and leave everyone else behind. And what I say is it's time to change that."
With polling indicating that support for a universal healthcare system in the US is growing, a number of progressive activists have declared the issue will be a "litmus test" for Democrats, threatening candidates who don't support Sanders's "single-payer" plan with a primary challenge.
Warren rejects that kind of aggressive approach. "I don't believe in litmus tests for Democrats," she told reporters after the event. "I'm not voting anybody off the island."
Yet as the party moves leftward, centrist Democrats are finding their position on the island increasingly precarious.
"The political energy has migrated to the polar extremes on both sides and it has left a large swath of the population feeling homeless," said Will Marshall, one of the leading intellectual architects of the neoliberal "New Democrat" movement embraced by Bill Clinton and Al Gore in the 1990s.
Worried that pragmatism will be relegated to the past, Marshall formed New Democracy, an organization that aims to "expand the party's appeal across middle America and make Democrats competitive everywhere". The group is looking to fight back against progressives' attacks on their brand of market-friendly liberalism.
"When you're in the minority party, you can't bet everything on one theory or voter group. You've got to expand in every direction," Marshall said. "We need to win in a bunch of places and there isn't one single message."
The ideological rift in the party is not new, but tensions between the liberals dreaming of healthcare reform and the moderates trying to win re-election in states where Trump dominated has only grown since the election.
At a conference earlier this month, Warren declared progressives the "heart and soul of today's Democratic party" and promised the party would not retreat to the centrist economic policies that dominated party orthodoxy for more than two decades.
In an early attempt to reconcile the competing impulses, party leadership last month unveiled an economic platform that sought to appeal to both wings. The agenda, known as "A Better Deal", includes progressive policies like a $15 minimum wage and a campaign against corporate monopolies while also promoting areas of clear agreement, like efforts to lower prescription drug costs and boost job training opportunities.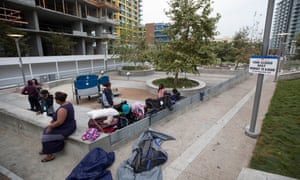 Fault Line Park in San Diego, California. Photograph: Dan Tuffs for the Guardian
Fourteen people have died from an outbreak of hepatitis A in San Diego, and experts believe it to be the deadliest outbreak of the disease in the US in decades, the Guardian has learned.
In large part, the victims were homeless people who have had to contend with a lack of 24-hour public restrooms, even though hand-washing is one of the best defenses against infection.
The number of cases has exceeded other large outbreaks, said a Centers for Disease Control (CDC) spokesperson, and is "likely the most deaths in an outbreak in the US in the past 20 years", the period in which the CDC has operated its electronic reporting system. In 2003, three people died and at least 124 were hospitalized after eating contaminated salsa at a Pennsylvania restaurant. In 2013, 69 people across 10 states were hospitalized after eating contaminated pomegranate seeds.
Yet in San Diego, 264 people have been hospitalized, roughly 70% of them homeless, in an outbreak that began last November, according to local health officials. Nine of the 14 deaths have occurred since mid-July.
The virus, which impairs liver function, causing jaundice, fatigue, joint pain and, in the most serious cases, death, is largely spread through food or water contaminated by fecal matter. Hepatitis A has a long incubation period – up to 28 days – which means people can spread the disease before they're aware they're infected.
A county spokesperson said epidemiologists have yet to determine the cause of the outbreak. Contaminated food is often the source of an outbreak, and Dr Rohit Loomba, director of hepatology at University of California, San Diego, wondered if the source could have been food that groups distribute to homeless residents.
"My gut feeling is it was a common source where somebody might have given food to a group of homeless individuals," he said. From there, the virus spread via personal contact. "They don't have a clean water supply to wash their hands, and once they have hepatitis A, then they become a source for another person."
Someone whose health is already compromised – by alcoholism, drug use or other illnesses – faces a higher risk of death from hepatitis A, Loomba said. He recommends that anyone who is homeless should get vaccinated.
Experts say that besides vaccination, thorough hand-washing is the best way to prevent the spread of the illness. But good hygiene is difficult for someone who's homeless, when public restrooms are scarce and few are open 24 hours. This is true of many cities with large homeless populations across the western US – there are only nine toilets for 1,800 people at night on Los Angeles' Skid Row – and not least in downtown San Diego, where the only 24-hour restroom is many blocks from the largest encampments.

Char Beglou eats her breakfast after spending the night in the park. Photograph: Dan Tuffs for the Guardian
On a recent Friday morning, Eric Arundel and Mike, who declined to give his last name, sat under a shade structure on the edge of Fault Line Park, where homeless people spend time next to high-end condos and bars. A pair of restrooms in the park has remained locked for months, despite the city paying the park's developer $1.6m to keep them open – and clean.
Mike, who was wearing a baseball cap, tilted his head up to show a reporter his eyes, the whites tinged yellow; he had been told by workers at a clinic to stay hydrated and call 911 if his body aches and fatigue got any worse, and was due to return Monday to hear the results of a blood draw.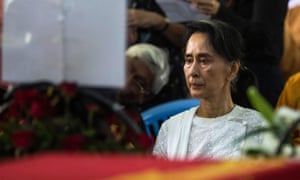 Myanmar's State Counsellor Aung San Suu Kyi has been called on to stop 'irresponsible' comments on aid workers. Photograph: AFP/Getty Image
Oliver Holmes, Southeast Asia correspondent
Aung San Suu Kyi's office has accused international aid workers of helping "terrorists", a claim that has prompted fears for their safety and been condemned as dangerously irresponsible.
The state counsellor office said it had learned that international aid staff had "participated while extremist terrorists besieged" a village in Rakhine state, adding it would investigate the claims.
The office, headed by Suu Kyi who is the country's de facto leader, also posted a photo of United Nations world food programme biscuits which it said were found on 30 July "at the camp where terrorists sheltered".
The government statements come during a time of spiralling anti-Muslim sentiment, stoked by hardline religious leaders in majority Buddhist Myanmar who accuse UN agencies, with little evidence, of supporting a faction of Islamist militants.
Facing claims of crimes against humanity for army attacks on the minority Muslim Rohingya population, Suu Kyi's administration has sought to severely restrict access to Rakhine for aid groups and the media while publicly discrediting them.
"In light of the situation on the ground, the UN in Myanmar has decided to temporarily relocate non-critical staff out of Maungdaw," a UN spokesperson said of the town in Rakhine, without elaborating.
A local reporter in the town of Buthidaun said he saw close to 100 aid staff leave in speedboats after the statement was posted on Facebook on Sunday.
Matthew Smith, executive director of human rights non-profit Fortify Rights, said anti-aid worker statements from Suu Kyi's office were "deeply irresponsible, dangerous, and potentially deadly.
"Suu Kyi's inflammatory propaganda is fuelling anti-Rohingya and anti-aid worker sentiment at a time when she should be doing everything in her power to instill calm and promote human rights."
Earlier this month, the UN warned aid workers in Rakhine of rising hostility, pointing to an "increased likelihood of civil unrest" and the possibility of demonstrations against international non-government organisations (INGOs). Aid offices were ransacked during 2014 riots in the state capital, Sittwe.
"Rumour and misinformation will continue to be used to fuel anti-UN and INGO sentiment and hostility and elevate anxieties," the report said.
Phil Robertson, deputy Asia director at Human Rights Watch, said Suu Kyi's accusations against aid workers were "profoundly irresponsible".
WFP sent a statement to the Guardian saying it took "any allegation of food diversions very seriously and we have requested more details from the authorities and asked to see the batch number of the biscuits as this will allow us to trace its origins and distribution site."
It added: "We are still waiting for these details to be provided."
At least 104 people, including 12 members of the security forces, have been killed in Rakhine state after Rohingya militants called the Arakan Rohingya Salvation Army attacked police on Friday, the bloodiest fighting since hostilities erupted last year.
In a lethal escalation of a conflict that has simmered in the region for years, thousands of Muslim refugees have fled across the border to Bangladesh from what they describe as a military onslaught.