30 Aug
Nearly all of these are English-edition daily newspapers. These sites have interesting editorials and essays, and many have links to other good news sources. We try to limit this list to those sites which are regularly updated, reliable, with a high percentage of "up" time.
World Politics
United States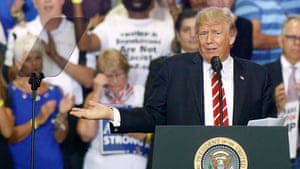 Donald Trump at the Phoenix rally on 22 August 2017 – one of several campaign-style events he has held since becoming president. Photograph: Ralph Freso/Getty Images
Donald Trump once used a presidential primary debate to offer assurance that there was no need to worry about the size of his hands or, indeed, his manhood. "I guarantee you there's no problem," he told the audience.
But there is a problem over the size of his crowds.
The US president has reportedly dispensed with a loyal aide after his campaign-style rally in Phoenix, Arizona, last week was less than full.
With TV cameras showing gaps on the concrete floor of the Phoenix Convention Center, Trump watched on a backstage monitor with growing displeasure, the Bloomberg agency reported.
In fact, as speakers including vice-president Mike Pence and housing secretary Ben Carson fired up the audience, most of those gaps were plugged, even though supporters had to run the gauntlet of protesters outside the venue.
George Gigicos, a former White House director of advance who had organised the event as a contractor to the Republican National Committee (RNC), bore the brunt of Trump's wrath, according to Bloomberg. He was told he would never manage a Trump rally again by the president's longtime bodyguard Keith Schiller, who in May hand-delivered a letter from the president firing FBI director James Comey.
The president made headlines at the Phoenix rally with his fierce attacks on the media, threat to shut down the government over funding for his border wall and tease about a pardon for sheriff Joe Arpaio, which he delivered three days later.
Bloomberg reported that Gigicos has organised all of Trump's signature campaign events and occasional rallies since entering office. Gigicos left his White House job as director of advance on 31 July to return to his consulting business. But he continued to work for Trump's re-election campaign and the RNC.
But CNN suggested that Gigicos may not be finished, reporting: "'George will be back,' one source familiar with the matter said, noting that Trump's angry tirades are 'not uncommon'. 'This is what (Trump) does. He tries to get under your skin.' 'It wasn't great, but it also wasn't the worst thing I had ever seen,' another source said."
Trump appears to feed off the energy of rallies and the roar of the crowd. He has already held eight, in eight different states, since becoming president, a rate of more than one month.
Like a diva with a list of demands for their dressing room, he insists that every detail is just right. In Pensacola, Florida, in January last year, he complained about the "son of a bitch" who installed a faulty microphone, adding: "Do you hear that George? Don't pay him. Don't pay him. And you gotta be tough with your people because they'll pay, they don't care. They'll pay."
On Tuesday, surveying the havoc wreaked by tropical storm Harvey in Texas, Trump emerged from a fire station in Annaville, Corpus Christi, between two fire trucks and got up on a ladder. There were some cheers and chants of "USA! USA!" and he could not resist remarking: "What a crowd, what a turn out."
He then held up the Texan flag to loud cheers. Most of the crowd were supporters, but not all, according to a pool report. One banner read, "Liar, cheat, racist" another read "Latinas against Trump", and another "You pardoned Joe, what about Jose?"
People walk to a Harris County Sherif airboat while escaping a flooded neighborhood during the aftermath of tropical storm Harvey. Photograph: Brendan Smialowski/AFP/Getty Images
Tropical storm Harvey continues to threaten lives in Houston, where officials are focused on evacuating hospitals and securing life-saving emergency transportation, knowing they face long term health threats.
"Our number one priority now," said Chris Van Deusen, a clearly frayed spokesperson for the Texas Department of State Health Services, is "to make sure hospital patients and those with medical needs are taken care of."
Floodwater – a nasty cocktail of chemicals, heavy metals, sewage, debris and wildlife – was still pouring into people's homes on Tuesday. Social media overflowed with images of people being rescued via jet ski, canoe and fishing boat.
Twelve hospitals in the Houston area were evacuated by Tuesday. Some emergency medical services were coming back online in Corpus Christi and Victoria.
"Aside from just the general public health functions, we also help coordinate medical transportation, assisting and coordinating and evacuating hospitals," said Van Deusen. "We have been moving ambulances, ambulance buses, and we're staging some helicopters," he said.
Public health researchers who focus on long range impacts watched the catastrophe with disbelief. Before the flood, Houston already had problems. Floodwaters seemed to only exacerbate potential dangers.
"Words just can't describe it," said Garrett Sansom, an environmental health scientist at Texas A&M University. "We've been trying to wrap our heads around a unified response as researchers, but also the communities we work with have been hit the hardest."
Houston was already affected by inequality and healthcare disparities. The Manchester neighborhood in Houston is what Samson described as a "classic environmental justice" area – a Latino neighborhood on the Houston shipping channel wherepetrochemical plants surround houses and most people speak Spanish.
"Barium is ubiquitous in the area because of refineries, as well as arsenic and mercury," said Sansom. "All of that is going to be in potential of coming into contact with humans. There's sort of the complex chemical mixture."
Wildlife can also become a sudden danger. Standing water left after the flood recedes will leave an ideal breeding ground for mosquitoes – which were already a pest in Houston.
"I can't emphasize the vector-borne disease issue," said Dr Gerald Parker, as associate dean at Texas A&M who served for 36 years in disaster response for the federal government. Mosquito-borne diseases, he said, are "just something I'm really concerned about".
Zika captures the most headlines of any mosquito-spread diseases, but it's far from the only one. The same Houston-endemic mosquitoes transmit dengue and chikungunya, infections characterized by fever. Other mosquito species spread West Nile virus, which can be dangerous for the elderly and health compromised.
Flood waters have also delivered rafts of fire ants to front doors, and Sansom warned flooded houses can become a home for venomous snakes such as Water Moccasins.
Water-borne and person-to-person infections can also easily spread after a disaster. Overwhelmed sewer systems bring people into contact with disease-spreading bacteria. Stomach illnesses are common following floods, public health officials said.
Japan's Finance Minister Taro Aso has retracted praise for Adolf Hitler in which he said he had 'right motives'. Photograph: Issei Kato/Reuters
Japan's finance minister, Taro Aso, has courted fresh controversy after expressing admiration for the Nazis, describing Adolf Hitler as "having the right motives".
"Hitler, who killed millions of people, was no good even if his motive was right," Aso told a meeting of his faction of the governing Liberal Democratic party, according to Jiji Press.
Aso retracted the comments on Wednesday after criticism that he appeared to be defending Hitler's motives for the genocide of millions of Jews during the second world war.
"It is clear from my overall remarks that I regard Hitler in extremely negative terms, and it's clear that his motives were also wrong," Aso said in a statement, adding that he did not intend to defend Hitler, but to stress the importance of politicians achieving results.
"It was inappropriate that I cited Hitler as an example and I would like to retract that."
The Los Angeles-based Simon Wiesenthal Centre, which monitors anti-semitic activities, voiced "distress and disappointment" at the comments.
"This is just the latest of a troubling list of 'misstatements' and are downright dangerous," the centre's head, rabbi Abraham Cooper, said in a statement.
It is not the first time the gaffe-prone Aso has made controversial remarks about the Nazis.
In 2013, he came under pressure to resign after suggesting that Japan should follow the Nazis' example when considering how to change its constitution.
Criticising the lack of support among older people for revising Japan's postwar pacifist constitution, Aso said it could learn from how the Nazi party changed Germany's constitution by stealth before the second world war.
Since revising Japan's constitution could trigger protests, Aso suggested "doing it quietly, just as in one day the Weimar constitution changed to the Nazi constitution without anyone realising it. Why don't we learn from that sort of tactic?"
He later retracted the comments but refused to resign.
His comments came soon after another public figure in Japan attracted criticism for voicing admiration for the Nazis.
Earlier this week, the Simon Wiesenthal Centre said it had called for an investigation into Katsuya Takasu, a well-known plastic surgeon and TV celebrity, who highlighted the Nazis' contribution to science and medicine, and appeared to deny the Holocaust.
The centre asked the American Academy of Plastic Surgeons to expel Takasu, whose posts, according to Cooper, "violate all norms of decency and reveal a person who is a racist anti-Semite and outright lover of Nazism".
The academy said it took the allegations against Takasu seriously and was investigating Takasu's comments.
Takasu posted the tweets in 2015 but they recently generated a huge response on social media after a Japanese blogger translated them into English.
After saying he had learned "how great Nazism was" while studying at Kiel University in Germany, Takasu wrote: "There is no doubt that the Jews were persecuted. But we only know it from hearsay and all of it is based on information from the Allies."
In June, Yutaka Harada, a member of the board of Japan's central bank praised Hitler's "wonderful" fiscal and monetary policies, but said they had enabled him to go on and do "horrible" things.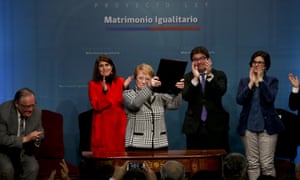 Chile's president, Michelle Bachelet, with a portfolio containing the signed proposal for a same-sex marriage bill. Photograph: Esteban Felix/AP
Agencies
The Chilean president, Michelle Bachelet, has introduced a bill to legalise gay marriage, a move that follows a string of liberal reforms in one of Latin America's most conservative nations.
In 2015, Chile's congress approved same-sex civil unions after years of legislative wrangling. In March, Bachelet, a centre-left politician, pledged to send a full marriage bill to legislators before the end of the year. On Monday, she fulfilled her promise.
"We can't let old prejudices be stronger than love," Bachelet said in Chile's La Moneda presidential palace.
"We do this with the certainty that it is not ethical or fair to put artificial limits on love, or to deny essential rights just because of the sex of those who make up a couple."
The bill is expected to allow same-sex couples to adopt children.
Before that, Chile was one of only a handful of countries in the world that outlawed terminating a pregnancy in any situation, including when a woman's life was in danger.
Bachelet's push for marriage equality also comes as countries across the region are expanding gay rights. Same-sex marriage has been legalised in recent years in Argentina, Brazil, Uruguay and Mexico, despite the powerful influence of the Catholic church, which opposes such unions.
It was not immediately clear if Bachelet will be able to push the gay marriage bill through congress before she leaves office in March 2018.
At the turn of the century, the third millennium development goal identified a lack of women in leadership roles. But change has been slow and, 15 years on, only one in five MPs is female. One country bucking the global trend, however, is Chile, where Michelle Bachelet became the first female president in 2006 and is now serving a second term. Together with Camila Vallejo, a member of congress in her coalition, Bachelet talks about efforts to improve women's rights in Chile, and the added scrutiny and pressure that comes with being a woman on the political stage 
Though her Nueva Mayoría coalition has a congressional majority, it is severely fractured ahead of elections in November and several members of the coalition hold socially conservative views.
Former Chilean President Sebastián Piñera has said he opposes the bill. "There should not be discrimination, but at the same time the essence of an institution such as marriage should be respected, which has always been about conserving the human race," he told the BBC.
Gay rights activists have welcomed the move.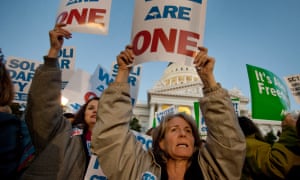 Teachers in California protest against a Wisconsin law affecting public-sector collective bargaining. Union membership among public-sector workers is about 35%. Photograph: Robert Durell/AP
Rightwing activists across the US have launched a nationwide campaign to undermine progressive politicians by depriving them of a major source of support and funding – public sector unions.
A network of conservative thinktanks with outposts in all 50 states has embarked on a "breakthrough" campaign designed to strike a "mortal blow" against the American left. The aim is to "defund and defang" unions representing government employees as the first step towards ensuring the permanent collapse of progressive politics.
The campaign carries a powerful echo of the populist creed espoused by Donald Trump. The president was propelled into the White House last November after unexpected victories in several previously Democratic rust-belt states including Michigan and Wisconsin, both of which have endured withering attacks on trade unions in recent years.
The new assault is being spearheaded by the State Policy Network (SPN), an alliance of 66 state-based thinktanks, or "ideas factories" as it calls them, with a combined annual budget of $80m. As suggested by its slogan – "State solutions. National impact" – the group outlines an aim to construct a rightwing hegemony throughout the US, working from the bottom up.
To do that it first has to sweep aside the public sector unions and their historic ties to Democratic and progressive politicians. In a 10-page fundraising letter, part of a set of documents obtained by the Center for Media and Democracy and published by the Guardian today for the first time, SPN sets out its mission in frank language that does not disguise its partisan ambitions.
The author of the letter, SPN's president and CEO Tracie Sharp,describes the $8m "breakthrough" campaign as a "once-in-a-lifetime chance to reverse the failed policies of the American left … We are primed, right now, to deliver the mortal blow to permanently break its stranglehold on our society."
Sharp pitches the battle against unions as the start of a war on progressive politics, with the ultimate goal of winning elections for rightwing candidates. "Big government unions are the biggest sources of funding and political muscle for the left – and a major obstacle to the ability of voters to reclaim control of American government. To win the battle for freedom, we must take the fight to the unions, state by state."
The target of such union-bashing, she openly admits, is to "defund and defang one of our freedom movement's most powerful opponents, the government unions." The long-term objective is to "deal a major blow to the left's ability to control government at the state and national levels. I'm talking about permanently depriving the left from access to millions of dollars in dues extracted from unwilling union members every election cycle" [emphasis in original].
SPN will be discussing its anti-union and anti-left agenda on Wednesday at its annual meeting in San Antonio, Texas. Its morning session will look at how "labor reform" can be pursued with renewed vigor under the Trump administration.
The discussion will feature some of the key architects of SPN's political strategy, including Vincent Vernuccio who pioneered anti-union legislation in Michigan and Tom McCabe of the Freedom Foundation who has sent his foot soldiers on an aggressive offensive against collective bargaining in the US north-west.
Mary Bottari, deputy director of the Center for Media and Democracy (CMD) which tracks the rise of rightwing groups in America, said the fundraising letter and other SPN documents published by the Guardiancast light on the conservative game plan. "It's very rare to catch conservative thinktanks talking so openly and blatantly about their long-term political aims. These documents reveal to us that SPN's goals are entirely political – they have no concern for workers or union members, their only goal is winning elections to advance right-wing causes."
Bottari added: "An $80m campaign to 'defund and defang' public sector unions is remarkable, both in its size and in its ambition."
Public sector unions have come under growing fire from conservatives in recent years. While unions operating in private companies have been diminished since the 1980s, their membership plummeting from about 17% of the workforce in 1983 to just 6% today, their equivalents in the public sector such as teacher, local government, police and fire officer unions, have remained relatively stable, at around 35%.