31 Aug
Nearly all of these are English-edition daily newspapers. These sites have interesting editorials and essays, and many have links to other good news sources. We try to limit this list to those sites which are regularly updated, reliable, with a high percentage of "up" time.
Trump's Sanctions on Venezuela's Maduro
HAVANA TIMES – As the political and economic crisis in Venezuela continues to worsen, cartoonist Manuel Guillen gives us his take on the sanctions recently imposed by Donald Trump on Nicolas Maduro and the Venezuelan government.
World Politics
United States
Donald Trump greets Chuck Grassley on the campaign trail last year. Photograph: Mary Altaffer/AP
Donald Trump called a senior Republican senator from Iowa on Wednesday whose congressional committee is investigating his son, Donald Trump Jr, and promised him critical federal support for the biofuel ethanol, a key issue for the lawmaker.
Chuck Grassley, the chairman of the Senate judiciary committee and a major advocate of the ethanol industry, announced on Twitter that he had received a phone call from Trump and had been assured by the US president that Trump was "pro ethanol" and was "standing by his campaign promise" to support the biofuel.
The phone call came less than a day after CNN reported that Trump's eldest son had reached an agreement with the committee to appear in a private session and answer investigators' questions. The committee, which has oversight of the Department of Justice, is investigating a 2016 meeting that occurred in Trump Tower before November's election. During the meeting, Trump Jr and other campaign staff met with Russian operatives after being promised compromising information about the Democratic nominee, Hillary Clinton.
The interview with investigators could take place in the next few weeks, according to CNN.
The White House did not immediately respond to requests for comment on what prompted the president to call Grassley and promise him support for ethanol – a vital issue for Grassley's home state – or whether the two discussed Grassley's oversight of the committee's Russia probe.
In a second tweet, Grassley said that the US president "knows that ethanol is good good good".
The Iowa senator did not divulge any additional details about Trump's promise or whether it represented a shift in White House energy policy. Trump, like many US politicians in the throes of presidential campaigns, was a vocal advocate of the ethanol industry while he was campaigning in Iowa, a top corn-producing state.
A spokesman for Grassley said by email: "The president called Senator Grassley and talked briefly about ethanol. It was a two-minute conversation. Senator Grassley told the president he was glad to hear him voice his support for ethanol and that he would tweet about it to the people of Iowa. Nothing more specific about ethanol policies came up. The other topics that came up were Hurricane Harvey and Ambassador Branstad in China."
Terry Branstad, a former governor of Iowa, is Trump's new ambassador to China.
Trump reaffirmed his support for ethanol producers in a speech in June in Cedar Rapids, Iowa, saying he would save "your ethanol industries … just like I promised to do in my campaign".
Spokesman dismisses 'haters' who he says dislike Joel Osteen, pastor facing widespread criticism after Lakewood church was slow to react to hurricane
Joel Osteen of Lakewood church rejects what he calls a false narrative after being criticised for not offering shelter to people in the aftermath of Hurricane Harvey. Osteen opened his 16,000-capacity megachurch to those in need on Tuesday
Towers of diaper boxes were stacked so high and so densely that it looked like someone was trying to build a scale model of Manhattan. Pillows were piled up against a wall, a supermarket aisle's worth of toiletries were on offer and a medical team waited for the wounded and the sick at a triage desk. Outside, the needy lined up by the dozen to enter.
But what took so long? For his church's slow reaction to tropical storm Harvey, Joel Osteen, the celebrity pastor of America's biggest megachurch, has found himself the target of a barrage of online criticism.
Osteen is one of America's richest pastors. When congregations for multiple services are combined, 35,000 to 50,000 people attend services at Lakewood church weekly, and Osteen's sermons are seen by more than 7 million people on TV and online. His 2004 book Your Best Life Now was on the New York Times bestseller list for over 200 weeks.
His wife, Victoria, is co-pastor. The Osteens are thought to be worth millions of dollars and live in a part of Houston that makes Beverly Hills look understated. Their net worth was calculated at over $55m in 2012, and although the church draws revenues of over $70m a year, Osteen says his only salary comes from book sales. His Night of Hope worship tour has appeared at venues such as New York's Yankee Stadium.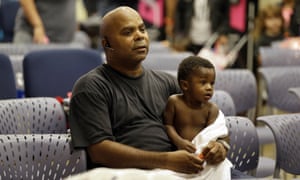 Will Sutton, an evacuee, holds his 11-month son Jayden at the Lakewood Church in Houston. Photograph: LM Otero/AP
The controversy raged around the Osteens over the weekend as shelters sprouted up elsewhere, from mosques to mattress shops, but Lakewood church did not begin operating as a large-scale shelter and supplies distribution hub until Tuesday.
"A church like this with this mode of preaching, it's supposed to be one of the first to open," said Andy Osawe as he stood by the church's entrance on Wednesday. His home flooded, so he is staying with a friend but hoped to collect some basics: "Shoes, toiletries, little things."
The 56-year-old had seen coverage of the criticism. He wondered if the church had been reluctant to house bedraggled masses in its immaculately maintained building and was now acting decisively because of the negative publicity.
"This is just a last resort. They've got to," he said. "Normally they're supposed to know what to do. This is what I'm saying about humanity – you don't need to be pressurized to do something."
The Osteens preach a distinctively American form of Christianity: the "prosperity gospel", which holds that God rewards the deserving with material success. Immense wealth, they might argue, is not only compatible with their beliefs but a validation of them. The logical reverse side of such gospels is that poverty is in essence a matter of individual responsibility.
"I preach that anybody can improve their lives," Osteen, a youthful-looking 54, has said. "I think God wants us to send our kids to college."
It clearly chimes for many residents in Houston, a city that touts a can-do, dynamic capitalist ethos inflected by the get-rich-quick spirit of Texas' periodic oil booms.
With a huge choir, expert musicians, slick preachers, giant screens and audio-visual flair that rivals anything you might find on Broadway, the church's emphasis is firmly on scale and spectacle. That Lakewood's services feel like the intersection of religion and entertainment is thanks in no small part to the venue itself, the onetime home of the NBA's Houston Rockets.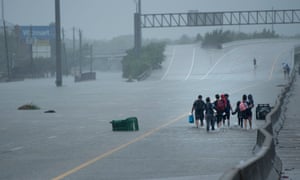 Residents are evacuated during the aftermath of Hurricane Harvey in Houston, Texas. Photograph: Brendan Smialowski/AFP/Getty Images
The 17tn US gallons of rain (roughly 26m Olympic swimming pools) dumped on Texas by Hurricane Harvey has set a new high for a tropical system in the US, but it is unlikely to last long as rising man-made emissions push the global climate deeper into uncharted territory.
Images of flooded streets in Texas are mirrored by scenes of inundated communities in India and Bangladesh, the recent mudslides in Sierra Leone and last month's deadly overflow of a Yangtze tributary in China. In part, these calamities are seasonal. In part, the impact depends on local factors. But scientists tell us such extremes are likely to become more common and more devastating as a result of rising global temperatures and increasingly intense rainfall.
Our planet is in an era of unwelcome records. For each of the past three years, temperatures have hit peaks not seen since the birth of meteorology, and probably not for more than 110,000 years. The amount of carbon dioxide in the air is at its highest level in 4m years.
This does not cause storms like Harvey – there have always been storms and hurricanes at this time of year along the Gulf of Mexico – but it makes them wetter and more powerful.
As the seas warm, they evaporate more easily and provide energy to storm fronts. As the air above them warms, it holds more water vapour. For every half a degree celsius in warming, there is about a 3% increase in atmospheric moisture content. Scientists call this the Clausius-Clapeyron equation.
This means the skies fill more quickly and have more to dump. In Harvey's case, the surface temperature in the Gulf of Mexico is more than a degree higher than 30 years ago.
Yes, the storm surge was greater because sea levels have risen 20cm as a result of more than 100 years of human-related global warming. This has melted glaciers and thermally expanded the volume of seawater.
As the rain in Texas moved towards the 120cm US record set in 1978, the nation's meteorologists have had to introduce a new colour for their charts. It may not be the last revision.
"For large countries like the United States, we can expect further rainfall records – and not just for hurricanes," said Friederike Otto, deputy director of the Environmental Change Institute at the University of Oxford. This is part of a wider trend. "For the globe, we'll see heat and extreme rainfall records fall for the foreseeable future," she predicted.
She cautioned that the situation is likely to be different from country to country. Many factors are involved, but human impact on the climate has added to the tendency for more severe droughts and fiercer storms.
High tides have added to the unusually harsh monsoon flooding in India and Bangladesh that has killed about 1,000 people in recent weeks and forced millions from their homes.
Climatologists are able to attribute with growing accuracy the impact of human emissions on extreme weather events, but much remains uncertain.
A key focus now is whether climate change is connected to the "stalling" of storms. In the US, hurricanes usually move inland and diminish in power as they get further from the sea. Harvey, however, was stationary for several days – which is the main factor in its rainfall record.
Scientists have said this may be the single biggest question posed by Harvey. "I'm not aware of anyone asking this before. I'm not sure anyone would have predicted this kind of event," said Tim Palmer a Royal Society research professor at the University of Oxford.
Researchers have recently identified a slowdown of atmospheric summer circulation in the mid-latitudes as a result of strong warming in the Arctic. But Palmer said such studies of pressure patterns need more powerful analytical tools, including supercomputers.
In the US, however, such research has become highly politicised. President Donald Trump claims climate change is a myth invented by China. He has announced that the US will pull out of the Paris climate treaty and cut funding for related research.
"It shouldn't be a political matter to try to understand how much more frequent events like Harvey will become in the future," said Palmer. "It appalls me how basic science has become embroiled in politics like this."